The Countdown to the ICON Honors Continues featuring Christophe Pourny

  More Videos
Showtime

June 4, 2017 - June 7, 2017

High Point, N.C.

Home Furnishings Manufacturing Solutions Expo (HFMSE)

June 7, 2017 - June 8, 2017

Georgia World Congress Center

Atlanta, GA, US

Neocon World's Trade Fair

June 12, 2017 - June 14, 2017

Chicago, Ill.
More
The Thread

Jennifer Marks

May 23, 2017

Tell us about your new products!

The summer trade show season is about to start – and we want to hear from you. H&TT will be distributing issues at the Atlanta, Las Vegas and NY Now markets this summer, featuring new home textiles introductions at the shows. Here's what you need to know. Atlanta Market. The deadline is Wednesday, May 31. Submit your new product images and information to HomeTextilesToday@gmail.com Las Vegas Market. The deadline is May 31. Submit your new product images and information to httlasvegas@gmail.com. NY Now. The deadline is Friday, July 7. Submit your new product images and ...

Home Alone 3

Warren Shoulberg

May 23, 2017

For Casper, the Target is in-store

There are lots of fascinating things about online bedding resource Casper signing a deal with Target to begin selling its products at the discount retailer. You can debate back and forth about the branding strategy Casper is pursuing and whether selling at Target is a good fit. You can also ask if Target wants to be in the mattress business – although initially it is the sheets and bedding that the store will sell. And you can question how this new arrangement impacts Casper's previous – and one assumes now ending – arrangement with West Elm to sell its products. But what ...

Home Alone 3

Warren Shoulberg

May 8, 2017

I would never sell Amazon. They don't respect my pricing and I have to protect my regular retail accounts that don't want me doing business with them. No Amazon for me." Ah, they say everything in life is timing. If you heard a vendor say this in 2002, you'd probably agree with him. Amazon was still basically a book and video seller back then and represented a percentage point or two of general merchandise sales. As a home furnishings supplier, you were making the right decision by not selling them. Your business was with the stores. The ...
View all blogs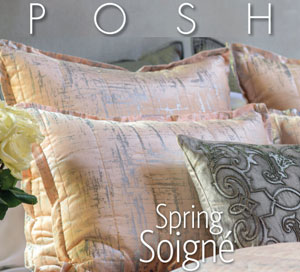 Check out the latest issue of POSH, Progressive Business Media's luxury textiles publication. Inside you'll find features on the brands, retailers and designers participating in the April High Point Market – along with the newest introductions. See the issue here.
You can also sign up to receive our POSH e-newsletter for free every 1st and 15th of the month. Click here to start your free online subscription.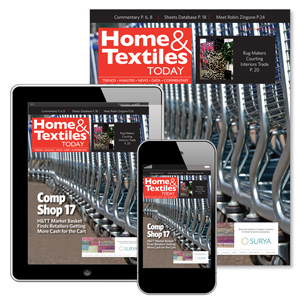 See the May 2017 issue of Home & Textiles Today. In this issue, we discuss our annual Market Basket survey, which finds higher prices and more polyester at leading retailers. See details!
The company's newest contemporary home theater group features a raspberry leather cover. USA PREMIUM LEATHER
C-1440, C-1432