Trends, Analysis, News, Data, Commentary for Home Textiles & Housewares Business
Home & Textiles Today provides the latest news from the world of home textiles manufacturing and retailing.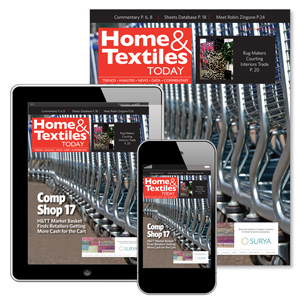 See the May 2017 issue of Home & Textiles Today. In this issue, we discuss our annual Market Basket survey, which finds higher prices and more polyester at leading retailers. See details!
Home Alone 3

Warren Shoulberg

May 8, 2017

I would never sell Amazon. They don't respect my pricing and I have to protect my regular retail accounts that don't want me doing business with them. No Amazon for me." Ah, they say everything in life is timing. If you heard a vendor say this in 2002, you'd probably agree with him. Amazon was still basically a book and video seller back then and represented a percentage point or two of general merchandise sales. As a home furnishings supplier, you were making the right decision by not selling them. Your business was with the stores. The ...

The Thread

Jennifer Marks

May 8, 2017

Anybody who believes eco-friendly talk in the industry is a mere sop to Millennials and tree-huggers hasn't been paying attention. Here's what's gone down in just the past four weeks. Walmart wants to clear the air. Walmart launched a new program to eliminate greenhouse gases by one gigaton in a little over a decade. The retailer's new "Project Gigaton" includes the launch of an online toolkit for suppliers joining the effort. The project, with a goal date of 2030, takes aim at manufacturing, materials and/or use of products and encompasses energy, waste, packaging, agricultural practices ...

Home Alone 3

Warren Shoulberg

May 1, 2017

The cacophony surrounding the pending doom of the great American shopping center is starting to reach epidemic proportions. Every pundit worth his weight in megabytes is out there preaching the end of this institution and forecasting a Wall-E world where we sit in big fat recliners, slurping from our sippy cups and hitting buy buttons like monkeys hooked on treat-response systems. Well, it ain't going to happen exactly like that. Just as people predicted the end of American downtowns only to see them resurrected over the past decade as living (literally), breathing (figuratively), thriving (really) urban centers, shopping centers ...
All Blogs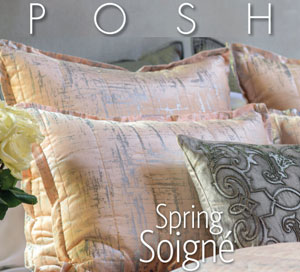 Check out the latest issue of POSH, Progressive Business Media's luxury textiles publication. Inside you'll find features on the brands, retailers and designers participating in the April High Point Market – along with the newest introductions. See the issue here.
You can also sign up to receive our POSH e-newsletter for free every 1st and 15th of the month. Click here to start your free online subscription.
Canadian Furniture Show/Salon canadien du meuble

May 26, 2017 - May 28, 2017

International Center

Mississauga, ON, US

Showtime

June 4, 2017 - June 7, 2017

High Point, N.C.

Home Furnishings Manufacturing Solutions Expo (HFMSE)

June 7, 2017 - June 8, 2017

Georgia World Congress Center

Atlanta, GA, US
More