Trends, Analysis, News, Data, Commentary for Home Textiles & Housewares Business
Home & Textiles Today provides the latest news from the world of home textiles manufacturing and retailing.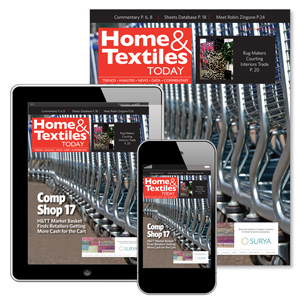 See the June 2017 issue of Home & Textiles Today. In this issue, we discuss how U.S, ports are gearing up for the future, and what to expect from second half trade shows. See details!
Home Alone 3

Warren Shoulberg

June 27, 2017

So, Target is on a mission to reinvent the modern American discount store. It is clearly a work in progress. A visit to one of the retail giant's just-remodeled stores in the Dallas metroplex – one of 28 of its 47 area stores that will eventually be updated at a cost of $220 million – revealed a nice looking mass merchant unit. However it doesn't really move the bar much when it comes to the fine art of merchandising. This particular store, in Addison, just north of the Beltway that wraps around Dallas, clearly had a fresh coat of paint ...

The Thread

Jennifer Marks

June 27, 2017

2018: The Year of New Retail Formats

At the moment, bricks & mortar retailing looks to be burning away in a conflagration of store closings. Something on the order of 5,000 doors will disappear over the coming months across a range of channels: department stores, apparel specialists, sporting goods, drugstores and others. It's hard to see for all the billowing smoke, but new concepts will soon arise from the ashes. If 2017 is destined to go down in history as The Year of Retail Store Closures, then 2018 is shaping up to be The Year of New Retail Formats. A couple of them are new concepts ...

Home Alone 3

Warren Shoulberg

June 5, 2017

Don't know about you, but I've always been a sucker for that punch line: "Be yourself…every one else is already taken." Usually attributed to Oscar Wilde — though there is no written evidence he ever actually said or wrote it — it's one of those catchy phrases that you can plug into various conversations and always get a smile from somebody. If only the world of retailing would pay attention. Business history is full of far too many examples of stores that tried to be who they were not — or worse, somebody who already existed — and failed miserably ...
All Blogs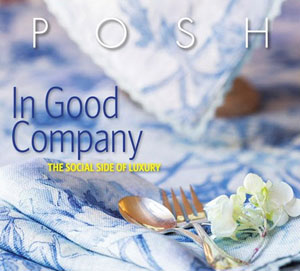 POSH marks our first anniversary with a tribute to friendship in the luxury textiles industry. Social Media is an increasingly critical component to marketing luxury brands. As explored in Social Climbers, Instagram and Facebook are proving the best paths to reach discerning shoppers.
You can also sign up to receive our POSH e-newsletter for free the first and third Wednesday of every month. Click here to start your free online subscription.
Texworld USA

July 17, 2017 - July 19, 2017

New York, New York

Home Textiles Sourcing Expo

July 17, 2017 - July 19, 2017

New York, NY

Las Vegas Market

July 30, 2017 - August 3, 2017

World Market Center Las Vegas

Las Vegas, Nevada , US
More