Cotton Crisis: Industry Grapples with New World Order
As Jan. 1, 2005 will be remembered by the industry as the day the last barriers to unlimited imports fell, October 2010 will be recalled as the moment when China's factories slammed the doors closed, albeit temporary.
     For a period of about three weeks, many of China's factories were neither offering quotes on business nor accepting orders. But the entire system is under strain, and the numbers aren't pretty:
     • Cotton futures in China up 70% this year;
     • Labor costs in China up 20% to 25%;
     • India's ban on the export of raw cotton pushed cotton futures to a new high in New York last week, with prices up 53% for the year;
     • The impact of Pakistan's floods resulted in a 22% decline in cotton exports between July and October, and total fiscal year exports could drop 25%, according to the Karachi Cotton Brokers' Association;
     • U.S. inventories of cotton in ICE warehouses are down 91% from June, according to Bloomberg.
     "The days of cheap apparel and soft home are over," said Emanuel Weintraub, president of consulting firm Emanuel Weintraub Associates, which works with both retailers and manufacturers. "We're in a world where producers have more leverage than the buyers."
     He predicts a 20% to 30% hike in retail prices on cotton products next year.
    Factories are now demanding longer-terms on programs as opposed to program-to-program contracts. Industry executives interviewed by HTT agreed there is no "new China" into which production readily can shift.
    As retailers, suppliers and manufacturers grapple with the new world order after more than a decade characterized by price deflation, HTT surveyed several players for their perspective on the situation.
Abhishek Industries LTD.: The Trident Group
Joanne Krakowski, U.S. sales and marketing manager
"The continuous rise in the price of cotton is gaining proportions of a tsunami for home textile manufacturers. All the cotton indices are at its all-time peak, reflecting the high prices and demand for the commodity. This year there has been setback in cotton crops reported from Pakistan and delay in crop arrival in India has only added to the worsening situation.
     "The demand from the retail side is still strong across all textile products globally. Cotton prices have shown a consistent upward trend throughout the year 2010 and even now when a limited arrival of a new crop has started in some cotton markets of the world, the trend remains unabated and cotton is trading at its all time high level.
     "The impact is not restricted to any particular manufacturer or segment of the textile industry but is global and is felt more acutely in articles where value addition is rather low and raw material forms a significant part of the total product cost time towels."
Elrene Home Fashions
Bryan Siegel, chairman and ceo
"I have not seen a commodity market as unstable as we are currently experiencing. The domestic demand from countries like China and India has never been so great. As a result, we are seeing a major run up in the cost for all raw materials not just cotton. We are experiencing increases in polyester as well. I am sure we are going to see increased retails as early as spring '11."
Foreston Trends
Dick Gould, vp, sales
"Everyone is kind of skittish over what is going on. It is erratic. We're just getting increases for practically every order we send out. Every month, for the past nine or 10 months, we've gotten an increase. We can't submit an order until price has been verified. And [the price] is changing constantly. It has been very tough to deal with."
     "Retailers are being forced to accept the increases. It is going to be bad for them because they haven't passed on the increases to customers. They've been absorbing them."
     "Certainly, we have lost business because of [retailers not wanting to accept price increases]. But suppliers can no longer absorb those hits, especially as frequent as [prices] have been [increasing]."
     "Now we have to pass them on. It's not a choice anymore."
     "And now retailers are going to have to pass them on, too, because they have to accept our price increases."
     "No one [retailers] tells me anymore than no one else [suppliers] is giving them increases. Everyone is, including our competitors."
Hollander Home Fashions
Beth Mack, chief merchandising officer
"From a production standpoint, the rise in cotton prices is giving rise to more use of blends and of 100 percent polyester."
Home Source International Inc.
Keith Sorgeloos, president and ceo
"The escalation of cotton pricing is causing some challenges in the home textiles industry. There is only so much de-specing of a product that can be done without losing its value proposition, so it will be interesting to see what happens with retails going forward into 2011 and, subsequently, if the possibility of rising retails affects demand of home textile product.
     "It will also be interesting to see how cotton yields will develop a year from now when harvests are completed to determine if supply outweighs demand or if demand continues to outweigh supply. It surely does not seem that we will see cotton pricing below $1.00 per pound anytime in the near future."
The John Ritzenthaler CO.
Howard "Chip" Stiedel Jr., president
"Cotton's cost increase, over long term averages, has been dramatic, substantial and sustained. It now presents enormous challenges for pricing and retails."
Lintex Linens/Espalma by Cobra
Kurt Hamburger, managing director
"I have just spoken to a resource of many long standing years in Pakistan, who has informed me that he and other Pakistani mills are without cotton going forward. The reason for this is that the Pakistani crop was wiped out due to the floods.
     "Pakistani mills are importing cotton from cotton brokers and mills in India, but he has informed me that they are not getting the right prices from their Indian suppliers. I don't know if premeditated or not but it does not put the Pakistani mills in a good position.
     "It stands to reason that if American exporters of towels and other products for the home are continually being forced to pay higher prices, they must at some time make the difficult decision of raising their prices across the board. They have no choice.
     "Will that affect business? Yes, it will in the short term. American retailers - large, medium and small - cannot have empty shelves nor will they stop buying. Eventually, they will come to the conclusion that they must buy at higher prices as they will not go out of business."
Mohawk Home
Bart Hill, general manager
Cotton comprises about 20% of Mohawk Home's business.
     "We are looking at things we can do with different fibers, blending poly with cotton, bulking, etc."
     "A significant piece of our business is natural fiber, imported out of India, and we are definitely seeing cotton prices at an all-time high - about a 30% to 50% increases - and that affects us in a couple of ways, for example, certainly the price of our rugs."
     But, he added, bath rugs are "indirectly impacted" by towel prices "because it affects the inventory and open to buy in whole bath department. When towel prices go up, it puts pressure on retailers. Even when they have to take retail increases that we have to push through, you are talking about less open-to-buy on the retail side. We are going to certainly have to respond with some price increases on the cotton side, but that then impacts inventory and retailers' open-to-buy dollars. They can no longer buy as many units.
     "We will probably increase retails, but that means there will be fewer units that we can push through because of the cotton inflation."
Next Creations
Michael Vidra, president
"The situation at the moment is different in each country.
     "China about 10 days ago eased up 1% to 2%, but prices are still up 20% to 30% compared to six months ago. It's still very volatile and some people still cannot supply.
     "From China we got a final quote on Nov. 8. We placed the order on Nov. 16. They demanded a 16% increase - in just eight days.
     "Labor costs are also a problem. I have one owner I know, he was mandated last spring by the government to raise salaries 20%. He has raised them 40% over the last eight months just to keep his workers."
     Vidra noted there are more attractive occupations now in China for workers. "These people can now work inside in air conditioning. Why work in textiles?"
     "India has cotton, but we see 18% to 26% increase on sheets.
     "Pakistan has been a little bit less aggressive. One supplier asked for a 25% increase. After de-specing it was still a 10% increase."
Town & Country Living
Neil Mandell, chief merchandising officer
"We've seen this happen in oil a few years ago, and the prices went back down - even though they did go back up again in the last few weeks or so.
     "Many retailers do direct importing, and they know firsthand what we are going through. Couple [cotton price increases] with increased transportation costs and factory limitations in China, for example. A lot of factories are shifting to other commodity products the government feels is more essential than home furnishings.
     Town & Country mostly uses all-cotton in its bath towels and kitchen towels and dishcloths as well as in segments of its bath line. He estimated roughly that "maybe 55% of what [in these product categories] is made of 100% cotton."
HTT Editor-in-Chief Jennifer Marks, Product Editor Cecile Corral and contributing editor Jill Rowen contributed to this story.
Related Content By Author
Live From New York: Fashion Comes Across the Pond

More Videos
Subscribe to
Home & Textiles Today eDaily
Receive the news you need to know about the trends in the industry delivered right to your inbox.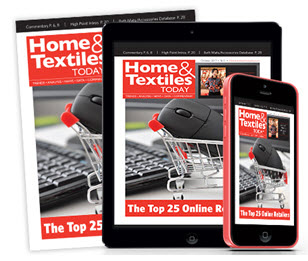 See the October 2017 issue of Home & Textiles Today. In this issue, we look at the Top 25 Online Retailers. H&TT's exclusive annual ranking of the biggest online sellers of home textiles finds that while pure play etailers continue to fly, bricks & clicks are digging into omnichannel. See details!