Market Intros
BeddingCHF New York (212) 951-8042 CHF goes retro with their Axel pattern. The company is also offering other patterns including colorful Butterfly and Opus Blue.Colonial Home Textiles Garden Grove, Calif. (714) 754-1636 From Colonial Home Textiles, a key item is Harper, a four-piece coverlet/duvalet ensemble with three-piece decorative pillows, in moss, chocolate and plum, crafted in 100% polyester dupioni.Divatex New York (646) 981-6624 Divatex presents Bukhara, a yarn-dyed jacquard intricately designed to show beauty and richness.Hallmart Collectibles Sun Valley, Calif. (818) 759-0770 Hallmart Collectibles introduces a black and white stripe jacquard comforter set that projects a sleek, contemporary feel.Home Fashions International New York (212) 689-3579 Home Fashions International introduces 26 new bed ensembles featuring updated classic damask motifs, matelasse and embroidered ensembles with a modern touch and an emphasis on colors ranging from soft luminescent tones to rich spicy hues.Jay Franco and Sons New York (212) 679-3022 Several new 100% cotton, 200 TC printed bedding programs are set for launch in a variety of designs that include an all-over black-and-white floral, an updated animal skin that matches to a tartan plaid, and a large-scale hound's tooth pattern accented with a scroll design.M & Z Marketing Group New York (212) 631-0900 M & Z Marketing Group introduces its fashion bedding: all cotton licensed college logo bedding, 300 thread count animal print 10-piece quilt sets, 300-400 thread count three-piece and seven-piece coverlet sets in a variety of quilting combinations, organic cotton duvets and coverlets with matching sheet sets. Sheet sets are 300-1000 thread count, chambray and yarn dyed, with matching coverlets. Hotel collection sheet sets with fancy hem treatments and matching duvets, organic cotton sheet sets with matching duvets and coverlets.PDK Worldwide New York (212) 889-6144 A signature look this market is the Harbor Moon comforter set. It features an appliquéd and embroidered comforter in warm, soft bedroom tones of blue, silver and creme. The appliqué is designed with vines of leaves and flowers reflecting a silver moon on a beautiful harbor night.Premier Fine Linens Coimbatore, India +919360191009 Ultra-Fine cotton is woven with a unique cotton yarn developed and engineered by Premier Fine Linens to make a truly superior and luxurious bedding product. Ultra-Fine cotton is a blend of exceptionally long staple cotton which has a natural characteristic of fineness and is soft and lightweight. This rare and exclusive blend of hand-picked cotton comparable to the world's finest sea-island cotton is carefully selected, spun, woven and finished by master craftsmen and backed by Premier's experience of over 60 years in the manufacture of fine cotton.Raymond Waites New York (212) 447-8700 A key Raymond Waites product this season: Fairfield. Evoking the refined sensibility of an English country estate, Fairfield is an elegantly rendered floral printed on a linen cotton blend. Set in a palette of dusty blue, rose and spring green, feminine details bring a sophisticated, romantic feel while the printed sheet keeps the collection cozy and rustic.Revman International New York (212) 278-0312 Revman International unveils a wealth of additions and extensions to its branded lines this market. In its continuing partnership with the designer, Revman offers four new graphic ensembles from Michael Kors in chic and impactful colors that are perfect for spring: Hollywood, Mustique, Essaouira and Bermuda. New this season, they will be adding crisply modern embroidered duvets and sheets that can mix and match with the fashion bedding or stand on their own as an alternative bedding option. Revman will also continue to build the bath line for this brand with two complete bath ensembles (shower curtains, towels, and bath accessories): Montauk and Hollywood. Tracy Reese continues her cheerful colors and uniquely bohemian point of view with two new bed and bath collections that are inspired by exotic cultures — Spice Market and Grass Paisley. Both patterns have beautiful coordinating bath ensembles of shower curtains, towels, rugs, and bath accessories. Tommy Bahama travels from Bimini to Cat Island and points between to create a collection that is fresh and appealing. Inspirations range from an island paisley, Bimini, to the casual, colorful yarn dye stripe Abner Cay. Cat Island is a richly colored batik inspiration; the Pineapple block print in a fresh, clean palette of turquoise and white rounds out the casual side of the collection. Soft and comfortable washed cotton quilts are offered in several colors to layer with the new bedding and an embroidered pineapple duvet and shams in crisp cotton is a new addition to the product portfolio. An extensive new bath collection draws inspiration from several of the bedding ensembles, but also features many freestanding products as well. Also new this market, Revman will be launching a freestanding drapery/window collection which for the first time makes Tommy Bahama available to every room in the house. The new Laura Ashley collection is modern and inspired by the brand's European design direction. Clean lines and fresh colors characterize this season's offerings, mixing prints and embellished details in five new collections: Memento, Kenton, Anabella, Jillian and Holbeck. Washed cotton quilts in the Holbeck silhouette damask will be offered in multiple colors, as well as patchwork quilts, to coordinate with Kenton and Anabella. Steve Madden's bold, graphic prints and sizzling colors make a splash again this spring with three new beds: Dahlia, Kingston and Angelica. Perry Ellis will show two new fashion beds in their "collection" category, both reflecting contemporary sophistication with an edgy pop of color that is the signature of the brand. Park Row's trad blues and grays are popped with a shot of pumpkin; Valencia's spring green is energized by coral and balanced with ivory. The Columbia brand's strength has always been in the basics, and we will be featuring new designs and colors for spring weight throws and coverlets as well as sheets. Revman's own Manor Hill bedding collection gets an updated look, combining some prints into the mix along with interesting jacquards and embellishments. A complete collection of freestanding and coordinate bath collections will also be shown for Manor Hill. One new brand will be launched at market: wallcandy bedding. The wallcandy decorating kits contain repositionable shapes and panels in a variety of designs which allow the consumer to transform any room into an exciting graphic environment that is easily changed. The company has partnered with Revman this season to expand their unique concept into a bedding kit with complementary wall décor included. Four kits will be offered. Two of their most popular children's patterns, Dottilicious and Space Crafts, will be marketed for young children's rooms. For the back-to-college crowd, Revman offers Rococco for girls and Oxford Blue for boys, both of which include wallcandy's popular chalkboard wall sticker — perfect for dorm room messages and notes.Royal Heritage Home New York (212) 292-3433 Royal Heritage Home introduces Key West, a 300 thread count printed sateen made of 100% cotton, embellished with embroidery and different woven elements.Safdie International Inc. New York (201) 818-6794 New bedding products include Coral blankets, suede comforters, microfiber sheet sets, jersey sheets sets and several other items in varied constructions.S.S. Dweck Irvington, N.J. (973) 375-0900 Chess is an example of embroidered sheet sets from S.S. Dweck this market, poised as an "answer to the recession: lots of class, super soft, and the price is right."Stellar Alliance/Wilh. Wulfing New York (212) 563-6305 Luxury White is a 100% Egyptian cotton flannel bedding program by Stellar Alliance/ Wilh. Wulfing, available in all bed sizes- sheets, duvet covers and shams.Textrade Inc. New York (646) 291-6800 The company's new Swarovski-branded crystal bedding collections are made to "add bling" and glamour, the company said, to a bedroom. Designs include Crystal Grey, a chocolate-and-gray color story featuring gradating crystals, and Stardust, which features a spray of crystals on a cotton sateen ground. The company is also showing several new collections form its own house line, with additional designs like Citadel.Triangle Home Fashions Cranbury, N.J. (609) 409-0970 Triangle Home Fashions introduces its 2009-2010 bedding line. A fresh group of patterns inspired by in depth research on trends from around the globe, it is sure to impress. Ranging from contemporary to more traditional, the designs are targeted to appeal to a broad customer base, with an emphasis on flexibility in styling.Universal Home New York (212) 481-7112 New bedding collections center on elegant but practical styles. The Sultan collection is a reversible style that features a rich jacquard design on one side and a coordinating embroidered look on the other for an overall traditional damask theme. The fabrication includes polyester jacquard fabrics and faux silk. The Laurel collection — also made of polyester jacquard fabrics — is a more casual offering, depicting a shadow leaf design in a neutral colorway.Venus Home Fashions Foot Hill Ranch, Calif. (949) 609-1299 The company is taking its proprietary VisaEndurance antimicrobial and moisture-wicking sheet program to new heights with the addition of two top of bed embroidered collections as well as two new solid colors to the entire line. Titled Chateau, the new top-of-bed offerings feature simple embroidered patterns for a traditional look. The mix includes duvet sets with matching shams as well as other coordinating accessories. Also new for market from the company is an expanded quilt offering of 20 new traditional-to-modern looks, 12 to 15 new comforter sets, a new solid-colored towel presentation, four new solid color bath towel constructions, and a new line of all-cotton bath rugs to coordinate with three of the new towel collections.WestPoint Home New York (212) 930-2561 WestPoint Home is launching their newest license brand, Izod. A hallmark of the collection is Schooner, a blue and white nautical theme in super soft, wrinkle-free 100% cotton twill.Bath
Bay Linens
New York (212) 244-4125
The Safari shower curtain from Bay Linens features a 100% cotton duck zebra print with brown header. Coordinates with woven jacquard towels.
Decorative Living
Bristol, Pa. (215) 874-5388
The Bordeaux collection was made with the Renaissance Era in mind. Each piece is made by hand with wood from Willow trees and is stained with natural dyes.
The collection includes a wastebasket, tissue boutique, lotion pump, toothbrush holder, tumbler, soap dish, vanity tray, tank tray, towel basket and counter-top organizer.
DWI Holdings
New York (212) 824-2949
Starry Night bedding from DWI Holdings/Barbara Barry Dream is available in duvets, sheeting, and embroidered decorative pillows, 300 thread count sateen.
Divatex
New York (646) 981-6624
Divatex's Animal World collection is manufactured on the latest jacquard looms for long lasting quality and has a generous spec with two-ply ring spun yarn and soft feel.
Dohler USA
New York (212) 213-1271
Bath ensembles from Dohler USA are 100% ring-spun cotton loop terry and are available as bath sheets, bath towels, hand towels, wash cloths and bath mats.
Empress Home
New York (212) 532-3500
Empress Home now offers a luxury line of bath towels and silk loungewear. The bath towels are pure cotton with jacquard woven designs up to 650 gsm. New pure silk charmeuse loungewear is elegant with details that include full silk lining, silk velvet accents and delicate lace. Silk robes, long gowns and short slips are available in matching and coordinating colors.
Home Fashions International
New York (212) 689-3579
Aria from the Home Fashions International bath collection features an embroidery design on silken fabric. The beautiful two-tone embroidery comes in colors ranging from a soft willow- ivory combination to rich red- chocolate.
India Ink
Los Angeles (323) 446-0702
India Ink introduces several new accessory collections, including Anisa — a grouping of ceramic pieces made to look like old-fashioned canisters. The company has updated the motif and added hand-painted details on the accessories, which coordinate with a shower curtain and embroidered bath ensembles.
Lorraine Home Fashions
New York (212) 684-0858
Four new shower curtains are among the category highlights for Lorraine this market.
Ashland is a floral embroidery on faux silk with grosgrain ribbon trim and comes in black, gold, silver and white. Hibiscus is an all-over printed hibiscus pattern in green, blue and buttercup. Network is an abstract-patterned jacquard piece in beige, black, brick and gold. And Newport features an embroidered sailboat pattern with rope trim, and is offered in blue.
Loftex
New York (347) 227-4401
Loftex's Towel Collections incorporates the 1920's, vintage and nostalgic designs in powdered pales, faded mid-tones and aged neutrals and then places them in the midst of modern constructions, colors and settings. Collection 1 is Duo-Texture Solid mixed with and Iridescence ombre stripe and ikat, all in faded orange and yellow for a whole new meaning to mid-century modern. Collection 2 is In Bloom, a stylized floral with Maplewood hombre floral and Velveteen, a two-sided veloured solid combining to create discreet luxury in any décor.
M&Z Marketing Group
New York (212) 631-0900
From the bath shop, M&Z Marketing Group introduces 100% cotton yarn-dyed rugs in a variety of styles new styles which include race track borders, variegated stripes, circles, and stripes.
Pendleton Woolen Mills
Pendleton, Ore. (503) 226-4801
Adobe Canyon towels from Pendleton bring Southwest chic to the bath with sunset stripes and geometric border trims. Wash cloth features a single diamond-and-cactus motif. 100% cotton sheared velour with 100% polyester trim. Three-piece set includes a 27-inch-by-50-inch bath towel, a 16-by-32 hand towel and a 13-inch square washcloth. Price: $7.
Sanko Towel
Turkey 90 342 211 56 22
Sanko Towel has developed a sophisticated Turkish organic spa towel as a historical mirror of ancient Turkish Hammam culture, for those who care about the environment. The bath, hand and wash towels are coordinated with tubmat and bathrobe with the exceptional luxury of 100% certified, world-famous Turkish organic cotton.
Saturday Knight, Ltd.
Cincinnati (513) 641-1400
The company is showing many new luxury looks, including a variety of floral, scroll, and upscale embroidered patterns. The groupings include plush cotton jacquard towels and ceramic hand painted accessories.
Saturday Knight has also developed a mix-and-match group that spans a variety of shower curtain styles, accessories, rugs, and towels in updated colors and designs that cater to young adult shoppers outfitting their first place.
S.S. Dweck
Irvington, N.J. (973) 375-0900
S.S. Dweck presents HMGD, their newest chenille rug.
Kitchen/Tabletop
AG Casa
New York (212) 689-2615
AG Casa expands into the better table linens arena with 180 to 600 thread count all-cotton pieces as well as cotton/poly blends. It is available in solids and coordinating prints.
Anchor Home Products
Wyckoff, N.J. (201) 493-8585
The company is expanding its licensed program with artist Paul Brent to include Tropical Flamingo in matching placemats, kitchen towels, pot holders, oven mitts, and aprons.
Also new is the addition of solid-colored appliance covers — for can openers to large mixers — to the existing Lisa solid-colored kitchen coordinates collection.
Chilewich
New York (212) 879-5776
For what the company described as "surely our most glamorous season," Chilewich is introducing an assortment of metallic and pressed vinyl looks.
Gold and silver and overall functional luxury together mark the highlights of the Fall 2009 collection — which includes the richly textured Brocade grouping and the pressed vinyl Crochet's contemporary take on lace.
Also new are jewel tones added to the existing and popular Engineered Squares and Lattice collections.
Domay
Montreal (514) 383-8989
Introducing Yamode-J from Domay, a pre-washed 100% cotton large 20-inch-by-30-inch jacquard tea towel in assorted fruit designs across three earth tone colors. These quality towels are designed to wipe down kitchen counters, tables or to dry dishes and glassware — and then drape the extra large towels over an oven bar or fridge door handle.
Flying Fig
New York (212) 453-4680
Flying Fig Accessories & Home Furnishings takes a different approach to table linens with the introduction of its Fuchsia Fantasy table topper, a 54-inch-by-54-inch hand-embroidered piece made of silk organza and embellished with floral and ribbon trim.
Home Fashions International
New York (212) 689-3579
Home Fashions International presents its Nautical Anchor collection on linen featuring detailed appliqué and embroidery.
M&Z Marketing Group
New York (212) 631-0900
Printed kitchen slice rugs with matching 20-inch-by-44-inch sink runners in numerous styles include patterns such as roosters, sunflowers, fruits and scenics.
Manual Woodworkers & Weavers
Hendersonville, N.C.
(800) 542-3139
Bright colors and creative wreath designs on the Wreaths of the Season holiday runner will coordinate with practically any style of table setting.
This runner was created using a new technique that brings colors and textures to life with images digitally printed on textured fabric to add another dimension of detail. A classic weave texture and decorative tassels at each end complete the details. Runner size is 72 inches by 13 inches.
Safdie International Inc.
New York (201) 818-6794
The company's new kitchen and table linens product line includes tea towels, dishcloths, tablecloths, four-packs of napkins, table runners, placemats and anti-slip chair pads. Constructions include stain-resistant micro-fiber and micro suede, among others.
S.S. Dweck
Irvington, N.J. (973) 375-0900
From the S.S. Dweck HTL Collection, Five Star Hotel towels are absorbent in soft terry, made in the season's fashionable colors. "Make your home the Ritz-Carlton."
A ribbed stripe microfiber three-pack coordinating cloth set is offered.
Textrade Inc.
New York (646) 291-6800
The new Round braided jute placemats in neutral shades are made to match with a set of jute coasters.
Urban folklore is another new collection. It comprises striated yarn-dyed cotton pieces featuring graphic embroidery work and box quilting.
Thro
New York (212) 213-8915
Thro is introducing a colorful, crocheted Daisy placemat.
Windham/Soft Impressions
New York (212) 779-1242
Windham/Soft Impressions is building on its broad tapestry assortment with several seasonal looks, including a poinsettia diamond style titled Derry.
The program comprises coordinating placemats, runners, chair pads, decorative pillows and accent rugs.
Area Rugs
Carpet Art Deco
New York (866) 321-3326
Carpet Art Deco is adding to its highly successful shag rug line with a wealth of new constructions. Included in the line-up is a shag in a mix of heat-set polypropylene soft yarn with an infusion of delicate polyester yarns for a fashion-driven, luxurious effect.
Another new introduction is a silk-imitation rug constructed from newly-engineered yarn, machine-woven, 1-million points, 7.5mm pile height. The rug is 100% dust-free and is available in attractive classical, transitional and contemporary designs.
The company will also showcase new additions to their bath rug line.
Concord Global Trading Inc.
New York (212) 686-6686
Concord Global is introducing the Karma Collection, which uses two pile heights and constructions for texture and depth of design. The low pile is cotton chenille, and the high pile is a heat-set polypropylene that is made to feel extra soft.
Sizes vary from 3-foot-3-inch-by-4-foot-7-inch to 8-by-11.
There are eight designs and two background options. The collection is made in Turkey.
Invista
Kennesaw, Ga. (770) 420-7733
Invista, which produces the Comforel and other fibers used to make bath, accent and area rug, is unveiling new innovations in rug yarns with environmental benefits and new products.
Invista has developed technologies to incorporate environmental attributes into all rug fibers, including premium fibers with a minimum of 1% to 2% renewably sourced materials derived from castor bean oil, as well as mainstream fibers with a minimum of 4% post consumer recycled content. These products will be available beginning 2010.
In addition, new 1010 and 948 fibers with the company's "Macro Bulk" technology result in higher bulk and reduced raw material usage.
Orian Rugs Inc.
Anderson, S.C. (864) 224-0271
The new Carolina Wild collection draws from elements in nature — such as animal skins, organic shapes and earthy textures. The rugs are domestically made, machine-woven at the company's headquarters facilities. The construction is 100% olefin.
Decorative Pillows
Abhiasmi Inc.
New York (917) 442-3695
The company's Jovi Home line includes decorative pillows in a broad range of contemporary designs and colors interpreted on cotton and polyester fabrics, some of them textured. Designs are enhanced via printing, weaving variations, flocking, and embellishments like sequins and beading, and embroideries.
All are made to coordinate with the company's other product offerings — soft window treatments, throws and area rugs.
Alpha Home Fashions
Ewing, N.J. (215) 913-9172
Several new collections are being shown, including the Embroidered Pineapple grouping. Available in vanilla, sand, celadon, banana or a customer's preferred palette, these cotton twill and embroidered pieces come in 20-inch squares and 14-by-24 rectangles and are made to match with a sister collection of table runners and placemats.
Arlee Home Fashions
New York (212) 592-8009
The company has more than 100 new skus for the category, with a broad offering a new looks that fall into five new design themes — New Traditions, Soft Modern, County Home, Sanctuary, and World Travel.
Home Fashions International
New York (212) 689-3579
Home Fashions International is introducing a new linen collection that includes pieced, appliquéd and tied pillows.
International Merchandise Sources
Naples, Fla. (614) 343-3410
The company's new collection by artist Travis Spencer is at the forefront. These tapestry pieces come as decorative pillows, doorknob accessories, draft dodgers and wall hangings.
Manual Woodworkers & Weavers
Hendersonville, N.C.
(800) 542-3139
Halloween Moon pillows are created using a new technique that brings colors and textures to life as images are digitally printed on textured fabric to add another dimension of detail. The 100% polyester fabric is textured with a spider web pattern. Each pillow sold separately: Mouse Boo! is 12 inches by 2 inches; Black Cat in Pumpkin is 18 inches by 18 inches.
The reversible pillow from the Avenue Collection combines bamboo, cotton, and chenille filling yarns and a polyester warp yarn for a unique feel and texture in a classic block design. Rich neutrals reverse from dark to light in a contemporary yet classic design. Additional items are available in a variety of patterns and colors. Reversible Block pillow size is 20 inches by 20 inches.
The Rubio Collection captures elements of nature from the sea, from the forest, and from tropical gardens. Each pillow is constructed in a poly/cotton blend with a shiny finish. Rich colors and exquisite detail make each of these pillows an example of nature's beauty. Oak Leaf & Acorn pillow size is 18 inches by 12 and a half inches.
M & Z Marketing
New York (212) 631-0900
M & Z Marketing introduces fashion futon covers in prints and solids that include a '60s tie-dye design and an animal print and denim look.
The Cabin Cuddler travel blanket/throw with inflatable pillow comes with an easy-carry case.
Thro
New York (212) 213-8915
Thro Tropic leaf pillows: Add "instant sophistication" with Thro's new embroidered appliqué tropic leaf pillows in various sizes.
Pillows, Pads, Blankets & Throws
Arlee Home Fashions
New York (212) 689-0020
Arlee is showing several new versions of its micro-mink throws. The collection includes solid ribbed textures, quilted designs, and variety of printed patterns.
One example is Helena, a basket weave woven plush available in seven colorways, including merlot, taupe and grass. Another is Butterfly, a soft woven micro-plush product that comes in grape, grass, wine, chocolate, ivory and taupe.
Ellery Homestyles
New York (212) 448-4450
The latest signature product in Ellery's historically powerful throw category, the Portobello knit throw is made of 100% acrylic knit and available in mushroom, chocolate, black, pewter, navy, artichoke, wine. Size is 50 inches by 60 inches.
Empress Home
New York (212) 532-3500
Complementing luxury bed linens is the new Empress Home 2010 line of blankets and throws woven of wool, cashmere, silk or bamboo and finished with impeccable detail. Plush or jacquard woven, yarn dyed blankets and throws are lush, soft, warm and both a practical and decorative addition to bedding or décor.
Home Fashions International
New York (212) 689-3579
Home Fashions International introduces a fresh new look to the classic suede pet bed.
The Northwest Company
New York (212) 725-6996
Cuddle up with Northwest's Dallas Cowboys Comfy Throw, the officially licensed NFL blanket with sleeves. It measures an oversized 48 inches by 71 inches in size, and is constructed of a soft, warm fleece. The Comfy Throw is also available in NFL, MLB, NHL, NBA, CLC (collegiate), and NASCAR licenses.
Pacific Coast Feather Co.
Seattle (888) 297-1778
Pacific Coast expands its trademarked AllerRest Pillow Collection with what it calls the "highest level allergen barrier thread count on the market."
In response to customer interest, the company said it has introduced the new, exclusive 420 thread count AllerRest Fabric to its AllerRest Pillow line — blocking dust mites and their harmful allergens with luxury fabric.
The lab-tested allergen barrier is created without the use of pesticides and uses soft, 100% cotton so comfort is maintained. The AllerRest Collection is part of the Pacific Coast — American Lung Association educational partnership to improve sleep environment air quality. Since 2005, all AllerRest products have carried the "educational partnership" logo label, alerting consumers to its benefits.
The combination of AllerRest Fabric and Hyperclean fills also supports the Pacific Coast Allergy Free Warranty. All pillows machine washable and come with the 30 Night Comfort Guarantee.
Pacific Coast is also expanding its trademarked Renova EcoPoly line with the new Renova 100% Recycled Body Pillow. The 20-by-48 pillow features both recycled fiber fill and fabric made entirely from 100% post consumer recycled plastic. EcoPoly fabric is a soft, plush fleece cover that provides exceptional softness and comfort; it is made from 100% clear two-liter soda bottles. The company also offers products filled with Ingeo blown, cluster and garnet fibers, a sustainable fiber fill derived from annually renewable raw materials.
In the Calvin Klein basic bedding line, Pacific Coast debuts the Mini Check blanket, to be marketed under the Calvin Klein White Label collection. It features a 300 thread count, 100% cotton cover, offered in an array of subtle colors including dune, cerulean, willow and white — which tie back to Calvin Klein's soft home color palette. Filled with a premium high loft down alternative fiber fill and finished with a simple flat edge.
The company is also showing several new accessories including Ultra Fresh pillow and mattress protectors featuring Nano-Tex Neutralizer, an odor neutralizing fabric technology with fabric that breathes naturally, maintains performance over time and retains its natural softness. Made with a 300 thread count, 100% cotton fabric and may be machine washed and dried for easy care; coming with a hidden zipper closure, it fits mattress up to 16 inches deep.
Pendleton Woolen Mills
Pendleton, Ore. (503) 226-4801
A highlight this market, the 5th Avenue throw from Pendleton Woolen Mills offers an indulgence woven of superfine Merino and softly brushed to produce a fleecy hand. New colors, plaids and patterns. Price is $128.
Perfect Fit Industries
Charlotte, N.C. (704) 815-2200
Perfect Fit introduces "Bedding for the Human Race," in partnership with T3 Recovery Products, the official bedding of the Ironman brand. The new product lineup is designed to provide better sleep and faster recovery. Mattresses, mattress pads and bed pillows are being launched that utilize Ironman Sleep Technology. They are designed to give active, hard-working, hard-playing consumers the quick recovery needed for healthier, more productive lives.
Safdie International Inc.
New York (201) 818-6794
New blankets and throws include: Solid Sherpa, Printed Sherpa, Fun Fur throw, Polar Fleece, Embossed, Corduroy, photographic prints, coral, faux suede, Micro-sherpa, and ribbed. Also new to the line are shoulder throws.
The company's blanket assortment comes in two sizes: 60-by-80 and 79-by-94.
S.S. Dweck
Irvington, N.J. (973) 375-0900
S.S. Dweck's Style C6080B is a soft fleece blanket offered in a variety of colors and presented in an open-top vinyl bag so customers can feel them.
The Sahara Club line is extended with S-Royal, a collection with embroidered oversized hems combined with complex quilting.
Also new: a ribbed coral super soft throw with a matching pillow. Dubbed "SFF" for "Soft, fashionable and functional."
Stellar Alliance/IBENA
New York (212) 563-6305
The wool blend blanket from Stellar Alliance/IBENA comes in burnt sienna, nutmeg, poppy, dusk and is made of 60% wool and 40% acrylic. These blankets, along with many other designs, are now available for domestic shipping from South Carolina through the company's new drop-ship program.
Textrade Inc.
New York (646) 291-6800
Textrade's Ashley throws feature a hand-stitch look embroidery on cotton twill with ruffle edges. Offered in the chocolate, meadow, sky and black colorways.
Also new is Geo, an organic cotton knit throw with contrast binding.
Thro
New York (212) 213-8915
Thro Peace dog bed: Spoil your fun furry friends with this durable dog bed.
United Feather & Down
Des Plaines, Ill. (847) 296-6500
The product focus for market week centers on collections that provide high value without sacrificing luxury and performance, such as United Feather & Down's award-winning Personal Comfort pillow collection, most recently featured in the May 2009 issue of
Ladies' Home Journal
.
The new designs are made from 300 thread count damask stripe cotton and trademarked Eco-Harmony, an extra-fine denier down alternative fill made from recycled poly.
Styles include Side Sleeper, Back Sleeper, and Stomach Sleeper bed pillows designed specifically for proper neck alignment and comfort for the different sleeping styles. Delivering versatility, functionality and choice, the Voyager Bed & Body pillow is a dual chamber pillow that converts to a 56-inch body pillow, literally two pillows in one. The Pillow Top pillow provides the same balance of comfort and support in a bed pillow as found in a pillow-top mattress. Grand Resort pillow is made with either a single or tri-chamber construction that delivers a level of support equivalent to that of two stacked pillows.
Zambaiti USA
Spartanburg, S.C.
(864) 576-1958
The Compagnia Lane Prezione collection has been enriched by the Angelina blanket, a fine Australian Merino lambswool blanket finished with a touch of luxury by a jacquard ribbon. It is available in twin, full, queen, and king in six colors and is made in Italy.
In the Thinkashmir Collection is the Duetto throw, a 100% cashmere reversible trendy throw available in five fancy colors and a generous 50-inch-by-70-inch size and is made in Italy.
Window Coverings
Achim
New York (212) 686-6652
Achim's HoneyComb Cellular Pleated Shade insulates the room all year long. 100% soft non-woven polyester fabric is resistant to sagging and fading; single pull cord with tassel. Simply dust or vacuum to keep clean.
Abhiasmi Inc.
New York (917) 442-3695
The company's Jovi Home line offers a range of contemporary designs and colors interpreted on cotton and polyester fabrics. Embellishments include printing, weaving variations and embroideries. Other fabrications include solid and textured styles.
Coordinating with soft window treatments are decorative cushions, throws and area rugs.
Anchor Home Products
Wyckoff, N.J. (201) 493-8585
Anchor continues to add momentum to its patented Versa-Tie program of functional soft window treatments. Additions this market to the line include tie-up shades and a blue-and-white stripe color combination.
C & F Enterprises, Inc.
Newport News, Va.
(757) 310-6100
The Seraphina Brown bedding collection is a cotton-filled oversized grouping. The look is quilted, but updated with contemporary printed patterns.
Home Fashions International
New York (212) 689-3579
Home Fashions International presents the nature-inspired Laurel Leaf embroidery on faux silk or sheer organza fabrics, to create a transitional window treatment that can be dressed up with trimmed waterfall valance for a formal affair or balanced with rings for a modern daylook. Whimsical floral embroidery design, sophisticated faux silks, elegant damasks and transparent sheers also available.
Infant & Juvenile
M & Z Market Group
New York (212) 631-0900
Start your child's college prep with collegiate logo crib sets from M & Z Market Group. These sets include a reversible college logo comforter; bumper guards, crib skirt, two sheets and Slumbersoft waterproof mattress pads.
PDK Worldwide
New York (212) 889-6144
Choo Choo is a bright and lively quilt for the little ones, appliquéd and pieced with timeless train motifs.
Springs Creative Products Group
Rock Hill, N.C. (803) 324-6400
Springs Creative Products Group expands its juvenile bedding line with Pixie by Lori Siebert, an artist with a modern style and a twist of whimsy.
Thro
New York (212) 213-8915
Thro baby — the new line of baby robes, jackets, blankets, and crib sets — allows baby to enjoy the same super soft fabrics and adorable designs from the Thro line for adults.
For tweens — Thro Guitars microplush bedding, a fun yet sophisticated collection.
Related Content By Author
The Countdown to the ICON Honors Continues featuring Christophe Pourny

More Videos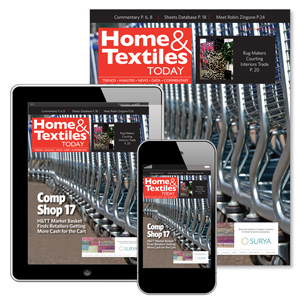 See the May 2017 issue of Home & Textiles Today. In this issue, we discuss our annual Market Basket survey, which finds higher prices and more polyester at leading retailers. See details!