What's new at the Atlanta Rug Show
828 INTERNATIONAL TRADING CO.
Greenville, S.C. (800) 733-0828
828 International will introduce the Royal Elegance collection of 1.5-million-point rugs. It employs 14 colors in a high-density weave of heat-set polypropylene. Designs range from transitional to classic Persian to French and feature viscose highlights. Royal Elegance is available in 32 styles with more than 200 skus ranging in size from 2' x 3' to 12' x 16's, including rounds, octagons and runners.
BALTA US INC.
Dalton, Ga. (877) 565-0497
Expanding on its million-point heat-set construction, Balta will introduce the New Dimensions collection in 20 patterns featuring transitional and contemporary designs and accent through area rug sizes.
In addition, Balta will be adding to its promotional lineup the Monterey collection — a six-color olefin group in transitional and botanical designs.
CAPEL INC.
Troy, N.C. (800) 334-3711
Capel will launch the new capel kidz line of rugs targeting infants through teens. Drawing on popular themes in juvenile bedding, clothing and color ensembles, capel kidz currently comprises braided rug styles, with more constructions to roll out in the near future. Soft Step is a rectangular, soft cotton chenille and fabric braid combination designed for babies in the crawling stage. Pep Rally is a rectangular cotton chenille braid in several colorways — girlfriend, blue jeans, all star, homecoming, spring break and field day.
cmi
Pawtucket, R.I. (800) 343-9339
Through its licensing partnership with designer Janell Jarous Lampp, cmi will launch a new collection of accent and area rugs called Simply Home. The braided texture collection of rectangular-size rugs will debut with six patterns reflecting Lampp's casual style. In addition to the polypropylene rugs, cmi will produce coordinate chair pads, stair treads, trivets, an accent rug, rug slice, heart rug and basket.
COURISTAN
Fort Lee, N.J. (800) 233-6186
Six new collections will debut at the show. Recife is power-loomed in Belgium of 100 percent fiber-enhanced polypropylene. Taj Mahal, featuring classic 16th and 17th century Persian carpet designs, is power-loomed in Belgium of 100 percent semi-worsted New Zealand wool using Couristan's patented locked-in-weave construction. Super Indo-Natural is hand-crafted in 100 percent un-dyed wool and features boldly colored brushstroke patterns. Super Indo-Colors is hand-crafted in India of 100 percent wool and features a bright palette made in a colorfast chrome dye process. Everest is made of heat-set polypropylene and is power-loomed of a 1250 D-Tex yarn in a 1-million-point construction. And Autumn Leaf is woven with 100 percent New Zealand wool in a Wilton cut and loop-pile construction.
EBISONS HAROUNIAN IMPORTS
New York (800) 966-6666
Ebisons will launch six new collections: Jawahar, which comprises antique adaptations of Agra, Mahal and Sultanabad designs in gold and bronze hues; SoHo and Matrix, both of which are made in China of hand-tufted wool and feature contemporary designs; Golden Horizon, a grouping of Sino Persians available as 160-, 200- and 230-line styles; Retro-Peking, which features traditional blue and white Chinese patterns made in a low 100 percent wool pile; and Peshawar (Attock), a group of antique replicas of Ziegler Mahal and Sultanabad rugs made by Afghani refugees in Pakistan.
FEIZY IMPORT & EXPORT
Dallas (214) 747-6000
Feizy's new Izmir collection, made in Turkey, combines an updated color palette with traditional designs. The company is using Izmir as its vehicle to introduce its newest technology — power-loomed wool that is enhanced with faux silk — to imitate hand-knotted rugs at a more affordable price of $398 for a 5'3" x 7'8".
Other new collections include: Classique, power-loomed in Romania of 100 percent wool and featuring traditional French styling with modern color palettes; Peyton, a floral and geometric line of China-made hand-tufted wool rugs; and Vail, a grouping of 100 percent wool power-loomed rugs.
Also new are some additions to two existing collections — the Wilshire collection of densely woven power-loomed rugs in traditional and transitional designs, and the Ridgeway collection, which features Moghul, Tabriz, Kerman and Amristar designs.
HELLENIC RUG IMPORTS
Brooklyn, N.Y. (888) 356-5284
Hellenic Rug Imports will launch two new house brands — Hellenic Rugs and Hellenic Home — to differentiate its newly broadened lines of textiles that include not only its core line of rugs but also its decorative pillows and throws. Hellenic Rug comprises the company's broad assortment of accent and area rugs, including its signature flokati styles. And Hellenic Home will serve as the umbrella for new coordinated lines of decorative pillows, throws and accent rugs. Although the company has been producing product in all three categories, the new label marks an emphasis on lifestyle presentations. The Hellenic Home line will target furniture, department and specialty stores.
KARASTAN
Sugar Valley, Ga. (800) 843-4473
Headlining its debuts, Karastan will present two new additions to its Original Karastan collection. The Allegro and the Sereno represent a new color palette inspired by mineral shades, such as rose quartz, topaz, citrine, amber, amethyst, bronze and cerulean blue.
Rounds continue to be a central focus, and several existing lines will grow with additions in these sizes, including the 706 Indo-Kirman in the Original Karastan collection.
For the English Manor collection, a continuous stair runner will be the newest addition to the William Morris Red pattern.
And finally, building on the success of its accent-size offerings, Karastan will introduce its new tower fixture. The free-standing unit, which can be configured as a four- or five-tier structure, can be used with other existing displays like platforms, or can be merchandised and located near a wall where scatters and runners can be shown. The company's accent-rug program includes scatters and runners that range in sizes, including rounds. All coordinate with the brand's lead collections and designs.
KAS ORIENTAL RUGS INC.
Somerset, N.J. (800) 967-4254
Kas will introduce several new brightly colored, contemporary and tropical patterns for its popular Emerald collection. The rugs are hand-tufted and hand-carved and available in five sizes, including an eight-foot runner.
The company will also debut new patterns for its best-selling wool and silk Imperial collection, new bright contemporary patterns for its Indira collection and a new bamboo-style collection titled Mandarin.
MAJESTIC RUG CO.
Closter, N.J. (888) 860-7847
At its new sixth-floor-showroom space, Majestic will launch several new collections: Heritage, hand-knotted hook rugs from China; Antoinette, 100 percent 120-line New Zealand wool rugs made in China; Ambiance, India-made 100 percent hand-loomed wool rugs featuring viscose highlights; Jade and Bamboo, both made in China; Dynasty, 100 percent wool and silk rugs made in China; Cyrus, 100 percent heat-set polypropylene rugs machine-made in Turkey; and Josephine, Savonaire-style rugs hand-knotted in an Aubusson weave in China.
MILLIKEN RUGS
LaGrange, Ga. (800) 241-4826
Milliken will add 23 new designs to its Innovations collection of soft, nylon-tufted rugs made with StainMaster technology and featuring traditional, contemporary and floral designs.
The new additions include an octagon and an oval shape to complement the company's Milliken Solution program of five colorways and 10 sizes per design.
Milliken will also launch eight new carved designs for its In Bloom collection.
MOHAWK HOME
Sugar Valley, Ga. (800) 843-4473
Mohawk Home will officially launch its licensed Raymond Waites collection. Comprised of 30 styles in woven and print constructions, the designer collection includes rug styles that can coordinate with Waites' other licensed collection in furniture and other home furnishing products. For this new line, Mohawk Home created a creel specifically for the manufacturing of the rugs in this collection to better translate Waites' palette onto floor coverings.
Also for debut, Mohawk Home will introduce 60 new styles to its core lines, including offerings for independent dealers and furniture stores, as well as its larger format retail customers.
And for another licensed program with artist and designer Susan Sargent, Mohawk Home will expand this line with more skus of brightly colored styles.
MOMENI INC.
New York (212) 532-9577
Momeni's new introductions include: the Agra collection, an Indian-tufted line made of 100 percent New Zealand wool and available in eight designs; Delano collection, hand-knotted and hand-carved rugs in five contemporary designs; Sedona collection, 100 percent New Zealand wool rugs in six geometric pattern designs; Melody collection, 100 percent wool and silk rugs in Chinese and European designs; Riviera collection, border-design rugs available in seven designs; Comfort Shag, rugs made using 100 percent wool blended with rayon; and Cottage Cottons, cotton-flat-weave rugs in bold stripes, bands and geometric designs.
NOURISON
Saddle Brook, N.J. (201) 368-6900
Nourison will launch four new collections as well as several new additions to existing popular collections.
The four new collections are: Gallery Metro, hand-carved in contemporary designs in six colorways; Silverado, made of 100 percent wool in a classic Tibetan weave in six earth tone colorways; Sierra, hand-woven in 100 percent wool in a classic Tibetan weave and featuring renditions of traditional and documentary rug motifs in four colorways; and Spectrum, hand-crafted in wool and silk in relaxed sophisticated designs in six colorways.
New additions to existing collections are: a black colorway to Country Heritage; a red colorway to Mandalay; five new colorways — beige, ruby, light gold, multi-color and navy — to Nourison 2000; five new colorways — blue, red, beige, gold and rust — to Nourmak; a gold colorway to Tahoe; and an ivory colorway to Versailles Palace.
ORIAN RUGS INC.
Anderson, S.C. (800) 845-9729
For the first time, Orian Rugs will offer printed construction rugs with a focus on accent sizes in juvenile, kitchen and general design themes. Other constructions of accent rugs will also be introduced.
Orian will also show soft, contemporary and transitional styled rugs in a 1.5-million-point construction and other additional high-end qualities for which the company uses its own heat-set polypropylene yarns.
ORIENTAL WEAVERS
Dalton, Ga. (800) 858-5749
OW will launch its licensed collection with Woolrich Inc. The collection will include approximately 17 different patterns in an array of colorways. Each rug is woven with a 100 percent heat-set olefin-yarn system. Patterns will be available in seven sizes, including oversized 10'x13's and 8' rounds.
RADICI USA
Spartanburg, S.C. (800) 741-2009
Radici's new contemporary collection, Berries, is made of 100 percent New Zealand wool. It consists of eight power-loomed rugs in boldly colored designs and colorways. Each rug is patterned in geometric shapes that march across solid cut-pile fields. The rugs are available in four sizes: 3'3" x 4', 2'2" x 7'7", 5'5" x 7', and 7'9" x 11'2".
THE RUG MARKET
Los Angeles (800) 422-4354
Under its recently forged partnership with Vietri, the Rug Market will launch a new collection of hand-made, hand-hooked and hand-tufted rugs made of 100 percent acrylic. They use Vietri's traditional Italian designs.
SHAW LIVING
Dalton, Ga. (800) 282-7429
Shaw Living will launch its new licensed program with teen superstar sisters Mary-Kate and Ashley with about 20 styles of area rugs in printed nylon and shag constructions, featuring bright colors. It targets kids ages 5 to 19.
Also to debut is Shaw's new Accents collection comprised of 37 rugs made in a soft hand of heat-set olefin. They feature golden earth tones and vibrant jewel tones in casual contemporary, modern, Asian, Santa Fe and transitional designs.
SPHINX
Dalton, Ga. (800) 832-8020
Sphinx by Oriental Weavers will inaugurate its first licensed collection — The Andy Warhol Collection — with its launch this market.
Sphinx's Andy Warhol Home rugs will portray some of the artist's best known works. But Sphinx also includes in its collection some of Warhol's more unfamiliar works that interpret well into area rugs.
Other new introductions are the company's latest handmade collections: Colorados, 100 percent New Zealand wool hand-knotted rugs in classic Southwestern designs; Concepts, 100 percent wool hand-crafted rugs from India and inspired by contemporary-style 20th century art; Evolution, casual-style rugs hand-crafted in India of 100 percent wool pile; Florentine, 100 percent wool rugs in traditional European designs; and Santa Fe, hand-crafted in India of 100 percent wool and featuring tribal designs.
TRADE AM
Norcross, Ga. (770) 263-6144
In its newly remodeled showroom, Trade Am will launch more than 200 introductions — with emphasis on bath, area and accent rugs — targeted for fall and winter seasons. All items are handmade in India or China.
New lifestyle themes are Tribal, Bohemian, Tribeca and Sanctuary. New colorway groupings are Semolina (warm neutrals), Velveteen (rich jewel tones with dark indigo and aubergine), Rioja (Western reds and blues) and Cordovan (men's wear burgundies and blues). Trade Am will also be showing new products donning its popular Seaglass and Majolica colorways from the previous market.
The company's biggest area of growth is its room-size rug line, with showroom capacity for this category doubled to showcase many new designs and qualities.
TRANS-OCEAN
White Plains, N.Y. (914) 949-5656
Trans-Ocean will introduce five new collections. Amrita is hand-tufted in India of 100 percent wool pile and comes in 14 designs and colorways. Back Porch is China-made and hand-tufted in 100 percent wool. Milano is made of 100 percent wool, hand-tufted in India and available in four designs. Promenade has a paper base with a vinyl border and is Wilton woven in China in four designs and colorways. And Como is made of 100 percent polypropylene pile, Wilton woven in South Africa in nine designs.
Related Content By Author
Live From New York: Fashion Comes Across the Pond

More Videos
Subscribe to
Home & Textiles Today eDaily
Receive the news you need to know about the trends in the industry delivered right to your inbox.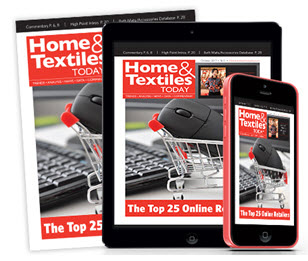 See the October 2017 issue of Home & Textiles Today. In this issue, we look at the Top 25 Online Retailers. H&TT's exclusive annual ranking of the biggest online sellers of home textiles finds that while pure play etailers continue to fly, bricks & clicks are digging into omnichannel. See details!