Retailer sessions offer 'ideas that change the world'
BCST Staff, January 20, 2003
Workshops, seminars, panels and "super sessions" have become signature events at each year's National Retail Federation convention — its stock-in-trade, outshining even the exhibit hall offerings. Here's a sampling of some of the more interesting, sometimes provocative presentations that took place here last week:
Innovate or die
Innovation, whether in products or services, must come from the top or at least be supported by top management, then it can filter down through the organization, said Kenneth Walker, managing director, Retail Options, and moderator of "Innovate or Die."
If people are also penalized for failure, then they are not going to try, he added.
Architect and designer Michael Graves, discussed his relationship with Target, which started with a half dozen items. The line is now extended to about 600.
"Everyone got behind it," he said. "Target wanted to set itself apart by design."
But as with any form of innovation, there are 20 reasons not to do it, said David Rockwell, president, The Rockwell Group.
"People can do so many things from home now, like surfing the Web, that "as designers, we have an incredible opportunity. How do we get people out of their homes?" Rockwell said. It has to be a worthwhile shopping experience.
"Dateline NBC" correspondent John Hockenberry added "everything in our culture is dividing into passive and active information," from programs where the news is read to viewers, to hour-long investigative television programs, and even inclusive Wal-Mart, compared to exclusive Prada.
Tagging pop culture
"All creativity, all innovation is a deviant act," said futurist Watts Wacker, "Anything that makes it to convention began on the fringe."
In "Finding the Next Mass Market," Wacker, ceo, First Matter LLC, argued that retailing has become dysfunctional, noting department stores share 70 percent of the same merchandise. Instead, he urged retailers to "learn to be uncomfortable" and to look at other industries to solve problems and innovate. Before making a decision, he suggested looking at the opposite answer to see what might happen.
"Retailing is the re-telling of a tale," he added. The rules don't apply to the future of retail — "why not a $1,000 or a $100 vending machine?" for example. To bring about change, Wacker's suggested tactics include innovation, infiltration, integration and ingratiation.
One can hire "cool hunters" to go to the fringe, he said, but retailers should join them. After something is born on the fringe, he added, it then moves to the realm of the cool, then the next big thing, and then convention.
For example, Jeep Cherokees were revolutionary when they first came out, and now PT Cruisers are hot. Soon, personal race cars and solar/hybrid cars will be available to the public, while a car designed to be lived in is currently in development.
Branded: Take one
A retail marketing and merchandising "revolution" is underway breaking down traditional barriers affecting how brands are perceived and managed, as well as impacting the way merchants brand their own identities.
The upshot may well be that merchandise managers are evolving into brand managers, according to Lois Huff, vp of consulting firm Retail Forward. She was joined in the discussion by John Haugh, chief marketing officer and senior vp, business development, Payless ShoeSource, and Dan Stanek, executive vp, also of Retail Forward.
"Private Label Strategies: Today's Retailers, Tomorrow's Brand Managers" — was rife with examples: Federated, Kohl's, Sears, Target and, of course, Payless, among them.
The panel cited multiple cases of how retailers are increasingly developing their own brand identities, not just for products on their shelves, but for their overall market venues.
They might borrow name recognition from licensors, such as Martha Stewart or Disney, buy it outright, or simply recycle flagging brands, Huff said.
"One of the best examples of [buying a brand name] was Sears with the acquisition of Lands' End last summer," Huff explained. "[It's] allowing that retailer to hopefully target a consumer who normally does not associate Sears with the level of quality and brand recognition associated with Lands' End."
Moreover, the broader branding strategy offers merchants entré into new areas and permits them to further differentiate their market position, members of the panel suggested.
But the emerging private brands aren't your mother's "private labels," Huff stated, for example:
Private labels have historically been knock offs of leading brands, whereas private brands tend to be premium products commanding specific assortment niches.

Private labels were price focused; private brands are value focused, but not the lowest price.

Private labels were usually feature void. Private brands are feature rich, intended to fill feature voids.

Private labels were driven by the demand for higher margins. Private brands are customer demand driven. Their objective is to increase sales, improve market differentiation and reduce the reliance on national brands. Profits influence, but it's not a margin play.
Federated Department Stores' INC private brand "is building a [brand] marketing machine," Huff suggested. The retailer has employed spokesmodel Heather Mills, Paul McCartney's wife, to be the face of the brand.
And it's extended its presence well beyond Federated's stores, moving it to 100 international locations, including many countries where retailer has no stores. Yet the brand has become so strong that stand-alone INC stores are being opened in Tokyo, Huff noted.
"Target is, perhaps, the best example of a retailer that is closely managing its overall brand offers, first by developing its private brands, then complementing them with a closely managed offer of national exclusives, as well as other national brands in ways that avoid redundancy," Huff stated. "Target is excellent at adding new brands that reinforce the stores' brand image with the designer look and a strong value price point position."
That includes attracting brands or sub-brands that are typically found in specialty or department stores. She cited Royal Legacy and Indulgence from Martex, as well as Waverly's Garden Room.
"Most importantly, Target excels at actively managing its brand mix, creating umbrella brands that go into multiple areas," Huff explained. "They're also great at knowing when to get out of a brand and they are constantly editing out brands."
Branded: Take two
Most American brands suffer from "Me Too-itis," which results in stores that look the same as their competitors, said Michael Bills, of RPA, a firm specializing in brand development and retail design.
European and Asian brands are more differentiated, he added, including Burberry, which has a strong English heritage, and H&M, which is clearly Scandinavian.
"U.S. brands are in a cluttered world," he said at "Fashion Emergency! Brands in Need of Differentiation and Makeovers."
Instead of focusing on short term gains, Bills said, companies should identify the brand's distinct characteristics and then "own" those characteristics, and build it through all channels of communication, including the physical stores. Brands also shouldn't be "all things to all people."
Nordstrom's commitment to customer service, for example, is paramount. Target also "exists for two reasons," he said: its better in-store experience than its competitor Wal-Mart, and its distinct branding. Wal-Mart is not a great brand, but it's getting better, he added.
Companies also neglect the large number of shoppers in the "fly-over" states, or middle America, and instead focus its brand on elite Manhattan customers. Fashion trends should also not be used for positioning, but instead seen as market opportunities.
Getting personal
The forecast is for the further emergence and dominance of personalized relationships and experiences between retailers and consumers.
A study, "Retail Horizons: Benchmarks for 2002, Forecasts for 2003," was compiled from the responses of approximately 100 retailers.
Jeff Maness, managing director of consulting firm BearingPoint, which conducted the study, said he sees retailers taking an introspective view as to how they work with and serve consumers.
"They must do basic business processes better," he said, "…and focus more and more on consumers.
"A lot of business today is about fundamental blocking and tackling."
In order to attract more consumers, the study also found that retailers are moving away from a if we have it, they will buy it mentality, to one that listens closely to consumer demands and makes every effort to satisfy them.
The study stated retailers must be able to analyze data in real-time across channels in order to keep up with their customers, suggesting also that micro-merchandising, micro strategies and store-specific decisioning are gaining ground.
Value-added supply
Value-added services may have long thought to be product related, but as the panel "Placement of Value-Added Services Within the Inventory Pipeline," they are now more focused around the supply chain.
The panel, comprised of Joe Giudice, vp of distribution/logistics for Liz Claiborne, Jim DeVeau, senior vp of logistics for Footstar, Mike Bryant, vp of distribution and logistics at Goody's, John Forbes, senior vp of operation and administration at Citizen Watch Company, and moderated by Patrick Eidemiller, vp of consulting at SDI Industries, said value-added services have changed greatly just over the last 15 years and will probably change even more.
"It's about pushing up the supply chain to deliver products as expeditiously as possible," said DeVeau. "And it's done to take a tremendous amount of time out of the supply chain."
Added Giudice: "The longer we can wait to decide what the right product is and the quicker we can react, we'll be better off."
The panel predicted the retailer's role in the supply chain will be reduced to only selling the product while wholesalers would take on cycle time reduction, advanced logistical requirements and increased visibility of orders. Factories, they said, would be responsible for tags, quality control, floor-ready packaging, special cuts and advanced logistical requirements.
According to Bryant, thanks to pushing certain services up the supply chain, product turnaround now takes 18 hours to hit the selling floor after it leaves the factory. It had formerly taken nine days.
"We had to wake up to the fact that there was benefit [in pushing processes back to the factory]," said Forbes.
What's up, doc?
From military uniform influences to sex, The Doneger Group's David Wolfe touted what's hot and shot down what isn't in his presentation, 'What's New? What's Next?'
Wolfe, the director of Doneger, began by giving the thumbs down to showgirl style and star/red carpet fashions. The former, he said, makes fashion cheap and vulgar, while the latter is for stars and not for real people.
Military uniform influence, surfing style, ethnic prints, nostalgia, natural textures, custom colors, luxurious-feeling fabrics and patterns from stripes to spots to wild geometric shapes are all here now, or are just around the corner ready to appear on the selling floor.
Wolfe also predicted that by 2005 the western fashion world will "be obsessed with Chinese culture" from architecture to food to the clothes we see and wear.
He also pointed out that now is the time to capitalize on the aging population and its increased life span. While the beauty/pharmaceutical sector is already taking advantage and maximizing the opportunity, Wolfe said, the fashion world is not.
Wolfe added "Embellishment is alive and well, but we need to keep it refreshing; keep it exciting and beautiful."
Flexible flyers
Highlighted with personal anecdotes and an engaging manner, Carl Steidtmann, chief economist of Consumer Business for Deloitte Research, said nine steps must be followed by retailers during inflationary times, each of which involves increased flexibility.
Steidtmann spoke at "Ideas Change the World: Managing Strategic Flexibility in a World of Retail Change."
The resurgence of the market since the 1980s, ubiquitous technology and the triumph of globalization, Steidtmann said, "are all working together to produce a major change in the business model of retailers. At the heart of that change will be the need to develop new business models to deal with the problem of deflation."
According to Steidtmann, when responding to deflation retailers can increase their flexibility by decapitalizing, shortening lease terms, instituting flexible wages and dynamic pricing, selling both private label and unique merchandise, innovating their selling format, promoting product innovation and brand extension, operating in real time and globalizing in order to come through with a strong balance sheet.
Also speaking and presenting how their respective companies were adjusting and becoming more flexible were Steven Douglass, ceo of Payless ShoeSource, Inc., Gary Loveman, ceo of Harrah's Entertainment, Bruce Nelson, chairman/ceo of Office Depot, and Richard White, senior vp/Chief Information Officer of Ross Stores.
Wanna buy a bridge?
With 40 percent of the $6.6 trillion dollars of consumer spending going to discretionary purchases, consumers are willing to buy, but they need retailers to give them emotional justification, said Pam Danziger, Unity Marketing, at the NRF seminar "Why Consumers Buy What They Don't Need — Playing to Consumers' Emotions and Desires."
Consumers have embraced television shopping, for example, and Danziger cited that jewelry sales alone between television shopping networks QVC and HSN total $2 billion, which is approaching the sales of national retailer Zales. Given that only four percent of people who buy jewelry are shopping by television, there is much more opportunity, she added.
QVC is the "extended family to the customer," said Barry Matus, QVC. With its soft sell and convenience, QVC is "total entertainment...We provide well-being." Thanks to the remote control, QVC is able to catch viewers who surf during commercials and is able to show products in ways that would be hard to do on a shelf. The channel's success is seen by the viewers' genuine phone calls that gush about the products, he added.
"People are not spending less, but spending differently," said Ken Nisch, an architect with JGA who designs retail stores. Purchases are more than impulse but "tools for living," for example, buying a computer to make working at home easier, or jewelry that one feels she needs for the work environment. He noted the new Hershey's Times Square store gives the consumer an experience, and "the merchandise is the admission ticket....Department stores haven't lived up to the experience."
The Web is the bridge
No longer the domain of younger, money-rich consumers, the Internet has seen its audience turn more mainstream, a trend that will greatly affect how the web is used as the industry grows to $217 billion by 2007.
In "The Evolving Profile of Online Shoppers," Christopher Kelley, retail analyst, Forrester Research, discussed how Web users that have begun to surf over the past several years now average 47 to 48 years old, whereas earlier the age was in the early 40s. Web shoppers also have household incomes that are $20,000 less than before.
Early in the Internet's history, shoppers would purchase things they didn't need, but now purchases focus on essentials for the home and family since they don't have as much money to burn as before. As a result, e-tailers that sell soft home and family products will have a lot to gain, Kelley said. Retailers will also have to become more integrated within their separate channels.
Forrester Research predicts that by 2007, 62.9 million households, or nearly two-thirds of all the households in the U.S., will spend almost $3,500 on-line annually, Kelley said.
High-wire act
Integration, accurate information and improvement, said the panel during the NRF's 'Driving the Profit Wedge: The Ultimate Retail Balancing Act' session, are the keys to running a successful retail business in today's rapidly changing business landscape.
Des Martin, director of Retail Industry Marketing for Teradata, Dave Bolen, executive vp of merchandising, marketing and logistics for Jo-Ann Stores, and Joe Fabrizio, senior vp/director of stores for Boscov's, all hammered that message home.
According to Bolen, people, processes and systems must all be effectively aligned in order for there to be any improvements. Fabrizio said "The alignment of people, processes, technology and systems is fundamentally dependent on the quality and availability of the underlying information."
The opportunity for retailers, concluded Martin, lies in integrating corporate and supply chain strategies, more effective horizontal business processes, developing strategic partnering relationships, sharing information with supply chain partners, optimizing supply chain trade-offs, implementing core capabilities for supply chain management, greater speed and consistency of information delivery, being selective and getting more predictive information and "buying what we sell versus selling what we buy."
Give me a 'P'. . .
Collaboration is the key to retail profitability, said Laura McCann, Charlotte Neuville and Denise Seegal during "Retail Profitability is a Seven Letter Word: P.R.O.D.U.C.T."
The panel, moderated by McCann, the founder and president of Zweave, Inc., suggested that collaboration between consumers, manufacturers/delivery and suppliers leads to superior product development. Those better products, in turn, may be brought to the marketplace faster via web-enabled technologies.
Collaborative Product Lifecycle Management, as McCann called it, not only implements virtual product teams, it manages the full lifecycle of a fashion product, brings people, processes and ideas together, allows those who use it to communicate and manage their entire extended enterprise, offers financial and business returns that are unavailable from traditional systems and is an inter-enterprise upgrade of Product Data Management.
Seegal, the president and ceo of Sweetface Fashion Co., and Neuville, the executive vp of design for Lerner New York/New York & Co., pointed out that consistent products and increased company agility, in order to cope with the rapidly changing fashion world, are the areas in which retailers should and must improve in the future in order to build consumer loyalty to their stores.
A brighter future
The NRF sees a brighter future for retailers this year. According to its "Retail Sales Outlook report," sales for GAFS (general merchandise stores, apparel stores, furniture and home furnishings stores, electronics and appliances stores and sporting goods, hobby, book and music stores) will increase 5.6 percent.
And though sales will be aided by consumer income gains and low interest rates, obstacles such as weak labor markets and geopolitics like the possible war on Iraq will continue to be concerns.
However, "we see more positives emerging than negatives," said Rosalind Wells, NRF's chief economist.
"The economy has been going through a 'soft spot' in activity which will give way to accelerated growth this year," she said. "2003 will not be a year of exceptional strength, but rather of solid advance. GAFS sales trends will parallel overall economic activity and improve during the year."
GAFS sales grew an estimated 5.4 percent last year.
Wells also said that 2002 holiday sales were "certainly not strong, but not as weak" as others predicted. November sales were up three percent, for example, despite having only two holiday shopping days after Thanksgiving. On-line shopping made an impressive showing, with 20 to 25 percent of holiday sales. Sales of gift certificates were also on the rise. And, not surprisingly, discounters were customers favorite place to shop for the season.
Related Content By Author
The Countdown to the ICON Honors Continues featuring Christophe Pourny

More Videos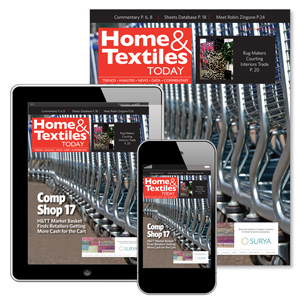 See the May 2017 issue of Home & Textiles Today. In this issue, we discuss our annual Market Basket survey, which finds higher prices and more polyester at leading retailers. See details!