Go West old industry
Brent Felgner, February 16, 2004
The offshore migration of manufacturing, along with the related troubles of Eastern mills, is helping to move the center of the U.S. home textiles' universe, bringing new prominence to many West Coast suppliers.
The change is a clear challenge to the old unspoken view that the center of that universe was shared between New York and the Carolinas. While still important to the trade, their spheres of influence have waned to varying degrees.
The shift has some Pacific-based suppliers not even attempting to hide their glee.
"Maybe you should ask the president of Pillowtex where the center of the textiles universe is," quipped Ernie Turocy, executive vice president and chief operating officer of Compton, Calif.-based American Dawn. "Oh, that's right, Pillowtex isn't around anymore."
"The center of the textiles universe is actually somewhere in Asia," he added.
Don Rosenbaum, executive vice president of Rodeo Home Fashions, based in Vernon, Calif., offered his own competitive assessment. "The people on the East Coast who are set up to convert goods from the U.S. mills are now at a disadvantage. They think anything west of the Hudson River is wilderness, but if they wake up to the realities of the present day business economy, they'll find out they're in Siberia. It's already changed, and anyone who doesn't recognize that is living in a dream world."
The trend is even helping some domestic producers stand a bit taller. Many Western suppliers are clearly leveraging their locations and developing status to sell themselves as the go-to resources for Asian and Mexican goods entering the United States.
Whether these changes by themselves will result in a new industry order for these suppliers remains to be seen. For while they may not face all of the same challenges confronting their brethren back east, they are clearly addressing their own issues of geography, economics and even politics.
Irrational exuberance?
To be sure, there is no shortage of caution among some West Coast operators against overstating the case. The advantages of location and logistics, to the extent they exist at all, may only be incremental, they warned.
"I think it's a minor advantage over some of our direct competitors who are headquartered on the East Coast," explained Mark Grand, chief operating officer of PHI, based in South San Francisco, Calif.
Grand's comments came just hours after his return from a weeklong trip to China, his third in the last five months. He was there to visit PHI's three owned factories and oversee new construction of a factory and logistics facility outside Shanghai.
"The truth is that where there are manufacturing facilities in China, people are setting up their offices in China, and I just don't think that a location in the U.S. in one place or another is going to be a major advantage. It's nice we have some warehousing facilities here close to the ports. On the other hand, Eastern suppliers have warehousing closer to their customers."
Moreover, with e-mail, EDI, the Net and instant communications, the particular location of a headquarters becomes less of an issue.
"With globalization and the electronic age, we don't find many challenges working with our customers across the country," said Bob Christnacht, home division manager of Pendleton Woolen Mills, based in Portland, Ore. "We do come in a bit earlier to get some work done, but e-mail has made it much less of an issue."
However, it does appear that there are at least some logistical and organizational advantages to being on the Left Coast, particularly for companies like Martinez, Calif.-based Western Linens. That company has seen a shift in its high-end sourcing from Europe to 75 percent of its goods coming from India and several factories in China, said company president Harvey Maslin.
Demand has been so strong that the company has been forced to fly in as much as 67 percent of its goods at considerably higher cost. Frustrating that effort, however, have been periodic shortages of aircraft and somewhat tighter security protocols.
Companies like Pacific Coast Home Furnishings, based in City of Commerce, Calif., are also feeling the demand. It currently brings in more than 30 containers a month, compared with less than one container a month just a year and a half ago, said Sam Samani, vice president of sales.
Such efforts apparently pay off, with some companies claiming they get goods into their factories as much as a week earlier than companies in other parts of the country.
Communicating with Asian vendors may also be easier, with portions of extended business days overlapping between the two continents.
"We deal with China every day. We're on the telephone with our vendors by 7 o'clock, and we get answers for our customers by the next day," said Jason Carr, president of Softlines Home Fashions, based in Gardena, Calif.
Carr claimed that West Coast customs' posts clear goods in four to six days, considerably faster, he said, than Eastern points of entry. He said companies could order "expedited vessels" and receive goods over water in 15 to 16 days.
"That's probably the single biggest advantage, I think we probably save a week or two on shipping times versus the East Coast," said Larry Layton, president of Newport/Layton Home Fashions, based in Portland, Ore. "And you know, stores are very, very attuned to shipping just-in-time."
Layton said his company routinely flows through distribution to retail customers within a day or two of receiving goods.
Other suppliers were quick to point out the value of their proximity to Mexico.
"There are a lot of good business opportunities in Mexico we're exploring," said Turocy of American Dawn. "The textiles industry in Mexico could be a sleeping giant," and new foreign investments in the economy and infrastructure may awaken it to new levels of interest and capacity, he added.
Turocy's company already operates plants for its institutional apparel businesses in Mexico.
"I think there's a big opportunity with Mexican terry companies, particularly with the demise of the terry business in the United States," Turocy added.
Time Zones
Yet while these operators note their proximity to global markets, there are drawbacks. First off are the extended days that for many begin as early as 6 a.m. in order to make and receive calls from customers, sales people and suppliers to the east.
"I generally get in early to be able to interface with our customers east of us and our sales people who are near our customers," said Jeff Jacobs, executive vice president of Keeco, based in South San Francisco, Calif. "And by the end of the day, we generally have some kind of live phone interchange with (suppliers in Asia) west of us."
That was echoed by companies like California Kids of San Carlos, Calif., and Fun Rugs/General Industries of Santa Ana, Calif., which both start their days at 6:30 a.m.
The travel from west to east also presents challenges.
"I find myself chasing the East coast all the time," noted Dale Talbert, vice president of sales for Veratex, based in Panorama City, Calif. "The phone calls start early in the day, but by 2 p.m. you no longer can get much done on the phone any more."
Traveling against the clock also means the loss of at least part of a day, often more, he said, and it can be exhausting on the front end of a trip.
"From a sales and travel point of view, it's much better being in New York. That's where BBB and LNT are," Talbert argued. "And I know that May Co., JCPenney and Dillards are about the same distance from New York, but it's tougher because we're going against the clock."
Moreoever, the cost of doing business on the West Coast can be considerably higher — except perhaps compared to particularly in California.
The state has been wracked by higher energy costs, payroll taxes and workers' compensation costs, executives said. Coupled with higher regulatory expenses and occupancy costs, some raw materials suppliers have been pushed out of business or out of state.
"We'll continue to try to maintain our position as primarily a domestic vendor," explained Trevor Rabkin, co-CEO of Santa Ana, Calif.-based 100% Pure/Custom Comfort. "We're trying to keep as much manufacturing and jobs in California as we possibly can, but it's challenging from a cost standpoint."
PHI's Grand said, "I'm not a politician, and I'm certainly not a economist, but over the years, the state of California has become less and less friendly to business. We're seeing many businesses leaving and going to neighboring states, particularly Arizona and Nevada, which are business friendly. I think our new governor is at least saying the right things about relaxing some of the restriction to business in California. We'll see."
Despite their concerns, none of the executives contacted expressed strong concerns that their companies might be threatened. Explanations similar to Rabkin's weren't uncommon. "Fortunately, we've got a fashion-driven niche, and I think if you are more on the fashion side of the business than on the commodity side, you can achieve a little more margin," he said.
Moreover, for suppliers with a West Coast retail focus, business has been particularly tough.
Veratex's Talbert noted that the coast suffered one of the earliest and most severe retail contractions with the loss of some Los Angeles department stores, as well as 3-D Bed & Bath and Stroud's. In recent weeks it became clear that the contractions are not over.
"The customer base is shrinking rapidly, which is an issue for sales representatives on the West Coast," noted PHI's Grand. "Particularly with the recent announcement of the consolidation of the Federated Home Buying offices into New York, that will eliminate another customer resident on the West Coast in Macy's West. It's an era of consolidation."
Related Content By Author
The Countdown to the ICON Honors Continues featuring Christophe Pourny

More Videos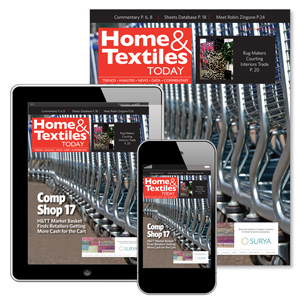 See the May 2017 issue of Home & Textiles Today. In this issue, we discuss our annual Market Basket survey, which finds higher prices and more polyester at leading retailers. See details!