Building the Global Platform
Suppliers Adapt to Changing Marketplace
Brent Felgner, February 10, 2007
Home textiles companies, both domestic and international, are adopting a broad range of strategies and business models in a continuing effort to "get it right" — figuring out what to do next in their rapidly evolving global enterprises.
No one yet has quite nailed it. But the search has led some companies not only to new business combinations but to careful examinations of supplier-retailer relationships and renewed considerations about what consumers want.
Some are finding ways to pair up through mergers and acquisitions, joint ventures or simple partnering arrangements. Others, content to go it alone, have opened international showrooms and often hired local sales and design staffs, essentially buying into the cultures they seek to sell. It doesn't matter whether they are U.S. suppliers seeking to fend off more competition, or international firms seeking entree to targeted retailers in rich new markets.
Indeed, some Indian textile executives who earlier voiced fears over the impact of China's entry into the World Trade Organization, have concluded it's better to switch than fight: they've bought into Chinese textile factories when the economics and the products are right.
"The word that has no meaning in this marketplace anymore is 'sourcing,'" offered Frank Foley, ceo of CHF Home. "That implies you get off a plane somewhere and go shopping for someone to make your product. That's gone."
"You can shop your product around because there's so much capacity," Foley said. "But there's very little value-added to be gained from the shopping process. The field is level — everybody's products and prices are about the same."
It is arguable that distinctions such as domestic or foreign are becoming irrelevant. But the emerging global business model is hard to resolve — because no single model exists. Home textiles companies are cutting and sewing a patchwork quilt, adapting and jettisoning new strategies. We have seen the results with Springs and Coteminas, or Dan River and GHCL. The expansion of Welspun, organically and through acquisition, has been attention-getting. Even WestPoint's deals in the Middle East, though cautious and modest, represent the direction it has discussed for years.
In and Out
"There are two models — in or out," offered Welspun's Bob Hamilton, director of marketing. "American mills move out. Foreign mills move in."
"The companies from overseas that have decided to become major players in the U.S. market, as well as in global markets, have come to acknowledge that to be successful there are cultural nuances that that require some level of [local] infrastructure," Hamilton explained. "Where they had done everything out of a suitcase through 2000, 2002, now they are opening offices or partnering up" with U.S. firms. "On the other side, you have Springs and WestPoint that now have offices in their places of production."
Twenty-two hundred years after it was first traveled, the Silk Road is everywhere these companies want it to be — including running right down the middle of Sixth and Fifth Avenues in New York.
"More and more middlemen are getting out and [off-shore] textile mills are approaching the customers direct," said Ashok Jiwrajka, executive chairman of Alok Industries. While Alok just opened a New York showroom at 7 West 34th St., the company's direct-to-retailer approach to selling will remain unchanged, he said.
For Rajinder Gupta, ceo and managing director of Trident Industries, any business model must include three distinct components:
One-stop shopping in a category, to ensure front-end costs can continue to be reduced.

Constantly improved speed to market, a challenge for goods moving over water.

Better and faster understanding of customer and consumer tastes, meaning design and development are constantly being tweaked.
With a new lease on life and now under the wing of sourcer Li & Fung, Homestead is altering its business model to accommodate the brand management of Royal Velvet and Cannon, which now fall under David Greenstein's rule. But Greenstein brings with him an adapted model for dealing with retailers that is intended to be more than skin deep.
"You inject yourself into the bloodstream of the retailer and then you swim," he explained. "And as opportunities arise, you are asked to react. I am a supplier, slash, product developer, slash, design house, slash, sourcer, slash, bank, slash, risk assumer. That's it."
Suppliers able to react to those demands will remain relevant and likely succeed, he said. But it's a complex and difficult model that emphasizes adding value to build the business. The plan calls for Homestead to do it, in part, by leveraging Li & Fung's worldwide resources.
More broadly, global trade has presented a glut of suppliers and generally resulted in overcapacity, with the attendant downward pressure on prices and margins. Add to that a continuing retail consolidation with retailer productivity standards demanding more from less. It has never been tougher to make a buck in home textiles — or more promising.
The Fundamentals
It would be incorrect to suggest that overcapacity is solely responsible for tamping down prices and zapping profit margins, but it has certainly been a major contributor. Add to that its influence in dumbing down quality, along with supporting the trend toward sameness, an unending lament among retailers.
"There are a lot of companies that don't understand the dynamics of the business, so they are [indiscriminately] adding capacity in the hope they can pick up the additional business," suggested Adusumilli Ramachandra, managing director of Vijayeswari Textiles, which supplies middle- to high-end product to retailers like Macy's and Kohl's.
He explained that capacity can be added selectively. A smaller company, Vijayeswari is in the midst of going public and will add looms to support an expanded number of department-store doors, as well as "lateral expansion" in dressing the bed.
Throughout the industry, though, margins will likely remain challenged, begging the questions of de-specked products and cuts in services like brand development and merchandising support, or eliminating the roles of importers, suggested Trident's Gupta. "We have to work with a very precise knife to get the right costing," he said.
CHF's Foley argued that "first cost" should not be the determinant, because they are largely the same across the industry. The equation needs to move to the back end, in the relationship between supplier and retailer.
"It has to do with product that has a higher level of successful sell-through and a more efficient management of the inventory chain at the back end," Foley said. "If your focus is on cost and safety, you instill a culture that has very little to do with the consumer. If your first cost isn't right, you can't play. If your design isn't right, you can't play. That's a given."
Getting it Right
The underlying challenge is to please the retailer: staying relevant, innovative, and meeting the account's demands. And more suppliers are talking about — and investing in — programs directed at consumers, in a bid to drive traffic into the stores.
It represents a departure from the retail "give-me-the-money" mentality, which has dominated the trade for at least 20 years. No one can tell if it will last.
Greenstein opined that a new home textiles model is being created from the retailer demands for more services, better design, and greater support.
"It is so far away from the old models," he said. "It's not the model where there were 150 retailers and 10 national brands and it's not the model where everybody does private label direct overseas. The new model is somewhere in the gray area in the middle. We have the inherent risk of total transparency that the retailer will take the business direct with whomever you're dealing with overseas."
That risk is obviated for manufacturers like China-based Loftex, which owns its product development, design and support showroom in New York. Executive vp Gretchen Dale noted the complexity of doing business in the United States — everything from design and product sampling to the correct placement of labels. It often represents a costly shock to the system for foreign manufacturers, who may not get a second chance to make it right.
"That's the hard part of sourcing, which is making sure someone is watching from beginning to end, and that's what we do here," she said. "Every one of these [retail] companies has huge manuals and huge websites to go through that if the factory had to go through on their own — there's a language barrier there. But best of all, it adds no cost; it's a function of the company. It's still direct to vendor."
Going Retail?
Perhaps the increased competition of globalization combined with a continually shrinking domestic retail universe has given rise to some suppliers' efforts to add value to the relationship — even as they curiously eye growing retail sectors abroad. But some suppliers also see value in controlling their own distribution and have begun to invest in their own store bases, either here or overseas.
Welspun, Alok and other manufacturers are adding retail stores in India. GHCL last year bought a U.K. retailer and is now looking at acquiring a U.S. chain. The logic is clear: control your own distribution and maintain outlets to preserve prices and margins.
But some supplier executives challenge that reasoning.
"Fundamentally, if a supplier wants to go to retail because they want more control over their destiny, it doesn't eliminate the problem as to whether they know what they're doing. None of us are retailers," Foley offered.
Some aren't even home textiles companies, he and others noted. Some of the new large players entering the business have scant backgrounds in home textiles. Over the years, many companies that have entered the business have withdrawn when they see what's involved, Foley said.
"This is a low-margin industry that has survived for generations by understanding how to protect its small margins and create an identity within the marketplace. That's what we do."
Related Content By Author
The Countdown to the ICON Honors Continues featuring Christophe Pourny

More Videos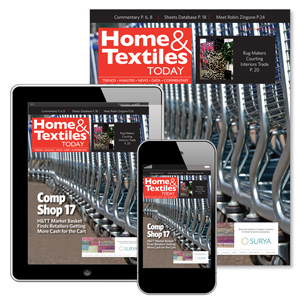 See the May 2017 issue of Home & Textiles Today. In this issue, we discuss our annual Market Basket survey, which finds higher prices and more polyester at leading retailers. See details!