Coping With Global Competition
Brent Felgner, August 8, 2005
Greensboro, N.C. —Aggressive branding, improved supply chain management, a focus on core product competencies and outsourcing are essential strategies that can help home textiles companies survive and perhaps even thrive as global competition heats up, according to a new report by turnaround management firm Anderson Bauman Tourtellot Vos & Company.
"Traditional textile manufacturing has all but disappeared (domestically), but textile companies and brands don't have to disappear with them," said Peter Tourtellot, managing director of the consultancy, a subsidiary of the Altma Group. "A strong commitment to technology and a willingness to change will keep them competitive."
But time and resources wasted on strategies relying on quotas and protectionist legislation are ultimately doomed to fail, Tourtellot said in a telephone interview. What's more, the industry's historic reliance on cutthroat pricing has become a game that can't be won when pitted against lower cost, more efficient foreign manufacturers and the retailers sourcing them.
Branding is critical because of the insulation it offers against store brands and no-name competition, Tourtellot suggested. But he also acknowledged that, with few exceptions, branding has never been a particularly strong suit for the home textiles industry.
"The industry has really never understood that you have to invest in the brand, not only in terms of how you make the product but in terms of promotion, advertising and the whole area of marketing," he said. "Or, if you intend to milk it, you can milk it for a certain number of years and then it's over. So you have to constantly promote the brand. And promoting isn't price — that's going to lead them into trouble."
That said, according to the report there are clear opportunities for intelligent companies to move forward and thrive in a post-industrial domestic environment. Among its findings, the report offered that:
Increased competition is putting added pressure on manufacturers to create design- and performance-enhanced products, control costs and reduce time to market.

Textiles manufacturers should support CAFTA, the Central American Free Trade Agreement, signed last week by President Bush. Companies should be taking advantage of the opportunities it offers rather than "prolong the inevitable with protectionist restrictions."

Manufacturers that have not positioned globally by now have simply waited too long.

Smart fabrics and international textiles, also called SMITS, are the future of domestic textiles manufacturers.
Outsourcing is critical but branding must be a component, Tourtellot said, answering a recent analysis offered by investor and ITG Chairman Wilbur Ross that mere sourcing isn't enough — suppliers should have some ownership in their foreign production, thus becoming the source. Tourtellot also endorsed retaining some tightly focused domestic manufacturing to provide just-in-time product as well as the ability to react to style and color demands.
"If all you're doing is sourcing product and trying to sell it, (Ross is) right on," Tourtellot said. "On the other hand, if you have the brand and the value you add is design, R&D and all the things that go into the makeup of the product, and then contracting to have that product done overseas, that's a whole different question. That's the Nike model."
But that requires investment — major investment — from companies being forced to pinch every penny simply to continue treading treacherous competitive waters. Though such investment seems unlikely on a large scale in a historically deal-based industry, Tourtellot said it is necessary.
Moreover, smaller companies with fewer resources need to identify and exploit product niches that haven't yet attracted foreign supplier interest.
"Anyone that's getting hit by competition from abroad is getting hit by competition from commodity products. They're not getting hit on innovation," Tourtellot said.
Companies need to continually reevaluate their supply chains and "dissect their operations" to eliminate non-core, unprofitable product lines, the study offered. "Profit margins by segment should be on the dashboard of every executive."
Said Tourtellot: "You can't totally ignore volume because margin does go with share. But, again, it comes down to brand. Mohawk (which has a profit-over-volume focus) has a very powerful brand. It's a combination of the brand, the share and the profitability."
Easier said than done, Tourtellot admitted. He said the industry has been hamstrung by a combination of denial and the how-to aspects of transition. Moving a factory filled with sewing machines used for apparel manufacturing is immeasurably simpler than moving the looms and other heavy equipment in a home textiles plant.
"(Industry executives) also grew up with the mentality that you have to run these plants 24/7 or you can't make any money. That's exactly the same mentality steel had, but other people have figured out ways to do it," he said.
The report found that new growth opportunities can still be found and should be embraced. While manufacturing processes and the jobs they offered will continue to be lost in the United States, textiles companies still can adapt to the new marketplace, in the process saving jobs in areas such as marketing, finance, sales, and other support functions.
And because products and processes will continue to be easily knocked off, competition will only increase, requiring firms to clearly identify their markets and focus their resources.
"Looking back will result in being left behind," the report concluded.
Related Content By Author
The Countdown to the ICON Honors Continues featuring Christophe Pourny

More Videos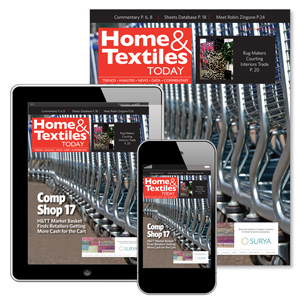 See the May 2017 issue of Home & Textiles Today. In this issue, we discuss our annual Market Basket survey, which finds higher prices and more polyester at leading retailers. See details!