China unleashed
As home textiles suppliers around the world brace for a flood of Chinese-made product following the 2005 quota drop, Chinese suppliers are also scrambling to prepare themselves for the tumult of unencumbered trade.
They anticipate cutthroat price competition as the little fishes of the country's industry contend with China's dragons — the handful of large, quality-conscious producers that are working to establish themselves as stable global resources. Many believe consolidation is inevitable. Along the way, suppliers will need to shift their focus from chasing growth at all costs to profitable growth.
Yang Donghui, director general of the China Home Textile Association, insists that the domestic Chinese market will remain the main sales avenue for most Chinese home textiles producers, even though in recent years Chinese home textiles exports have surged on the world market. Currently the domestic market absorbs as much as 81 percent of the gross industrial output of China's home textiles sector, according to government statistics.
Cao Xinyu, vice president in charge of textiles imports and exports for the China Chamber of Commerce, believes it is unlikely China will monopolize the world textiles market, including the home textiles sector, after 2005.
He noted that if China's textiles industry continues to concentrate on the processing of low-grade products for nothing but "quantitative growth" in production and exports, it will in no way develop into a leader on the world textiles market.
There is also a danger, he added, that pursuit of growth-for-growth's-sake will boost the demand for cotton, and will subsequently drive up cotton import prices for Chinese suppliers. That would cripple an export industry that depends on a price edge and a huge production capacity for competition, and could eventually force foreign buyers to shift to non-Chinese suppliers.
In the meantime, however, the country has made sizable gains — even under remaining quota restrictions.
In 2003, Chinese exports of home textiles to the U.S. market were valued at $8.49 billion, up from $5.42 billion in 2000. (Note: All sales in this article have been converted to U.S. dollars.) While the exports of linens, metallic-woven cloth, terry fabrics and sewing threads declined last year, the exports of other categories of home textiles products soared, according to a statistical report issued by the Chinese government.
Bed linens: up 18.24 percent to $139.5 million

Bedspreads: up 36.32 percent to $35.8 million

Sleeping bags: up 17 percent to $72.5 million

Embroideries: up 46.67 percent to $20.4 million

Table linens: up 54.26 percent to $87.1 million

Curtains: up 89.19 percent to $328.8 million

Bath towels: up 27.68 percent to $54.6 million

Clearing cloth: up 225.54 percent to $18.1 million

Kitchen linens: up 57.445 percent to $56.9 million

Trimming decorative tapes: up 62 percent to $12.9 million
That explosion has driven apparel and textiles manufacturing groups in the United States, Mexico and Turkey to launch campaigns against quota elimination, with an eye toward China in particular. Last week, similar groups from 15 sub-Saharan African textiles associations and four European groups joined the anti-elimination effort.
While admitting that China is very likely to become a significant competitor after 2005, Chinese industry officials do not agree that the country will necessarily "sweep" the industry with the abolition of the quota system on Jan. 1, 2005.
China will not be able to develop into a leading textiles exporter if mills fail to produce products of a better quality, Cao said. He expects foreign buyers to withdraw, as a matter of course, from the low-grade product market and eventually seek such product in other developing nations. In addition, as lifestyles improve in the country, Chinese workers will demand higher wages under a bustling economy. That, he noted, will also drive up the cost of labor.
According to international norms, Cao said, wholesalers and retailers absorb 50 to 60 percent of textiles profits, and brand owners, 30 percent, leaving only 10 to 20 percent to producers. Chinese home textiles producers are therefore not in a position to monopolize the world market. "They have to share the market with foreign investors in the industry," he said.
By the end of 2003, China had 22,000 foreign-funded textiles mills and companies, and their exports accounted for 40 percent of China's total textiles exports.
Preparations
Many Chinese home textiles mills see both opportunities and challenges in the forthcoming abolition of the quota system.
Xie Zhichun, marketing manager of the Shanghai Worldbest Hometex (Group) Co., Ltd., welcomes the abolition of the quota system. With the elimination of the quotas, he said, his company — which manufactures bedding, curtains, tablecloths and garments — will have more opportunities to expand direct sales to the world market, including the United States. Meanwhile, he noted, countless small and medium-sized mills may take advantage of open trade to expand their exports by using cut-throat prices, creating chaos for all producers.
Still, Chinese home textiles manufacturers have been busy making preparations.
Worldbest Hometex, established in 1993 under China Huayuan Group, the country's largest textiles group, has invested heavily to upgrade existing production equipment while building six major production bases outside China — in Thailand and Africa. The company has also invested $48 million to build a home textiles park in East China's Zhejiang Province.
Shanghai Luolai Home Textile Co. Ltd., a non-government bedding mill established in 1992 with an annual output of $72.6 million, has set up a special department for export after 2005. It expects expansion, particularly in the E.U. and U.S. markets, which together account for 10 percent of its total business.
The company also has established an R&D center in Shanghai to tap the city's potential in talent, information and technology to further improve product styles and upgrade product quality. The company has launched a three-year project to develop a modern industrial park for production and training. The first phase has been put into operation, and the second phase will soon be ready.
Tianjin Rosytex Inc., an export-oriented home textiles producer in North China, is another early runner in the global race. In 2002, the company, which mainly exports sheet sets, duvet covers, shams and pillowcases, began to emphasize non-quota-based products for export such as curtains, tablecloths and shower curtains.
The idea was to better familiarize itself with American importers and their operations. In the past two years, the company has expanded exports of quota-free products to the United States from 20 percent to 60 percent.
Concerns
Chinese home textiles mills are generally confident of being able to expand exports after 2005. Meanwhile, they do have worries.
"Frequent exchange of information and ideas is important," says Xie Zhichun, to expand Chinese home textiles exports to the U.S. market.
Wu Qian, general manager of Tianjin Rosytex Inc., said that U.S. wholesalers and importers need to come more frequently to China, particularly this year, to learn more about actual conditions in China and China's home textiles exporters. The company exports 95 percent of its products to the world market. Of this, over 80 percent goes to the U.S. market.
He added that when a Chinese home textiles mill quotes prices, it is important for the American partner to find out whether the mill has had much experience with exporting, including to the U.S. market. Without a track record, quoted prices might be groundless, he warned.
Suppliers agreed that American wholesalers and importers need to communicate more often with Chinese home textiles suppliers and mills, especially regarding the types of products most likely to spark response from the U.S. market. This would also significantly reduce production costs for Chinese home textiles mills, said Wu Qian.
Meanwhile, mills are also grappling with other factors affecting their productivity, including inconveniences from an insufficient energy supply in China, that began creating periodic blackouts last year.
The Chinese government's tax rebate reform, which went into effect this past January, will also cut down mill profits. Previously, manufacturers received a tax rebate of 17 percent on their goods. The rate has dropped to 13 percent.
The U.S. government's decision in late 2003 to re-impose quota restrictions on imports of robes, bras and knitted fabrics from China, industry officials said, has created additional worry for expansion-minded suppliers.
Brands
With all these factors in mind, Chinese home textiles mills have taken measures to improve the image of their products on the world market.
Industry officials admit that many mills out of China's tens of thousands of home textiles mills offer low-grade and poor-quality products to cut down their production costs, subsequently damaging the reputation of Chinese home textiles on the world market.
Worse, few Chinese mills are large enough to produce on a global scale or good enough to supply internationally accepted name brands.
In August 2003, Tanghuang Home Textile Co. Ltd. renamed its U.K. division, exchanging the tedious traditional Chinese spelling "Tanghuang" to a more sonorous TEVEL, an abbreviation meaning to innovate and advance with the times.
The Jiangsu-based company, with fixed assets valued at $18 million, is one of China's best-known brand producers, with nearly two decades of experience in producing embroidery and quilts. It's also exports to Europe, the United States, Canada, the Middle East and Japan.
Brand development in China is still in the early stages. Although the country has a number of domestic brand producers, they are barely recognized around the world. Within the country, brands target the high-end market.
Designers are also contributing to the cultivation of name brands. Sunvim Textiles Co. Ltd., one of the largest home textiles producers based in East China's Shandong Province, boasts 7,000 workers, $97 million in fixed assets, and advanced equipment imported from Switzerland and Germany. It produces many million dozens of towels annually.
In October 2003, Sunvim struck an alliance with China's most famous textiles stylist, Zhang Zhaoda, to develop Sunvim & Mark, a series of bath, beach and bedding products for the domestic market. Also last fall, it signed a licensing agreement with Britain's Dorma to serve as the home brand's exclusive manufacturer and distributor in China.
To expand exports, Sunvim is building a home textiles industrial park, with a floor area of 2,300 acres and overall investment of 2 billion yuan, to export to Japan and the United States, and satisfy home market demands.
According to Xue Weicheng, president of Shanghai Luolai Home Textile Co. Ltd., the current situation where "dragons and fish jumble together" is bound to change. Name brand mills will become more competitive, while a large number of small and medium-sized mills with poor management and products will be weeded out.
He expects that in five years, China's home textiles sector will become more standardized and a number of name brand mills will begin to establish themselves in the market.
Exports of Chinese-made goods show strong gains
(Million dollars & percentage) from 2000-2003

Source: China Home Textile Association

Bed linens
$139.5
18.24%
Bedspreads
35.8
36.32
Sleeping bags
72.5
17.00
Embroideries
20.4
46.67
Table linens
87.1
54.26
Curtains
328.8
89.19
Bath towels
54.6
27.68
Clearing cloth
18.1
225.54
Kitchen linens
56.9
57.45
Trimming decorative tapes
12.9
62.00
Live From New York: Fashion Comes Across the Pond

More Videos
Subscribe to
Home & Textiles Today eDaily
Receive the news you need to know about the trends in the industry delivered right to your inbox.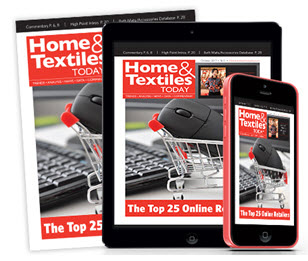 See the October 2017 issue of Home & Textiles Today. In this issue, we look at the Top 25 Online Retailers. H&TT's exclusive annual ranking of the biggest online sellers of home textiles finds that while pure play etailers continue to fly, bricks & clicks are digging into omnichannel. See details!