Garden Ridge: the Depot for Mom
New York —The phrase "category killer" isn't much used these days, but it's a label Garden Ridge ceo Tom Kibarian embraced last week as he described the company's goal to become the leading "home décor category killer in the United States."
Garden Ridge currently generates revenue of about $500 million from 43 stores in the South and Midwest. Kibarian, speaking at the Financo 40th annual Investor Equity Conference, said the company sees potential to grow into a $5 billion to $10 billion chain that dominates home décor retailing.
"Home Depot is to Dad and professional contractors as Garden Ridge is to Mom and interior decorators," said Kibarian. "We have 10 times the assortment of Wal-Mart in our categories: furniture, greenery, seasonal, framed art, home textiles."
The home textiles department is a destination for the Garden Ridge shopper, Kibarian told HTT following his presentation. Although top-of-bed has softened, the rest of the department is holding up well, particularly dec pillows and rugs.
Garden Ridge's shopper consists of middle to upper-middle income women from households with incomes of $40,000 and up; 60% do not work full-time.
The chain's customer base "reflects the aging of America — your clothes don't always fit; your décor does," Kibarian told the audience of hedge fund and private equity firm managers. "Our customer is increasingly price-sensitive. She shops constantly — Wal-Mart, Target, Michael's. I have to beat them on price or assortment, or both."
The combination of retail consolidation and falling commercial real estate prices has left the 43-store operator "inundated" with opportunities to expand. "It's always been easy for Garden Ridge to get second-hand real estate. It's gotten really easy in the last six to nine months."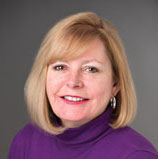 Jennifer Marks
|
Editor in Chief
jmarks@homeandtextilestoday.com
Related Content By Author