Carole Sloan
Remembering HTT's Founding Editor
NEW YORK - Home Textiles Today's founding editor, Carole Sloan was, in the truest sense of the word, an icon of the industry, say those who are remembering her.
     Sloan, 76, died early in the morning of Jan. 31 from cancer.
     She was born on Armistice Day - Nov. 11, 1934. Said her husband, Peter Brown, a lively raconteur who is well-known by many in the industry: "For the first 50 years of her life, she thought the parades were in her honor."
     Accolades, as it turned out, held little interest for her. Although she covered an uncountable number of awards ceremonies in the home textiles and furniture industries over several decades, she steadfastly refused to accept one of her own. The very mention of such a thing brought a stare as cold as her laugh was warm.
     Given the scope of her experience, it is understandable why so many suggested she deserved one.
     Sloan was born into the home furnishings industry - literally. Her grandfather founded the furniture business of Wycombe Meyer, and she grew up in it. Over the course of her career, she crossed back and forth from retailing to journalism - twice - a most unusual path, but one befitting both her knowledge and skills.
     A native New Yorker, Sloan got her professional start when she joined Allied Stores' training program. From there, she diverted into journalism, covering the textiles and furniture businesses for Home Furnishings Daily.
     After a number of years, she pivoted back to retailing, moving into the home furnishings sales promotion department at JCPenney when the company was still based in New York.
     She and Brown eventually formed their own company, Sloan Brown Communications. In the mid 1970s, businessman Steve Pond came calling with the idea to launch a new publication, Furniture/Today. After the publication debuted in 1976, Sloan became one of its most high-profile contributors.
     Eventually, she suggested to Pond that the time was ripe for a publication covering the home textiles industry. In September 1979, HTT published its first issue.
     And for the next 31years, Sloan was both the guiding light and journalistic conscience of the newspaper, contributing an every-issue column and more news stories and features than anybody else in the history of HTT.
     She was a constant presence at industry shows, events and functions, her distinctive dress and manner always on hand. Even as her health issues started to slow her up over the past few years, she continued to be both highly visible and audible, her notepad and telephone ever at the ready.
     As news of her passing radiated out through the industry last week, remembrances - both personal and professional - began to arrive at Home Textiles Today in a steady stream. Here are many of them:
Mark Grand, president, Peking Handicraft
"Carole and I had a standing date for breakfast at every market since the mid-80s, and we spoke regularly in between.
     "She spoke in complete, grammatically correct sentences. She was a very private person, so I won't tell the story about the panty raid of the HFN offices, or about the Warren Shoulberg voodoo doll, which she only recently retired.
     "No one cared about our industry more. We have lost a guardian of our professional standards, and I have lost a caring friend."
Alen Sands York, Principal Stellar Alliance
"Carole Sloan, who it felt like I had known forever, was a defender of all things home textiles. She had a keen eye and a highly sophisticated understanding of the business. She foresaw trends and interpreted the ups and downs of the ever-changing map of the industry.
     "She could interpret the cycles and in some cases predict the future. Her weekly comments were spot on, and I shall miss them as I will miss her at those industry functions where she was always a fixture.
     "If there is fabric in heaven, I'm sure she will put it in perspective - perhaps over lunch with my mother and Virginia Jackson."
Neil Zuber, executive vp Home Fashions International
"In 1966 I was a salesman for Cameo Curtains and met Carole for the first time at the Cameo showroom at 260 Fifth Avenue. Little did I know then that we would strike a friendship that would last for 45 years.
     "I have so many memories of Carole that I don't know where to begin. During those 45 years, I have been with several companies and Carole was always interested in every one of them and what we were doing and who we were selling.
     "I think my most memorable times with Carole have been the many lunches we have had together. Carol would call me and say, 'Let's do lunch and chat,' and we would do just that. We always had long lunches coupled with a couple of glasses of Chardonnay."
Charlie Chinni, retail veteran
"Carole and I go back over 30 years and have always found her to be the most professional and trustworthy person in the industry. She knew that the relationship between her, the trade and the retailers was the way to get the best and most accurate information. We spoke regularly for 30 years. Most recently before Christmas. Her dedication and knowledge will be surly missed."
Julian Tomchin Retail veteran
"Carole was truly a support structure to me and my work. She knew what she liked, and she knew what mattered - or didn't. Her eagle eye focused on what counted, and her wicked humor made all the long conversations memorable."
Raymond Waites, Principal Raymond Waites Design
"Carole was very important in my career. She was always generous with her time - one of the best spirits and best symbols of our industry. When I start Raymond Waites Design, the first person I went to was her and used her counsel.
     "She was very instrumental in giving me the courage to go forward with that project.
     "It's hard to say all the ways she helped me. When she came to the showroom, she was always one of the bright spots. I don't think there's anyone else in our industry that you can actually call an icon. It was an honor for me because I considered her not only my colleague but a friend."
Mitchell Gold , chairman Mitchell Gold + Bob Williams
"I think Carole was truly one of the smartest and most professional journalists I've ever known. Early on she discovered us and followed our growth. Carole asked tough questions and pushed to get answers to questions I really didn't want to discuss.
     "I loved Carole because she was a journalist's journalist, a caring human being ... Carole Sloane was a treasure to the home furnishings industry."
Paul Hooker, president Sferra Brothers
"The lost art of telephone conversation was never lost to Carol. She thrived in interpreting the inflection of someone's comments, something that she knew could never be obtained through email.
     "Hers was one phone call that was always returned immediately out of total respect for her, and her refusal to give in to the unemotional replies of an email. I'll miss opening HTT and not seeing her editorial. It was such a tradition for many of us in this industry."
Larry Brill, Senior intl trade specialist, U.S. Department of Commerce, Office of Textiles and Apparel
"She was the 'Facebook' of the industry long before there was a Facebook by connecting friends and colleagues with each other to achieve a common good. Carole was constantly mentoring and coaching. I am proud to say that I knew her and that she was a friend."
Terry Gaffney, president Integrated Textile Resources
"As strong as her reporting talents were, they paled in comparison to her compassion for the individual people she covered. She expressed an inquisitive interest in the career paths of legions of people, oft times acting as both career counselor and business advisor.
     "Her words of wisdom were sometimes delivered in a 'tough love' manner, but were inevitably followed by a smile and a twinkling eye once she knew the words hit home."
Hermine Mariaux, president Hermine Mariaux Inc.
"I remember Carole not just as a consummate professional but as an exceptional mentor and nurturer of those who had the privilege and pleasure of working with her. As a former colleague at HFD, I am one of the beneficiaries of her journalistic gifts, her knowledge and her friendship."
Jeffrey Silberman, chairperson FIT Textile Development and Marketing Dept.
"Carole was a stalwart member of the FIT- Textile Development and Marketing Department's Advisory Board since 2000. She never missed a meeting, and truly cared about our students' well being, frequently bringing them opportunities and insight. We will miss her, and I will miss our friendship of 30 years."
Wesley Mancini, president Wesley Mancini Ltd.
"Carole represented one of the last remaining leaders in our industry for her generation. She was an icon seen at every fabric event either domestically or abroad. She told it like it was without embellishment, making her blunt and precise (and extremely worth listening to). Her knowledge about every aspect of our industry was unrivaled.
     "Carole also represented women in a time when women were not numerous in her field or textiles in general. It is easy to forget she surpassed that challenge while becoming an icon of the textile industry. To me personally, she took me under her wing and helped guide me with career moves. I was very fortunate for this personal bond."
Gretchen Dale,chief operating officer, Loftex USA
"I have many fond memories of Carole over the years but the most memorable was meeting her at the HFPA annual meeting one year after not seeing her or speaking with her in several months. She came over to me, reached in her pocket and pulled out a quarter. Handed it to me and said: 'Why don't you call me sometime?'
     "I made sure to call her regularly after that!"
Roger Gilmartin fabric executive
"Carole was an 'old school' journalist. If a comment was off the record, that's where it remained. Her grapevine never ceased to amaze me as did her kindness to me personally."
Bob Hickman senior vp sales and marketing United Feather & Down
"Carole Sloan will be remembered as a champion of the home textiles industry who was always promoting its growth and success. She had the distinct ability to artfully weave her industry knowledge with doses of common sense and candidness and a touch of good old fashioned humor. We will miss the wisdom and insight Carole provided for so many years and cherish the fond memories she created for us."
Jason Carr, president Softline Home Fashions
"Carole was as honest as they come, opinionated, ethical, knowledgeable, an icon in our industry. Her columns were always so informative. She was a special person who will be greatly missed."
Scott Kravet, principal Kravet Inc.
"We used to have dinner with her and Peter at Decosit. She was so knowledgeable, and Peter had all these interesting things to talk about - his music, photography. They were a great pair. You'd always see them together at the shows. Carole was great. She just kept right on going."
     To view all the comments posted, visit HTT's home page and click on the headline "Carole Sloan Remembered." Comments can be found below the story.
Related Content By Author
The Countdown to the ICON Honors Continues featuring Christophe Pourny

More Videos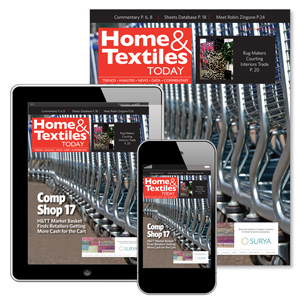 See the May 2017 issue of Home & Textiles Today. In this issue, we discuss our annual Market Basket survey, which finds higher prices and more polyester at leading retailers. See details!