New Pillowtex sheriff takes aim
Don Hogsett, January 1, 2001
NEW YORK -Taking charge at embattled Pillowtex only days before the company was pushed into Chapter 11, new president Tony Williams is making it clear that there's a new sheriff in town, quick of lip, quick of wit and quick to think outside the box.
He makes it clear he's not just out to fix things up, but shake them up as well.
And he's not just talking about Pillowtex or textiles manufacturing-he's taking aim as well at customers. Retailers, he said, need a swift "kick in the ass." They need to entertain their customers, he thinks, to provide "something more than surly service."
But his urgent priority is Pillowtex, and Williams said he's put all of the company's operations under the microscope, weighing every business, every product, every sku as he readies the transformation of the major mill into a stronger, probably smaller, and much changed company.
"Every product, process, customer, every plant is being studied," Williams told Home Textiles Today in his first wide-ranging interview since joining the company earlier this year as cfo, later being promoted to president and coo. "We are looking at every aspect of the company with no preconceived notions."
And in the process, Williams said, he's questioning many of the basic assumptions that have driven the industry for years-and driven some companies straight into the ground.
A big hit with the board of directors and Wall Street as cfo, Williams acted rapidly in that capacity to restore the company's tarnished credibility with analysts and investors, and was rewarded by being made the day-to-day change-maker after the ouster of flamboyant ceo Chuck Hansen.
Far from giving up on Pillowtex, or the entire beaten-up textiles business, Williams said he sees a number of parallels with another American industry once written off as all but dead-the auto industry from which he comes.
Cosmopolitan and polished, the native of Great Britain has worked with UK auto parts producer Lucas Varity and global industry consultant Arthur Anderson. And he's as much at home discussing contemporary European literature as he is with balance sheets and thread counts. He's just finished reading the latest novel by Irish writer John Banville. "He is the most elegant of contemporary writers."
One of the first things to come under scrutiny, perhaps surprisingly, is the company's portfolio of powerhouse brands, one of its strongest assets. "Visiting retailers around the country [in order] to look at the business, we discovered we have these enormously valuable brands," he said. "But they also tell us we need to focus on what we want to do with them. The clear implication is that we've let them atrophy, that we've taken them too much for granted, and in doing so let them begin to wither. We have to build them, drive them, not dumb them down."
To spruce up the brands and develop a new strategy for their use, said Williams, Pillowtex is in the process of hiring a brand management consultant. A critical need, said Williams, is to simplify the company, its product lines and manufacturing processes. Simplicity becomes a recurrent theme in the conversation.
"There is a complexity to the product portfolio which the customer doesn't see or care about. Does anyone out there know what all these dobbies are for? Or care? It adds complexity, it adds cost, it makes us less efficient, less flexible. We need to make it simple."
Threatening one of the industry's sacred cows, he asked, with some perplexity in his voice, "Does every retailer in America need its own separate shade of blue, when the difference between them all is so subtle and so minute that no one could conceivably distinguish between them? Do you know how much that adds to the cost of the product? How much inventory that represents?"
Finding an analogy with Detroit, Williams said, "Look at Toyota. They used to make 27 different steering wheels. Someone told them they had to. But who needed it, or cared? Now they have just two or three, they saved a lot of money, and the customer never noticed. You need to simplify the process, cut down on skus. No one needs that many colors in the palette."
And the same goes for thread counts, he added. "Who cares? There's this thread count, that thread count, does anyone out there notice? It adds complexity and it costs the consumer money."
At the same time, though, he acknowledges the need for innovation, something more than the lip service that textile companies have paid in recent years to the need for strikingly new product. "We need to keep it fresh and innovative, while at the same time cutting cycle time. We need to do more short batches of more fashionable product."
Williams emphasized, "If you can make it in small quantities, and make it quickly, if you do make a mistake, it's not a big deal; you can respond rapidly and fix it."
Crucially, said Williams, and what has gotten producers into trouble in recent years, "We make too much product, build too much inventory and create too many markdowns. It's eating us alive. If we can just shorten cycle times, we can improve deliveries, turn the inventory and create fewer markdowns. One of our major problems is $400 million in non-performing assets-inventory. One of the reasons we got where we are is that people don't plan very well. If we can shorten the cycle time, we can freshen the product, create fashion, cut the inventory and start to make some money."
A big related question now being studied, said Williams, is "exactly what capacity we'll need. Do we need to manufacture the product? Not all of it. We're not wedded to making everything. Why not find manufacturing partners? Detroit makes cars, but not all of the parts. You can't be all things to all people. It will kill you. We have to stand for what we do best, for design, for innovation, for marketing, yes. But for manufacturing absolutely everything that we sell? I question that."
While he champions the idea of partnering, he's not so sure about global sourcing. One of the lessons the auto industry has learned, he said, "is that manufacturing needs to be near the market. That holds true for textiles as well. The products need to be here, not on the water somewhere."
And Williams thinks that retailers could clearly use some fixing up as well. "Let's face it, the retailing industry needs a good kick in the ass-and one of these days it's going to get it. You wonder why so many retailers are in trouble? Because they've made it boring, they've made it frustrating. Retail has got to be fun. You've got to entertain people while they shop. You want her money? Then entertain her. Give her something more than surly service. Take H & M, for example. They moved into New York with genuinely affordable fashion, they've made it fun, and they're starting to threaten the business of everyone else in town. More power to them. They're getting it right."
Related Content By Author
Live From New York: Fashion Comes Across the Pond

More Videos
Subscribe to
Home & Textiles Today eDaily
Receive the news you need to know about the trends in the industry delivered right to your inbox.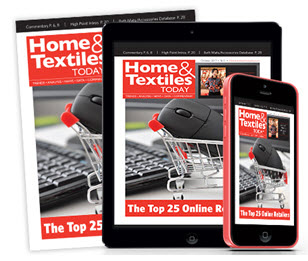 See the October 2017 issue of Home & Textiles Today. In this issue, we look at the Top 25 Online Retailers. H&TT's exclusive annual ranking of the biggest online sellers of home textiles finds that while pure play etailers continue to fly, bricks & clicks are digging into omnichannel. See details!