Top 50 Retailing Giants
Decline in Sales for Top Retailers
Carole Sloan, July 20, 2009
For the first time, the top 50 retailers suffered a decline in sales — 6.4%, along with the total home textiles universe that dropped 7.1%, according to the Home Textiles Today'sTop 50 Retailing Giants survey.
But the Top 50 slightly increased its share of the market with 93.9% of the 2008 total universe, compared with a 93.3% share in the 2007 period, according to the exclusive HTT study. The Top 50 retailers amassed a total of $23.38 billion in sales, down from revenues of $25 billion in '07, a 6.4% decline. The total universe for home textiles was $24.90 billion in 2008, down 7.1% from $26.80 billion.
The sales leadership derby that has been in play for several years among Wal-Mart, JCPenney and Bed Bath & Beyond, and saw Bed Bath beating out Penney last year for the second slot behind Wal-Mart. The crowd now has a fourth player — Target, in fourth place for '08. Target is challenging Penney for No. 3 position as its narrows the gap between the two. Penney's estimated home textiles sales for '08 were $2,675 million compared with Target's $2,650 million, a difference of just $25 million.
The spread between Wal-Mart and Bed Bath & Beyond also has narrowed, with 2008 home textiles revenues differing by $448 million. In 2007 the gap was $710 million. In fact, there is only a spread of $890 million between Wal-Mart and Target.
The Top 50 definitely reflected the plight of the entire industry in terms of numbers of companies reporting year-long losses — perhaps a contemporary record. In 2008, 43 of the Top 50 retailers registered home textiles sales declines; five registered gains, and there were two newcomers to the list — Hobby Lobby and Dollar Tree at No. 49 and No. 50 — with '07 revenues not attainable.
The five retailers with home textiles sales increases for '08 are IKEA with an increase of 9.0% in the No. 12 slot at $387 million, and Ross Stores at No. 14 with an increase of 8.5%. HomeGoods at No. 19 had an increase of 1.7% and Sam's Club at No. 21 had gains of 3.4%. HSN, in at No. 45, had a 3.2% increase last year.
And while Linens n Things and Mervyn's no longer are in business as they were, their '08 home textiles revenues still put them among the Top 50. Value City/Filene's Basement and Direct Marketing Services, both formerly on the Top 50 rankings in past years are out of business and their '08 sales did not make the rankings.
Despite a sales decline of 7.1%, Wal-Mart led the rankings once again with sales in home textiles of $3.54 billion. Wal-Mart's sales in 08 represented 15.1% of the Top 50's revenues in home textiles, compared with 15.2% in '07.
Bed Bath & Beyond is challenging Wal-Mart for the top home textiles slot, narrowing the sales gap between the two from $710 million in '07 to $448 million on sales of $3,092 million, up a scant 0.3% in 2008.
Wal-Mart, Bed Bath, Penney, Target in that order joined by Kohl's at No. 5 make up the Top 5 with 56.1% of the Top 50, compared with the group's 55.4% in '07. Kohl's home textiles revenues are estimated at $1,157 million, down 0.5% from 07's sales of $1,163 million. The Top 5 retailers were the same in both 07 and '08.
Together, the Top 5 had sales of $13,114 million, down from $13,831 million in 07 or 5.3%.
The Top 10 retailers of home textiles remain the same for 2008 as they did for '07, although there were shifts in the rankings of No. 6 through No. 10, in part due to the demise of Linens n Things, which despite a shortened year still remained one of its key players while dropping from No. 6 to No. 8. Sales of home textiles for LNT are estimated at $670 million, down from $980 million in '07.
The Top 10 retailers had a sales decline of 7%, down to $16,609 million compared with $17,860 million in '07. As a group, the Top 10 saw their market share drop to 71% from 71.5% of the Top 50.
The Top 15 picked up a scant amount of the total Top 50 market share, moving from 79.1% in '07 to 79.2% in '08 despite a dollar decline from $19,777 million in 07 to $18,504 million in '08.
Players in the five slots at the bottom of the Top 15 remained the same, but all shifted positions. Family Dollar moved up a notch to No. 11, replacing Big Lots, now at No. 13. Ikea moved to No. 12 from its'08 position at No. 14; Big Lots replaced Sears, now at No. 15, and Ross Stores moved up to No. 14 from No. 15 in '07.
In the next quintet of home textiles retailers, all maintained their rankings. Anna's Linens, Luxury Linens, Tuesday Morning, HomeGoods and Lowe's were No. 16 through No. 20 respectively.
Overall, the Top 20 had a sales decline at 6.2% with sales at $19,838 million, compared with $21,153 million in '07. The group's percentage share of the Top 50 was 84.9%, up slightly from 84.7% in 2007.
In the next group of five, Sam's Club jumped three slots to No. 21, switching places with Hanover Direct, which held the No. 21 slot in '07. Costco, Meijer and QVC retained their positions at No. 22, 23, and 25 respectively.
In all, the Top 25 showed a slight gain among the Top 50 with an increase to 89.1% for '08, up from 88.8% in '07. Sales for the Top 25 were $20,836 million, compared with $22,196 million, down 6.1% from '07.
Further down the rankings, shifts generally were subtle. With few exceptions, most moved up or down a notch or two. Army & Air Force Exchange Service moved up five slots to No. 42 and HSN moved up the same to No. 45.
Among the 14 retailers with double-digit sales declines, Linens n Things led the group with a 31.6% drop before it closed all its doors. Among the on-going retailers Stein Mart topped the list with a 21.7% decline.
Top Multi-Division Operations

CORP. RANK
CORPORATION
2008
2007
PERCENT CHANGE
SHARE OF HOME TEXTILES UNIVERSE
2008
2007
HOME TEXTILES SALES ($MILLIONS)
NUMBER OF STORES
1. Includes No. 1 Wal-Mart and No. 21 Sam's Club
2. Includes No. 6 Kmart, No. 15 Sears and No. 41 Lands' End
3. Includes No. 7 Macy's Home Store and No. 29 Bloominigdale's
4. Includes No. 9 T.J. Maxx/Marshalls and No. 19 HomeGoods
5. Includes No. 28 Cornerstone Brands and No. 45 HSN
Source: Home Textiles Today market research

1
Wal-Mart, Bentonville, Ark.
$3,752
$4,015
-6.6%
15.1%
4,105
4,009
2
Sears Holdings Corp., Hoffman Estates, Ill.
$1,290
$1,412
-8.6%
5.2%
2,238
2,332
3
Macy's, Inc., Cincinnati
$990
$1,062
-6.8%
4.0%
847
853
4
TJX Companies, Framingham, Mass.
$849
$855
-0.7%
3.4%
1,998
1,912
5
HSNi, New York
$218
$243
-10.3%
0.9%
12
10
Home Textiles Today's exclusive survey of the Top 50 home textiles retailers ranks the top U. S. retailers by sales of 2008 home textiles. All home textiles categories, bed, bath, kitchen, table linen and window coverings, including alternative window coverings, custom decorating and accessories that are generally sold with textile items, are included in the sales estimates.
In order to be eligible for the ranking, each retailer must sell more than one home textiles category.
The ranking crosses all formats of home textiles retailing. Companies are classified by their primary channel of distribution. Channels include discounters; specialty stores; home improvement centers; department stores; national chains, such as Sears; direct-to-consumer retailers that sell primarily through catalogs, television and/or the Internet; warehouse membership clubs; military exchanges; furniture stores; and supercenters, which sell both food and general merchandise in their mix.
Discounters include full-line, general merchandise discount stores, such as Wal-Mart, as well as those such as Family Dollar and Stein Mart that carry a more narrow range of product.
For Wal-Mart, Kmart and Target, the ranking includes discount stores and supercenters.
All home textiles sales information, except for publicly held companies that break out line-of-business sales for home textiles, are Home Textiles Today market research estimates. Sales figures are given for the 12-month period ending closest to December 31, 2008. Individual retailer descriptions include the date of the fiscal year end or the 12-month periods that deviate significantly from that date.
Sales estimates are based on information from a variety of sources including the companies themselves, public company filings with the Securities and Exchange Commission, discussions with industry analysts and suppliers and published and unpublished reports, including newspaper articles in various retail trading areas.
In cases where companies have identical sales of home textiles, the one with the fastest sales growth is ranked higher.
For comparative purposes, the 2007 home textile estimates for Hobby Lobby and Dollar Tree were assumed flat.
Related Content By Author
Live From New York: Fashion Comes Across the Pond

More Videos
Subscribe to
Home & Textiles Today eDaily
Receive the news you need to know about the trends in the industry delivered right to your inbox.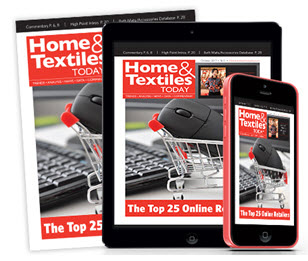 See the October 2017 issue of Home & Textiles Today. In this issue, we look at the Top 25 Online Retailers. H&TT's exclusive annual ranking of the biggest online sellers of home textiles finds that while pure play etailers continue to fly, bricks & clicks are digging into omnichannel. See details!