Vendors on target with added value
In a fall market clouded with uncertainty about future economic conditions, HTT's post-market roundup revealed that vendors are trying to provide added value to wary consumers in a variety of ways.
While not all of the new looks were well received, most buyers were surprisingly pleased with what was a broad assortment of colors and designs. Popular character licenses, coordinated designs, seasonal looks and juvenile offerings were most prevalent at market, as well as a wide range of colors from soft tones to brighter hues.
Despite the emphasis on value, many companies generated significant interest with luxury collections designed for the higher end of the market.
American Blanket
John Ginn
vp, sales and marketing
HITS: "The biggest hits were Danielle and Silkwood, the two throws coordinating with area rugs from United Weavers. Another really strong item was the Flagstaff pattern. And the whole Rugby Stripe group did really well."
MISSES: "The Kaleidoscope pattern. Nice idea, nice pattern, but the colors weren't right."
Anchor Home Products
Frank Petronzio
president
HITS: "Our Pfaltzgraff coordinate, Summer Breeze, print on 50/50 poly/cotton in appliance covers and window treatments was a hit. So was Windsor Collection — a combination of three coordinating patterns: Floral, Leaf and Check in place mats, napkins, chairpads and tablecloths in sage over burgundy."
MISSES: "Pansy, featuring small floral bouquets on a white background as a theme for spring, did not receive attention and will not go forward."
Bay Linens
Dianne Morris
president
HITS: "Every one of our introductions fit different niches for different retailers. Palazzo was a very opulent bedding ensemble in gold, and that was a hit. On the other extreme was the well-received Manor House, a very serene, creamy ivory look at a great price. Another hit was Nicole, a red sophisticated toile that had a very Provencal feeling."
MISSES: "Tyrol was a miss. The quantities required to produce it were too large for retailers to request it."
Beacon Blankets
Kenny Hines
executive vp, sales and marketing
HITS: "We had a lot of response to the wools —- the all-wool and the wool/acrylic blend. And the modernized weaves in cottons were well received."
MISSES: "We had some problems with the color palette, some colors that didn't work out. We need to take another look at the palettes."
Biederlack of America
Peter McCabe
executive vp
HITS: "Our Luxura, the new sculpted product we developed, was huge, both as a throw and a bed blanket. Hit number-two was the coordination between the new pillow line from designer Mary Ellen Fuller and a group of throws. That went over really well. And our bed blankets were very well received, especially the combed cotton."
MISSES: "Some screen-printed pillows we did just didn't hit the mark."
Brentwood Originals
Loren Sweet
vp, national sales manager
HITS: "Everyone loved our black warped jacquard chenille collection called Dutchess. It includes coordinating pillows, throws and window treatments starting at $12.99 for the pillow."
MISSES: "Another jacquard chenille we did called Country Estates — which was more expensive and formal — did not do so well. Clearly the customer spoke for value price points, more for value and less for fashion. So we'll probably reconstruct [Country Estates] and bring it out at a more moderate price point."
Charles D. Owen Mfg.
David Hollowell
vp, marketing
HITS: "We did well with a lot of our trade-trade-up items. Our Alexandria blanket, an Egyptian cotton-rich thermal blanket was a big hit. We also did very well with the Wamsutta Bedroom Solutions cotton thermal in a canvas and vinyl bag. And our new fleece blankets did very well."
MISSES: "We took a shot with a Back-to-School program with dedicated packaging, but that's not working. So we'll still do Back-to-School colors, but not the packaging."
CHF
John Witkowski
evp, window fashions
HITS: "In the Peri line, Bali, Magnolia, Harvest and Vanity. The looks were different and very timely. In the CHF line, Mira, Easton and Miranda all got great responses. Renaissance, Azalea and Tahoe were hits, too. They had unique looks and styling as far as fabrication. From the CHF tiers, Katrina, Crystal and Main Street."
MISSES: "From the Peri line, Biltmore. I think bubble jacquards are overdone. In the CHF line, French Floral it was too bright and Picket Fence, a tier ensemble, was too subtle."
Croscill Home
Patrick Clemente
assistant product manager, bath accessories
HITS: "Botanic Garden, Dusk and Dawn were the most widely acclaimed hits, placing very well. In agreement with the British dinnerware company Portmeirion, these patterns were derived into coordinated bath ensembles, combining ceramic items from England with wood lacquerware items and resin items from China, as well as assorted towels and shower curtains made in the USA."
MISSES: "Misses were our Romanza frosted resin/faux pewter effect and Haiku, crackle glazed stoneware and dark stained wood which did not wax poetically."
Croscill Home
David Kahn
ceo, president
HITS: "Chandelier, a classic gorgeous jacquard, and Pavilion, a yellow ground beautiful floral. They were hits because the most customers liked them. The Couture sheet line, decorative down and, in bath, the entire Portmeirion collection, were all hits, too."
MISSES: "Lola is a loser. No one liked it. It was a lilac and purple ensemble with an all-over pretty flower pattern, and we had a couple of small interests but no one liked it."
Design Network
Debbie Powell
director, marketing
HITS: "We got an overwhelming response to our new Minor Details collection, especially for our Ani-Mates Plush Pal with rug, pillow, throw or anything a child's imagination desires. The Minor Details collection includes a variety of juvenile rugs and novelty apparel such as beach backpacks/ towels and terry beach covers. Also well received were doormats that incorporated wood into the construction."
MISSES: "A miss was our Images Collection, a group of outdoor heat transfer mats."
Divatex Home Fashions
Bob Levitt
marketing manager
HITS: "The biggest hits for us were flannel sheets, and we're seeing more and more of a growth in matelasse covers. Flannels were priced sharply, and we also build product to specific customer needs. And we finally did get some of the jacquards off the ground."
MISSES: "One of the jacquards, called Arabesque. It was a heavier-weight product, and from what I'm hearing, as you get too heavy in jacquards or woven goods, there's a little bit more reluctance on the customer's part. We might have put too much into it."
Ellison Textiles
Kevin Finlay
president
HITS: "Nicolette, was definitely number-one. Number-two is probably Meadowbrook. Fantasia, Balmoral, Garden Club, Serenity, Samantha, Preston and Tranquility were hits, too. We are into the manufacturing process on every one of those patterns. I think that the line is extremely diverse, is definitive on the color and there's a lot of bang for the buck for each of the ensembles."
MISSES: Polazzo. It's a red and gold bed that didn't get the response we expected. We didn't get anything on it."
Elrene Home Fashions
Christine Ullman
executive vp
HITS: "Overall, we had an amazing reception to our introductions. The highlights were our Wolfgang Puck kitchen introduction, Warren Kimble table linen coordinates, our Americana statement, and our Fun in the Sun collection."
MISSES: "Our Lazy Daisy Plaid was too limited for a spring introduction."
Guilford Home Fashions
Lynn Ostro
Bedding design director
HITS: "All of the Karen Neuburger, definitely a hit. It was her fresh approach to prints and the way they coordinated with all the accessories we've layered them with and all the attention to detail. The Jockey dorm sets. Our choice of saleable non-trendy, on-going patterns was the attraction and the price also made them attractive. And the three silk dupioni beds. I think they were timely and elegant and we had enough elegant detail for the more sophisticated customer. And lastly, the embroidered duvets/comforters."
MISSES: "I think Penthouse was a miss. It was a chenille jacquard that we showed. We're not known for that."
Guilford Home Fashions
Karen Wertz
design director, window and bath
HITS: "For window, Pucker Up, a heavier-weight drapery fabric with lots and lots of texture. People also liked the top treatment we had done. Pleat, a tucked voile priced very well with a really wonderful soft color palette. Prima Donna, another new look for voile with a jacquard tape design running through it and a little bit more contemporary, fresher look.
"For bath, our chenille collection. A solid chenille, a chenille border, a chenille dot and a chenille flower. These were priced really wonderfully and had a lot of perceived value."
MISSES: "In window, Cabana Stripe. It was partially the make and the look was too beach-like for the general population. For bath, Paradise Island. It was a whimsical theme look with applique and embroidered monkeys. It was a little too whimsical and tropical."
Hellenic Rugs
Steve Mazarakis
president
HITS: "Our hits were definitely the Marrakesh collection, and we also had a tremendous response on the shaggy shag leather collection. On the shaggy shag leather a lot of the majors want in on the deal because of my aggressive pricing."
MISSES: "All our juvenile rugs were a miss. The shapes were a miss because they are heavily seen and tired."
Hollander Home Fashions
Sandy McNeil
senior vp, fashion bedding division
HITS: "The Vendome Collection was incredibly well received. Stepping up the fabrications and sheeting was a huge leap for us. It was a total showstopper."
MISSES: "Antoinette. Absolutely no one wanted it. No one is looking to add new beds to that red and gold palette they already have in their stores. And then Penny Lane, a hydrangea on a grass cloth. Only a few liked it, and we have no idea why."
John Ritzenthaler Co.
Chip Steidle Jr.
vp, sales and marketing
HITS: "In kitchen textiles, our hits were Cuisinart Windowpane and Gingham patterns on terry towels, flat towels, pot holders and oven mitts; Standard Terry Kitchen Embroideries with rooster, grapes and fruit on towels and pocket mitts; and Ritz Kitchen Stix three-piece towel sets embroidered with patterns like frogs, insects and lemon/lime.
"In table linens, our hit was Cuisinart place mats and napkins in the Windowpane and Gingham patterns."
MISSES: "In kitchen textiles, our misses were Cuisinart Posey pattern and Ritz Kitchen Stix three-piece towel sets embroidered with Chefs pattern.
"In table linens, our miss was the Cuisinart place mats and napkins in the Posey pattern."
Kay Dee Designs
Rick Rakauskas
president
HITS: "The big hit was Cats Galore, our first feline pattern ever, featuring the art of Deb Strain. This is a complete kitchen ensemble in a blue colorway and includes place mats, napkins and comfort mats. Next was our tropical collection featuring Tradewinds, a palm tree pattern with an English Safari look; Tropical Foliage, a hibiscus pattern in red, yellow and green; Key Largo, a tropical fish pattern; and Pineapple Coast, a very lush pineapple pattern with tropical fruit. Tradewinds was the home run here although the entire collection did great. Olive Grove was another homer but in a different area: gourmet. Our big hit in the stars and stripes area was Old Glory, a pure flag pattern that is shipping now. This helps complete a full look in this area along with for patterns by Deb Strain including our popular America pattern."
MISSES: "Our only disappointment was Farmyard, a play on farm animals other than the rooster, like cows, pigs, etc."
Lacey Mills
Karen Townsend
design director
HITS: "Cabana Stripe, bright colors and white alternating stripes, made for a fun look for spring and summer. Everyone loved this look."
MISSES: "Weave, a hand-woven imported cotton and rayon blend made for a beautiful solid-color rug. However, the difference in the fibers was too subtle."
Lintex Linens/Cobra Trading
Rae Ellen Blum
vp, product development
HITS: "For Cobra, a hit was the new prestige collection of 12 solid-color palette program — they loved the dobby. Also, Sandbox Jewels — new motifs and new colors like fuchsia, turquoise, lime and yellow. Other hits included confetti with new soft sherbet colors on a bath ensemble that coordinates with our new border tulip matelasse border.
"For Lintex, hits included our new Spanish damasks; the new Almeria, a rose two-tone scroll which was outstanding; cabernet sauvignon printed tablecloths which look like a damask with an attached border; printed large florals on a 100 percent cotton tablecloth all the Indian plaids from our Hampton and Citrus collections, which were also outstanding; new vinyls; and embossed looks, which were very strong."
MISSES: "For Cobra, bright colors on bath towels were not generic enough and too boutique- and specialty store-oriented.
"For Lintex, muted colors were a miss. Customers felt they were very dull."
Maples
Arnie Stevens
vp
HITS: "Chenille, a solid-color soft olefin pattern, was very well received, with a lot of interest shown by every merchant that came into market."
MISSES: "Our Chicken Barnyard print got little interest. This is probably because our other barnyard stories were a lot stronger."
Mohawk Home
Pat Moyer
vp, marketing
HITS: "In area rugs, our new Croscill licensed wool rugs were a big hit. The design and colors of these rugs coordinated perfectly to Croscill bedding and were very well received. Our new tweener collection of printed area rugs was also very well received.
"In doormats, additions to our Front Porch Collection were definitely a hit.
"In textiles, our Chris Madden debut was a huge hit. The Sanctuary and Reflections Collections were both major successes."
MISSES: "In area rugs, we attempted to introduce a new bright color palette in our printed rug category, and the reception was disappointing.
"In doormats, our new imported Coir Doormat Collection did not debut well. It appears our customer prefers the synthetic version.
"In textiles, imported sheer place mats previewed well, but the market reaction was disappointing."
Nourison
Ed Vairo
director, creative marketing
HITS: "Our washable juvenile shapes had an incredibly enthusiastic response. Noah's Ark and Rub-a-Dub-Dub bathtub designs were particular favorites. A number of retailers were likewise interested in our 'hanger & label' system we use on our display racks. Our Country Kitchen theme was a success across all categories. Our Apple and Barn designs were placed by several major accounts."
MISSES: "We were disappointed by the performance of some of our Country French designs. With some color work, we're confident that we can achieve a fresher and more saleable look."
Pendleton Woolen Mills
Bob Christnacht
manager, Pendleton Home and blankets
HITS: "Our home run was our easy-case washable wool, no question. And our Pure Natural wool blanket, which uses various shades of un-dyed wool to create a multi-stripe, was a really big hit. What really surprised us about the stripe was that people were captivated by the look even before they heard the un-dyed, all-natural story. Our Chevron wool blanket was also very well received."
MISSES: "Our Cascade Woodlands bedspread was not as well received as we had hoped."
Pillowtex
Gretchen Dale
vp, design and new product development
HITS: "In Charisma, it was Zona. It was the construction and the pattern. It was just right. And also Opposites Attract, a black-and-white story that made a fashion statement. In Royal Velvet, Intrigue was a total hit. The whole ball of wax was right. We had down-filled quilts which were a huge hit, and the down lap throws were very strong. And the down blanket — I think because it's lightweight and people want them for all year round. And the woven Imperial stripe was also a hit."
MISSES: "Fontainebleu in Court of Versailles. Too expensive. It was an $800 duvet. And Passion from Charisma. We were trying to push the envelope as to where we could go color-wise, and it was too much color."
Regal Inc.
Jane Cooney
senior vp, creative services
HITS: "For our Lumiere and towel/bath rug category, graduated color and subtly heathered blends caught the eye of everyone as they entered the showroom. We crafted a transitional bath rug and towel coordinate that will move the consumer a comfortable, but new step beyond just solid color. Our new Footprints collection combined a finely spun acrylic yarn base, hand-pulled color screens and handcarved details to create a rug that appears woven, not printed. Deeply color saturated and brilliantly lustrous, the medium allowed for great intricacy of design. A total of 13 different styles covered bath, accent and new holiday designs."
MISSES: "In the spring break bath rug category, our value-priced tabletop acrylic collection included sweet but uninspiring designs that were just plain overshadowed by all the more dramatic fashion groups in the showroom."
Revere Mills
Dan Harris
vp, marketing and product development
HITS: "Egyptian Cotton towels made on our new shutless looms were a hit. Also our new Soft Twist yarn towels from India caused a lot of excitement. And our double jacquard towels from Turkey, made with Egyptian cotton."
MISSES: "Lower-end, carded-cotton, lightweight towels from anywhere — whether [from the] U.S. or foreign — have lost there luster. Even value-conscious customers want better quality such as ring-spun cotton or at least higher-grade cotton, which is where a good towel begins."
Riverdale Decorative Products
Cheryl McLain
vp, merchandising and marketing
HITS: "One of our hits was a design called Patchwork Quilt. It is a chenille that when washed creates crinkles in the patches which look like they are stitched together by hand. Another real home run was from one of our new licenses, Andrea Tachiera, a California artist. We created several novelty tapestries from her artwork with Loon, Big Bear Lake and Beach Combing garnering the most attention."
MISSES: "A miss was Reeves, a boucle stripe offered in four colors. The miss could be the placement in the showroom."
Saturday Knight Ltd.
Dianne Weidman
vp, design and sales
HITS: "The best designs were Emerald Fields, which was a burnout floral shower curtain with frosted resin accessories and embroidered towels. Gingham Garden was also strong with a woven gingham shower curtain with chenille tufting coordinating with ceramic, shaped accessories and an embroidered towel with a woven gingham border. There was also bath art to match. San Tropez was another winner, which was a bright modern floral on white ground. The accessories come in an interesting shape in ceramic with decal, and the towel was embroidered on a ribbed blank. Fish Window was a great vinyl with brightly colored fish printed on vinyl combined with a bright blue woven canvas."
MISSES: "We had a design — Sheer Dots — that really didn't come together as it should, and we dropped it."
Scala International
Patricia Scala
vp
HITS: "The silk that we've been doing for so long has been a great success for us, and we're happy about that, since it's been our baby from the beginning."
MISSES: "Our linen and cotton jacquard which were new for us this season. It didn't seem to be a big hit."
Shavel Home Products
Dawn Rochelle Fields
director, marketing and creative services
HITS: "It would be the new programs we introduced at market: satin sheets and blankets and the embroidered matelasse sheets."
MISSES: "Some of the embroidery patterns in the matelasse line need to be refined in order to make the 'hit' list."
Sleep Innovations
Fred Natrin
senior vp, marketing and product design
HITS: "The Novaform Naturals collection. It was a unique combination of white goose down and visco-elastic foam. The bath and spa area, spa pillows and the slippers were hits."
MISSES: "Our beach line. I just think we missed the window of opportunity. Beach is practically closed for the year."
The Northwest Company
Stan Mieszkowski
vp, sales and marketing
HITS: "SpongeBob Square Pants, that's a property from Nickelodeon, a huge hit. Clifford the Big Red Dog was another. The NFL three-point stance design was another huge hit for us."
MISSES: "Our plaids and solids didn't get the kind of response we'd hoped for. Neither did Jurassic Park III."
Town & Country Living
Judy Neu
design director
HITS: "In dec pillows, big hits were an extensive quilted collection and the pattern Galaxy."
MISSES: "Our miss was a texture decorative pillow called Reno."
Trans-Ocean
Charles Peck
president
HITS: "Our new Carlyle Circles Design, 50 percent wool and 50 percent silk, hand-knotted in China. Our new flat-weaves also garnered a lot of interest. These included new designs in Portofino and Bolero, which are wilton-woven of 100 percent polypropylene, as well as a new group called Matera, which is 100 percent wool hand-woven in India. Of this group, the new Bolero Palm Leaf design, introduced in four colors, was a particular hit. Another hit for us was Serenade, which is both pretty and promotional."
MISSES: "We showed several new designs which were a little ahead of the market, for example, Provencal Border in teal and lavender."
Trendex
Lorraine Ragland Maberry
vp, sales and merchandising
HITS: "Our new Amabel Portmeirion collection of pastel rose and plaid with mix and match 100 percent cotton table linens was a hit. Also, our introduction of Ombre vinyl tablecloths in three colorways, and 100 percent cotton tablecloths and accessories in four colorways did well. Other Trendex hits included Wallace, an engineered damask tablecloth and three coordinating place mats available in gold and silver; the Seagrass Oneida collection of oval and blotter style place mats; Trendex's lifestyle collections in Ceramica and Lilacs, both of which are 100 percent cotton and include engineered/reversible coordinated place mats, as well as coordinated vinyl patterns and resin napkin rings."
MISSES: "Anything that was a print/pattern that did not have a coordinated lifestyle was a miss. So were our solid-color programs — customers were looking for fashion."
Venus Home Fashions
John Wallace
national sales manager
HITS: "T-310 dobby 100 percent cotton combed sheet sets in plaids and stripes, and promotional yarn-dyed jacquards Leslie, Camille and Olivia."
MISSES: "Metallic group of shower curtains and also the Vine and Emma styles of piece-dyed jacquards in 15-pound Turkish assortments."
Veratex
Dale Talbert
vp
HITS: "Anniversary Sateen sheet program, and Medallion Stripe also in the Anniversary Collection was strong. Sterling Rose, a traditional Veratex woven, and a new embroidered comforter Caroline."
MISSES: "Tamarind was just ugly, Corsica was too much like everything in the market, and Confetti was too frou-frou in colors."
WestPoint Stevens
Art Birkins
senior vp, basic bedding
Kathleen Cwirko
senior vp, mktg. services
HITS: (Basic bedding) "First, the electric Vellux blanket. The power of the Vellux brand combined with technical properties of the blanket material and the non-metallic heating properties of the Thermosoft made it a big winner. Second, the down blankets and throws. There's an increasing thirst in the American public for natural fill products. Third, the basic bed-in-a-bag. It's a new item for Back-to-School, so it works for us." — Birkins
HITS: (Fashion bedding) "Designers Guild, Disney, Seduction towels, basically all of our basic bedding and blanket products, down bed-in-a-bag, and Natural Stretch. Designers Guild absolutely was a look missing from the marketplace. Disney gave retailers a reason to break out of the traditional mold. Natural Stretch was a product innovation, and the Seduction towel." — Cwirko
MISSES: (Basic bedding) "Some engineered jacquard woven blankets. Retailers didn't really seem to make a connection. We think they were thought of as a bedspread." — Birkins
Whisper Soft Mills
Vincent DeRosa
president
HITS: "Our new range of quilts, including Liberty, Bug Time and Tip Toe Tulip. Our sports collection, including the In Play quilt and comforter, the new chenille outer bedding products, including Daisy Fields and Daisy Twist, and the entire Jenny and Jeff Collection."
MISSES: "A geometric print called Xylophone. It was a little bit out there and too much of a reach."
Windham Weavers
Howie Mallow
executive vp
HITS: "Our new Pfaltzgraff rugs; all of our new tapestries: place mats, rugs, runners and pillows, including tapestry tablecloths from Italy; hand-made embroideries: toppers, place mats and napkins; Rose Petal place mats and accessories; and a loop cotton rug that looks like wool berber."
MISSES: "The new line of solid quilted place mats."
— Staff Report
Related Content By Author
Live From New York: Fashion Comes Across the Pond

More Videos
Subscribe to
Home & Textiles Today eDaily
Receive the news you need to know about the trends in the industry delivered right to your inbox.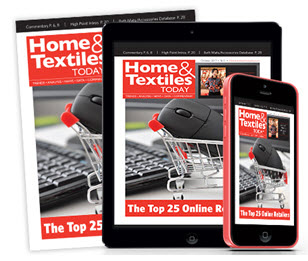 See the October 2017 issue of Home & Textiles Today. In this issue, we look at the Top 25 Online Retailers. H&TT's exclusive annual ranking of the biggest online sellers of home textiles finds that while pure play etailers continue to fly, bricks & clicks are digging into omnichannel. See details!