Pillowtex president: We've seen the light
Don Hogsett, March 25, 2002
When Pillowtex emerges from bankruptcy in another six weeks or so — a seeming fait accompli now that creditors have lined up behind its plan — the biggest changes may not be the most obvious. Shuttered plants, a smaller work force, a lower cost structure, and a cleaned-up balance sheet are only the beginning, said Tony Williams, president, coo.
Instead, the most dramatic changes may be the ones seen only in reflection: a massive shift in the corporate culture that transforms the zeitgeist of the company, the way it perceives itself, its mission and the way it does what it does.
"The real trick, the real success, will be whether we have been able to change the company, the culture. That's the really hard part. All the other stuff, the downsizing and what-not, you can pull out of a text book. But pulling together a vast company, made up of many separate parts, each with its own feuds and factions; getting people to re-assess their jobs and how to do them; getting them to pull down barriers and function as a thriving team — now that's the real challenge. And it's a real headache, I can assure you. That's easily the most difficult part of the job."
"We started out, really, as three separate companies — Fieldcrest, Cannon and Pillowtex — which had never really been knit together. Never, in all this time. Each had its own way of doing things, its own attitudes, and they frequently didn't get along at all. But as we come through this process, every day we come closer to being one company, with one goal, with one set of ideals. The culture, that's the hardest part. And without that, nothing else happens."
Why so hard? "Nobody likes to change," shrugged Williams. "And yet the only constant in life is that change is always with us. And you have to beat on this, the need to change, the need for a new attitude. It has to sink in at every level of the company. Every single person has to buy into it. And it's exhausting, trying to get that done. It's the single greatest frustration."
Said Williams, "People have to get out of their compartmentalized way of thinking. You can't think 'this is finance,' or 'this is manufacturing,' or 'this is design,' or 'this is marketing.' We need people to realize that each function supports the other. Well, we're now starting to see the company as a process that runs across all of the lines, that runs throughout the entire company. It's a big, shocking change for a lot of people, one that requires them to look beyond their own desktop and to get involved across the board."
Added Williams: "We've tried to teach people to think outside the box, to participate in the company. That it's okay to make mistakes, so long as you're trying to do something. There's an enthusiasm afoot."
Summing up the singular importance of that profound cultural shift, Williams said, "You know, bankruptcy is like a prison sentence. When you come out, you can't consider yourself free. You have to come out different, and everybody has to understand how they're different. And if they can't do that, then you've lost."
Parts of the process — shutting down plants, laying off workers, cutting costs across the board — have been painful for Williams and many others, he acknowledged. "But there's no doubt in my mind that what we're doing is correct. It's just doing it in a disciplined way, without getting bureaucratic, without stifling innovation, without cutting people off from the rest of the team."
One strange effect of bankruptcy, said Williams, is a form of time compression. "A lot happens in a fairly short period of time. It's as if a puppy grows up into a full-grown dog all in a matter of days instead of months. Everything is sped up and compressed. It can be quite disorienting at times."
But there can be unexpected benefits, he acknowledged. "You don't have the money to invest, so you learn to be more creative, especially in terms of financing off-shore relationships and ventures." And those off-shore relationships are becoming increasingly vital. "The sad thing is that we can't make it here cost effectively, but crying about it ain't going to help. But the imports will be at the lower end."
Any regrets? "Sure. It's very sad that people put their savings into Pillowtex stock and that it will soon be worthless. [Ed. note: As the common stock is voided and new stock is issued, most of it is going to creditors in a debt-for-equity swap.] And it certainly has hurt the people who have been let go. It always hurts the little guys most, doesn't it? And I certainly regret that the suppliers will see little return on the losses they sustained. But at least they will get a more viable partner going forward. And if we hadn't gone into Chapter 11, we would have had to shut down and liquidate. And who does that benefit in the supplier community? For that matter, does it even benefit our competitors?"
Any possibility that once out of bankruptcy the company will be sold? The answer comes fast. "No. Not by me or anybody else who works with me. I think that would be a pity. The odd person has sniffed around, especially at the beginning. But the need never arose. And what would that do to solve the problems of the company or the industry? There's a lot of opportunity out there for this company. It just has to get quicker, more flexible, closer to the customer. And that's what we're all about these past 12 months."
Related Content By Author
The Countdown to the ICON Honors Continues featuring Christophe Pourny

More Videos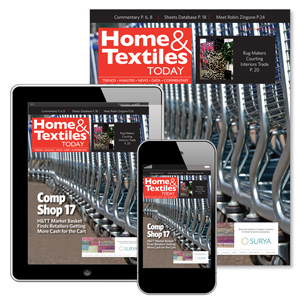 See the May 2017 issue of Home & Textiles Today. In this issue, we discuss our annual Market Basket survey, which finds higher prices and more polyester at leading retailers. See details!