Guest Column: Video on the Web
It's no surprise that the consumption of online video is growing dramatically. According to COM score, frequent viewers now consume more than 4.5 hours of online video per month. The 18-24 year old market spends more time watching video online vs. TV!
But how does online video impact retailers? COM score also reports that the number of online shoppers who watch retail videos grew 40% in the last year. An eMarketer report released in January 2009 identifies video or streaming media as the No. 1 feature retailers plan to add to their sites in 2009.
Should you incorporate video into your Web sites? It depends on how a retailer plans to use it. Don't adopt technology for technology's sake. Used incorrectly, video can distract customers from buying.
When evaluating new functions for a Web site, retailers should stay focused on their business goals and think about how video can help you move customers and prospects to those goals. Incorporate video in ways that will motivate your site visitors to take action — whether that action is to buy something, register their e-mail address or search for a local store that carries your product. Develop a strategy.
Video on your Web site
There are lots of good reasons to consider adding video to a business site. First, video is interactive. It will keep customers on a site longer and can enhance their experience of the brand. Video is more personal and can help build trust with customers. It also can bring product and brand to life in ways unattainable through text and photographs. In the report "Video Usage in E-Commerce: The Best Is Yet to Come," eMarketer states that product videos can lower the number of abandoned shopping carts, reduce return rates and generate higher sales.
Some ways retailers can incorporate video into their websites include:
A video blog;Demonstrations of how products work;Interviews with artists;Testimonials from customers;New product showcases;360-degree views of products and room settings that show how to pull together a look;As premium content requiring registration.
Some of the common challenges with online video are picture quality; speed of download; production costs; and interruptions due to buffering issues. A retailer should make sure its hosting solution can accommodate the bandwidth necessary for videos. As for production costs, companies don't need high-end video production equipment or professional studio time. A decent video camera costs about $200. For editing, a film student from a local college or an employee who is an avid YouTube user can be a great resource. Just be sure to script and storyboard the video before shooting.
Once the video has been recorded, it should be highlighted on the home page. In the case of multiple videos, add a link on the home page to the video library. Keep videos short – one to five minutes. Within a site, one of the best places for video is on product pages to give customers more ways to view product and make an informed buying decision through text, images and videos. Visit QVC.com or IsabellaOliver.com to see how video can be incorporated into product detail pages.
Tag the videos so search engines find them. Post video on YouTube, Yahoo Video and AOL Video and any other appropriate site available such as local business chambers, affiliate sites and video-sharing sites as part of a lead generation program.
Incorporate video into ads
Online video ads are another great way to incorporate video into the marketing mix. In 2009, online video advertising is projected to grow 45% to $850 million, according to eMarketer's latest forecast.
Video ads can be done in a variety of formats. There is the pre-roll commercial (15 to 30 seconds) that runs prior to news videos; sponsorship of special news segments; and in-ad videos. In-ad videos can have nearly triple the click-through rate of standard ads. A good combination buy is a video with a standard banner ad running next to the video to optimize click-through rates.
Also, videos should be crafted so their core message can be communicated without audio. Put the most important information up front since not everyone will watch the entire thing. Finally, remember to change up video commercials regularly. There is just as much viewer fatigue on videos as there is on other traditional online ads.
Is video for everyone? Not necessarily. But ignoring video applications can make a Web site become old and dated. Don't be left out.
Author Information
Penny Schneck is the Internet sales manager for Home Textiles Today and its sister publications.
The Countdown to the ICON Honors Continues featuring Christophe Pourny

More Videos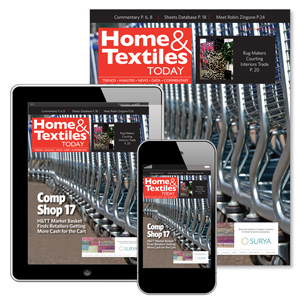 See the May 2017 issue of Home & Textiles Today. In this issue, we discuss our annual Market Basket survey, which finds higher prices and more polyester at leading retailers. See details!