November Sales Flare, Then Fade
James Mammarella, December 17, 2007
Promotions, cold weather and the earliest-possible Thanksgiving sparked a fairly good November for retailers, although few had positive things to say about home textiles and many had expected better comparable-store sales, given that in 2006 Thanksgiving was counted as part of December results.
In general, retailers reported strong Black Friday volume, followed by a marked softening in the fourth week of the month.
Home "fell short of expectations" at 1,591-store Target, where a seemingly robust 10.8% comp gain (just 1.1% on a calendar-adjusted basis) was below plan, due to "softness in the final week," said chairman and ceo Bob Ulrich. "This late-month sales shortfall was concentrated in key seasonal categories including toys and holiday trim," he said, "but other home and apparel categories fell short of expectations as well."
Ulrich was compelled to warn about Target's earlier earnings forecasts that, "These sales trends would need to meaningfully improve in December in order to achieve fourth-quarter EPS growth."
The stars at JCPenney department stores were the children's and jewelry departments, the 1,607-store and direct-to-consumer retailer said. Direct sales were strongest in "gift items, sleepwear and jewelry."
The company noted — as did many other retailers — that December comps are likely to be negative, due to the calendar shift; in JCP's case this will mean a decrease in the "mid-single digits." For the final quarter, JCP now expects a comp-store sales shortfall in the "low-single digits."
In a similar vein, 929-store Kohl's also expects December's comparable sales to be negative mid- to high-single digits as a result of the shift, said Larry Montgomery, chairman and ceo. "Our comparable sales guidance for the quarter remains flat to 2%."
Kohl's did have something good to say about home in its monthly recorded commentary, referring to year-to-date results for its six lines of business: "For the year, accessories, home and men's outperformed the company."
"The home category remained soft," said Wal-Mart, repeating a remark it has made often in recent months. Unlike some competitors, however, the world's largest retailer projects a comp store gain for its December, of "between one and three percent," said Tom Schoewe, evp and cfo.
"We're happy with our sales performance, but more important, we are pleased with our customer satisfaction scores," added Eduardo Castro-Wright, Wal-Mart Stores U.S. president and ceo. "We conducted more than 20,000 surveys among Wal-Mart customers on 'Black Friday' and our overall customer experience scores were high."
With a company-wide comp gain of 8.6%, the Bon-Ton acquisition of Carson's is showing more positive signs. Tony Buccina, vice chairman and president — merchandising of the 280-store company, said, "November sales were positively impacted by the onset of cold weather and the calendar shift that moved the week after Thanksgiving into the retail calendar month of November this year from December last year."
Costco scored its now-typical comp gain of 9% — but said without gasoline sales, its U.S. comp rate was 4% instead of 6%.
"Key areas under plan included softlines, trim-a-home, home furnishings, consumables and giftware," said Michael Hayes, ceo of 713-store neighborhood discounter Fred's. Reflecting on his economically pressured consumer base, Hayes noted that during recent months "discretionary spending did not materialize to any meaningful extent."
Dillards, the 330-unit department store chain, did not mention home categories or any above-trend departments, but only that "the juniors' and children's apparel category was significantly below trend."
Department stores as a group moved ahead of the pack according to the Johnson Redbook Same-Store Sales Index, which, tracking 48 chains, was up a hefty 4.2% in November, following the 1.6% uptick in October and the 1.1% rise in September.
The department store segment in the Redbook sample grew 9.1% and significantly, three broadline retailers — Kohl's, Macy's and Target — were in the double-digit gainer zone, which of late had been populated by warehouse clubs and specialty chains.
NOVEMBER SALES FOR KEY RETAILERS
Four weeks ended December 1a(dollar amounts in millions)

2007 SALES
2006 SALES
TOTAL %CHG.
SAME-STORE %CHG.
a. Reporting periods vary from chain to chain.
b. Costco: 4 weeks and 13 weeks ended Dec. 2.
c. Duckwall-ALCO: 4 weeks and 43 weeks ended Nov. 25.
d. Target: On a calendar-adjusted basis, monthly comp gain of 1.1%.
e. Wal-Mart: 4 weeks and 43 weeks ended Nov. 30.
f. Bon-Ton: Due to merger, no company-wide year-to-date comp sales. Year-to-date comps for Carson's up 0.2%; for Bon-Ton down 5.1%.
g. Family Dollar: 13 weeks, first quarter of fiscal 2008.

BJ's Wholesale Club
$746.3
$668.2
11.7%
7.7%
The Bon-Ton Stores
393.1
367.0
7.1
8.6
Costco b
5,720.0
5,040.0
13.0
9.0
Dillard Dept. Stores
559.3
550.0
2.0
1.0
Duckwall-ALCO c
44.4
39.3
12.8
2.8
Family Dollar
559.3
560.0
3.3
(3.4)
Fred's
151.3
150.5
1.0
(4.5)
Gottschalks
61.6
61.6
0.0
0.4
J.C. Penney
2,050.0
1,906.0
7.6
N.A
Dept. stores
1,709.0
1,616.0
5.8
2.6
Catalog/e-commerce
341.0
290.0
17.6
N.A
Kohl's Corp.
2,023.2
1,685.7
20.0
10.2
Macy's
2,713.0
2,382.0
13.9
13.4
Ross Stores
547.0
496.0
10.0
3.0
Stein Mart
140.2
144.7
(3.1)
(8.9)
Target Corp. d
5,972.0
5,119.0
16.7
10.8
TJX Cos.
1,800.0
1,600.0
10.0
7.0
Wal-Mart Stores Inc. e
31,718.0
29,265.0
8.4
N.A
Wal-Mart Stores
20,165.0
19,244.0
4.8
1.0
Sam's Club
3,620.0
3,331.0
8.7
7.1
International
7,933.0
6,690.0
18.6
N.A
43 WEEKS YEAR-TO-DATE a
BJ's Wholesale Club
$7,100.0
$6,600.0
8.1%
3.6%
The Bon-Ton Stores f
2,620.1
2,479.7
5.7
N.A
Costco b
16,980.0
15,200.0
12.0
8.0
Dillard Dept. Stores
5,602.3
5,788.6
(3.0)
(4.0)
Duckwall-ALCO c
392.6
374.4
4.9
1.7
Family Dollar g
1,683.0
1,600.3
5.2
(1.0)
Fred's
1,438.0
1,382.0
4.0
0.6
Gottschalks
485.7
507.4
(4.3)
(2.9)
JCPenney
15,520.0
15,145.0
2.5
N.A
JCPenney stores
13,232.0
12,844.0
3.0
0.4
Catalog/e-commerce
2,288.0
2,301.0
(0.6)
N.A
Kohl's Corp.
13,009.6
11,834.0
9.9
2.0
Macy's
20,432.0
20,193.0
1.2
0.7
Ross Stores
4,870.0
4,487.0
9.0
1.0
Stein Mart
1,180.4
1,185.0
(0.4)
(3.9)
Target Corp.
48,104.0
43,730.9
10.0
5.1
TJX Cos.
15,100.0
14,000.0
7.0
4.0
Wal-Mart Stores Inc. e
301,531.0
277,609.0
8.6
N.A
Wal-Mart stores
192,347.0
181,456.0
6.0
0.8
Sam's Clubs
36,160.0
33,797.0
7.0
5.0
International
73,024.0
62,356.0
17.1
N.A

WINNERS AND LOSERS
Same-store sales % change

WINNERS
Macy's
13.4%
Target
10.8
Kohl's
10.2
Costco
9.0
Bon-Ton
8.6
BJ's
7.7
Sam's
7.1
TJX Cos.
7.0
Ross
3.0
Duckwall-ALCO
2.8
JCPenney
2.6
LOSERS
Stein Mart
-8.9%
Fred's
-4.5
Family Dollar
-4.3
Related Content By Author
The Countdown to the ICON Honors Continues featuring Christophe Pourny

More Videos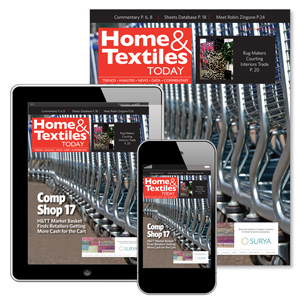 See the May 2017 issue of Home & Textiles Today. In this issue, we discuss our annual Market Basket survey, which finds higher prices and more polyester at leading retailers. See details!