Wonderland
Jennifer Marks
I'VE HEARD PEOPLE IN THE INDUSTRY talk about Dior Rose sheets for years, but I'd never laid eyes on the pattern until we went looking for artwork for this issue's story about the top sheet patterns - or what I've been calling internally "The Best Sheets Evah."
     The mighty Google led me to Etsy.com, an online marketplace for handmade and vintage goods. As with eBay, one has only to register and post up to become a seller. And, oh my friends, you have no idea how many people out there have vintage sheets to sell - a fair number still in the original packaging.
     How many? Try nearly 2,000. I felt like Alice going down the rabbit hole. As I clicked through the pages I saw much of the industry's modern history laid out in all its glory.
    This year we've been clucking about all the polyester that's made its way into sheeting as a counterweight against higher cotton prices. Ha! Try finding one of those classic patterns in an all-cotton.
     The original Pac Mac sheet? It's on etsy. Ditto 1988 Mario Brothers and early Dr. Suess. Want to know what the early iterations of Marimekko and Vera sheets looked like? There they are.
     Before there was Target's red-hot Liberty of London program in 2010, there was Wamsutta's Liberty of London mid-1980s program: a 180-count blend of 50% Fortrel Polyester (yes, the synthetic was listed first) and 50% combed cotton. Dior Rose also turned out to be a Wamsutta Fortel/cotton blend. The thread count was so dinky I swear you could slip the daily paper under the sheet and not have any problem reading it.
    The U.S. mills were proud of their polyester content back in the day. My absolute favorite: a 1970's-era Pequot no-iron, "luxury muslin," 50/50 poly cotton print sheet with a "new and improved" style sticker on the package proclaiming "Now 65% polyester."
     We've been told we've gotten spoiled by the fruits of globalization. A trip through the etsy vault reveals just how much has changed in little more than a decade. Aside from the poly factor, most of the vintage sheets on the site are muslin or 180-count. Most fit a twin or a double-sized bed. Almost all of them - and I looked at every blasted one - was sold open stock.
     The collection also offers a kaleidoscope of design: interpretations of country, floral, mod and, for lack of a better word, groovy.
      Designers, if you've got the time, make the trip. It'll feed your head.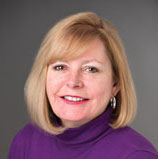 Jennifer Marks
|
Editor in Chief
jmarks@homeandtextilestoday.com
Related Content By Author