What's New at Market
Bedding
ACECO MILLS
The Livingston Home collection from Aceco Mills includes the Shiraz bed in a bag ensemble with three extra dec pillows. 100% cotton printed chenille jacquard.
ASHLEY MCBRIDE INTERNATIONAL
Ashley McBride's line of 4- or 7-piece comforter sets include the Heather design, which is a blend of natural and microfibers embellished with ribbon; the Victoria design is quilted velvet, constructed with a blend of natural and micro fibers and embellished with beaded corners.
CMN INTERNATIONAL
CMN International introduces the Switch Fully Reversible all cotton sheets and pillowcases, a patent-pending product. Customers can effortlessly and instantly customize their bed; they save effort, space while offering the obvious two for one.
These sheets and pillowcases are available in a wide assortment and combination of fashion-forward colors — from blue reversing to green, rust reversing to copper, the new basic of sage reversing to ivory, and navy reversing to ocean blue.
COLUMBINE CODY COMPANY
The Aspen 100% organic cotton quilted bed coverlet, accessories, and sheeting are made in India from Skal-certified organic cotton and natural dying processes. Products are available in stone, ivory, blue, and sage green.
Magnolia is made in India with 100% combed cotton chenille features bedspread and accessories, available in white and ivory.
Martina is made in Portugal with 100% combed cotton and includes matelasse bed coverlets and accessories. Available in white and ivory.
DORMA
The U.K.'s bed linen company is unveiling new lines that can be used individually or selectively mixed and matched to suit individual styles.
Offered are florals in both soft pastels and deep shades, high thread count jacquards and modern prints. Following are some of the key themes.
The trend for silver and metallic is reflected in Dorma's Metro design, a modern jacquard featuring structured spots and a delicate stripe on a 300-thread count jacquard 100% cotton fabric. This design is aimed at both sexes. The concealed zip is a feature of the duvet cover and all the products feature a spot jacquard.
Edwina is a bold, stylized floral with silhouetted imagery in deep ink and contrasting white, a real flavor of the Orient. This 300-thread count 100% cotton satin design will stand out when the luxurious red embroidered cushion is added for a truly striking look.
For a smart city look Cambridge Stripe Silver is a modern striped design in silver/grey with delicate hints of lilac. Two different stripes make it a reversible product. A quilted throw is available with this design, which features a channel pattern and a bias edge trim with a pale lavender plain dye on the reverse. The fabric is 100% cotton and 250-thread count.
The modern, urban look is seen again in Dorma's 250-thread count 100% cotton Westcott Stripe design. This is a multi colored woven stripe in spring-like shades of berry and honey. Westcott Stripe is highly detailed with the concealed zip and walled finish in the pillowcases for a smarter appearance. The design comes complete with quilted throw featuring a channel pattern and tailored placket with a berry plain dye reverse.
DWI HOLDINGS
DWI Holdings introduces Argentella bedding, made of 100% Egyptian cotton lace print on geometric jacquard. The sheets and pillowcases are 510-thread count 100% Egyptian cotton sateen in white with ivory scalloped inset. Decorative pillows and throware metallic stripe with crochet border, neckroll and throw in white crotchet, cream velvet cut out. The Bellamy lead pattern is 100% Egyptian cotton yarn dyed jacquard in jade and silver lilac. Coordinate is 100% Egyptian cotton yarn dyed dotted jacquard matelasse with medallion. Sheets and pillowcases are 510-thread count 100% Egyptian cotton sateen in color mist with ladder lace inset. Decorative pillows: 100% silk printed sheer in silver lilac, eyelet embroidered pillow in mist and silver lilac.
Like a walk in the sand dunes, Driftwood by Barbara Barry for DWI Holdings is a clean, crisp layering of organic textures and natural colors. A subtle print on fine percale in taupe and white is set off by tailored piping.
HOME SOURCE INTERNATIONAL
Home Source International presents MicroCotton True 500 Sheets made of 100% extra long staple, ring spun combed cotton. These full 500 count luxury sheets are made with super-fine, single yarns. An innovative anti-pop design adds an anti-slip lining for fitted sheet pockets. Sheets are made with azo-free dyes, and under eco-friendly processes, leaving no discharge to the environment.
Zen Garden bamboo printed sheets and bedding are made of 100% bamboo fiber with 250-count twill weave. Naturally silky soft bamboo sheets and bedding are also antibacterial and eco-friendly. The structure of bamboo provides superior ventilation and wicking that keeps the user cool and comfortable when hot, and warm when cold.
The duvet cover has a hidden button closure. Sheets and bedding are oversized to fit high loft mattresses. They are easy to care for and machine washable, with outstanding colorfastness.
HEDAYA HOME FASHIONS, INC.
Hedaya Home Fashions presents more than 30 new beds for fall, featuring the introduction of the Eileen West Quilt collection, which includes such romantic looks as Italian Gardens, a combination of romantic florals in pastels and deep tones that combine to create the soft beauty and elegance of an Italian Garden. Looks are all cotton.
Other entries include Bal Harbor, Blue Bliss, Marakesh, Jardin, Meadow Hills, and Carlysle, which are all cotton filled pre-washed, including rich paisleys, plaids, bold florals, with crochet lace, and ribbon trims.
All are accessorized with drapery panels, window valances, dec pillows, shams, bed skirts, and coordinating sheets.
KITAN INC.
Kitan, showing at Fayette-Renaissance, 261 Fifth Avenue, Suite 1501, introduces Victoria bedding. Sheets are 500-thread count Egyptian cotton, solid body and jacquard attached hem with hemstitch; the top of comforter and shams are made of sateen 300-thread count jacquard 100% cotton. The bottom of the comforter is made of solid sateen 220-thread count 100% cotton. A thick braid accents the comforter.
The Leaves bedding style features 500-thread count sateen sheets of100% Egyptian cotton, solid jacquard body and dyed yarn jacquard attached hem with flat ribbon. The top of the comforter is sateen dyed yarns jacquard of 100% cotton all over; bottom is solid sateen 220-thread count of 100% cotton with thick braid around the comforter.
LAWRENCE HOME FASHIONS INC.
Lawrence's Sky Collection is all about getting back to nature, featuring four new introductions: Passage, a bamboo blended tweed ensemble; Environments, a contemporary embroidered design on blended linen; Valencia, a single stem distressed botanical rose style motif printed on a cork colored blended linen; and Zen Garden, a new quilted sham and coverlet program in two natural colors on a blended linen fabric.
In the Suite Couture Collection, embellished elegant jacquards and a burnout velvet pattern will be introduced in the styles Yorkshire, Lorenzo, and Divine. Bed linens in this collection are on 100% cotton, 250 thread count with embellished hem treatments.
In the Maison de Vie Collection, new designs include Madison, with an air of modern sophistication and menswear-inspired, meticulously tailored in rich chocolate and accented with turquoise. Other patterns in this collection are Elixer, Fiona, Shadow Garden, Currents, and Simplicity. Sheets and cases are 300-thread count sateen.
Within the Hotel Boutique Collection, Lawrence offers white-on-white Embassy Check and Addison Stripe duvet cover and accessory programs, a clean hotel-like feeling, and two new woven jacquards, St Regis and Meridian in subtle tones which add a relaxed calming appeal.
Woven jacquards to printed designs, appliqués and flocking techniques, pieced constructions, dressmaker details are all encompassed in all these collections.
MESSINA & ZUCKER
A new bedding addition at Messina & Zucker is the Imperial Collection. Highlights of this collection will be a luxury 400-thread count 100% cotton sateen program consisting of patchwork square duvet/sham set, and a combo quilt/comforter/sham set in patchwork squares, stripes and solids.
NOSTALGIA HOME FASHIONS
The company presents a number of fresh collections, both traditional and contemporary.
Country Patch, inspired by Pierre Deux, features both patchwork and wholecloth quilts with embroidery and hand guided stitching.
Americana recalls timeless tradition with the classic American red, white, and blue. Traditional Blues and Regent Park play up the classic combination of blue and white. The crisp colors evoke a fresh Cape Cod feel, as the large scale damask prints and traditional florals are complemented with contemporary and traditional stitching and embellishment techniques.
The classic florals of Covent Gardens are complemented by intricate and expertly stitched embroideries. Rich chocolate and taupe prints mix with a variety of textures to create Knightsbridge.
Vintage Florals offers a nostalgic look at heirlooms brought to life. Detailed crochets and tea stained florals come together for a turn of the century loveliness.
Nostalgia's Geometric collection accentuates modern geometric layouts with high quality hand crafted techniques. The Neutral and Global collections feature intricately stitched whole cloths with both color-matched and contrast stitching.
PACIFIC COAST HOME FURNISHINGS
The company has added two new brands to their line, Jessica McClintock Home and Austin Horn Collection, in addition to Sherry Kline.
The Jessica McClintock Home collection includes soft romantic colors and textures combined with innovative design techniques. The new groups include many of fall's must-haves, including flocking, richly textured faux silks, and chunky chenilles in deep autumn colors like chocolate, smoky blue, lavender and spice.
Austin Horn Collection will debut four new collections this market. They offer the ultimate in luxury bedding using silks, jacquards, velvets, and chenilles from around the world.
The new Sorrento group incorporates golds with various shades of brown, and the Nicolette ensemble features metallic embellished silk in a luxurious cream color.
Sherry Kline features a gorgeous animal skin bedding ensemble in addition to 12 new bedding collections.
PENLETON HOME
Pendleton Woolen Mills is extending its reach in master bedroom looks, and at the same time updating the iconic Native American looks this century-old blanket producer pioneered, introducing its first-ever sheet line.
Adding to a rapidly growing portfolio of home goods, the company launches Sedona, a group of jacquard woven 400-count solid-color sateen sheet sets layering color and texture with tailored accents including piping on top sheet hem and cases.
The fitted sheet includes a 15-inch deep pocket. The full is $198, the queen $208, king $218 and cal king $218. Cases, sold separately in sets of two, are $74 standard and $78 king.
Sedona comes in white, ivory, claret and saddle. Putting a fresh spin on a classic look, Santa Fe shows off a sophisticated update of a Native American geometric motif embroidered on the top sheet.
PDK/REGENCY
The Limoge off-white damask jacquard from PDK/Regency is pieced with stylish woven pin dot and embellished with buttons complemented with a stripe coordinate.
The Floral Beauty pattern features a bouquet of flowers on a detailed quilted white background. The large floral bouquet is framed by a floral vine. They, in turn, are framed by additional vines and soft blue embroidery.
The Glitz comforter is made of pieced microsuede, abstract leopard print with a touch of lame. Embroidery brings the elements together.
SHARADHA
Kadri Wovens, the bedding division of Sharadha terry products, is taking the MicroCotton brand to a new level with the introduction of MicroCotto Green Earth Bed Linen.
MicroCotton Green Earth Bed Linen evolves from a "life cycle thinking" process which makes the world a better place to live. The sheets are eco-friendly right from the raw material stage to end of its life (in each and every stage of manufacturing, retail, usage and end of life cycle) and at the same time these products exceed customer expectations and delight for a lighter, smoother and a durable product.
The cotton fiber is spun in such a way that less cotton is used to produce the all-cotton towels, making them lighter in weight. The MicroCotton Green Earth sheets weigh up to 30% less than a normal sheet, but boast better softness and more tensile strength, making them more durable.
Instead of the normal fossil fuels used in textiles production, MicroCotton Green Earth bed linen products are manufactured by generating steam from natural waste products.
The line employs Skal-certified "Sustainable" dyes and chemicals. All water used for production is recycled back into the next production run, so there is zero discharge into the environment.
Apart from the conservation of energy and water during the manufacturing, the MicroCotton Green earth sheets substantially conserve about 25% of water, energy, and laundry chemical usage during every wash. MicroCotton Green earth Sheets — a new product range that supports the mission to help protect the Earth for our future generations.
S.S. DWECK
Sahara Club, exclusively by S.S. Dweck, shows down alternative hypo-allergenic comforters in a brushed microfiber fabric. With the fall colors they are presenting, the company says there is no need for a duvet.
STELLAR-ALLIANCE
Stellar-Alliance introduces the Cleudo design as part of their fashion bedding line; polyester/viscose blend duvet cover and shams, decorative pillows available in polyester/viscose blends and 100% cotton velvet.
They also present luxurious cotton silk quilted flannel bedding. Available in sheets, pillowcases, and various top of bed items. Duvet cover is subtly quilted, but unfilled for sophisticated look.
The high/low wale jacquard blanket is available in numerous wale widths. Many designs are available as well as custom designs to coordinate with bedding programs.
SUCH INTERNATIONAL INC.
Such is expanding its line of high quality microfiber satin quilted offerings. The newest offering, Tile Coverlet, is a modern interpretation of a medieval tile design. In addition the quilting stands out with contrast reverse fabric and thread. The coverlet becomes a touchstone for both classical and more modern homes.
WAVERLY HOME FASHIONS FROM ELLERY HOMESTYLES
Imperial Dress from Waverly's Eastern Origins Collection features beautiful intricacies of design and rich jewel-like colors, printed on a Corinthian Scroll jacquard, that give this pattern an exotic Far East flavor.
The comforter reverses to a moss green medallion foulard and the bedskirt is a yarn-dyed, finely detailed stripe. Bronze silk is used for the Euro pillows and obi wrap on a decorative throw pillow. Decorative black frogs are added to accent this ensemble.
The coordinating coverlet is a dramatic statement in ruby with an onyx frame and barratto striping. An accent quilt in a stripe framed floral plus a textured yarn throw, Pascal, with a micro suede frame complete this striking look.
W-C DESIGNS
W-C Designs introduces the Stetson home license to include three new moderately priced bedding ensembles.
Canyon Stripe is a cotton twill yarn dye with colors reminiscent of the clay earth and turquoise skies of the southwest. Hudson plaid, also a yarn dye design, includes naturals and greens with distressed printed stripes and soft geometric patterns. The printed Ivy Bandana bed was inspired by an antique apron, includes navy stars and stripes with an ivy patterned mitered border.
All beds have coordinating sheets in 300-thread count sateen. Decorative pillows are a mix of complementing shades of faux furs, knits, and faux shearlings.
Garavogue is a Waterford introduction for Fall 2007. A rich teal with platinum accents showcase the large textured floral motifs. It is a complete bedding ensemble including 500-thread count cotton sheeting with European turnback, a silk/cotton quilted coverlet with matching shams, Fortuny style bedskirt and four decorative pillows with opulent trims and detailing.
ZAMBAITI USA
Taking aim at the very top of the line, this Italian luxury goods producer introduces the Etoile collection by Cassera, new jacquard woven cotton designs in 500 thread count and in 300-count satin. In a broad range of colors in queen, king and cal king.
Bath
ESPALMA BY COBRA
In the towel category, there are several new collections and additions to existing programs.
Margaridas is a Brazil-made oversized sculpted terry velour bordered bath ensemble that coordinates to a robe.
Classic comes as plush stripes bath ensemble plus sheet in five colors. The Art Deco line of yarn-dyed towels is Mondrian-inspired, with geometric patterns on this ensemble.
Fragrant towels employ a variety of perfumes for a scented ensemble.
The new Egyptian line comes in 12 colors. Also, the company is offering many new sculpted fancy jacquards in tone-on-tone colors and a waffle towel in five colors and a paisley pattern in five colors.
Espalma is also showing new bath rugs and mats, available in shapes like nautiluses and clams, and plush and thick styles in solid colored combed cotton ribbed chenille.
INVISTA
Invista has crated the Comforel Two Point 99 fiber, the company's latest addition to its system for bath rugs, poised as a luxury-like fiber that retains color. For more than a year, Invista worked on developing a new spinning technology the resulted in Comforel. It is available in both bright and dull luster looks.
LAMONT LIMITED
The Midnight Classique collection includes ceramic accessories in a painted matte black finish, larger bath furniture pieces like hampers made of willow, and 100% cotton fashion liners. Consumers can mix or match the pieces with the liners, which come in striped and brocade looks.
PARADIGM TRENDS
The company has moved into the decorative bath category with a collection of mirrors, wall art, shelves, towel holders, and canisters. The collection is geared toward earthy colors with an elegant design. All pieces may be coordinated with Paradigm's vanity sets.
Pendleton Home
Pendleton Home moves into bath this week with its first-ever group of embellished towels on Egyptian cotton blanks.
Updating the classic Native American looks this century-old textiles producer pioneered, Pendleton shows off three new embroidered looks: Santa Fe, a geometric; Ranch House, a sophisticated, stylized equestrian motif; and Healing Hands, showing handprint and sun pteroglyphs.
Sold in sets including bath, hand, and washcloth for $78.
POPULAR BATH PRODUCTS
There are many new freestanding bath accessories, most made of resin. Some of the styles are: Daytona, a clean design in ivory with gold and ivory with silver; Topaz, an opulent look in sapphire blue with gold accents; and Raider, a simple traditional design in ivory with gold accents.
New shower curtains coordinate with resin or ceramic accessories, bath towels and bath rugs.
ROYAL HERITAGE
The company is offering a new collection of bath coordinates, and new items include ceramic, metal, and glass accessories.
SHARADHA
The trademarked Microcotton Green Earth towels incorporate the same "life cycle thinking" that Sharadha uses in all of its new Green Earth bedding products.
The towels are eco-friendly from the raw material stage forward, and at the same time exceed customer expectations for a softer, bulkier, more absorbent — yet lighter — towel.
The product weighs up to 50% less than a ring-spun towel, but is 50% more absorbent and retains its loftiness. The line employs Skal-certified "Sustainable" dyes and chemical.
SATURDAY KNIGHT LTD.
The company is introducing 40 bath coordinate lines, expanding its novelty looks with new designs like salamanders, fish, and pirates.
Other new coordinates include: Spa Leaves, with hand-painted ceramic accessories and jacquard towels; Magnolia, a watercolor floral sateen with porcelain accessories and embroidered towels; and Metropolitan, a geometric print with resin accessories and a tufted rug.
There are also many new freestanding shower curtains in vinyl, woven textured fabrics, and jacquards.
S.S. DWECK
Sahara Club, exclusively by S.S. Dweck, presents Red Box, a four-piece ceramic bathroom set in eye-catching solid colors that will complement any bathroom.
SUNHAM HOME FASHIONS
Sunham's Escalate design highlights the dimensional styling effect achievable with this unique yarn system. Ultra soft hand, subtle luster, amazingly resilience, and machine washability are just a few of the attributes of this yarn.
TWEEL HOME FURNISHINGS
Avalon is a traditional floral in cream and blush pinks on printed duck shower curtain. The bath accessories are ceramic and feature oversized decals with hand-painted gold trim on the pedestal base. The shower curtain is tailored.
Layla, a contemporary sketch-like floral pattern, includes a shower curtain that is printed on textured linen-like fabric white piping trim above a solid mocha border.
UNIVERSAL HOME FASHIONS
The Breckenridge collection comprises a 70-by-70 poly-duck shower curtain and coordinating ceramic accessories. The design is a traditional woven damask scroll motif on a stria background in gold tones.
WESTGATE
Westgate is introducing over 20 new bath coordinate patterns, including introductions for the Wesley Mancini Haute Couture Collection, including Malaga, a cream matelasse shower curtain with tied fringed jacquard towels and embossed ceramic accessories.
To coordinate with its master bedroom looks, the company will show Caboose, a contemporary wave jacquard texture.
Among the freestanding coordinates, Westgate will include a lifestyle group which includes animal textures, linen looks, and ready-to-wear textures like Canine, an oversized houndstooth chenille pieced with ultrasuede.
Kitchen/Tabletop
THE ARLEE GROUP
The company is showing an extensive collection of placemats and chair pads in a variety of styles, including solid, textured, tweed, striped, and geometric. Fabrics include velvets and distressed looks in faux leather and faux suede.
The chair pads and placemats coordinate with window treatments and decorative pillows.
ELRENE HOME FASHIONS
The designer line under the Echo brand is being enhanced with the Ombre Floral pattern on a polyester and rayon blend.
For the harvest and holiday seasons, Elrene is showing several collections: Harvest Vinyl, a cornucopia design; Christmas vinyl, a 100% vinyl and polyester blend; Holiday Glitter, a cotton jacquard in red; and Champagne Wishes, a marquis fabric placemat and an organdy waves fabric mat.
MAHAJAN OVERSEAS LTD.
The company is offering table linens with matching decorative pillows in three design themes — Caravan, Carnival, and Oliver. These include the Village cloth block print and faux suede crushed pleat styles.
Also new is a holiday program, and spring products like the Studio collection.
MESSINA & ZUCKER
The new kitchen textiles include print kitchen slice rugs and matching sink and stove area runners; an expanded line of restaurant quality kitchen towels, pot holders, oven mitts, and aprons; 10-piece kitchen sets; microfiber towels in solids, textures and prints; an expanded line of cool dots, silicone pot holders and accessories; and new flame-resistant oven/BBQ gloves.
New table linens are luxury soft and easy-care microfiber tablecloths in fashion colors. Most sizes available, including banquet size tables.
SARAMAX HOME
The company is introducing its new licensed program for Betty Crocker Kitchen. The signature collection for this program is Betty's Bakery, which comprises cupcake, chocolate chip cookie, apple pie, and chocolate cake themes.
Items include: a 16- by-26 printed 100% cotton towel with a woven stripe hem; a 16-by-26 faux suede appliqué embroidered heathered cotton towel; a 13-inch printed cotton duck oven mitt (puppet mitt) with Neoprene; a 9-inch silicone reversible pot holder; an 8- by-10 faux suede appliqué embroidered cotton duck pot mitt with Neoprene or terry backing; a 21-by-33 pleated cotton duck printed half-apron; woven and terry jacquard towels; and waffle-weave towels with terry back.All of the kitchen towels measure 16-by-26 and are made of 100% cotton.
TOWN AND COUNTRY LIVING
The new Coffee design is from the Gourmet Kitchen collection, which includes kitchen textiles. And the new Chef design is part of the Better Kitchen Waffle collection.
Under its upscale Brownstone Gallery Ltd. division, the company is showing the Knightsbridge 100% polyester tablecloth and napkin, a printed sheer burnout in purple with velvet trim, and Sheer Elegance, a 100% polyester runner, napkin and placemat collection with a mitered and metallic accents in purple and silver.
TWEEL HOME FURNISHINGS
The Tuscan Poppy Field collection features a floral field scene printed on kitchen towels, border towels, oven mitts and pot holders. Halloween Day depicts motifs from this holiday in soft color schemes on kitchen towels, oven mitts, pot holders and placemats.
Autumn Leaves and Pine Cones Leaves are harvest motif collections in kitchen towels, oven mitts, pot holders and placemats. Harvest to Holiday is a brightly colored collection suited for decorating the kitchen from the fall through Christmas.
Holiday Bells features just that in deep holiday colors. Also for the holiday is the formal Spode-branded collection of licensed Christmas tree and holly leaf patterns on table linens. Ornament Garden is a cotton-polyester blended collection of table linens featuring ornaments among holly leaves.
Area rugs
AMERICAN TRADING
The company is offering imported Belgian rugs in various colors and designs in 100% cotton or poly.
KAS RUGS
The focus this market is on scatter and accent size offerings that come in a variety of constructions, including naturals fibers like wool and cotton as well as synthetic fibers. Indoor/outdoor products are also a highlight.
In the area rug category, the new Monte Carlo II collection is made of viscose and imported from Belgium. Designs include traditional, transitional and contemporary patterns and colors are rust, mocha, sage, steel blue, and ivory.
MOHAWK HOME
Several categories in rugs are getting new additions.
In woven rugs, there are two introductions — French Provincial in soft colors, and Antique Treasures in gold, brown and green. The latter is made to look like hand-knotted antique rugs.
The grouping of new printed rugs represents Mohawk's largest ever rollout for the category. There are more than 100 new such rugs in novelty, kitchen, bright and seasonal looks.Tufted rugs come in three new collections, with an emphasis on natural fibers and traditional looks. There are more than 20 new styles and colors, and a new juvenile tufted collection is poised as a special addition to this category.
In mats and utility rugs, Mohawk has done an overhaul with new merchandising initiatives for these programs. New looks in recycled rubber doormats and innovative products dominate, as does an extensive assortment of harvest, Halloween and holiday items.
PARK B. SMITH LTD.
The new Sardinia plaid chindi rug is made of 100% cotton and comes in two sizes – 20-by-30 and 30-by-48. The colors include natural, Tuscany, meadow wood celadon and meadow wood seaspray.
SUNHAM HOME FASHIONS
Our dramatic use of cut and loop surfaces and high/low pile heights enhances the highlights and shadows of our beautiful wool construction. The result is a rug that creates the illusion of motion through both color and textural contrast.
Dec Pillows
THE NORTHWEST COMPANY
This dominant throw producer makes a major statement this week with a sweeping line of decorative pillows in a wide range of looks, most notably the licensed novelties and team sports looks the company is known for.
To put the package together, Northwest brought industry veteran Art Greenspan on board to head up the project.
Tapping into two American preoccupations, Northwest developed an iPod speaker neck support and an iPod speaker bolster pillow, each in a broad range of team logos. A new team-specific radio pillow can also be used as an iPod speaker pillow.
A line of juvenile licensed pillows includes an embroidered two-pack covering a range of licensed characters. Disney Cozzee Buddies pajama bag pillows come in the shape of favorite Disney characters. A new Disney Plush Car Pillow features the actual character voices of Lightning McQueen and Tow Mater using build-in sound chips.
In non-licensed novelties, Cuddle Buddies, a line of animals that comes in two versions, with sound chips that give the animals a voice, or without the sound chip, debut.
PENDLETON HOME
The company breaks new ground with a line of classic western motifs in decorative pillows.
Buckin'Horse and Indian Rider are leather front and back with photo images from the Pendleton archives dating back a century. A Pendleton logo pillow is trimmed and backed with Pendleton BlackWatch tartan wool. Poly fill with zipper enclosures.
Buckin' Horse leather photo pillow is 19-by-19 and priced at $198. Indian Rider is 15-by-20 and $148. Pendleton logo pillow is 15-by-20 and $148.
TWEEL HOME FURNISHINGS
Building on the popularity of the reality television show, Tweel's American Idol collection comprises 100% polyester, 17-inch square pillows in royal blue and pink.
The line includes one style that allows the user to incorporate the picture of a potential future American Idol.
WESTGATE HOME
The style Napoleon is embroidered empress silk in gold and salmon. Available either feather-and-down filled or polyester filled. Available with braid, tassel trim or self corded, in 20-by-20 and 15-by-20 sizes.
Empress silk solid pillows to match are available in 14 colors.
The new embossed, printed three-dimension velvet pillow collection is available in three styles and five sizes, across seven trimming choices, either polyester filled or feather and down filled.
The embroidered collection features eight new pillows on silky polyester and polysilk base cloths.
Pillows, Pads, Blankets & Throws
AMERICAN TEXTILE COMPANY
The Aller-Ease Ultra Microfiber bed pillow has been specifically designed and constructed to meet the company's Certified Allergen Barrier standard of a mean pore diameter of 10 microns or less. This standard was developed in a study undertaken at the University of Virginia Asthma & Allergic Disease Center.
The cover is made of 100% polyester microfiber for its efficacy as an allergen barrier and its superior durability. The hypoallergenic polyester fiberfill insures both loft and support.
The company introduces a collection of bedding products that include an Eco-Friendly Bed Pillow, Comforter, and Mattress Pad, all designed to address the consumer's desire for a greener, more sustainable lifestyle. All products are covered in 100% organic cotton; no pesticides or artificial insecticides have been used in growing this fabric. No chemicals or dyes were used in the fabric's processing. The polyester fiberfill used in the pillow, comforter, and mattress pad is made of recycled materials including post-consumer waste.
BERKSHIRE BLANKET
Taking 'softness' as its theme, Berkshire tells a textured story that stresses the sensual appeal of its new lines of blankets and throws this week.
Creating a new top-of-the-line luxury product, Berkshire debuts its Lustrous Silk blanket, a blend of 80% silk and 20% polyester in two sizes, a full/queen that aims at a retail of $149 for the full/queen and $169 for the king. At opening price points, Softest Microplush is a 100% polyester microfleece blanket aiming at retail price points of $19 for the twin, $29 for full/queen and $39 for the king.
Softest Cotton is a 100% pima cotton blanket aiming at $29, $49 and $69 retail price points. Eternasoft and Serasoft are 100% polyester microfiber blankets aiming at an opening price point of $29 the twin. Sablesoft, a step-up polyester microfiber blanket targets retails of $39, $59 and $79. A Serasoft Naturals blanket, a blend of 60% cotton and 40% acrylic, aims at $49, $69 and $89 retails.
In its rapidly growing throw category, Berkshire continues the emphasis on softness with Softest Microplush, a polyester microfleece aimed at a $9.99 retail. Cuddly Creatures in polyester microfibers target a $19.99 retail. Serasoft microfiber throw aims at $19.99. A serasoft Down Alternative polyester throw targets a $29.99 price point, and Sablesoft aims at $29.99.
BIEDERLACK OF AMERICA
In a massive makeover, Biederlack is revamping virtually every product category it plays in, taking aim at the higher end with stepped-up fibers, construction and design.
Creating a new high-end platform is the Borbo line of cotton/acrylic throws and blankets in a broad range of sophisticated, European designs produced by Borbo of Germany, a company acquired last year by Biederlack's German parent company. Borbo throws will wholesale in the $18 range.
Hitting a middle price-point is the new Orion line of step-up micro-fiber acrylic throws, using a trade-up fiber for a softer hand. Orion looks include lodge looks, shabby chic, menswear patterns and opulent florals.
The bread-and-butter line of high-pile acrylics has been overhauled with more than 30 new patterns using a trade-up acrylic for improved finish and hand.
In a completely new look in throws, the Petticoat collection uses burn-out looks on a white border on brightly colored polyester fleece; these include a butterfly, hearts, and doilies.
A new carriage-trade throw for upstairs retailers is a reversible featuring cotton on one side, wool on the other. Raschel knit printed throws get 10 new looks, mostly wildlife motifs. Another new step-up is Warm and Natural, a cotton/wool blend throw.
In a new twist on the traditionally masculine sports throw market, Biederlack is launching Stadium Softie, a line aimed at sports-minded women in shades of pink and white.
In the rapidly expanding bed blanket business, a new cotton/bamboo blend is debuted in a range of richly textured looks. The Solutions group of bedding gets a new Foot Warmer blanket with a pouch at the bottom; and a multi-used Snuggling Pillow with a suede-like cover.
HOLLANDER HOME FASHIONS
In conjunction with AAFA (Asthma and Allergy Foundation of America) and the Asthma Friendly organization, Hollander is introducing several new pillows that meet or exceed the standard for allergy and asthma sufferers including the Microshield Asthma Friendly Pillows.
These products have been tested over the course of 12 weeks at an independent lab in Ireland and have been certified by AAFA and Asthma Friendly.
Each product comes with a certification number, website for research and specific washing instructions; all are geared to help the consumers with allergies and asthma. All products will use 100% cotton shells with Cluster Puff fiber fill.
Hollander introduces several new Cluster Puff pillows, using blended polycotton shells of higher thread count along with new quilting techniques that provide a quality product with great perceived value at a great retail opportunity.
Hollander will also introduce a line of Comforel Silky Soft microfiber filled products utilizing high thread count silk/cotton fabrics along with 500 thread count cotton sateen (quilted and non quilted covers). Many new introductions will utilize the Hollander patented Superside construction.
HOME SOURCE INTERNATIONAL
The Bamboo Down Blanket from Home Source International is a lightweight blanket with the warmth of down. It has a 100% bamboo fiber cover with satin binding and a fill of hypoallergenic, white down clusters. The naturally anti-bacterial bamboo fabric is quilted in a 4-inch square design that provides extra loft and assures the stability of the down. It is down-proofed to prevent down migration.
MESSINA & ZUCKER INC
Messina & Zucker presents a full line of sleep pillows including polyester, feather, down and down alternative pillows; better sleep and healthcare pillows and pads; memory foam gusseted pillows and pads; fabric zippered pillow protectors up to 500-thread count luxury cotton. Mattress pads include convoluted and memory foam pads and toppers.
THE NORTHWEST COMPANY
In its core throw business, Northwest introduces new constructions and licenses, including a Magical Throw. Snapping a button on the back and zipping up the front, the throw allows a child to take on the identity of a favorite character. A new line of reversible throws features a panel print of a licensed character on one side, and a play activity on the other.
New licensed looks include Scooby Doo and Harry Potter. Movie-themed throws include Pirates of the Caribbean and Ratatouille from Disney, and Transformers.
Building on its dominant position in licensed throws, Northwest moves its muscle into the novelty and decorative pillow business with a massive launch under industry veteran Arthur Greenspan. Playing to its strength in sports team logos, Northwest parlays the rocket-hot iPod into an iPod speaker neck support and iPod speaker bolster pillow, both in a wide range of team looks. Also new is a group of micro-bead-filled football or basketball shaped pillow.
PACIFIC COAST FEATHER
As a new design in the company's unique and innovative pillow portfolio, the Tria pillow reflects the same distinctive approach to sleeping comfort, a design that concentrates and restricts the movement of down and feather fills to provide support as well as softness.
The Tria pillow offers firmer, no-shift support for sleepers.
This patent-pending, interior chamber design holds resilient Eurofeather fill in place for extra firmness. A unique triple chamber approach assures that support stays in place as the sleeper repositions during the night. To maintain overall comfort, an outer pillow filled with down surrounds the inner chambers for a finishing touch of softness.
The Tria is the firmest support pillow in the Pacific Coast density pillow series. The Side-by-Side pillow (medium support) features two side-by-side inner chambers that stay full for enhanced support. The DownAround pillow (soft-medium support) features a single chamber, pillow-in-a-pillow design for maximum adjustability.
Tria, Side-by-Side and DownAround pillow styles also offer: 300-thread count Barrier Weave Downproof Fabric Allergy Free Warranty, 30 Night Comfort Guarantee. Machine washable and available in standard, queen and king sizes.
PEGASUS HOME FASHIONS
Pegasus Home presents a full line of Memory Foam mattress pads and pillows in reversible satin and fleece. Blankets and throws are available in reversible solid colors.
PENDLETON WOLLEN MILLS
In its core blanket business, Pendleton introduces the Pearl blanket, named after Portland's hip, artsy Pearl district, featuring a sprinkling of sparkling mosaic tiles jacquard woven across a solid ground. Like all Pendleton jacquards, it reverses to a second look, this time a bold staccato stripe.
In a more traditional vein, Pendleton goes with a western classic look, Rim Rock, with a coordinating sham.
Another wool blanket, Los Ojos, interprets a traditional Navajo look, picturing the four mountains of creation in a bold, graphic motif. Another Navajo theme commemorates the 19th century "classic period" of Navajo weaving with a jacquard woven blanket with a smooth, un-napped surface.
Extending its top-of-the-bed reach beyond blankets, Pendleton intros a new look in the form of a classic "true" matelasse in a cushioned or padded look.
S.S. DWECK
S.S. Dweck introduces Sahara Club throws. These throws are quilted, overfilled with tassels, fringes and the finest fabrics.
SLEEP COMFORT SYSTEMS
Fort Worth, Texas
A unique dimensional foam design forms the ideal sleep support surface while providing high air flow to maintain temperature-neutral properties in new therapeutic mattress toppers and support pillows offered by Sleep Comfort Systems in the new Kathy Ireland Home collection.
UNITED FEATHER & DOWN
The company's new MicroMax All Seasons collection is specifically designed to fit under fashion bedding without adding excessive bulk. Making this all possible is United Feather & Down's newly developed microfiber blend, MicroMax, with many desirable tactile and performance features. It is also lightweight and warm.
As tested by an independent laboratory, comparing MicroMax to other down alternative products of equal thickness, MicroMax proved to be warmer.
ZAMBAITI USA
Building on its ultra-luxe cashmere collection, Thinkashmir, Zambaiti adds a new group of infant's blankets in jacquard weaves and knits, complete with accessories, including caps, scarves, rompers and sweaters, all in 100% cashmere. The baby blanket comes in two sizes, 27-by-43 inches and 36-by-46 inches.
Also added to Thinkashmir are a wider range of throws, blankets and accessories, including a Cupid throw in a cashmere cable knit in four colors; and a Primrose jacquard woven basketweave blanket in four colors and three sizes, queen, king and California king in a 94-inch width.
Supplementing the top of the line cashmere is new line of jacquard woven blankets and throws from Compagnie Lane Preziose in merino lambswool and blends of baby camel and alpaca. Throws are 53-by-67, and blankets are available in twin, queen and king and 90-inch and 94-inch widths.
Infant & Juvenile
JLA HOME
The company offers beach and travel accessories including a range of novelty themes.
The Chill-Out pad features a 50-by-60 travel blanket with multiple designs of printed 100% poly fleece inside, and a 100% poly solid color outer shell with embroidered patch, which folds up into a cushion with easy-carry strap
The Gimme Shelter bag is a combination 50-by-60 travel blanket that zips into a slumber bag and rolls up with easy carry strap. Multiple designs of printed 100% poly fleece are inside, that contrast with a 100% poly solid color outer shell with embroidered patch.
The Ride the Wave 2-piece set includes a 50-by-60 100% poly micro-raschel printed throw in multiple designs and a 100% poly microfiber surfboard shaped pillow, again available in multiple designs, presented in a functional Surf's Up logo bag.
MESSINA & ZUCKER
The company presents Slumbersoft waterproof pads for cribs and carriages, as well as the Calypso Rug Collection in kid-friendly brights, pastels and coordinating multi-stripe.
WHISPER SOFT MILLS
Whisper Soft Mills' Market introductions include the new Claire's Room Home Collection designed for tween and teen girls under retailer Claire's destination branding.
Designs included in the collection are Nature's Garden — a softer, sweeter printed floral ruffled comforter; Leather & Lace — graphic design, vinyl fabric piecing and grommet trim in urban chic styling; Pop Culture — graphic '80s bright colors and shapes.
The PJ Print Back To School Collection includes a cleanly rendered and fun cupcake, butterfly, floral, and stripe print comforter/knit sheet set ensembles.
The Jeep Home Collection features Off Road and Extreme active photo-real print comforter and sheet set ensembles; Jeep Back To School; and new lifestyle storage accessories.
Crayola Brand introductions include Washline, Picnic, Sea Adventure, and Construction Crew bed ensembles. All of these new offerings feature over the top detailing and coordinated Crayola interactive accessories.
Save The Children is new to the assortment and will include Lady Bug, Under The Sea, and Camping. As in past seasons, Save The Children represents great art and an even better cause.
Related Content By Author
Live From New York: Fashion Comes Across the Pond

More Videos
Subscribe to
Home & Textiles Today eDaily
Receive the news you need to know about the trends in the industry delivered right to your inbox.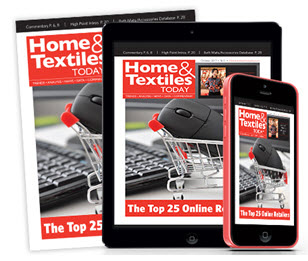 See the October 2017 issue of Home & Textiles Today. In this issue, we look at the Top 25 Online Retailers. H&TT's exclusive annual ranking of the biggest online sellers of home textiles finds that while pure play etailers continue to fly, bricks & clicks are digging into omnichannel. See details!