Rocky Year For Top 5
Over a year marked by uncertainty and intensifying competition, it may come as little surprise that the ranking of the Top 5 U.S. suppliers turned out a mixed bag of results.
While 46 percent of those that registered 2004 sales gains did so in double-digits, 44 percent of companies posting declines had double-digit fall-offs. Overall, 69 percent of the companies either eked out single-digit sales increases or came in flat over 2003.
Within individual product categories, results were equally mixed with one big exception: foam pillows/toppers. In that category, each supplier was a double-digit winner. The lowest sales gainer, Hudson Industries, posted a 22 percent jump in revenue. The biggest gainer, Sleep Innovations, boosted sales by 75 percent.
The only other category that came within reach was mattress pads, where three out of five vendors posted double-digit gains, one recorded a single-digit gain and one was flat.
Suppliers in the comforter category were hardest hit overall, with one posting a tiny sales increase and the other four showing sales declines of 9 to 24 percent.
Leading decorative pillow suppliers also experienced difficulty. Three out of five were flat and No. 3 Mohawk Home saw sales slide 10 percent. Only No. 1 Brentwood Originals added sales in the category during 2004, up a whopping 30 percent to $157 million.
The biggest winner in last year's Top 50 survey — Springs Industries — gave back some of its gains. Allure, pushed out of the No. 1 spot in bath accessories a year ago, reclaimed the flag — and knocked Springs out of the No. 1 perch in shower curtains to boot.
Elsewhere, Springs held its previous year's ranking, despite sales declines in eight of the 11 categories it charts on the survey. It took its biggest knock in the rug category, where sales declined 15 percent to $102 million, putting the size of the business at $23 million less than it was before Springs acquired it from Beaulieu in early 2002. Springs posted its biggest gain in the bath towel category, where sales grew 6.4 percent to $330 million, keeping it solidly in second position behind WestPoint Stevens.
Reverberations from Pillowtex's demise in late summer 2003 continued to ripple out across the results, especially in the categories of bath rugs, bath towels and mattress pads.
In bath rugs, two players picked up significant pieces of business: Maples Industries, up 25 percent to $100 million, and Shaw Living, up 67 percent to $50 million.
There was only one new company to enter the Top 5 rankings this year: Town and Country, which grew its kitchen textiles sales by 75 percent to $35 million. It entered the ranking at No. 4 as previous No. 5 Charles Craft dropped off the ranking altogether. (Charles Craft recently announced it is exiting the category.)
Also in kitchen textiles, former No. 3 Cecil Saydah slid to No. 5 as sales tumbled 42 percent, allowing The John Ritzenthaler Co. to ascend to the No. 3 spot. Cecil Saydah last fall sold its kitchen textiles business to Glenoit.
The down comforter category also shuffled the deck as previous No. 2 Hollander Home Fashions dropped to No. 4 with a 12 percent sales decline. Previous No. 4 Phoenix Down leap-frogged over No. 3 Down Lite International to claim Hollander's former position.
Supplier Giants


Bath Accessories
 
'04 Sales
$mil
'03 Sales
$mil
% Chg.
Comments
1. Allure Home Creation
$83
$75
11%
Experienced sales growth in free-standing offerings for fashion and promotional products.

2. Springs Industries
78
81
(4)
Dropped to second place; faced competition from other suppliers and retailers sourcing directly.

3. Creative Bath Products
49
47
4
Saw strong sales for its plastic offerings, even with increased prices for raw materials; experienced gains in licensed and open line programs.

4. Croscill Home
44
46
(4)
Higher raw materials costs held back sales gains.

5. Ex-Cell Home Fashions
17
15
13
Enjoyed sales increases from free-standing products.
 

Wrap-Up

To spur sales, the suppliers branched out this year from the fully-coordinated effort in bath to more free-standing accessory products. Increases in raw material prices hurt margins for some, but most of the Top Five suppliers managed to increase sales at a healthy rate.
Bath Rugs
 
'04 Sales
$mil
'03 Sales
$mil
% Chg.
Comments
1. Mohawk Home
$187
$172
9%
Picked up programs held by Royal Velvet; gained placement for solid-color programs at mid-tier department stores; landed new placements with existing customers.
2. Springs Industries
145
160
(9)
Gave back most of its 10 percent gain in '03.
3. Maples Ind
100
80
25
Became the bath rug licensee for Royal Velvet; concentrated on cotton offerings and saw strong sales gains in the category over bath rugs made with synthetic fibers.
4. Shaw Living
50
30
67
Gained placement for a large solid color program at a major discount department store.
5. Lacey Mills
24
22
9
Built up business with licensed programs, with the biggest growth stemming from its Polo and Dockers programs; expanded its private label business.
 

Wrap-Up

The exit of Pillowtex from the landscape opened opportunities at retail for these suppliers, all of which vied for parts of the Royal Velvet branded business. In the end, Maples Ind. took home the license. But while bidding for the brand took place, other players took pieces of the puzzle and filled newly empty store shelves with their own brands. The result proved profitable for all on the list except Springs Ind., which dropped nine points, taking it back to its 2002 sales figures.
Bath Towels
 
'04 Sales
$mil
'03 Sales
$mil
% Chg.
Comments
1. WestPoint Stevens
$565
$560
1%
A strong demand for towels in the first half of '04 helped WestPoint offset pricing pressure, resulting in positive growth for the year.
2. Springs Industries
330
310
7
First full year of business post-Pillowtex, having picked up new programs and leveraged its stake in Coteminas.
3. 1888 Mills
110
n/a
--
1888 Mills has seen ongoing growth from offshore manufacturing in Pakistan, India, Bangladesh and Sri Lanka.
4. J.R. United
72
65
11
Strong performance of the Izod program and the addition of mid- to high-end accounts contributed to a significant increase in sales.
5. Santens
54
53
2
Growth was generated by jacquard towel programs among department and specialty stores.
 

Wrap-Up

Domestic manufacturers saw a big interest in decorative towels to help retailers differentiate assortments. More opportunities arose to increase perceived value through direct embroidery, specialty weaving techniques and less sewn-on trims. Retailers are looking to bring in more fancy towels by trimming the number of colors or total solid-color programs they offer. Although the $1.99 to $4.99 price category generates large volume, it's not a big margin-producer. Prices may inch up as retailers reposition assortments.
Blankets
 
'04 Sales
$mil
'03 Sales
$mil
% Chg.
Comments

1. WestPoint Stevens
$115
$130
(12%)
Lost ground for a second straight year as flagship Vellux faced competition from rival Springs, and coped with the uncertainties of Chapter 11.
2. Sunbeam
$115
$115
0
Historically the dominant producer of automatic blankets, Sunbeam has only token competition from imports.
3. Charles D. Own (div. of Springs)
101
100
1
Sales held steady as the company pushed its flocked product and updates its upstairs fashion assortment, moving beyond mass merchant.
4. Berkshire Blankets
33
28
18
Flying underneath the radar for years, Berkshire surfaced in 2004 as it ramped up sales of its best-selling fleece blankets, helped by Nautica and Liz Claiborne licenses.
5. Pendelton Woolen Mills
17
16
6
A hit or miss year was pulled out by strong November business, with a solid inventory position enabling the company to ship on short notice.
 

Wrap-Up

It was another touch-and-go year for blanket producers hard pressed by a soft retail environment and increased pressure from imports. Suppliers still scrambled to fill the void left by the collapse of Pillowtex. Another big void was left when Biddeford Textiles shut down its U.S. automatic blanket operations, shifting production offshore. The clear winner was Berkshire, new to this year's ranking, which boosted sales at a hefty double-digit pace at it bulked up its fleece sales.
Comforters
 
'04 Sales
$mil
'03 Sales
$mil
% Chg.
Comments
1. Springs Industries
$05
$445
(9%)
The continued downward spiral in price points, especially at its major accounts, pulled sales results under.
2. WestPoint Stevens
230
260
(12)
As bed-in-a-bag shifted to highly promotional, WestPoint strategically exited unprofitable business. Also, pricing pressure continued in fashion bedding.

3. Dan River
116
153
(24)
The company continued to lose ground after going into bankruptcy in March; sales began to stabilize during the third quarter.
4. American Pacific
138
135
2
Channel-specific programs inched up sales despite the price-deflationary environment.
5. Croscill Home
113
124
(9)
As more business shifted to $199 and $299 sets, overall sales eroded.
 

Wrap-Up

Economic conditions remained difficult in the comforter category in '04 as price deflation continued and Asian importers eroded more and more business from domestic manufacturers. Other issues plaguing the category included retailers sourcing direct, reverse auctions, no-margin bed-in-a-bag business and increasingly lower price points.
Curtains/Draperies
 
'04 Sales
$mil
'03 Sales
$mil
% Chg.
Comments
1. CHF Industries
$142
$140
1%
CHF benefited as retailers across a range of distribution channels widened their assortments.
2. S. Lichtenberg
140
135
4
With a new factory and office in China, Lichtenberg is in a position to expand its offerings as it now imports more than it manufacturers.
3. Springs Industries
96
104
(8)
Though it moved soft window manufacturing from the United States to China, sales weren't helped last year.
4. Croscill Home
81
84
(4)
Croscill leveraged the advantages of its shift to more direct sourcing as it sought to combat price erosion.
5. Miller Curtain
70
70
0
Sales were flat as Miller moved more production to its Mexico and China operations; though it still maintains facilities in the United States.
 

Wrap-Up

Although more retailers in more channels were pushing aggressively in window, pricing remained very keen. Another challenge for suppliers: meeting retailers' demands for shorter lifecycles, which hampers a supplier's ability to recoup its investment in an individual number.
Decorative Pillows
 
'04 Sales
$mil
'03 Sales
$mil
% Chg.
Comments
1. Brentwood Originals
$157
$121
30%
Experienced strong sales performances for its core pillow programs and its Moshi pellet-filled novelty pillows.
2. The Arlee Group
74
74
0
Lost a large program with one major discount department store, but balanced it with gains at new retail channels, including e-commerce and regional stores.
3. Mohawk Home
28
31
(10)
Suffered sales declines in tapestry pillows and lost a large program with a major discount department store.
4. Newport
25
25
0
Saw unit sales increase by 7 to 8 percent with the addition of several programs at new and existing retail channels, but faced pricing decreases of about 7 percent.
5. Fashion Industries
20
20
0
Maintained placements with core retail partners.
 

Wrap-Up

The once popular tapestry and chenille fabrics that drove decorative pillow for a long time, particularly at discount department stores, took a back seat in 2004. The Top Five players sought new fabrications, like the Moshi pillows by Brentwood, and looked to atypical retail channels, as Arlee did, to sustain them in the category. Also hindering the category last year — a declining interest in pillow-and-throw coordinates, downward pricing pressures and increases in directly imported product by retailers.
Down Comforters
 
'04 Sales
$mil
'03 Sales
$mil
% Chg.
Comments
1. Pacific Coast Feather
$102
$114
(11%)
Impact of two lost accounts to reverse auctions plus raw material costs and avian flu made for a tough year; the company also shifted a bit to synthetic fill.
2. Phoenix Down
65
57
14
Brought in significantly more finished goods from China last year and also pushed higher-end merchandise, raising its ranking within the Top Five.
3. Down Lite International
64
52
23
Attributed its sales gain to deeper penetration of department and specialty stores as well as the addition of numerous hospitality accounts.
4. Hollander Home Fashions
60
68
(12)
The average sell price was down and Hollander lost a major account in a reverse auction, resulting in a decrease in sales and drop in its Top Five ranking.
5. WestPoint Stevens
46
45
2
Sales increased slightly with the rollout of the Martex brand to Sears; mid-year price increases for both cotton and down also contributed to sales increase.
 

Wrap-Up

Higher prices and the shortage of down created a reduction in supply due to the avian flu early in 2004 and increased costs of raw materials and finished goods. These factors made it more advantageous to import finished products of light to medium weight from Asia, while higher-end goods were still filled domestically. But some retailers cut back on down products during the year as a result. Interest in solid color programs also started to plateau, which had been a means of drawing more fashion-oriented customers to the category.
Foam Pillows/Toppers
 
'04 Sales
$mil
'03 Sales
$mil
% Chg.
Comments
1. Sleep Innovations
$228
$130
75%
Large sales gain attributed to the continued growth of the category, unique packaging, consumer education/awareness and the introduction of new products.
2. Carpenter
69
50
38
Increased sales from the expansion of manufacturing facilities and national awareness campaign promoting the Isotonic brand and Sleep Better concept.
3. Leggett & Platt
31
23
35
Product line intros brought new sales and distribution channels with mattress/bed retailers and catalogers; the company also expanded business with the big boxes.
4. Louisville Bedding
35
22
59
Increase driven by new latex foam placements and growing interest in visco-elastic products and higher price points.
5. Hudson Industries
22
18
22
Sales increase due to greater consumption by a wider audience and more real estate allocated to memory foam by mail order and specialty retailers.
 

Wrap-Up

The foam bedding category in general continued to grow and the variety of product offerings continued to expand. Momentum has been building among baby boomers in the last two years. General knowledge of the category has been better than ever before. The trend last year was in luxury foam offerings, with a lot of interest still being created by television advertisements for Tempur-Pedic mattresses.
Kitchen Textiles
 
'04 Sales
$mil
'03 Sales
$mil
% Chg.
Comments
1. Barth & Dreyfuss
$65
$60
8%
Gained placement with a major discount department store; experienced sales increases for licensed Waverly product at a major home textiles specialty chain.
2. Franco Mfg.
59
56
5
Gained additional placement at existing retail channels, mainly discount department stores and specialty chains; placed focus on branded and private label programs.
3. The John Ritzenthaler Co.
37
34
9
Gained new placement with key retail accounts.
4. Town and Country
35
20
75
Picked up a large part of Cecil Saydah's lost fashion business in the category at retail.
5. Cecil Saydah Co.
28
48
(42)
Although the company sold this part of its business to Glenoit and soon after shut operations, it saw strong kitchen textiles sales through the first half of the year.
 

Wrap-Up

With the shutting down of the Cecil Saydah Co. in the late summer and the bowing out of domestic manufacturer Charles Craft at the end of the year from kitchen textiles, the other top three category players stood to gain placement and dollars and room was made for a newcomer. Town and Country made the Top Five list for the first time and hit the number four spot, earning by far the biggest gain over its competitors. The top three companies — all longtime players in the category — enjoyed healthy gains, as well.
Mattress Pads
 
'04 Sales
$mil
'03 Sales
$mil
% Chg.
Comments
1. Louisville Bedding
$112
$98
14%
Increase driven from additional new programs picked up at all price levels as a result of the Pillowtex liquidation.
2. Perfect Fit
80
60
33
Gained significant business in mattress pads from the competition as well as due to the domestic market being stronger than it was in 2003.
3. Pacific Coast Feather
44
36
22
The Sealy brand continued to perform and garner further distribution gains; the Rely-A-Grip skirt helped pull through more placements and sales.
4. Springs Industries
34
32
6
While it has a solid base in the mass market, Springs continued to focus on value-added and benefit-driven products.
5. Hollander Home Fashions
20
20
0
Although sales were flat, the company saw a big shift from commodity-driven basics to higher-end mattress pads.
 

Wrap-Up

The trend was in moving away from selling features and toward providing tangible benefits for all products. The price/spec game has not been adding up as consumers want more and are willing to pay for it. The year saw a continued focus on the functional benefits and performance of products and less on constructions. However, thread counts did go up in the 250 to 400 range with dobby and jacquard weaves. There were also some brand distribution issues occurring with key brands migrating to lower-tier distribution channels.
Quilts
 
'04 Sales
$mil
'03 Sales
$mil
% Chg.
Comments
1. Keeco
$85
$90
(6%)
Category plateau and a switch in the company's focus from quilts to fashion bedding have caused decline.
2. Sunham Home Fashions
70
70
0
The decline in traditional quilts, which continued to spur other top-of-bed categories, meant the category as a whole was flat.
3. PHI
66
57
16
Gain spurred by new customers, deeper penetration of accounts and solid color programs.
4. Britannica Home Fashions
50
50
0
Coverlets and machine-quilted bedding took a big bite out of the category keeping it flat.
5. American Pacific
48
48
0
Although the category was flat, it was able to expand slightly with existing retail accounts.
 

Wrap-Up

The category in general was less productive in terms of growth and stagnant overall. The emphasis has been on higher-end products as well as contemporary looks, with an accent on quality of fabrics that are no longer just cotton, but chenille, velvet, silk and jacquards. Traditional quilts performed even weaker than they have in the past. Retailers seem to prefer bed coverings with updated styling that can transition from quilts to comforters.
Rugs
 
'04 Sales
$mil
'03 Sales
$mil
% Chg.
Comments
1. Mohawk Home
$340
$340
0%
Experienced a shift in business, with losses in printed rugs but gains in tufted rugs, particularly shag constructions; had success with Raymond Waites license.
2. Shaw Living
150
155
(3)
Expanded scatter rugs at retail and gained placement for area rugs at home improvement centers; saw gains in unit sales but lower pricing for some programs.
3. Maples Rugs
150
150
0
As prices for area rugs remained flat, sales did as well.
4. Oriental Weavers Holdings
147
130
13
Gained placement with most of its retail channels, including home improvement centers, mid-tier department stores, home textiles specialty chains and catalogs.
5. Springs Industries
102
120
(15)
Decided to stay the course with area and accent rug offerings even though it experienced a tough business environment.
 

Wrap-Up

With pricing pressures affecting most of the Top Five players, it was hard for most to see gains. Unit sales rose, at some stores up to 8 to 10 percent. But prices either remained flat or contracted for different rug categories, causing dollars to do the same and suppliers to pay that price in their end results. Also hurting the industry players were increases in synthetic fiber costs, which rose various times during the year.
Sheets & Pillows
 
'04 Sales
$mil
'03 Sales
$mil
% Chg.
Comments
1. Springs Industries
$685
$740
(7%)
Following a 16 percent increase in '03 thanks to the Pillowtex, price erosion and retail direct held back gains in '04; ceded Nautica sheeting program to Zorlu.
2. WestPoint Stevens
520
500
4
WestPoint's sheet business was driven by the launch of Martex at Sears in the first quarter; the company also had rollouts in the mass channel that bolstered sales.
3. Dan River
136
179
(24)
The company continued to lose ground after going into bankruptcy in March; sales began to stabilize during the third quarter.
4. Divatex Home Fashions
120
85
41
Bigger retail placements and an ongoing 30 percent to 40 percent growth overall continued to spur sales.
5. Franco Manufacturing
103
95
8
Growth in flannels, wovens, jerseys and licensed products attributed to strong adult brands and licensed characters.
 

Wrap-Up

It could have been worse. Sheet suppliers entered 2004 carrying sharp increases in cotton prices and facing a shortfall in sheet quota. However, major retailers acceded to some price increases and the quota held up. The category remains under pressure from retailer-direct programs. Global competition is expected to heat up considerably from India and Pakistan — where some apparel and towel makers are entering the business — as well as from China.
Shower Curtains
 
'04 Sales
$mil
'03 Sales
$mil
% Chg.
Comments
1. Allure Home Creations
$75
$70
7%
Had gains through expansion of fashion fabric offerings that centered on unique fabrications and embellishments.
2. Ex-Cell Home Fashions
71
68
4
Placed increased emphasis on fabric and vinyl basic offerings.
3. Springs Industries
70
85
(18)
Lost placement when a major discount department store cut back its overall sku count in the category.
4. Maytex Mills
41
34
21
Enhanced marketing and product development efforts; created new product lines within the category; expanded coordinate business with bath accessories.
5. Creative Bath
31
32
(3)
Experienced soft sales for some items from stand-alone categories, but had gains with varieties that coordinated with bath accessories.
 

Wrap-Up

As more suppliers have infiltrated the shower curtain category, like Aussino, Avanti, Popular Bath, Lawrence Home, Windham Weavers and others, the Top Five players stayed competitive by concentrating on strengths to make their numbers grow and maintain placements at retail. Maytex Mills' efforts over the year to reinvent its offerings with a new product development and marketing strategy pushed its sales highest. Allure made strides with a focus on fashion offerings, while Ex-Cell went to the basics. Not as lucky was Springs Ind., which fell to second place when a major customer cut back its orders.
Sleep Pillows
 
'04 Sales
$mil
'03 Sales
$mil
% Chg.
Comments
1. Hollander Home Fashions
$134
$128
5%
This gain reflects the company's growth in the down alternative area of the business, particularly in cluster fill pillows.
2. Pacific Coast Feather
124
130
(5)
Decrease due to average unit selling price declining in the down and feather area of the pillow business, as well as volume not offsetting it.
3. Springs Industries
98
105
(7)
After a big bounce fueled by former Pillowtex programs, the business receded to a level just 2 percent above its '02 volume.
4. WestPoint Stevens
82
80
3
The slight increase in sales was generated by the rollout of Martex at Sears as well as a full year of programs at two other retail accounts.
5. Louisville Bedding
44
42
5
Increase driven by new program placements as a result of the demise of Pillowtex.
 

Wrap-Up

The focus was on distinct functional, performance-based benefits in sleep pillows. The value of thread counts was less impactful than it had been in the past since the consumer is losing clarity on the issue — at least as it relates to pillows. The trend is going away from selling features and toward providing tangible benefits because the consumer is looking for more quality products.
Table Linens
 
'04 Sales
$mil
'03 Sales
$mil
% Chg.
Comments
1. Town and Country
$140
$112
25%
Experienced strong sales for basic business at all retail channels; had significant growth in licensed programs — Ralph Lauren, Laura Ashley and KitchenAid.
2. Elrene Home Fashions
57
57
0
Experienced weak sales at some retail channels; saw gains with new introductions for the Jonathan Adler design license program.
3. Bardwil Linens
54
54
0
Maintained placements with key retailers and gained new business for Bardwil-branded solid color programs.
4. Avonhome
51
49
4
Spurred sales through coordinate programs with related categories, including kitchen textiles, curtains and decorative pillows; expanded into new retail channels.
5. Ex-Cell Home Fashions
25
25
0
Balanced sales with the addition of two new licensed programs — TableTops Unlimited and Sango.
 

Wrap-Up

To keep business stable this year over last, table linens suppliers took two avenues — licensing/branding and cross coordination with other product categories, like kitchen textiles and decorative pillows. For only two of the Top Five players, these efforts translated into gains; for the others, they helped offset price erosion. Many retailers reported soft sales for the category for seasonal goods. But branded items and those made to cross coordinate with other products helped table linens ring the cash registers.

Throws
 
'04 Sales
$mil
'03 Sales
$mil
% Chg.
Comments
1. Manual Woodworkers
$71
$75
(5%)
Manual, which pioneered the once-dominant cotton jacquard throw category, now focuses on its growing accessory business.
2. Mohawk Home
67
90
(26)
After stabilizing its business in 2003, following a slide in '02, sales reversed course and declined again.
3. The Northwest Company
63
51
24
Still on a fast track, riding the crest of licensed novelties. But growth slowed from the stronger 38 percent gain in '03.
4. Biederlack of America
49
47
4
Picking up steam with a strong fourth quarter in sport throws, helped by the Red Sox World Series victory.
5. Brentwood Originals
14
20
(30)
Unrelenting pricing pressure from stores forced Brentwood to walk away from some programs, swapping sales for profits.
 

Wrap-Up

It was a notably challenging year for key throw producers — three of the five are estimated to show sales declines — as price deflation took its toll, with retailers asking suppliers to take programs down in price. With the collapse of tapestries years ago, and more recently chenilles, the category is contracting, in dollars if not in units, with sales of the Top Five as a class down 6 percent, to $266 million from $283 million in 2003.
Related Content By Author
Live From New York: Fashion Comes Across the Pond

More Videos
Subscribe to
Home & Textiles Today eDaily
Receive the news you need to know about the trends in the industry delivered right to your inbox.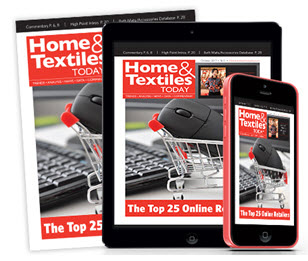 See the October 2017 issue of Home & Textiles Today. In this issue, we look at the Top 25 Online Retailers. H&TT's exclusive annual ranking of the biggest online sellers of home textiles finds that while pure play etailers continue to fly, bricks & clicks are digging into omnichannel. See details!