What's new at the Atlanta Rug Show
The following is a sampling of what buyers can expect to find at rug manufacturers' showrooms here at this week's market.
828 International Trading Co.
Greenville, SC (800) 733-0828
828 International Trading Co. is adding seven new patterns to its Accents collection of smaller rugs, based on the line's strong sell-through since its introduction last July in Atlanta.
The collection initially tested with eight patterns and now has 39. The new patterns launching in Atlanta will complement the existing designs.
The Accents line is made in China and constructed of 100 percent cotton. Sizes include a 6-foot round, 2' x 3', 2' x 8' and 4' x 6', but these smaller rugs can easily be made into larger area rug sizes, such as 5' x 8' and 8' x 10'. Price points are set at $46 for a 2' x 3' and $299 for a 5' x 8'.
Balta USA
Dalton, GA (877) 565-0497
Balta USA will present 20 machine-made collections, each with 18 to 24 patterns available in two to four colorways.
Its promotional area rugs collections are made of olefin and are set to retail for less than $100 for a 5' x 8'. Two key promotional rugs are two flat weave collections called Natura and Kerala.
Balta will also introduce a several heat-set rugs within five collections, with the most notable the Luxus and Classic lines
The premiere Balta offerings will be four wool collections, each made of 100 percent worsted New Zealand wool. Two key offerings here are the Trend and Symphony collections.
Capel Inc.
Troy, NC (800) 334-3711
Capel Inc. is preparing to launch its new Woven Spirits Navajo collection, which includes eight designs that are hand-woven by Navajos in Santa Fe, NM.
These eight hand-woven designs, created on Navajo looms, include the colors teal, aqua, dark terra cotta, green, yellow, brown and orange, among others, and are available in four sizes: 27" x 48", 30" x 56", 30" x 84" and 4' x 6'.
Carpet Art Deco
Greensboro, NC (866) 370-9850
Carpet Art Deco will introduce three new wool collections that emphasize a natural look and feel.
Each of these machine-made collections features a double-point, high-density construction and twelve soft hues in trendy patterns, from collages to traditional.
The Sensation and Emotion collections, for example, have elegant looks, and the Structure collection is a woven, double-pointed contemporary collection with abstract compositions.
Central Oriental
West Warwick, RI (800) 356-3574
Central Oriental's new Treasures collection is made up of Tibetan woven 100 percent wool with silk accents rugs. Set to retail for $799 for a 6' x 9', the collection is handmade in India and is available in four contemporary and urban styles.
The company is also continuing with its 2-million-point-per-square-meter Infinity collection, made of 100 percent heat-set polypropylene and available in six colors. A 6' x 9' size is set to retail for about $449.
Also new will be the Platinum collection of space-dyed nylon rugs with 32 colors in each. Made domestically at Central Oriental's new facility in Maine, the collection's rugs are set to retail for $399 for a 6' x 9'.
CMI (Colonial Mills Inc.)
Pawtucket, RI - (800) 343-9339
CMI will add five new colorways — jasmine, jade, ecru, storm blue and persimmon — to its Galleria collection of rectangular braided-texture area rugs.
CMI also will introduce its Four Season collection of quilt designs it is producing under a recent licensing partnership with Lynette Jensen. The collection, made using Jensen's signature Thimbleberries fabrics, is available in oval and rectangular shapes. Designs represent the four seasons — Winter, Spring, Summer and Fall.
Couristan
Fort Lee, NJ (800) 935-8878
Three new handmade collections and one new power-loomed collection are slated for launch at this market event.
The three new handmade introductions are the Alamgir collection of vegetable-dyed Persian designs, hand-knotted of 100 percent hand-spun wool, with a suggested retail price of $1,328 for a 5'6" x 8'2"; the Sherpa collection of 100 percent hand-spun wool, hand-knotted, Indo-Tibetan weave rugs featuring 16th- and 17th-century Persian designs, with a suggested retail price of $799 for a 5'6" x 8'; and the Super Indo-Natural collection, hand-crafted in blends 100 percent un-dyed wool with tone-on-tone natural colorations, with a suggested retail price of $399 for a 5'6" x 8'.
The new power-loomed collection, titled Everest, is made of heat-set polypropylene in a 1-million-points-per-square-meter construction. It is available in four traditional designs, with a suggested retail price of $279 for a 5'3" x 7'6'.
Delos Inc.
Atlanta (877) 988-5595
Area rug importer Delos is adding new styles to its Dionysus collection, which debuted in July. The hand-tufted collection features whimsical floral hand-carved designs and is made of mercerized cotton with a background of 100 percent wool. The suggested retail price is $999 for a 5' x 8'.
Also new are additional designs to Kodari, a Brink & Campman collection. Hand-knotted and made of Nepalese 100 percent wool, this collection's suggested retail price is $1,200 for a 5' x 8'.
Delos is also introducing a new sophisticated tropical and Art Deco line made of 100 percent wool and mercerized cotton as well as a new construction of cut wool and looped mercerized cotton.
Ebisons Harounian Imports
New York (212) 686-4262
Ebisons Harounian Imports will introduce a new collection to its Afford-A-Rug program.
Titled Tufsin, this new hand-tufted addition is made in China of wool pile with silk highlights and features Persian designs. Tufsin is available in sizes from 4' x 6' to 9' x 12' and in four colorways and has a suggested retail price of $499 for a 6' x 9'.
Feizy Import & Export
Dallas (214) 747-6000
In celebration of its 30th anniversary, Feizy will introduce eight new collections of hand-knotted, hand-tufted and machine-woven rugs.
For the Feizy Home line are the new Plaza, Verona, Monroe, Reflections, Wimbledon and Sonora lines. Under the Feizy Fine Rug line, new collections are Venetian and Ridgeway.
Hellenic Rug Imports Inc.
Brooklyn, NY (888) 356-5284
Hellenic's new collections are Tribal, hand-knotted in India and made of 100 percent Argentinean wool, available in six designs with a 5'6" x 8' set to retail for $499; Andros, made of 100 percent worsted Argentinean woo and hand-knotted with a Nepalese knot, available in simple geometric designs and set to retail for less than $399 for a 5' x 8'; Elite Silk, designed by Kathy Huriaud, hand-tufted and made of a blend of New Zealand wool with silk accents hand-tufted, set to retail for $499 for a 5' x 8'; and Retro Denim, hand-tufted and made of a blend of New Zealand and Argentinean wools, set to retail for $399 for a 5' x 8'.
The company existing collections with new additions are Essential Nature, which will have four new floral designs by French artist Kathy Huriaud; Wonders of the World, which will have the new Abusson and Panel designs; and Flokati, which will have an all-new palette of colorways, including denim blue, fuchsia, purple, lime, hot pink and bright yellow.
Karastan
Atlanta (800) 241-4494
Karastan's new introductions this market include one new collection plus an addition to its opulent Persian Renaissance group.
The new Ashara Collection comprises four rugs woven in the United States of fully worsted New Zealand wool and featuring up to 30 colors
The newest addition to the Persian Renaissance collection, constructed of New Zealand worsted wool pile with silk accents, is Red Keshan, a ruby colorway with white silk accents.
Kas Oriental Rugs Inc.
Somerset, NJ (800) 967-4254
Kas Rugs' new Riviera Series, the latest addition to its 1-million-point offerings, is machine-made in Belgium of heat-set polypropylene and features European designs. Rugs in this collection are set to retail for $249 for a 5' x 8'.
Also new is the Kingston collection of machine-made, heat-set polypropylene rugs produced in Belgium. These 600,000-point, fringeless rugs feature traditional Kashans, Heriz and Kimans designs in updated color palettes. The collection is available in six sizes, from 20" x 30" scatters to 8' x 11' and runners. A 5' x 8' is set to retail for $149.
Mahdavi's
Norcross, GA (800) 897-1172
Mahdavi's will introduce six new designs to its popular Royale Silk collection, comprising hand-tufted rugs made in China of wool with silk accents.
The collection totals 22 designs with the new additions, which include a range of looks, from traditional Persians such as Tabriz to medallion designs of Monte Carlo to floral patterns.
Milliken & Co.
LaGrange, GA (800) 241-8666
Milliken is adding nine new designs to its Innovations collection from its Border, Casual, Contemporary and Skins lines. Bristol Bay is one of the designs from the Casual line of Innovations, and Charlemagne is from the Skins line of Innovations.
Mohawk Home
Sugar Valley, GA (800) 843-4473
Mohawk Home will introduce three new creels in woven goods made at its Georgia headquarters and two new collections made on its Karaloc looms in Eden, NC.
The new eight-color pastel creel allows Mohawk to introduce soft and neutral color schemes. These rugs are set to retail for $99.99 to $149.99.
The second creel is for neutral colors, with black for a contemporary look. In addition, a three-yarn system is being used to add texture and luster. Price points are set from $99.99 to $149.99.
The new 10-color creel emphasizes reds and burnt oranges with traditional designs. The yarn system used in this line creates a soft-hand, hence producing a more expensive rug. Retail price points are set to retail for $149.99 to $199.99.
The proprietary Karaloc looms also will be used to produce a new synthetic sisal collection. Marketed under the Mohawk Home brand, the collection will be offered in four to six neutral colors in nylon.
Also launching are new holiday scatter rugs in 30 new designs. The construction for the line is hand-carved, printed chromajet, embellished heat-transfer.
Mohawk will also introduce its spring 2003 fashion line that will be available to ship beginning April 2003.
Among those offerings is a strong push for accent rugs for throughout the home.
Momeni Inc.
New York (800) 536-6778
Momeni continues to expand many of its over 40 different collections from China and India, in tufted, knotted and hooked. New designs have been added to the Maison, Sarouq, Mahal, Java, Chambord, Savonnerie and Spencer lines, and three new collections will be introduced.
The first new collection, titled Cashmere, is Chinese tufted and features traditional designs and colors. The suggested retail price point for a 6' x 9' is $499. The second new, yet unnamed, collection is made in China of wool with silk accents and features Persian designs. The suggested retail price point for a 6' x 9' is $999. And the third new collection, also still untitled, is made of 100 percent New Zealand wool and is tufted in India. Featuring contemporary and transitional designs, the suggested retail price point for a 6' x 9' is $499.
Finally, for Momeni's New Wave collection of contemporary rugs, two new sizes will be added, as well as more than 10 new designs.
Noonoo Rug Company
Secaucus, NJ (201) 330-0101
Noonoo will introduce its new Chroma Area Rug collection, designed by Benjamin Noriega-Ortiz. The collection is made by Noonoo and will be marketed by Furnished Quarters, a New York-based distributor of home furnishings.
Nourison
Saddle Brook, NJ (201) 368-6900
Nourison's include new collections and new additions to existing ones.
Two new collections — New Legends and Beauvais — will be added to the popular Chateau Provence line of classic 18th century French designs made of handcrafted wool pile accented with silk.
Additions will be introduced to seven successful existing and collections: Country Heritage, India House, Julian, Legacy, Nourison 2000, Royalty and Versailles Palace.
Orian Rugs Inc.
Anderson, SC (864) 224-0271
Orian is expanding on its popular Interlude Collection with the addition of the Ambiance design. Made domestically on one of the company's new machines, it is 100 percent heat-set polypropylene and is available in sizes from 2' x 4' through 9' x 12'. It carries a suggested retail price point of $299 for a 6' x 9'.
Oriental Weavers of America
Dalton, GA (800) 858-5749
OWA is launching two rug rack programs.
The Area Rug Gallery container displays OWA's 60 top sellers in a contained space, and the Continuous Roll Runner display carries rug collections based on varied popular design themes. These programs are OWA's latest effort to help retail customers better display its 2' x 4' rugs at the store level. For independent retailers, OWA has packaged 60 of its top-selling rugs into the Area Rug Gallery with designs on saving space. The 3' x 6' unit holds up to 60 smaller rugs, each of which is available in five standard sizes and in an assortment of themes — traditional, contemporary/transitional, New West, French country and safari. This program is strictly on a special-order basis, and all orders are drop-shipped to customers' homes directly from the company's facilities here.
The Continuous Roll Runner rug rack features up to 20 different patterns of rugs and divides them based on four design themes — Global Excursions, New West, Traditional Plantation and Neo-Modern.
Shaw Rugs
Dalton, GA (706) 275-2900
Shaw Rugs is building on its heirloom-type offerings with the introduction of seven wool rugs, aptly named Heirlooms.
The collection features museum-like designs and depicts classic colors like wine, black, espresso, spice, marina, sage, gold and ivory. One design, Garden Baktiari, is a 17th-century panel design with an aged patina palette.
Trans-Ocean
White Plains, NY (914) 949-5656
Trans-Ocean will introduce a series of new designs by Liora Manné for two new collections as well as additional new designs to existing collections.
The two new collections are Tropez, made of 100 percent wool pile and hand-knotted in China, with a suggested retail price point of $599 for a 5' x 8'; and Structures, an 80 percent wool and 20 percent viscose collection hand-tufted in India, with a suggested retail price point of $399 for a 5' x 8'.
Existing collections getting new designs are Lombardi, which will add Persian in two colors, Garden Floral in one color and Arts & Crafts in two colors; Mercer, which will add the new Squares design in a bright colorway; Dimensions, which will add the Crochet-denim design; and Portofino, which will add the Vine-Autumn and Patch Squares Autumn looks.
United Weavers of America Inc.
Dalton, GA (800) 241-5754
United Weavers of America is building on the success of its Genesis I collection by introducing its sequel, the new Genesis II Collection — a 10-color, tightly woven, heat-set line available in 20 designs.
The suggested retail price point for a 6' x 9' is $149.99.
Related Content By Author
Live From New York: Fashion Comes Across the Pond

More Videos
Subscribe to
Home & Textiles Today eDaily
Receive the news you need to know about the trends in the industry delivered right to your inbox.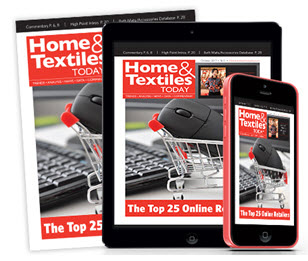 See the October 2017 issue of Home & Textiles Today. In this issue, we look at the Top 25 Online Retailers. H&TT's exclusive annual ranking of the biggest online sellers of home textiles finds that while pure play etailers continue to fly, bricks & clicks are digging into omnichannel. See details!