Vendors Shift Styles to Attack Price Points
Suppliers Invest and Innovate
James Mammarella, August 18, 2008
Suppliers of window treatments are trying something new. Among themselves, some competitors are moving in opposite directions — but the key thing in a challenging market environment is that they are pushing fashion changes and product innovation as a move toward gaining back margin and pressing upward on retail price points.
While the top five suppliers in the window curtain and drapery category did a combined $500 million in sales in 2007, the business is not as concentrated as some sectors of the home textiles industry. In window treatments, new and insurgent manufacturers are constantly seeking to discover and exploit a new niche — whether in fabric, fashion, function, or retail distribution — before the leading manufacturers can move in on a good thing. Taken together with ongoing economic challenges and the fallout from heavy direct-sourcing by major retailers, this makes for a season of ferment in the category.
Some manufacturers known for traditional and opulent looks — like Croscill and CHF — are broadening the more casual looks to their lines. Others, such as Arlee, are testing more formal, dressy styles. Still others, like Softline, are appealing to sharply defined consumer demographic groups, while vendors such as Commonwealth gain traction by championing energy-conserving fabrications.
To some extent, all of this is working.
Retailers are aware that material, labor and transportation costs have been peaking, and the effects on their suppliers seem inexorable. Manufacturers, in turn, know that retail buyers can only make the case to spend more if and when they are being shown truly new product. And that is where window treatment vendors are applying their design and development resources.
"We're not creating items that are printed cabbage rows," said Jason Carr founder, Softline Home Fashions. "We will not compete on commodity-type items. We've maintained our development in product, and customers recognize us for new, hip, fashionable goods."
"We are adding a little bit more of the casual, a bit more of the contemporary or transitional in the showroom," related Jack Mahon, vp merchandising/product manager for window at Croscill. "We are offering more balance, and covering each of the different lifestyles. The buyers see less duplication; we are giving them more choices."
"We are known for being strong in casual," explained David Frankel, principal, Arlee Home Fashions, which caters to the mass market. "Now we're offering a bit more dressy products: jacquards, multi-tonal traditionals with a bit of detail."
Window treatments at Arlee have grown rapidly — up by 30% in 2007 — to become second among the company's six lines of business (decorative pillows, seat cushions, table linens, throws and pet textiles), said Frankel, who is glad to note that retail price points are beginning to shift upward.
"The retailers will want to hold on to that $15 retail," he said, "but it is slipping up to $17.99 to $19.99" for a multi-piece set, which typically includes a topper, two panels with tie-backs and perhaps a fringe or scarf.
"Price points are definitely going up," said Janet Barragan, svp of window fashions at CHF Industries, which operates at both the mass and the upscale ends of the retail marketplace. Single panels by CHF generally target retail prices from $12 to $19, while the company's high-end Peri line offers panels aimed at retails from $29 to $69.
The main course-correction in the CHF fashion approach this year is an increased openness to the casual theme.
"Of course we are still doing the formal looks, but we're also introducing more tailored goods: simpler makes, not as embellished, more clean lines," said Barragan, "where we used to do a lot more layering, a lot of top treatments."
In line with its history, even the "casual" goods by CHF tend toward the formal, she noted, "like an ottoman or faille — and we still have plenty of sheer-over-sheer overlays, as well as new embroidered tiers."
"For the upcoming market," said Barry Goodman, vp national accounts, Commonwealth Home Fashions, "we will come out with a reinvention of the voile business, as with our Rhapsody Voile item — to get out of the 'rat race' and bring the product to a more hip, younger consumer."
Commonwealth's retail sweet spots range, in the example of its broad grommet-top program that includes both sheers and heavyweights, all the way from $9 to $49 or even $59 per panel.
Goodman is one to suggest that the relentless news of cost increases from China — "15%, 20%, 25%" — is helping vendors make their case to retailers. "The price sensitivity is probably less important now" because of that, he said — but emphasized that the product must warrant the increase. "If it is quality, if it has a purpose, functionability," he said.
Not everyone in the business agrees that cost pressures are exerting such dire pressure that retailers will be powerless to resist, even as the costs of manufacturing in China stand at historic highs.
"Compared to who?" asked Carl Goldstein, svp at S. Lichtenberg.
"When people tell you that the prices in China have gone up — say it's 3% to 5% in textiles — what is the alternative? What is cheap?
"Sourcing has moved out of the United States, first to Turkey, and then to India, Pakistan and China," Goldstein elaborated. "An item we used to sell for $5 now we sell out of China for $2. "If it goes to $2.50 it's still cheap — compared to Turkey in the past, for instance.
"For the past 15 years, the retail community has dealt in deflation. Now we're feeling the effects of inflation — many people in the retail community today never had to deal with it.
"Some have passed it on to their shoppers or 'guests,' others have taken it in their margins," he said, noting that largely, to date, "they have maintained the retails they were at when they were paying twice as much for the goods."
S. Lichtenberg has built its business over 75 years, through economic good times and bad, and Goldstein has come to believe, "Even in a recessionary period, the window business will continue to at least maintain the level or even experience some growth. With high gas prices and high commodity prices, people stay home. They want to redecorate, and the least expensive way to redecorate any room is on the window," he stressed.
To drive home the point, Goldstein quoted the founder of specialty retailer Anna's Linens, Alan Gladstone: "There may be a recession, but we choose not to participate."
"The truth is, the retailers are not going to give up," said Frankel, referring both to the window treatment category and to retailers' own margins. "So, how do we help them be in the business? Go promotional? Get a new idea?"
Frankel said Arlee has learned one method, for some situations, is to "still be sharp on price; buy a little deeper; save some bucks, and turn the goods as promotional." He observed, "Retailers will do a lot of in-line promotions — but will order some drop-ins," his term for fashion-sparked purchases made with open-to-buy funds.
As to the issue of "buying deeper," Goldstein asserted, "That's the problem on the supply side: you need tremendous capital to hold the inventories. It takes five months to get paid, from the time you order goods until you get the check from the retailer, say on 60-day terms."
On a related financial issue, Frankel remarked that the China-U.S. dollar exchange rate "didn't slide quite as quickly as expected." In January '08 the rate "was around 7.0, and a year ago 7.5 or 7.7," Frankel recalled.
"As early as November, even September last year, Chinese manufacturers predicted a 6.5 exchange rate by June. It's at 6.8 — so it's not quite as far, or as fast a slide," he said, noting the issue is complex. "Also of course you have the transport, petroleum, material, labor costs, the question on the rebate, will they re-install it?"
He reasoned, "China doesn't want to penalize manufacturers. And we do a combination, some production we own and some we source — it's all about flexibility."
"We will start to see the result in the fall," Frankel said of price increases recently accepted by some retailers. "And really see the full force next spring."
Frankel acknowledged, "Everyone has a concern over what the impact will be on retail —we pushed pretty hard — but it's what's in the product, what's in the markup."
"Of course you have to offer new product" if you expect to sustain any price increase, said Mahon, who noted that Croscill is excited to be in the process of refreshing the exclusive Croscill Classics assortment at JCPenney. "Newness means you can be more productive, you can re-energize within their department," Mahon said, adding the buyers at Penney "do believe in the Croscill brand; they like our product, and recognize there's a value in what we do."
Taking stock of another retailer in transition, Mahon credited Fortunoff for operating "a very strong window business. They understand how to do it." Commenting on the July acquisition of Hudson's Bay Co. by the parent company of Fortunoff and Lord & Taylor, he remarked, "If there was an opportunity for Fortunoff to expand in some form, here or in Canada, we'd be excited about that opportunity — they sell our product extremely well."
It is worth noting that that the new owners of Fortunoff earlier this year named Charles Chinni chairman and ceo of the specialty chain. The former JCPenney executive has a particularly rich insight into the merchandising of window treatments, as Penney is the retail leader in the category.
Sweet spots for Croscill panels are in the $29-$49 retail range, although with the silk goods Mahon said prices climb to $99 and, with embroidery top out at $129 to $149.
Investing in product innovation can result in an item that "creates a custom effect" even "at ready-made prices," said Frank Petronzio, president and owner, Anchor Home Products.
The company's patented, trademarked, adjustable double valence Versa-Ties line is one such item — that in the two years since its introduction has grown into a line that performs very well, he said. The price factor — typically about $29 at retail for a panel pair and double-valence — is advantageous.
Another benefit Anchor offers customers is the quick turnaround time afforded by its domestic production. "There's a lot more interest in that now," Petronzio noted. "We can turn in inventory in three to four weeks," so a fashion product that gains velocity in-store can be readily replenished.
As to fashion, part of the Softline approach, said Carr, is continual innovation. "Every day people are trying to reinvent themselves and do better than their competitors. It comes down to the actual buyer and her demographic," he said. "Softline is after the young, chic and edgy 25-to-45-year-old consumer who is switching from blinds to curtains."
The Softline retail sweet spot for a panel is $29 to $39, Carr said, whether "lined, interlined, back tab, rod pocket, lightly embellished, or a full, lavish embroidery in faux silk." While its focus is making readymades for the retail market, Softline has its roots in fabric development and importing; a typical price on fabric is $10.95 a yard, Carr said.
One thing this company, a relative newcomer in the industry, does not do is sit still. As market approaches, Softline is in launch mode for Evidence of Evolution, its certified eco-friendly line. At the same time, the company is now shipping an all-new program under the Tao to a Top-20 specialty retailer.
Window treatment designers at Croscill are increasing the number of natural fabrics in the mix, said Mahon: "Cottons and silks, even linens. In some cases we're looking at some recycled components, but we really don't have a firm philosophy on that yet," as the terms, certifications, quantity availability, costs and material proportions in the fabrication mix all tend to have fluid definitions at this stage.
Croscill is layering in more energy-aware product, he said. "Linings and interlinings continue to be more important in our assortment."
Elsewhere on the product front, CHF Industries is refreshing its approach to top-of-window, said Barragan, introducing "new silhouettes on top treatments within the Peri line and in the CHF brand as well."
Faux silks and taffetas are undergoing a "re-invention" at CHF, she said was emphatic on the color front: "The big push is our introduction of plum and amethyst." Those royal hues will be set off against a fashion season that is pumping the "grayer side of the neutrals, with pebble and other grey tones, in particular platinum," Barragan said.
Among the trends gaining momentum at Commonwealth, said Goodman, are "very tailored" looks, as well as "a lot of natural fabrics."
With its recent launch of its Thermalogic and Organic Originals lines, Commonwealth has stepped up its credentials as a source for eco-friendly and energy-saving goods. Key are "insulated and blackout panels, for the energy-conscious consumer," he said, noting, "On price — they are going up."
Related Content By Author
Live From New York: Fashion Comes Across the Pond

More Videos
Subscribe to
Home & Textiles Today eDaily
Receive the news you need to know about the trends in the industry delivered right to your inbox.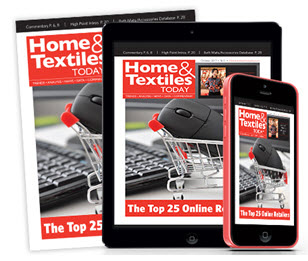 See the October 2017 issue of Home & Textiles Today. In this issue, we look at the Top 25 Online Retailers. H&TT's exclusive annual ranking of the biggest online sellers of home textiles finds that while pure play etailers continue to fly, bricks & clicks are digging into omnichannel. See details!