If you were a superhero, what would be your super power?
Bud Frankel, ceo and president
Arlee
A: "I'd be a buyer and have the buyer be a seller — role reversal."
Amy Bell, design director and executive vp
Ashford Court
A: "I want to be able to turn doo-doo into gold."
Chris Mooney, vp, design and marketing
Avon Home
A: "Mind-control. It would make the product selection process that much more enjoyable [for me]."
Peter Gallagher, regional sales manager
Biederlack of America
A: "I'd be able to read other people's minds so I can stay 10 steps ahead of them."
Lester Gribetz, vp, home furnishings fashion
Bloomingdale's
A: "I would love to have the power of being a peacemaker if I could. No one can, but in my imagination I would. I would look to bring a modicum of peace."
Loren Sweet, president
Brentwood Originals
A: "I would like to be able to read peoples' mind, as you too rarely hear what they are really thinking."
Steve Goldberg, president
Brylane Home Lifestyles Group
A: "We need some world peace and fast. So I would love to have whatever superhuman powers that could bring that to our small planet."
Carl Goldstein, senior vp
S. Lichtenberg & Co.
A: "I would eliminate auction bidding."
Mark Ferullo, president
Central Oriental
A: "I would have the super power to put a smile on everyone's face and be thankful for what is really important in this world."
Charles D. Owen III, president
Charles D. Owen Mfg.
A: "I'd bring peace and tolerance to the world."
Rick Lipton, national sales manager
Creative Bath
A: "My super power would be the power of future vision. I want to see the future to see how wrong I have been in the present predicting the future!"
Deborah Powell, director of marketing
Design Network
A: "I would be Superman so my sample bags would not be so heavy and also so I could fly myself to meetings and not have to spend so much time at airports."
David Record, vp, national sales manager
Georgia Tufters
A: "My super power would be athleticism. Then I could play in the NBA, PGA, NFL, MLB, ATP and the PBA. And with the gazillion dollars I could earn I would wipe out world hunger."
Jeff Cohen, vp, sales
Ginsey Industries
A: "I'd be The Flash. This super hero had amazing speed and could travel from coast to coast in a matter of minutes. Wouldn't that be cool? I'd be able to tell my customers, I'll be there in a minute and really do just that. No more airports or airplanes if I had his speed."
Steve Mazarakis, president
Hellenic Rug Imports
A: "What do you mean 'if' I was a superhero? Just call me Super Maz."
Jeff Hollander, president/coo
Hollander Home Fashions
A: "The obvious one would be X-ray vision."
Denise Stoughton, director, product design & development
Hometex Design
A: "I thought about the power of seduction, but I think I may already have that. I'd be Wonder Woman with all of her cool accessories."
John Hale, co-owner and vp, sales
Lacey Mills
A: "I would choose to be one of the twins from the "Superfriends," Zan and Jana. They were the two kids that could turn into the shape of anything. The one thing you definitely need to remember in this industry is that you have to adapt in order to keep up. One day you may need to be Mr. Cost Accountant to make sure your programs are structured profitably and the next you have to be Dr. Feel Good so your customers have the 'warm and fuzzy' feeling that you are always thinking about what is right for them and their business."
Kurt Hamburger, president and managing director
Lintex Linens/Cobra
A: "I would like to see the killing in the Middle East cease, and peace for everyone in the Middle East and the rest of the world."
George Matouk Jr., vp
Matouk
A: "I've always wanted to be able to fly. I have always envisioned soaring over mountains and oceans completely carefree. Now I think I'd like to be able to do it with a suitcase and a laptop on the way to a trade show or to visit a customer on the West Coast."
John Emrani, Director
Melrose Home Collections
A: "I would stop time once in a while. I think it would very interesting to stop time in certain situations and then think about them before they were done."
Pat Moyer, vp, marketing
Mohawk Home
A: "I would have the power to 'beam' myself anywhere I needed to be. This would certainly allow me to spend less time in airports and more time with my family."
Corey Faul, president
Newport/Layton Home Fashions
A: "As far as super powers, I find it difficult to settle on just one, so I would choose either the ability to read minds — I'd find that very useful in negotiations — or the ability to fly. That way I could stay clear of airports."
David Lonczak, vp, marketing
Pacific Coast Feather Co.
A: "Invisibility. I could be in my customer meetings and know what they really want."
Tim Clothier, senior vp, manufacturing and logistics
Pacific Coast Feather Co.
A: "There are so many. I'd like to be able to teleport around the world so I could be at any warm beach at any time and be back at the office by the end of lunchtime."
Park B. Smith Jr., president and ceo
Park B. Smith Ltd.
A: "I would like to have the power to influence busy people to smell the flowers more often and to watch their children laugh and play."
Bob Christnacht, manager, blankets and home division
Pendleton Woolen Mills
A: "Oh my! Oh no! What would Wonder Woman do? Hey, Kay, if I were a superhero, what would my super power be? Yeah, right. Whatever it is, it has to do with speed because I talk so fast. But hey, I listen fast, too. I guess I'd be The Flash. That way I can move as fast as I talk."
Gretchen Dale, senior vp, design & new product dvlpmt.
Pillowtex
A: "I'd be 25 again. Either that or I'd make the American textiles business better and I'd be 25 again."
Patricia Feiwel, design director
Pillowtex
A: "To make peace in the world."
Scott Shimizu, executive vp, sales & mktg.
Pillowtex Corp.
A: "Mind reading. That's the one to have. I was going to say X-ray vision, but that wouldn't be too cool."
Dan Harris, vp, marketing & product dvlpmt.
Revere Mills
A: "Definitely Superman. I like the X-ray vision part."
Tom O'Connor, executive vp
Springs Industries
A: "I'd be able to turn water into sheets and towels. I've got plenty of water already, but business has been so good I could use the sheets and towels."
Nancy Webster, vp, creative development
Springs Industries
A: "I'd like to be in control of the sun. To have the power of the sun and have its energy would be fantastic. It brings such energy and happiness."
Eric Vergucht, executive vp, general manager
Terrisol Corp.
A: "I would like to be Superman and bring all the customers to the April market week in New York, which is still the greatest city in the world."
Michael Day, principal and vp, design
Textile Fabric Associates
A: To be able to fly because I live in the city and I hate subways and the traffic. So it would be great to fly so I could get around easier. I wouldn't have to worry about terrorism or the sneaker bomber.
Peter Katz, director of marketing
The Cecil Saydah Co.
A: "My superpower would be the ability to read people's minds: 'Cecil Saydah towels are wonderful.'"
John Simley, public relations manager
The Home Depot
A: "If I could be a superhero, I'd be Captain Congenial, and I would shoot Nice Rays that would make bad guys be more nice."
Stan Mieszkowski, vp, sales & marketing
The Northwest Company
A: "Picking my friends. I'm very lucky, I've got a lot of good friends."
Thom D'Addario, general manager
The Linen Store
A: "I'd probably choose to look a little bit into the future — not to the year 3000, but maybe to 2005 or 2010. I'm nearing retirement, and I'd like to know if I'll be around to enjoy it."
Frank Scalice, executive vp
Town & Country Living
A: "I want to be The Flash. My super power would be to move at lightning speed. Then I could keep up with this crazy but wonderful American lifestyle we all live."
Lorraine Ragland Maberry, vp, sales and merchandising
Trendex Home Designs Inc.
A: "I would want to be Mighty Mouse. First, I am pretty sure the costume would fit without any major alterations. But most importantly, I would always be able to save the day."
Brandon Palmer, executive vp
United Feather & Down
A: "I would love to fly."
Dale Talbert, vp, sales
Veratex
A: "My super power would be that buyers would buy from me exactly what I told them to buy. I would be 'Super Buyer,' but that name is taken by most of the merchandise managers that we sell to."
Bob Dale, president, Basic Bedding div.
WestPoint Stevens
A: "I'd make retailing exciting for everyone. I won't say 'again' because I don't know that it ever was. But it's nice to have a dream."
Related Content By Author
Live From New York: Fashion Comes Across the Pond

More Videos
Subscribe to
Home & Textiles Today eDaily
Receive the news you need to know about the trends in the industry delivered right to your inbox.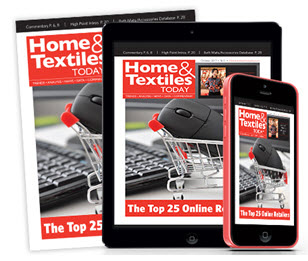 See the October 2017 issue of Home & Textiles Today. In this issue, we look at the Top 25 Online Retailers. H&TT's exclusive annual ranking of the biggest online sellers of home textiles finds that while pure play etailers continue to fly, bricks & clicks are digging into omnichannel. See details!