Newly formed group raises knockoff issue
Carole Sloan, Staff Staff, September 2, 2002
The American textiles industry is taking on the dramatically increasing problem of international piracy of intellectual property.
The situation is increasing incrementally, and, while many countries are involved, China appears to be a major target for control. As more and more fabric is produced offshore, American fabric executives consider their designs and fabric development key assets.
Last month the Boston-based National Textile Association (NTA) formed a working group to identify and seek solutions to this problem. The group also has brought the problem to the attention of the federal government and has held a meeting with Jim Leonard, deputy assistant secretary of textiles, apparel and consumer goods at the Department of Commerce and representatives of the U.S. Patent and Trademark Office and the U.S. Customs Service.
Attending the meeting were representatives from Joan, Culp, Quaker, Milliken, Cranston Print Works, Sunbury and Forstmann. The NTA committee is preparing a "white paper" to present to government officials in which members will outline the extent of the problem, as well as theft and monetary losses experienced by American companies. The committee will recommend specific actions the United States could take to combat intellectual property (IP) violations. The "white paper" will be developed from a survey of the American textiles industry.
The survey will go to companies that produce upholstery fabrics, printed fabrics, apparel fabrics and rugs — the latter a product area that is seeing increased IP violations, some executives related.
Larry Liebenow, president and ceo of Quaker, estimated losses of $100 million a year in the United States alone, a figure that was developed by the American Textile Manufacturers Institute (ATMI) "and far more than that in the global market," he said.
As competition in the production of fabrics increases around the world, "design has become such a critical core competency for the survival of so many textiles companies such as ourself that the most aggressive measures are absolutely necessary against infringers," said George Shuster, president and ceo of Cranston.
Shuster added, "One of the few edges we have left is our intellectual property, and foreigners are trying to steal that, too."
One reason for the need for government assistance, Shuster added, "is that while we have strong copyright laws, offshore it's hard to find and trace the products. And the laws are so mixed."
The situation is even more complex, in Liebenow's view: American companies that are his customers increasingly buy offshore and could be buying copyrighted products from firms that are knocking them off.
The American customers can be involved in litigation here, he pointed out.
Liebenow praised the efforts of the management of Heimtextil and Decosit in trying to police the problem. "They've been very cooperative. But there has to be more involvement with the U.S. government. They understand the problem, and there are a variety of things being considered." These considerations include greater surveillance at the ports. "U.S. Customs has every right to single out companies that are known to copy or shipments from countries where rampant copying takes place."
Hank Truslow Jr., president of Sunbury, said, "This is a very, very serious issue. We see it not as a short-term blip problem but a long-term one; and one that affects the livelihood of all of our companies. Our identities lie in our fabric and design."
The threat, Truslow added, "has intensified in the last five years and exploded in the last three." As an example, he cited the case of a fabric sold to a bedding company and then copied by a competitor that sold it to a retailer. "We have to educate all levels in the distribution chain of their potential liabilities. We will create and maintain and protect our intellectual properties."
While Truslow admitted that earlier efforts had been hampered by a lack of financing, "we're definitely going to spend money on this. We're not going to be bashful about it."
Jack Eger, vp at Craftex Mills, said, "We can no longer just whine about it and think it will go away." The company has issued three cease-and-desist letters, including "one to to a domestic supplier with an overseas source. We have to start here [in the United States], and there will be some U.S. companies caught in the middle."
Eger continued, "We need to get the Commerce Department involved regarding suspected violators. And philosophically we have to proactively provide the government with help. We're trying to target specific suspected violators."
Among those actively involved is Valdese, which has three lawsuits in various stages — and two involve China, said Mike Shelton, president. "We are actively pursuing our interests."
"The situation has become grossly worse, particularly with the entry of China via non-Chinese customers who go there and just tell them 'make this' and it comes back here or to other countries," said Roger Berkley, president of Weave. It is so bad now, he added, "that U.S. mills are taking action vs. their U.S. customers that have knocked them off."
Typical of a growing scenario is one that Chris Stone experienced, said Mark Aizawa, president. The company placed a design with a customer. The design got good retail response and later discovered a cheap knockoff from another U.S. supplier.
Similarly, Liebenow insisted, "This country has good laws to protect IP. We will pursue violators at any level. It doesn't matter what level. They have legal liability at any customer level."
The Department of Commerce's Leonard said, "My role is to be helpful where we can concerning daily problems. But also we will raise the awareness of these issues with World Trade Organization (WTO) members. If a country is going to be a WTO member, they have to police their people," said Leonard, a 34-year veteran of Burlington Industries who is familiar with the issues as part of his 20-year involvement at that company on international trade issues.
An important step, he explained, "will be to keep the issue visible and on the table. Propagating fraud on WTO members has to be addressed. But design and product development is a critical issue."
Leonard termed the session with industry and government officials "a terrific exchange of ideas. We'll help working with the white paper."
Related Content By Author
The Countdown to the ICON Honors Continues featuring Christophe Pourny

More Videos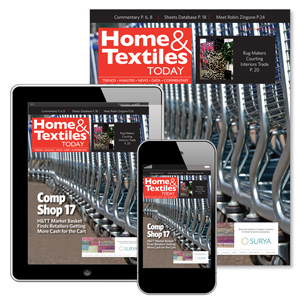 See the May 2017 issue of Home & Textiles Today. In this issue, we discuss our annual Market Basket survey, which finds higher prices and more polyester at leading retailers. See details!