Andersons Tweaks Soft Home Assortment
MAUMEE, ILL.
- A year after redesigning, reconfiguring and vastly expanding the softer side of its home department, four-unit regional chain The Andersons Stores is now in the process of fine-tuning the categories in response to customers' preferences by late this fall.
     At the top of that list is the bedding section, noted Rick Swank, director of merchandising.
     "We probably got overly aggressive in price points and that industry has shifted over time," he said.
     Added Leslie Hearn, senior buyer, bedding, bath and window: "We are trying to build a 'good, better, best' pricing strategy to make our assortment easier to understand for the customer, and to appeal to a broader customer base."
     Swank said that means "getting our merchandise aligned into our sweet spot, because right now, we are probably skewed too much on the higher end."
     These and other adjustments are coming as Andersons Stores approaches the first anniversary of its home department relaunch.
     During spring/summer 2012 Andersons Stores conducted a total re-merchandising of home from front to back. The effort involved vastly enlarging the space allocated for soft and decorative home goods.
     "Top-of-bed was probably was one of the biggest expansions for us, taking it from nowhere to where we are today," Swank said. "Before we were just buying promotional deals, and we had maybe only 60 lineal feet dedicated to the category."
Rick Swank and Leslie Hearn in the revamped bath towel department.
     Today, top-of-bed - which comprises utility and fashion bedding - occupies about 24,000 square feet.
     "We changed our merchandising approach," Swank explained. "We were about 96 to 120 feet deep off the center aisle. To get product recognition in the store it was pretty difficult. So we went to a modular format, like [a major home textiles specialty chain] and re-laid out the department so that everything was podded and modular, hence our towel pod, our bath accessories pod."
     Additionally, Andersons made facelifts to the area, including carpeting - "we had epoxy painted floor before," Swank noted - as well as added better lighting, wire-weld fixtures, lifestyle images and graphics to support the merchandising and other physical touch-ups.
     "Basically, we made a significant upgrade from what we were before in this area," he summed. "We made it into a more modern destination shop."
     Andersons Stores is a division of parent The Andersons Inc., a diversified company rooted in agriculture. Founded in 1947, the company's North American businesses include the grain, ethanol, and plant nutrient sectors, railcar leasing, turf and cob products, and consumer retailing.
     The Andersons Stores carry a wide assortment of products for home decor and maintenance, home goods from bedding and bath coordinates and kitchen wares, furniture, mattresses and window fashions gallery, as well as lawn and garden, pet food and supplies, automotive supplies, casual/work clothing, and specialty food and grocery offerings.
     "Our concept has always been 'More for your home,' and it's very fitting, relative to what you find in store," Swank said. "We've got everything from 2-by- 4s to fine wines. We cover a vast area of retail turf."
     But in recent years, he said Andersons Stores started noticing it was "a bit weaker than we needed to be in home textiles and even some other areas of [decorative] home. We didn't have space committed to it. But we knew the sales and margin structure there, and we saw [a major home textiles specialty chain] was strong in the business, so it told us something had to be done. We needed to be stronger in those goods."
     In addition, Andersons Stores wanted to add mattresses to its mix, and "by adding mattresses, we realized we needed to expand our top-of-bed assortment within our walls to support it."
     So last year the retailer got busy making adjustments that included exiting some low-margin categories, such as sporting goods and building supplies, and gave that footage to home textiles and kitchen categories.
     "We were at 48 linear feet in towels, for example, and now we have 600 to 700 square feet," Swank noted. "It's a huge department, definitely a category destination."
     Since the soft home's retooling last year, shoppers of Anderson Stores "can do their whole home project within our walls," Swank continued. "Whether it's for the kitchen or the bath, we pretty much have everything covered that you need to get the job done."
     Another critical change that was made as part of the soft home remodeling was the hiring of new and experienced talent. Hearn joined Anderson in January after 24 years at JCPenney working in various capacities, including textiles.
     She said that while her most recent position was as buyer for furniture for 18 months, prior to that she spent 12 years buying soft home products - "my true love," she said.
     "I was looking [to work] at a place that really cared about its people," she told
HTT.
"And this company - if you have ever been here at our offices you would know, you would understand that that is what Andersons is all about. It's been a very pleasant change."
     And also very different from her previous job. For starters, she noted, "I've gone from [buying] for 1,100 stores to four. And here at Andersons, they let me be the buyer and merchandise all of the different categories I run. Here, the buyer is the planner and inventory manager - everything."
     Added Swank: "Leslie is the expert. As the buyer, she is the business unit manager, responsible for the assortment, the financials, the space and productivity. We work together, reviewing and comparing notes. But as the buyer, she is really accountable."
     Hearn manages 5,500 skus across the softer side of the home business. As she works with Andersons to continue to perfect the store's soft home business, she has set several goals.
The merchandise presentation focuses on fashion and good/better/best assortments.
     Foremost: "Forging and establishing good relationships with our vendors, to help us grow this business together. In turn, Andersons is a great partner for any vendors because we have great financial standing, which not all retailers can say these days."
     Also in the plan: "Build a strong 'good, better, best' strategy to hit all the ranges of the business, and at the same time lure the customer from wine and food to the home side."
     Adopting "a branded strategy" for its new bedding and bath business, Andersons carries products under the J. Queen New York, Croscill Home, Raymond Waites, Tommy Hilfiger, Veratex and other brand and designer names.
     But with a heavy tilt on "best" priced products, Andersons is aggressively pursuing a wider pricing structure and with it, a wider range of products.
     "We are not high-flying fashion, but we are functional, and we've had to get modern and current to compete against biggies - Penneys, Kohl's, Target, Bed Bath & Beyond, Meijer," Swank explained. "That is the arena we get compared to as customers make their decisions about where to shop for their home goods."
     Rugs is another home textiles area that is being revamped. The category is merchandised within hard lines - a different area of the store but close by - across from the linens and decorative home areas.
     Stocked generously with products from several vendors - including Surya, Oriental Weavers and Dalyn, among others - Swank said, "We are reworking our rug mix to make sure we have the right fashion and variety - the right sizes, styles, colors, and constructions - relative to the overall program and relative to the price points. We want to make sure we are merchandised well throughout the category. And most of all, we want to be sure we hit the right price points within the space we've dedicated to rugs."
     The rug refresh is part of the retailer's grander effort to reset its hard lines area - the last section of the store to be remodeled. The project got started about two years ago when Andersons Stores invested in a makeover of its food/grocery business with updates and upgrades to its facilities and packaging.
     "It proved successful," Swank said. "So then, we moved to the soft lines, and completed that last year. Now we are getting into hard lines with a significant update as part of the final piece of the puzzle, with the same touch we used in food and soft lines - changes to the merchandising presentation, changes in the mixes in the different categories, and just making sure everything in the store is better aligned for the customer."
     With a target date of Nov. 1, Swank said, all of the final fixes to soft home as well as the changes to hard lines should be in place in time for the all-important, end-of-year holiday selling season.
     "By time we get to Q4, we plan to be done resetting, making our stores even better than they were before," he added.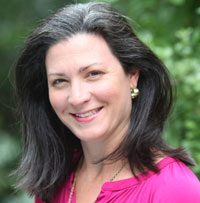 Cecile Corral
|
Senior Product Editor, Home & Textiles Today
ccorral@homeandtextilestoday.com
Related Content By Author
The Countdown to the ICON Honors Continues featuring Christophe Pourny

More Videos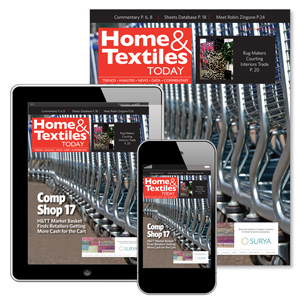 See the May 2017 issue of Home & Textiles Today. In this issue, we discuss our annual Market Basket survey, which finds higher prices and more polyester at leading retailers. See details!