Kitchen textile suppliers look to imports for cost advantages
NEW YORK -Ask kitchen textile manufacturers why their businesses are becoming predominantly imported, and they will sum it up in a single-word: price.
"It's either import or die," said Ron Taylor, national sales manager for The American Fabrics Company, based here. "If you're not importing, you can't be in the business. The reason? Foreign manufacturers produce the quality we need at the price the market demands."
Added Mark Siegel, president and ceo of Elrene Home Fashions, also based here: "The States just can't compete with the overseas market. I have never been able to buy anything domestically at the right price. To get volume at a price, you just have to go offshore if you want to be a player."
Prices of both labor and goods abroad-mainly China, India, the Middle East and parts of Europe-are far more competitive and cost-effective for kitchen textile manufacturers in the U.S., causing a down-spiraling effect for domestic manufacturers and its labor force. According to a survey conducted by Home Textiles Today's research department, 63 percent of kitchen textile products-kitchen towels, dishcloths, potholders/mitts and chairpads-are imported vs. 37 percent made domestically.
"Overseas, the workers just pump out the goods," Siegel explained. "The difference over there is that people want to work. When we go to a factory in China, no one looks up. They stay focused on their work. They produce more, for a much lower rate, and that's why the direction of imports is going higher and higher."
Kurt Hamburger, president and managing director of Lintex Linens, based here, noted that all his kitchen textiles are imported. "I even import pieced goods and then put them together here. A lot more importing is going on these days in the industry because it makes more sense. The prices are by far and away better."
Louisville Bedding, based in Louisville, KY, is mainly a domestics manufacturer of kitchen textiles and table linens. "But because most of our competitors are now importing and because many retailers are now just going direct, we are starting to build up our import business a little more each market," said Stacy Toner, director of product development and design.
For AvonHome, based in Braintree, MA, importing is a more lucrative strategy to support its mostly seasonal kitchen textile business, president George Kouri said.
"We do a lot of our kitchen textiles as one-time purchase opportunities so that we don't end up with residual inventories, and importing makes that possible," he said.
Another factor is that product made of 100 percent cotton, which is the fabric used in 83 percent of kitchen textiles, the survey found, is mainly an imported fabric because there is no restricted quota.
"Blends do [have quotas] and so do poly-cottons, but not 100 percent cotton," said Anthony Abbadessa, vp, product development for Edison, NJ-based Stone Brook Linens.
"[Cotton's] easiest to work with," said Lance Orlick, executive vp at Ridgefield, CT-based Windham Weavers.
"It's easy care, it's soft, customers understand it and it takes well to color and dyes," said Orlick, who added that his company for the first time introduced kitchen textiles-all imported-to its offerings at the winter mini-market in New York held last week.
"Cotton works-it dries," added Dan Harris, vp, marketing and product development for Niles, IL-based Revere Mills.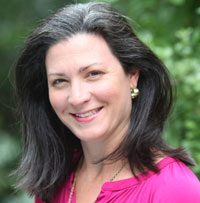 Cecile Corral
|
Senior Product Editor, Home & Textiles Today
ccorral@homeandtextilestoday.com
Related Content By Author