Thumbs up
The recent New York Home Textiles Market could have been a real drag. Certainly all the elements were in place for a dour market: a crummy Back-to-School season, a soft forecast for fourth-quarter sales, a cautious consumer base and limited open-to-buy — not to mention the threat of war looming.
Instead, the market was fairly upbeat overall. And there were a lot of good things happening.
There was fresh organization in showrooms. WestPoint Stevens, which always does a jazzy job of setting its space, topped itself this time out. Most impressive was its Color room, which featured powerful presentations of the company's two chief color stories — Bollywood and Cosmetics — on opposing walls slotted with cubes holding various products that illustrated the color themes.
CHF gave its showroom a dressy going over to highlight the new directions in its Peri bedding line, as well as its new licensed programs by Vera and Nick Munro. My favorite spot: the OP (Ocean Pacific) room, where the walls appeared to be lined with grass thatch.
Springs Industries did a complete makeover to underscore the integration of its acquisitions since 2001: an overseas sourcing house, Burlington House bedding and window, and Beaulieu Rugs. The top stop here was The Springs House, a mock-up four-bedroom/two-bath affair displaying every brand in the Springs book — right down to Burlington fabrics upholstering the arm chairs.
Dan River scored a wow with a funky new room devoted to its funky new teen collection called Kaleidoscope, which introduces a full-on glam look to the youth-oriented sector of the market.
There was freshness in existing branded lines. Revman completely revamped the Nicole Miller line it launched earlier this year with gorgeous fabrics that remain true to the Nicole sensibility while simultaneously bringing a distinctive look to the market. Now that Joseph Abboud bedding is being produced by Divatex, it has taken a significant leap forward in fashionability. And Pillowtex breathed new life into Charisma fashion bedding by lightening up on the fabric weights, pulling in more modern fabrics and injecting gobs of saturated color into the line, kissing the wedding cake look goodbye.
There was even fresh thinking in what has become one of the stodgiest of categories — basic sheets — as suppliers worked to break out of the thread count morass by introducing other points of differentiation. Park B. Smith introduced a program of solid-color sheets made with natural dyes in three colors under the Eco-Ordinates label. Packaging even includes a swatch tag so shoppers can feel the fabric without rummaging around in the package.
Pillowtex unveiled a new micro-denier solid-color sheeting line under the Fieldcrest brand that is constructed of 60/40 cotton/poly. Packaging copy will call out the fabric's wrinkle-resistant properties. And Springs introduced an embossed solid-color sheet program that it says will hold its pattern through at least 50 washings.
All things considered, it was a pretty good market.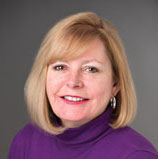 Jennifer Marks
|
Editor in Chief
jmarks@homeandtextilestoday.com
Related Content By Author