Market Intros
Bedding
CHF Industries
New York (212) 951-7902
Complete bed sets from CHF Industries this market include Loft Style Opus Blue, a geometric printed cotton; Loft Style Newport Stripe in grey, printed stripe on cotton; Glamorous Abstract Animal, with printed satin comforter; Dream Factory-X Factor, skate/street print on cotton rich fabric; Roxy-Seeing Spots, vibrant oversized dots on cotton; and Roxy-Summer Daze, graphic dots and oversized stripes on cotton.
Ellery Homestyles
New York (212) 448-4454
Waverly Cashmere Ruby Bedding collection includes the Cashmere Ruby comforter set, featuring the Cashmere Ruby pattern, a rich jewel tone paisley from Waverly, paired with the handsome Tuxedo Trail Stripe, also in Ruby. The comforter and shams are accented with a tiny gold twist cord, while the bedskirt is tailored and the Euro sham shows pleated corners and grosgrain accents.
As part of Waverly's Exotic Attire collection, the Paisley and stripe are paired with the Zebra skin Couture Kingdom pattern, in a channel quilt and tufted dec pillow. The Susanna matelasse in Butter is layered in as a hint of gold. Pieced dec pillows with accents of grosgrain and covered buttons, and an exquisite embroidered velvet pillow finish off the ensemble.
Graffiti duvet is an all-over bold & graphic print with a smaller scale geometric reverse print. This contemporary print is inspired from splatter paint walls and graffiti art. The abstract floral pattern encompasses a modern and vivid color palette.
Eurofro International
Chino, Calif. (909) 606-3340
Eurofro International presents Casablanca, a set in timeless design shown in classic black and white. With rich black embroidery, sophisticated pleating details, complete with embroidered décor pillows.
Greenland Home Fashions
Chino, Calif. (800) 677-8140
Greenland Home Fashions introduces the Daybed collection on four of the company's most popular styles for cottage or modern loft living.
Antique Chic combines charming floral prints with paisleys in a warm color palette for this finely quilted intricate patchwork daybed quilt set.
Blooming Prairie uses inviting floral prints and faux batik fabric to create a romantic, soothing mood in a soft-spoken color scheme. Intensive vermicelli stitching adds rich surface texture and durability to this block-pieced daybed quilt set.
In the modern loft theme, Josephine offers a diamond stitched center square surrounded by borders embellished with floral stitching. Katy features a variety of warm and cool colored stripes; channel stitching adds surface interest and durability.
Home Fashions International
New York (704) 451-7714
Callista bedding is an updated Jacobean design of soft golds on a sage ground with a delicate shadow leaf filigree.
Campagna is a rich panel woven jacquard of spicy tones on an ebony background.
M&V Marketing Group
New York (212) 631-0900
M&V Marketing Group's 300 thread count cotton zebra print bedding ensemble consists of a vermicelli stitched coverlet with matching accessories. Two additional patterns also available, as well as quilts and comforters.
Muse Group
Chicago (312) 595-9604
Melodie Bed Collection by Somma for Muse Group features 500 thread count Egyptian cotton sateen embellished with modern lace and pleated voile flange. Product is targeted to small luxury bedding retailers and appeals to a classic and modern customer.
Nostalgia Home
New York (212) 683-5477
Nostalgia Home introduces fresh color, innovative techniques and original ideas, using a variety of embroideries, embellishments and techniques throughout the Istanbul collection — inspired by the beautiful patterns and colors of Turkish textiles.
Safah International
Ontario, Calif. (262) 893-9002
Hannah bed ensemble is rich and bold in color, printed on a 100% cotton fabric. The company offers a broad assortment of top of the bed styles to choose from in the latest trends and colors. Bed sheet thread counts range from 200 to 1000 in Egyptian, Pima, or fine combed cotton. Jacquard, embellished hems, lace sheets and more.
Stellar Alliance/China Home Fashions
New York (212) 563-6305
Stellar Alliance/China Home Fashions presents printed 100% cotton T200 percale bedding program — multi dot print and coordinating embroidered decorative pillow.
Suntex Designs
New York (909) 718-0509
Zig Zag from Fraîche Deco Bedding is in bold red cotton, accented with natural color embroidery in a flame stitch design. Hints of jute and burlap accessories add texture to the bed.
Delphina from Fraîche Maison Bedding is a printed damask pattern in black and white accented with embroidery and velvet. A pop of green adds an updated twist to a traditional motif.
Holiday Gatherings Quilt from the Lenox Holiday Bedding is a fully pieced Americana feathered star layout. The red and ivory cotton is pieced with a festive holly print taken directly from the Lenox Holiday Gatherings china by Lenox. Accents of embroidery and appliqué embellish the centers of each star. The face and fill are 100% cotton and is finished with hand guided quilting.
Chirp from Lenox Bedding features soft blues accented with warm corals to create the backdrop for this whimsical pattern. Cherry Blossom branches are created with fine embroidered details on a jacquard base. Hand Painted chirping birds adorn the decorative pillows. Subtle accents of Asian details in the accessories. Design inspired by "Chirp" china by Lenox.
Thro by Marlo Lorenz
New York (212) 213-8915
This market sees the debut of the coastal bedding line. Ahoy Retro Sailboat comforter set includes oversized, ultra cozy micro-luxe comforter and matching pillow shams. Other coastal bedding styles include Starfish print and Wally Whale print.
Towellers Ltd.
New York (212) 685-6301
The company introduces its Asian inspired duvet bedding set. Made from ultra soft 400 thread count 100% cotton sateen with a polished finish.
Zambaiti USA
New York (212) 448-9160
Zambaiti USA introduces new colored sheets and duvet sets, 300 thread count satin in 10 fashionable and fresh colors, and unveils the City collection of bedding yarn dyed 300 thread count with colorful plaid motif in the tones of orange, turquoise and natural. Available in sets, queen and king size.
Bath
Decorative Living
Bristol, Pa. (215) 874-5388
The company has created its new Lucerne coordinated bath collection to offer a moderately priced, fashionable statement using all-natural, fine, brash willow. This form of willow holds color well and is resistant to the effects of moisture, via a process in which it is steamed and then stained and finally hand-woven around sturdy coordinated ceramic inserts.
The grouping encompasses round waste baskets, boutique tissue holders, tumblers, toothbrush holders, lotion pumps, soap dishes, guest towel holder and tank trays. There are eight available colors.
Taylor Home Fashions
New York (212) 730-5120
The new Eco-Melange towel from Taylor Home Fashions is made with a healthier environment in mind. It uses only 5% dye stuff, less water, less energy, less effluent, and less CO2 emissions. Eco-Melange has a soft hand, great absorbency, high loft and a look that "has never before been done on towels."
Kitchen/Tabletop
Arlee Home Fashions
New York (212) 689-0020
Arlee's Table Trends division is introducing its first-ever holiday and harvest placemat-and-runner collection, comprising more than 50 patterns made to coordinate with decorative pillows, chair pads and accent rugs.
Tapestry is a major statement from Arlee for this market, with dozens of new holiday and harvest designs interpreted on chair pads, placemats, runners and rugs.
Manual Woodworkers & Weavers
Hendersonville, N.C. (800) 542-3139
The Polished Plaid placemat by Manual Woodworkers & Weavers features a Fleur de Lis centered in a diamond shape surrounded by a modern plaid design made up of muted tones of grays and browns. The rayon on the fill gives the product an attractive sheen, enhancing the steel-like look of the plaid creating a contemporary feel. Polished Plaid is a new group comprised of a tapestry woven placemat, runner, pillow and throw. Its size is 18 inches by 13 inches.
Nature Defined Tapestry 72-inch runner features intricately detailed birds, a gathering of fall leaves, berries and acorns on a background of layered stripes, and swirling leaf pattern silhouetted on blocks of color. The name of each fauna and bird is written in a script font further adding to the mystic and beauty of the piece. Striking hues paired with deep rich muted tones create a striking combination. Silky tassels complete the runner. Nature Defined is a new group comprised of a tapestry woven pillow, placemat, runner, and throw. Size: 72 inches.
Natco Home Products
West Warwick, R.I. (401) 828-0300
The company's Windham Weavers division is introducing its Soft Impressions collection of tapestry table linens and matching accessories. This line of placemats, runners, chair pads, decorative pillows and accent rugs is offered in a broad assortment of designs and patterns that include harvest and holiday looks.
In the kitchen textiles category, Windham is also showing many new harvest and holiday looks assembled into five-piece sets, such as the printed Harvest Owl and the embroidered Ho Ho Ho group.
Tablecloths are also part of the company's new fourth-quarter offerings, which are available in many different fabrications including printed and woven engineered patterns among others.
Towellers Ltd.
New York (212) 685-6301
Towellers Ltd. continues to grow its line of Thirsty Cotton terry products with the introduction of Thirsty Cottons kitchen towels. More absorbent, longer lasting, faster drying and softer than regular cotton towels, the new line of are bleach-friendly as well.
Area Rugs
Balta U.S.
Dalton, Ga. (706) 278-8008
Key among the new collections is Gloria, which uses state-of-the-art weaving technology to create three textured looks by incorporating the company's own Berclon polypropylene yarn with a thick pile that can range from straight to loop to soft frieze. Patterns are transitional and in earth colors.
Gloria rugs are set to retail for $149 for a 5-by-8 size. There are more than 10 available patterns.
In addition, Balta's product introductions include four new woven shag collections, which come in more than 20 colors each.
Capel Inc.
Troy, N.C. (800) 334-3711
Capel is building up its Jane Seymour Collection with several new styles designed by the actress/artist.
One example is Woodcut, a 100% wool grouping of hand-hooked rugs made in China. A 5-by-8 is set to retail for $499.
Another new Seymour collection for market is Catwalk, a faux tiger skin stripe design that is hand hooked and made of 100% wool in China. It is priced at $499 for a 5-by-8.
Tinselle represents a third new collection under the Seymour line. Made in heavy, low-profile shag, these rugs feature shiny polyester accent yarns for sheen. The rugs are hand loomed in contemporary and Art Deco designs in India. The retail for a 5-by-8 is $699.
Garland Carpet & Rug
Dalton, Ga. (706) 278-7880
The company's new Big Bang rug collection represents another value-priced line for Garland. These are 100% polypropylene cut-and-loop rugs that come in a variety of colors, patterns and sizes. Each accent size includes non-skid backing for multiple uses throughout the home, and there are regular area rug size varieties also offered.
Somerset, N.J. (732) 545-1900
The new Florence collection comprises hand-tufted wool and viscose rugs constructed in a multi-texture and cut-and-loop pile. Available in six sizes including a five-foot round, these rugs are made in India and are set to retail at $499 for a 5-by-8.
The Sparta collection of hand-tufted 100% wool rugs is being expanded with new large-scale tropical and floral patterns, all of them featuring an abrash finish. Made in China, these rugs come in seven sizes including two rounds and a runner. A 6-by-9 is set to retail for $599.
Kas is also showing many new scatter programs in holiday and novelty themes and washable constructions, as well as additional indoor/outdoor constructions.
Loloi Rugs
Dallas (972) 503-5656
The company is introducing a new licensed collection of accent rugs with artist Kate McRostie. The hooked-rug program features McRostie's artwork — paintings inspired by old murals in Tuscany, Normandy and Provence — and the designs are reminiscent of sun-washed damasks.
Momeni, Inc.
Carlstadt, N.J. (201) 549-7220
Slate Royal is a collection of traditional designs in a power-loomed construction of soft polypropylene.
The latest additions to the longtime popular New Wave collection of hand-tufted wool rugs include many new neutral-colored looks.
The Tetra collection comprises hand-tufted rugs made of polyester and depicting transitional and contemporary designs. The construction is cut-loop for a high/low finish and employs an over-twisted yarn for an abrash effect.
Orian Rugs
Anderson, S.C. (864) 224-0271
Building on its longtime experience with shag rug offerings, Orian Rugs is coming out with its latest version of the construction. Dubbed the Big City collection, these domestically-produced rugs combine comfort with luxury via a blend of yarns in a variety of sizes. Orian calls these dense 100% olefin machine-woven jacquard rugs "super shags." Color schemes are inspired from nature.
Dec Pillows
Alpha Home Fashions
Ewing, N.J. (609) 406-0914
The new Flower Power collection brings the garden indoors with its assortment of embellished flower-shaped novelty decorative pillows and coordinating placemats. Colorways are bright, stemming from nature's springtime floral hues.
Caldeira USA
New York (212) 532-2285
Caldeira USA is introducing three new collections of decorative pillows that match with throws, table linens and soft window treatments.
Escape showcases natural motifs and color schemes from the land and sea. Fabrics include cotton, linen and silk, and the palette concentrates largely on blues and greens.
The Focus collection is an update to last season's Urban Chic collection. This new version employs monochromatic gray and brown grounds with pops of bright colors. Design elements include color blocking and contrasts with the use of taffeta, jacquard chenille, cotton canvas and linen.
And the third new collection, Retro Retreat, is a trip back in time to the '50s into the '70s. Motifs include dots and stripes, patchwork and floral patterns woven in cotton, linen, velvet and silk. The group is trimmed with embroidery, ruffles and pleats.
Pillows, Pads, Blankets & Throws
Biederlack
Greven, Germany (+49) 2571 808-235
Biederlack presents a worldly blanket collection featuring British paisleys, alpine embroideries, Indian ornaments, Scottish tartans, Swedish knit-look patterns and Russian floral designs.
Protect-A-Bed
Northbrook, Ill. (866) 297-8836
The Luxury Pillow System includes a Luxury Pillow as well as a waterproof Pillow Protector. The pillow features microfiber fillings and a unique zipper closure that allows users to adjust the amount of filling to achieve exactly the right balance of height and firmness or softness. The pillow protector has a natural Tencel surface and is hypoallergenic, antibacterial, waterproof, and features Protect-A-Bed's Miracle Membrane and patent-pending Breathe-A-Vent, a unique flap-covered vent that allows the pillow to breathe.
The QuiltGuard cotton mattress pad is a fitted sheet-style quilted mattress protector that offers a smooth cotton surface and is also waterproof and offers a dust mite barrier, allergy protection and Protect-A-Bed's Miracle Membrane.
The QuiltGuard terry mattress pad is a fitted sheet-style quilted mattress protector that has all of the same benefits of the QuiltGuard mattress pad, with a terry cloth surface.
Stellar Alliance/IBENA
New York (212) 563-6305
Among its spotlight introductions this market, Stellar Alliance/IBENA presents the Messina jacquard throw blanket in 60% cotton / 33% acrylic / 7% polyester.
Window Coverings
Arlee Home Fashions
New York (212) 689-0020
The company's curtain division, Lee's, is expanding its energy-efficient line, Thermatic, with new inter-lined panels in silk-like looks, solid colors and embellished styles as well as an assortment of interwoven styles and coated blackout versions.
Other new soft window treatments include the faux-silk Emersion collection of pinch pleats and vertical pleated panels.
Majestic is a new embroidered panel offering; Carter is a pieced panel that can be made in a lined or interlined version.
Circle and geometric patterns are still popular in soft window, thus Arlee is also adding to this theme such new patterns as Alexa, Brooklyn and Christo.
Grommet styles are a focus on the casual side of the category for this market.
Thro by Marlo Lorenz
New York (212) 213-8915
Sheer curtain panels are a new product offering, available in a variety of prints echoing the fashion-forward point of view of the brand. Available in Leopard, Zebra, Dots, and Coral prints.
Infant & Juvenile
Jay Franco and Sons
New York (212) 679-3022
New Disney properties that will be added to the company's infant and juvenile bedding and bath assortment include: Rapunzel, Sonny with a Chance, and Mickey and Minnie Mouse. In addition, new patterns refresh all of its existing Disney property programs, such as Cars, Princess and the Frog, Fairies, Princesses, Toy Story, Phineas and Ferb, and Wizards of Waverly Place.
For its Star Wars license, Jay Franco and Sons is adding new patterns for both juvenile and toddler.
The Mattel brands also have updated patterns for Barbie and HotWheels.
Marvel's Ironman 2, Spiderman, Marvel Hero and Super Hero Squad properties are being enhanced with new bedding ensemble collections.
New bedding collections for the Strawberry Shortcake and Ben 10 brands are also in the queue for market.
Momeni, Inc.
Carlstadt, N.J. (201) 549-7220
It has been about a year since Momeni entered the youth market, and the effort has paid off. For this season, the company is expanding its Lil' Mo collection with many new looks. This market's sampling includes forest critters, retro robots and mod flowers, among other "quirky" styles interpreted on mod-acrylic hand-tufted and hand-carved rugs.
Related Content By Author
Live From New York: Fashion Comes Across the Pond

More Videos
Subscribe to
Home & Textiles Today eDaily
Receive the news you need to know about the trends in the industry delivered right to your inbox.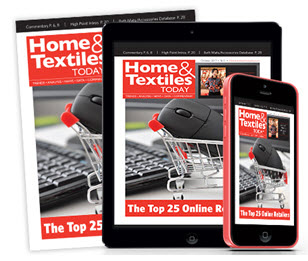 See the October 2017 issue of Home & Textiles Today. In this issue, we look at the Top 25 Online Retailers. H&TT's exclusive annual ranking of the biggest online sellers of home textiles finds that while pure play etailers continue to fly, bricks & clicks are digging into omnichannel. See details!