Big guns fight for high ground
Don Hogsett, Staff Staff, January 6, 2003
Clawing their way back modestly — despite the debilitating effects of reverse auctions and other pricing pressures from cash-strapped and sales-deprived retailers — composite sales of the nation's Top 15 home textiles producers edged up by 2.3 percent during 2002, to $7.9 billion, recovering from a scary 5.1 percent decline the prior year.
But even with the slender gain, sales of the Top 15 were still off by 6.0 percent from their high-water mark of $8.4 billion, recorded in 2000, when sales for some of the industry's biggest players were swollen by acquisition activity in the waning days of a crippling cycle of costly, at times destructive, buyouts.
But even with last year's slender gain, the good news didn't travel very far and wasn't evenly distributed — a small handful of players, most of them nimble, creative, mid-size companies, racked up substantial and impressive increases, while their peers were left in their dust.
Cases in point were two companies new to this year's Home Textiles Today ranking of the Top 15 suppliers: slip cover supplier Sure Fit with a stunning 39.3 percent sales gain, to $170 million; and Brentwood Originals, the nation's largest producer of decorative pillows, with a 23.4 percent increase, to $169 million. Joining them in this year's elite circle of top producers was CHF, which grew by 24.2 percent, to $154 million.
How did they do it? Each took a different tack. Sure Fit, the last man standing in a product category once given up for dead, aggressively built its catalog and Internet business to more than a third of its annual sales; Brentwood did it by plugging away, as it always had; and CHF did it, in large part, by building an impressive roster of designer licenses that now includes Donna Karan, Nick Munro and Peri.
Elsewhere, the gains were harder to come by. Notable among the industry's more traditional players was powerhouse Springs Industries, revitalized and ferociously aggressive since going private and taking on a new partner, financier David Stockman, the year before. Springs capitalized on the well-publicized weaknesses of its two principal competitors.
It then parlayed two major acquisitions, Burlington House and Beaulieu rugs, into a remarkable increase of 13.8 percent, to $2.1 billion, becoming the first home fashions company to blast past the $2 billion benchmark.
And that 2002 estimate for the typically close-mouthed Springs was calculated conservatively — actual results may have been even stronger.
Much of Springs' impressive gain clearly came not just form the acquisitions, but out of the hides of its competitors — severely wounded Pillowtex saw its sales fall by 15.8 percent, to just $937 million.
And that's after an even deeper skid of 21.7 percent the year before. Over the past two years alone, Pillowtex has lost more than a third of its volume, plunging by 34.2 percent from $1.4 billion in 2000.
Putting the company in even greater jeopardy, only months after emerging from bankruptcy it was losing money again — a whopping $9.3 million during the third quarter— and reportedly looking for a buyer.
West Point Stevens, still hobbled by debt and hit hard by the Kmart bankruptcy with the subsequent closing of hundreds of Kmart stores, eked out a 1.4 percent increase, to $1.4 billion.
Another big sheet producer, Dan River, was wounded by the Kmart bankruptcy, with its home fashions sales falling off by 9.1 percent, to $353 million from $482 million the preceding year. But cutting costs and repositioning its assortment to higher-priced, higher-margin goods, the company still managed to more than triple its operating profits in the core home business.
In one of the biggest shocks of the year, the one growth company whose steady climb every one has taken for granted suddenly hit the wall — after years of impressive gains, Croscill Home Fashions finally slowed with a 1.9 percent sales decline, to $309 million, after it shuttered its Chapel Hill division.
Dropping off the ranking this year were Burlington Industries, which sold its home fashions business to Springs last year, and Crown Crafts, which had earlier sold its big woven products business to Mohawk.
The Home Textiles Today ranking of the Top 15 suppliers measures sales of soft home textiles products, excluding hard window treatments, upholstery, broadloom carpeting and mattress ticking. Sales results of public companies measure trailing 12-month sales through the Sept. 30 close of the third calendar quarter.
Home Textiles Today's Top 15
Sales in $millions

| | | | | | |
| --- | --- | --- | --- | --- | --- |
| Rank | | Est. '02 sales | '01 sales | percent change | Significant Events |
| 1 | Springs Industries | $2,050 | $1,801 | 13.8% | Unfettered by the demands of a public company, and with a new mandate of rapid growth, Springs pushed sales up at a double-digit pace, helped by strong growth in bed and bath, capitalized on the weakness of its rivals and broadened its product base with two acquisitions — Burlington House and the Beaulieu rug business. "Obviously, the acquisitions played some part in the growth," said Tom O'Connor, "but we're equally pleased with the strong organic growth we had in each of our businesses. We had big increases in bed, bath and top-of-bed. Our margins grew stronger as well as sales." In terms of growth, excluding the acquisitions, "it was an unusually good year for us, almost anomalous," he said. "It's going to be a real challenge to sustain the kind of growth we saw." |
| 2 | WestPoint Stevens | $1,777 | $1,752 | 1.4% | After an overhaul of operations and a widespread slimming down, the year got off to a strong start as the major mill rebounded from year-ago losses and built its sales higher. Then it felt the whiplash effect of the Kmart bankruptcy and store closings — third-quarter sales tumbled by more than 10 percent. Worse, its bottom line was dented by $3.2 million in Kmart bankruptcy costs and hobbled by $10 million more in restructuring costs as it shut down some of its retail stores and reconfigured a plant to handle its growing basic bedding business. Making up some of the sales lost at Kmart, WestPoint added a full year of revenues from new Ralph Lauren programs and expanded its fast-track Vellux blanket business, adding prints and automatics. |
| 3 | Pillowtex | $937 | $1,114 | -15.8% | In another tumultuous year, Pillowtex teetered as it recovered from a years-long binge of costly acquisitions and a crushing debt load. After restructuring, the company emerged from bankruptcy, whittling down its debt to about $205 million from more than $1.1 billion. But not long after, it was leaking red ink with a third-quarter loss of $9.3 million on a sales decline of more than 10 percent. In just two years, sales have declined by more than a third, or almost $500 million. In a management shakeup, David Perdue was lured away from Reebok, as chairman and ceo. President Tony Williams was pushed out to make way for Michael Gannaway, from Sara Lee. And by year's end, the company was widely reported to be up for sale — in whole or in pieces. |
| 4 | Mohawk Home | $628 | $600 | 4.7% | Mohawk took a breather — no new acquisitions — but still managed to grow its expanding home business in a tricky retail environment, making double-digit gains in many categories. Area rugs grew by more than a third, to $332 million, while bath rugs fell back by 22.4 percent, to $169 million, the big shifts taking place as the company reclassified some borderline product out of bath and into area rugs. The throw business, acquired in 2000 from Crown Crafts, fell about 25 percent, to $86 million from $115 million in 2001 as the company jettisoned some unprofitable licenses and programs. Dec pillows grew by more than 16 percent, to $18 million, helped by the Chris Madden license. Kitchen textiles and table linens remained relatively small businesses. |
| 5 | Dan River | $438 | $482 | -9.1% | Stung, like so many other home fashions producers by the bankruptcy of one of its biggest customers, Kmart, and the shutdown of hundreds of its stores, Dan River sales fell off at an almost double-digit pace last year, hit especially hard during the third quarter, when home fashions sales fell off by 14.4 percent. On the upside, operating profits in the home business improved substantially, helped by stronger margins and an improved mix of product, and through the first three quarters of the year had more than tripled, jumping up to $31.2 million from $9.9 million a year ago. The juvenile business remained impressively strong, offsetting some softness in the core Bed in a Bag business as competitors put on the pressure. |
| 6 | Pacific Coast Feather | $353 | $318 | 11.0% | "We've had a good year, but it is a challenging environment," said Jerry Hanauer, chairman. "Retailers aren't making it easy for anyone with all their auctions. Everybody's margins are getting pretty thin. It's getting to be a real tough grind." Hanauer attributed sales growth to "expanded placement with our core customers" and an assist from the new Nature Works program. "Right now, they're using corn to make it, but they can use just about anything that grows. The fiber is more resilient, and it lasts longer. And given the environmental story, it's a genuinely important product. Right now, it's a small, niche product, but it's growing and it's making a splash." |
| 7 | Croscill Home Fashions | $309 | $315 | -1.9% | "The good news is that we had a spectacular December. It was looking even worse going into the month," said David Kahn, president and ceo. I'm not going to blame the weather …or the economy. Part of the reason for the decline was that business with one of our customers wasn't as strong as it had been the year before. And another part was the Chapel Hill [mass merchant] business, which I abandoned. Our bath business continued to be strong, up 12 percent. The department stores have not done well, but our business with the big box specialty guys is fantastic." Gearing up for future growth, Croscill will open a 250,000-square-foot DC some time in 2002 in Oxford, NC. "That reflects the increase in imports we're seeing," said Kahn. |
| 8 | Hollander Home Fashions | $211 | $203 | 3.9% | Rebounding from a small year-ago decline, Hollander sales grew by almost 4 percent. "And I expect a big jump up next year," said Leo Hollander, chairman. "We're making inroads with a lot of new programs. Our fashion business dropped off somewhat, but our other businesses got stronger. There were certain deals retailers wanted us to make, and we decided not to go to the table. And we will continue not to go to their table. We value profits more than sales. We refuse to de-spec the product, to take the quality out, just to win some auction." It will also continue to expand its overseas operations. "We just completed our fifth factory in China … and we keep expanding there." |
| 9 | Franco Mfg. | $210 | $180 | 16.7% | One of the most obsessively private companies in the entire home fashions industry, this leading supplier of licensed products to the mass merchant channel continued to maintain its historically low profile. But even while flying low on the radar screen, it managed to boost its sales at a strong double-digit pace, to an estimated $210 million in 2002. Last year's increase followed an even more impressive gain of almost 18 percent the preceding year. The solid growth, in a particularly trying time for most home fashions suppliers and their customers, came in part from solid growth in kitchen textiles. |
| 10 | Maples Rugs | $200 | $181 | 10.5% | Sales climbed higher by almost 11 percent last year, improving substantially over a relatively modest increase of 2.3 percent in 2001. Giving a lift to overall sales, the fast-track bath rug business recorded growth of more than 20 percent, racing ahead to $59 million from $49 million in 2001 as the company picked up placements with national retailers across all levels as it created value-oriented products at popular price points. Maples remained the third-largest supplier of bath rugs. In its core rug business, where it's still the nation's second-largest producer, Maples drove its sales higher by seven percent, to $141 million from $132 million, as it expanded its designs in olefin and made strides with printed and solid-color nylon rugs. |
| 11 | Louisville Bedding | $186 | $177 | 5.1% | "It certainly was an interesting year, not to say challenging," said John Minihan, president. "Our pad business is up. Our latex pillow was two and a half months late in the start-up, so that wasn't all that it could have been. But our bed pillows were up. On the fashion side, we took the same hit as some others did at Wal-Mart, and we took a hit at Target because of one of the auctions. Please, don't let me get started on auctions. But even with all that we ended the year up in sales. And for the 21st straight year we will pay a dividend to our small group of shareholders. Our bottom line came out with a healthy gain, and a lot of that was due to imported cloth." |
| 12 | Sure Fit | $170 | $122 | 39.3% | The last man standing in a business once written off as dead, slipcovers, Sure Fit propels itself into the Top 15 by shrewdly repositioning itself not only as a supplier, but as a catalog and Internet retailer, and investing heavily to get the word across. Sales rocketed up, with most of the gain stemming from catalog and Internet , said Bert Shlensky, ceo. "We opened Penney, Sears and Federated. Our business with the mass merchants is flat to down, but we're gaining in the upstairs channels," he said. "We are expanding our branding effort, and it's paying off." Sure Fit spent $17 million last year, and will spend about $28 million this year, to build brand awareness. "We spend it on catalog, TV and print. In fact, we may be the industry's single-largest advertiser." |
| 13 | Brentwood Originals | $169 | $137 | 23.4% | Making its debut appearance among the Top 15, Brentwood Originals, a pioneer producer of decorative pillows, makes the cut with 2002 sales of $169 million, up by almost a fourth from the prior year. Brentwood is by far the nation's largest producer of decorative pillows, and over the past decade has diversified, adding windows eight years ago, and moving six years ago into chenille throws. "Our pillow business grew to more than $120 million this year, and our window business was about $20 million," said Loren Sweet, ceo. "Our throw business was flat. Unit sales in throws were up, but pricing was under pressure." Ramping up to handle the new business, Brentwood opened a new 400,000-square-foot manufacturing plant this year. |
| 14 | CHF Corp. | $154 | $124 | 24.2% | Riding along a very fast track, a revitalized and profitable CHF pushed sales higher by more than a third last year as it moved in a new direction with a roster of designer licenses. The big news was the Donna Karan Home license. "We shipped two months worth of Donna, and that gave the top line a push," said Frank Foley, ceo. Making a splash in bath was designer Nick Munro with a collection of hard and soft bath products as well as gifts. The Peri license moved into bath. Two new programs shipped early, in December, to Target and to Wal-Mart, said Foley. The window business remained strong, and the bedding business was repositioned to focus on adult, fashion bedding and tweener bedding and larger sizes in juvenile. |
| 15 | Glenoit Corp. | $150 | $252 | -40.5% | Glenoit emerged from bankruptcy a leaner, more focused and profitable company under a new top-management team. Accounting for much of the shortfall in sales, Glenoit had earlier sold off the American Pacific business, as part of a sweeping restructuring that enabled the company to raise cash and get back on its feet. In a parallel move, the company sold its fabric business. "We are now focused entirely on home fashions with our two businesses, Glenoit Rugs and Ex-Cell," said Barry Leonard, who took over as ceo last year. Sharing power with Leonard is president and coo Kevin Kennedy. "We have consolidated the back-office functions of our two companies, generating substantial cost savings, and we are now profitable." |

Top 15 composite snapshot
Sales gain of 3.0 percent marks recovery

2002
2001
Source: Home Textiles Today market research and public documents.

Total sales (in $mil)
$7,937
$7,758
Number of sales gains
11
9
Number of sales declines
4
5
Number of sales unchanged
0
1
Average gain
14.0%
7.8%
Average decline
-16.8%
-16.0%
Newcomers to Top 15
2
1

Peaks and valleys
Winners and losers in 2002

Top three sales gains
2002 %change
2001 %change
NR: not ranked Source: Home Textiles Today market research and public documents.

Sure Fit
39.3%
NR
CHF Corp.
24.2
6.9%
Brentwood Originals
23.4
NR
Top three sales declines
Glenoit Corp.
-40.5
6.3%
Pillowtex
-15.8
-21.7
Dan River
-9.1
7.1
Related Content By Author
Live From New York: Fashion Comes Across the Pond

More Videos
Subscribe to
Home & Textiles Today eDaily
Receive the news you need to know about the trends in the industry delivered right to your inbox.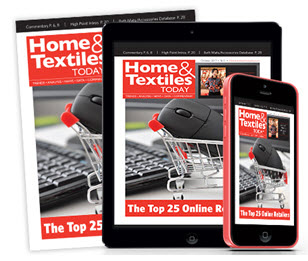 See the October 2017 issue of Home & Textiles Today. In this issue, we look at the Top 25 Online Retailers. H&TT's exclusive annual ranking of the biggest online sellers of home textiles finds that while pure play etailers continue to fly, bricks & clicks are digging into omnichannel. See details!