What A Difference A Year Makes
Now that quotas have come off towel and bedding categories, Home Textiles Today's annual global report is populated by a collection of new offshore leaders. Most have been well-known in the U.S. home textiles industry for several years, although their sales volumes in this country had been held in check by quota restrictions.
Predictably, volume levels rose as well within the survey.
In sheeting, last year's top volume supplier from offshore was shipping $44 million into the United States. This year's top offshore supplier has booked $80 million in business.
Last year, the top five offshore sheet suppliers sent an aggregate $156 million worth of product into the U.S. market. This year's leading five will more than double that amount with just over $314 million in shipments.
Perhaps most telling, the sheet category leader is Ningbao, China-based Yeken, which did not rank in last year's survey. And India's Alok, which tied with Zorlu for No. 2, didn't enter the sheet business until mid-2004.
Volume also shot up on the bath towel category, where the top five offshore producers' U.S. volume jumped 66 percent compared with last year's leaders, to $256 million. Loftex, which operates a massive factory complex in China, leverage the U.S. office it set up in '04 to jump into the ranking as the country's fourth-largest offshore supplier.
Identifying offshore leaders is murkier in the window treatments and table linens categories, both of which sprang free from quota restrictions a few years ago.
In the window category in particular, pricing deflation held imports flat among the leading U.S. suppliers. And the base of most large-scale Turkish manufacturers that have carved out U.S. share is retreating in the face of pricing competition from China.
At the same time, among U.S.-based suppliers importing from abroad (and sometimes manufacturing there), the growth of offshore business this year has become more significant as well.
Springs increased its import levels in the wake of some domestic manufacturing consolidation, with imports up 33 percent in sheets, 27.1 percent in bed-in-a-bag and 12 percent in window. As with other leading U.S. suppliers of window treatments, imports in this category were flat on a dollar basis.
WestPoint Stevens, which has also consolidated some domestic capacity this year, did not significant step up sourcing. The company, which was acquired earlier this week by Carl Icahn's American Real Estate Partners, stepped up sourcing considerably last year. However, under its new ownership, WestPoint's sourcing is expected to leap ahead again in the future.
Hollander Home Fashions, which owns manufacturing operations in the United States, China and Germany, held steady with the dollar volume of its bed-in-a-bag imports.
No longer constrained by quota, several other U.S. suppliers picked up the import pace by double-digits. Revere Mills and 1888 Mills leveraged the joint venture partnerships each established with factories overseas to boost imports by 18 percent and 33 percent, respectively.
And U.S. sheet suppliers with deep roots in sourcing also elevated their import activity. Revman International's sheet imports climbed 27.7 percent, with shipments up 21 percent for Divatex and 15.7 percent for Franco Manufacturing.
BATH TOWELS
U.S.-based Importers ($millions)

Company Name, HQ
2005 import vol.
2004 import vol.
% chg.
Source: HTT research

1. Springs Ind. Fort Mill, S.C.
$190.4
$170
12%
Shut down two domestic towel plants—weaving and finishing—to streamline costs, and stepped up offshore sourcing to remain competitive.
2. 1888 Mills Oakbrook Terrace, Ill.
100
75
33
Enjoyed strong growth in commercial and retail divisions; added new customers and increased business with existing customers—all at the mass merchant, specialty chain and department stores levels; also, continued expanding its sourcing globally for the category.
3. J.R. United Miami
85.6
69.6
23
Saw growth in its fashion towels business with jacquards and prints; experienced continued growth with its Izond licensed program; increased business with specialty and mid-tier department store customers.
4. Revere Mills Des Plaines, Ill.
54.2
45.8
18
Gained new placement with specialty chains and regional mass merchants; continued to reap benefits of partnerships forged last year with two Pakistan mills and expansion of its corporate headquarters.
5. WestPoint Stevens West Point, Ga.
48
48
0
Consolidated bath towel manufacturing capacity but did not need to ramp up importing.

BATH TOWELS
Exporters to U.S. ($millions)

Company Name, HQ
2005 export to U.S.
2004 export to U.S.
% chg.
Source: HTT research

1. Abhishek Industries (Trident) Mumbai, India
$80
$56
43%
When it completes the second phase of its expansion late this fall, Trident will have doubled its capacity.
1. Welspun Mumbai, India
80
45
78
Over the past 18 months, Welspun has doubled manufacturing capacity and backed it up with the hiring of a U.S. sales and design staff.
2. Karsten Blumeneau, Brazil
47
NA
NA
Although the bulk of its towel business continues to be produced in Brazil, Karsten has also begun outsourcing to other countries.
3. Loftex Binzhou, China
32
NA
NA
Loftex established a U.S. office last year in advance of quota elimination to position itself for growth in 2005.
4. Sunvim Qingdao, China
17
13.1
30
To leverage the business with the elimination of quota, Sunvim hired a U.S. sales representative.

SHEETS
U.S.-based Importers ($millions)

Company Name, HQ
2005 import vol.
2004 import vol.
% chg.
Source: HTT research

1. Springs Fort Mill, S.C.
$200
$150
33.3%
Springs leads as a sourcer of finished goods from suppliers in multiple countries as the business continues to shift overseas.
2. Divatex New York
115
95
21
The infrastructure Divatex has built in China, India and Pakistan helped it capitalize on the elimination of quota.
3. Franco Manufacturing Co. Metuchen, N.J.
110
95
15.7
Franco continued to expand and refine overseas infrastructure to improve its ability to service the needs of U.S.-based retailers.
4. WestPoint Stevens West Point, Ga.
68
65
4.6
WestPoint has been consolidating domestically but price deflation has kept the dollar volume of sheet imports relatively on par.
5. Revman International New York
52.5
41.1
27.7
Revman's Nicole Miller sheet business has grown since last year, its Laura Ashley Lifestyles at Kohl's continues to build and Echo has seen a sizable sales increase.

SHEETS
Exporters to U.S. ($millions)

Company Name, HQ
2005 export to U.S.
2004 export to U.S.
% chg.
Source: HTT research

1. Yeken Ningbo, China
$80
NA
NA
Export volume to the United States has accelerated since the removal of quota in January, and Yeken expects to ship 4 million sheet sets to the country this year.
2. Alok Mumbai, India
70
NA
NA
Despite only 18 months in the sheet business, this newcomer is growing rapidly and plans eventually to branch into other product categories.
2. Zorlu Istanbul, Turkey
70
NA
NA
The largest home textiles manufacturer in Turkey, Zorlu has expanded its U.S. distribution facility in Sandersville, Ga.
3. Bombay Dyeing Mumbai, India
50.2
44
15
Unit volume this year has grown between 30 and 35 percent, but pricing deflation has muted top-line growth.
4. Nishat Mills Nishatabad-Faisalabad, Pakistan
44
39
15
Nishat has invested $20 million in a new wider-width dyeing and finished facility in Lahore that comes on line in the coming weeks.
5. Al-Abid Silk Mills Karachi, Pakistan
35
NA
NA
Its capacity dedicated entirely to export, Al-Abid's goal is to increase its U.S. business 10 to 15 percent over the next three years.

BED-IN-A-BAG
U.S.-based Importers ($millions)

Company Name, HQ
2005 import vol.
2004 import vol.
% chg.
Source: HTT research

1. Springs Fort Mill, S.C.
$161.5
$127
27.1%
This category continues to be an area where Springs has increased sourcing activity but still maintains a considerable domestic production capacity.
2. CHF Industries New York
50
40
25
Increase due to constriction in domestic supply. There was also an increase in higher value ensembles at higher prices.
3. Revman International New York
24
20
20
The company tried to hit different demographic groups to help retailers fulfill fashion needs through a customer-specific pattern strategy.
4. Hollander Home Fashions Boca Raton, Fla.
12
12
0
Hollander continues to increase the percentage of retail-ready items coming in and has upped investment in its Chinese factories for greater capacity.
5. WestPoint Stevens West Point, Ga.
11
11
0
After a big ramp up in imports in this category last year, the level of importing has remained consistent in 2005.

BED ENSEMBLES*
Exporters to U.S. ($millions)

Company Name, HQ
2005 export to U.S.
2004 export to U.S.
% chg.
*Includes comforter sets and bed-in-a-bag. Source: HTT research

1. Yunus Group Karachi, Pakistan
$187
NA
NA
The vertically integrated group of three mills has increased stitching capacity this year by 60 percent and plans to boost it by an additional 40 percent before year-end.
2. Al-Abid Silks Mills Karachi, Pakistan
30
22
43
The elimination of quota coincided with a $30 million expansion. Next year, Nishat expects to grow its total export business to the United States by 30 to 40 percent.
3. ADF/Home Fashions Int'l Shanghai, China
47.1
NA
NA
After expanding its U.S. sales force last year, the manufacturing consortium has added business in new channels in 2005.
4. Nishat Mills Nishatabad-Faisalabad, Pakistan
11
13
15
Nishat is installing 70 new wider-width looms and expanding its sewing plant.
5. Jiangsu Meng Lan Group Jiangsu, China
10
NA
NA
With the elimination of quota, the business has expanded to roughly 400,000 four-piece sets this year.

WINDOW TREATMENTS
U.S.-based Importers ($millions)

Company Name, HQ
2005 import vol.
2004 import vol.
% chg.
Source: HTT research

1. CHF New York
$135
$135
0%
Imports were approximately the same in dollars as last year, although CHF was bringing in more units because some lower-priced programs converted from domestic production to imports.
2. Springs Inds. Fort Mill, S.C.
122
122
0
Springs has held steady since last year, coming in again at $122 million in sales. Executives at the company said they felt this was the trend overall in window coverings segment of the industry.
3. S. Lichtenberg New York
107
107
0
Lichtenberg is on track to stay flat compared with last year. The company is selling more units but at a lower price point for a flat overall import volume.
4. Croscill New York
78
76.5
2
Croscill has engage din producing co-branded lines with key retail accounts and is leveraging its product development capabilities to create exclusive brands that do not carry the Croscill name. Imports for the company were up slightly.
5. Regal New York
46.8
46.3
1
The company will have its second China factory up and running late this year or early next. The move is part of an effort to counter the retailer-direct trend.

WINDOW TREATMENTS
Exporters to U.S. ($millions)

Company Name, HQ
2005 export to U.S.
2004 export to U.S.
% chg.
Source: HTT research

1. Kucukcalik Basra, Turkey
$45
NA
NA
In an expansion of capacity, Kucukcalik this year opened a new yarn-dye facility in Turkey.
2. Al-Abid Silks Mills Karachi, Pakistan
25
NA
NA
As the bedding end of Al-Abid's business grows, window is likely to become a smaller portion of the mill's mix of U.S. exports.
3. Zorlu Istanbul, Turkey
12
15
-20
Deflationary pressures and growing global competition have prompted Zorlu to scale down U.S. exports in favor
4. Ulusoy Tekstil Istanbul, Turkey
11.8
16
-26
Exports to the U.S. continue to be a smaller part of the business as Ulusoy shifts its focus to other markets.
5. Shaoxing Bolan Home Textile Co. Shaoxing, China
10
8.5
18
The mill also produces shower curtains, sofa covers and table linens.

TABLE LINENS
U.S.-based Importers ($millions)

Company Name, HQ
2005 import vol.
2004 import vol.
% chg.
Source: HTT research

1. Town & Country Living New York
$110
$96
14.6%
Increased market share in the category; experienced growth through efforts last year to expand its overseas network.
2. Elrene Home Fashions New York
63.5
63.5
0
Maintained licensed programs, like Jonathan Adler and Nautica, and added the Echo brand to its line.
3. Bardwil Linens New York
52
47.3
10
Benefited from strong results for its spring seasonal and basic core offerings, particularly its micro-fiber solid colored programs.
4. Avonhome Braintree, Mass.
45
41
10
Expanded private label offerings; entered into licensing partnership with Max & Lucy brand, which took it into coordinate categories, including bath and beach towels.
5. W-C Designs Anaheim, Calif.
28
28
0
Maintained placement with upscale licensed brands, including Waterford, Wedgwood and Calvin Klein, and the newest addition to the roster—designer Sigrid Olsen.

TABLE LINENS
Exporters to U.S. ($millions)

Company Name, HQ
2005 export to U.S.
2004 export to U.S.
% chg.
Source: HTT research

1. Handfab India Panipat, India
$19
$19
0%
Business continues to hold steady despite pricing pressures.
2. Nishat Mills Nishatabad-Faisalabad, Pakistan
12
12
0
Table linens are a small business as Nishat puts its investment behind expanding bedding capacity.
3. Al-Abid Karachi, Pakistan
10
NA
NA
The table business accounts for only about 10 percent of Al-Abid's export sales volume to the United States.
Related Content By Author
Live From New York: Fashion Comes Across the Pond

More Videos
Subscribe to
Home & Textiles Today eDaily
Receive the news you need to know about the trends in the industry delivered right to your inbox.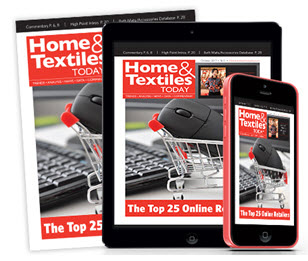 See the October 2017 issue of Home & Textiles Today. In this issue, we look at the Top 25 Online Retailers. H&TT's exclusive annual ranking of the biggest online sellers of home textiles finds that while pure play etailers continue to fly, bricks & clicks are digging into omnichannel. See details!