Retailing Giants: Top 50 home textiles retailers
Retailing Giants: Top 50 home textiles retailers

RANK
'01 RANK
COMPANY, HQ & STORE TYPE
2002
2001
PERCENT CHANGE
HOME TEXTILES AS A PERCENT OF TOTAL RETAIL SALES
SHARE OF HOME TEXTILES RETAIL SALESs
2002
2001
HOME TEXTILES SALES ($ MILLIONS)
NUMBER OF STORES
All home textiles sales information, except for publicly held companies that break out line-of-business sales for home textiles, are Home Textiles Today market research estimates.
All data for calendar year ending Dec. 31, fiscal year-end or trailing 12 months closest to that date. In cases where retailers have identical sales of home textiles, the one with the fastest sales growth is ranked first.
NS: No stores; NA: Not available; NR: Not ranked; R: Revised store type: C: Catalog merchant; CH: Chain store; DC: Discount department store; DP: Department store; HIC: Home improvement center; PX: Military exchange; SC: Supercenter (includes food in merchandise mix); SP: Specialty store; W: Warehouse club.

1
1
Wal-MartBentonville, AR DC/SC
$2,915.0
$2,580.0
13.0%
1.9%
12.2%
2,826
2,744
Fiscal year ended Jan. 31. Sales and store counts are for U.S. stores only, including discount and supercenter stores and excluding neighborhood markets and Sam's Club locations. Major merchandise changes with new fashion emphasis while retaining pricing thrust for home are expected under aegis of Lois Mikita, named top home merchant last year. In 2002, 43 discount stores and 192 supercenters were opened, including 122 discount store conversions. Total 2002 sales were $157.1 billion, up 12.9 percent from $139.1 billion in 2001.
2
2
JCPenneyPlano, TX DP/C
$2,360.0
$2,335.0
1.1%
13.3%
9.9%
1,049
1,075
Fiscal year ended Jan. 25. Opened three units last year and closed 29. Narrowed its home assortments last year and focused on private label lines. Home department led last year, especially in bed and bath, housewares and window coverings. Sales per gross square foot were $140 in 2002, up from $133 in 2001. Comps increased 2.6 percent. Department store sales of $15.1 billion increased 1.9 percent and catalog sales decreased by 22 percent to $2.6 billion. Internet sales (included in the catalog figures) were up 17.8 percent to $381 million. Total 2002 sales were $17.7 billion, down 2.5 percent from $18.2 billion in 2001.
3
3
Target StoresMinneapolis DC/SC
$2,185.0
$1,930.0
13.2%
5.9%
9.1%
1,147
1,053
Fiscal year ended Feb. 1. Division of publicly held Target Corp. Sales and store counts are for Target stores only, including 94 SuperTargets. Opened 114 new units last year, including 32 new SuperTargets. Launched its "Swell" brand, designs by Cynthia Rowley and Ilene Rosenzweig, on high-visibility endcaps. Continued with its Waverly, Todd Oldham, Philippe Starck home collections. Sales per square foot in 2002 were $278, up from $274 last year and comps were up 2.2 percent. Total 2002 sales were $36.9 billion, up 13.3 percent vs. '01.
4
5
Bed Bath & BeyondUnion, NJ SP
$2,008.0
$1,581.0
27.0%
54.8%
8.4%
490
396
Fiscal year ended March 1. Has stores in 44 states and Puerto Rico. Plans to add 80 to 90 new units this year, compared with 95 in 2002. Sales increased 25.2 percent in 2002 to $3.7 billion with 68 percent coming from new stores. The balance came from an increase in comps and the acquisition of 29-store health and beauty care retailer, Harmon Stores. Comps increased 7.9 percent. Bed linens were the single largest category, representing 19 percent of total sales. In June 2003, announced the acquisition of South Yarmouth, MA-based Christmas Tree Shops, a privately held retailer of giftware and household items.
5
4
KmartTroy, MI DC/SC
$1,555.0
$1,826.0
-14.8%
5.1%
6.5%
1,829
2,114
Fiscal year ended Jan. 29. Sales and store counts are for U.S. locations only. Emerged from Chapter 11 bankruptcy protection on May 6. Filed for Chapter 11 on Jan. 22, 2002. Closed 283 stores last year (270 discount stores and 12 supercenters) and plans 316 closings this year. Launched its "Savings are here to stay" promotion in January, to redirect customers from the stores that were slated to close this year to the next closest unit. Home products continue to be centered around the Martha Stewart Everyday lines. Sales per square foot were $212 vs. $235 in '01. Total 2002 sales were $30.8 billion, down 14.9 percent.
6
6
Linens 'n ThingsClifton, NJ SP
$1,198.0
$1,024.0R
17.0%
54.8%
5.0%
391
343
Fiscal year ended Jan. 4. Operated 391 stores in 45 states and 14 stores in Canada at yearend. Opened 55 superstores and closed seven in '02. Plans to open 55 to 60 stores in '03 and close 16. After a soft 2001, turned things around in '02 and increased sales 19.8 percent and pushed past the $2 billion mark to $2.18 billion. Major marketing and merchandising in '02 changes included a major Waverly program, a significant push in window coverings and expanding core textile assortments. "Linens" gained about 17 percent in '02 vs. a 10 percent increase in '01. "Things" merchandise gained about 24 percent.
7
7
SearsHoffman Estates, IL CH
$756.0
$822.0
-8.0%
3.3%
3.2%
872
867
Fiscal year ended Dec. 28. Sales and store count for full-line stores only and exclude sales from the Sears catalogs and Internet site operated by Direct Marketing Services. Dropped custom decorating. Full-line stores average 90,000 square feet of selling space. Retail store revenues averaged $303 per square foot in 2002, down from $318. Will open its first off-the-mall stores, Sears Grand stores, in fall 2003 in West Jordan, UT. Plans to open five more by 2005. Completed the rollout of Lands' End in 401 stores in March. Full-line 2002 sales were $23 billion, down 5.3 percent from $24.3 billion in 2001.
8
8
Kohl'sMenomonee Falls, WI DP
$635.0
$520.0
22.1%
7.0%
2.7%
457
382
Fiscal year ended Feb. 1. In 2002, Kohl's opened 75 new stores and entered new markets: Houston, Boston, Nashville, TN, and Providence, RI. Four opened as small-market tests for areas too small to support the typical 89,000-square-foot unit. Opened metro Los Angeles market with 28 stores in March 2003, debuting its coast-to-coast presence. Other new markets for '03 include San Antonio, Las Vegas and Phoenix, Tucson, and Flagstaff, AZ, for about 80 new stores. In 2004, plans are for 95 to 100 stores. Home's percent to total fell to 18 percent in 2002 from 18.5 percent in '01.
9
9
T.J. Maxx/MarshallsFramingham, MA DC
$525.0
$490.0
7.1%
5.5%
2.2%
1,342
1,269
Fiscal year ended Jan. 25. T.J. Maxx and Marshall's — The Marmaxx Group — added a net 73 new units in '02, with plans for a net 79 new stores in '03 and an ultimate total of about 1,800 stores in the U.S. and Puerto Rico. HomeGoods, another TJX division, is paired with T.J. Maxx and Marshall's in 55 superstore formats. Sales and store counts for T.J. Maxx/Marshalls include the 55 HomeGoods in '02 and the 41 in 2001 located inside the two stores. The Group's 2002 sales increased 7 percent with a comp gains of 2 percent vs. a 3 percent in '01. About 20 percent of the floor space in the two stores is home.
10
10
Mervyn'sHayward, CA DP
$368.0
$388.0
-5.2%
9.6%
1.5%
264
264
Fiscal year ended Feb. 1, part of publicly held Target Corp. Sales and store counts are for Mervyn's division only. Opened one store and closed one store last year. Plans on remodeling 75 percent of the chain's units over the next three years. In an effort to capitalize on its demographic locations, began targeting the Hispanic community and generation Y customers. Will roll out Mark Montano home furnishings collection this summer. Comps in '02 were down 5.3 percent. Revenues per square foot in '02 were $178, down from $187. Total 2002 sales were $3.8 billion, down 5.2 percent from $4.0 billion in 2001.
11
12
Big LotsColumbus, OH DC
$312.0
$275.0
13.5%
8.1%
1.3%
1,380
1,335
Fiscal year ended Feb. 1. Sales and store counts are for Big Lots closeout stores and do not include freestanding furniture stores. Opened 87 new stores in 2002 and closed 42. Experienced strong 2002 gains in domestics, furniture, hardlines, consumables, toys and home decor. Launched its first-ever national TV campaign in April. Plans this year include opening 90 new stores and remodeling over 200 stores in eastern U.S. markets. Will add a high-end national brand to its textiles assortment in July. Comp 2002 store sales were up 7.7 percent. Total 2002 sales were $3.9 billion, up 12.7 percent from $3.4 billion in 2001.
12
11
Family DollarMatthews, NC DC
$297.8
$280.1
6.3%
6.7%
1.2%
4,753
4,299
Fiscal year ended Aug. 31. Sales and store counts are for the trailing 12 months ended March 1. Plans to open 475 to 500 stores and close 65 by end of August. Sixty percent of new stores are targeted for urban markets, compared to 40 percent last year. Plans to expand or relocate 100 stores and renovate 50 by the end of fiscal year. Softline sales continue to decline as part of a strategy to increase hardlines. Plans to reposition textiles this summer with new merchandise, new vendors and coordinated looks across departments. Total 2002 trailing 12 month sales were $4.4 billion, up 14.3 percent from $3.9 billion 2001.
13
13
Luxury LinensBurlington, NJ SP
$295.0
$273.0
8.1%
11.0%
1.2%
305
288
Fiscal year ended June 1. Sales and store counts are for the trailing 12 months ended March 1. Operated 302 Luxury Linens and three free-standing stores. Luxury Linens is a specialty store offering linens, bath shop items, gifts and accessories in the middle to higher range. Luxury Linens' exclusive Christopher Lowell collection offers bedding, window treatments, bath accessories, picture frames and paints. Home, including linens, home furnishings, gifts, baby furniture and baby furnishings, was approximately 23 percent of parent Burlington Coat Factory's total sales for both years.
14
NR
Pottery BarnSan Francisco C/SP
$250.0
$190.0
31.6%
NA
1.0%
210
169
Fiscal year ended Feb. 2. Noted for sophisticated casual signature, this division of publicly held Williams Sonoma had 159 Pottery Barn stores and 56 Pottery Barn Kids, a total of five in Canada at yearend. Revenues are U.S. only and include major catalog and e-commerce business. In 2002, opened 18 Pottery Barn stores and 29 Pottery Barn Kids stores, including one of each in Toronto. Closed four Pottery Barn stores. In April 2003 launched PBteen, a teen-focused catalog of furniture, rugs, lighting, bedding and accessories. For 2003, 20 Pottery Barn Kids and a net 11 Pottery Barn stores, one each in Canada, are planned.
15
15
Macy's EastNew York DP
$246.0
$245.0
0.4%
4.9%
1.0%
105
116
Fiscal year ended Feb. 1. The largest Federated Department Store division had '02 sales of $5.02 billion, up 0.1 percent from 2001. As part of Federated's rebranding efforts to more fully leverage its Macy's brand, all Rich's and Macy's stores in metro Atlanta have been integrated as Rich's-Macy's stores and now operate as part of the Rich's division. (The Macy's nameplate will be extended to all non-Bloomingdale's properties.) Also, four Macy's stores in metro Atlanta will be closed and two others will be redesigned and reopened as Bloomingdale's later this year. Closed stores in Birmingham, AL, and Augusta, GA, this spring.
16
NR
The Company Store GrpEdgewater, NJ C
$246.0
$275.0
-10.5%
82.0%
1.0%
NS
NS
Fiscal year ended Dec. 28. Domestications and The Company Store catalogs were integrated to improve the financial performance of the two Hanover Direct key brands. Also in the group is Scandia Down, a smaller upscale retailer of luxury down products and home fashions. Net revenues for Hanover Direct decreased 14 percent; net revenues from continuing businesses decreased only 6.9 percent. Plans to shed its other businesses. The company is testing ways to get consumers online and is also testing page counts and catalog sizes, including a smaller clearance catalog for Domestications.
17
19
Pier 1 ImportsFort Worth, TX SP
$230.0
$183.6
25.2%
14.2%
1.0%
972
891
Fiscal year ended March 3. Pier 1 ended the year with 965 units in the United States — including 25 Cargokids as well as seven units in Puerto Rico, 60 in Canada, 17 in Mexico and 25 outside North America. Sales and store counts for U.S. stores only. Textiles products offered include bedding, rugs, pillows, window treatments, furniture pads and kitchen textiles. The proprietary Pier 1 Credit Card accounted for 26.2 percent of sales, down from the 28.9 percent in '01 due to fewer new customer accounts and a shift to third-party cards. Plans 110 to 115 new Pier 1 units and 47 Cargokids stores at fiscal yearend.
18
18
Macy's WestSan Francisco DP
$202.0
$210.2
-3.9%
4.9%
0.8%
141
138
Fiscal year ended Feb. 1. The San Francisco-based Federated division acquired two former JCPenney sites that will open in Maui and Hilo, HI, this fall. Emphasizing designer/upper-end private label in key markets. Plans to open a new 110,000-square-foot store in Antioch, CA, east of San Francisco, in 2004. Also plans to open a new unit in Simi Valley, CA, in 2005. As part of Federated's 2002 "reinvent the department store" campaign, Macy's West opened four new "reinvented" units and remodelled 11 stores for holiday 2002. Total sales were $4.16 billion, down 0.2 percent in 2001.
19
21
Brylane HomeNew York C
$185.0
$168.0
10.1%
11.6%
0.8%
NS
NS
Fiscal year ended Dec. 31. Brylane Home, "America's White Sale Catalog," offers moderately priced bedding and linens, bath and towels, window treatments, slipcovers, and rugs as well as home accents, cookware and dinnerware sets. Top-of-bed continued to be a strong category in 2002. With Web site orders exceeding 20 percent of Brylane's sales, the company closed its Indianapolis call center this summer. The calls will be redirected to the company's four other centers. Total sales increased 8.2 percent to $1.6 billion. Brylane is part of Redcats, the home shopping division of French-based Pinault-Printemps-Redoute.
20
25
Ross Dress For Less StoresNewark, CA DC
$183.0
$152.0
20.4%
5.2%
0.8%
507
452
Fiscal year ended Feb. 1. This off-price retailer operated 507 stores in 23 states and Guam at yearend. Ross opened 60 new stores in '02, including its first two in Alabama, and closed five. Total sales increased 18.2 percent to $3.5 billion; comp sales rose 7 percent. Home business was a key contributor to growth, accounting for 19 percent of total sales in 2002 and 18 percent in 2001. Company plans are for 12 percent annual unit growth with about 62 stores in 2003, including its first in Tennessee. Ross expects to relocate its headquarters to Pleasanton, CA, in the summer of 2004.
21
22
MeijerGrand Rapids, MI SC
$175.0
$165.0
6.1%
1.6%
0.7%
156
152
Family-owned and operated since 1934. Units are located in Illinois, Indiana, Kentucky, Michigan and Ohio. Stores average 200,000 square feet to 250,000 square feet and stock about 120,000 items. Reevaluated growth plans last year, focusing on remodels. In effort to differentiate from big boxes, remodels included lining up home decor and home fashion departments to enhance cross-promotions. Unveiled in April a redesigned, Holland, MI, store with new signs and new products designed to better serve Hispanic community. Remodeled six Dayton, OH, stores last year. Offers a bridal and baby registry.
22
20
Eddie BauerRedmond, WA C/SP
$165.0
$173.0
-4.6%
11.6%
0.7%
514
536
Fiscal year ended Dec. 28. At yearend this Spiegel Group unit operated 367 Eddie Bauer stores, 102 outlets and 45 home stores in the United States. Sales and store counts exclude Canada sales. Began in September '02 new brand strategy that emphasizes its outdoor heritage. Home sales outpaced other merchandise areas. Eddie Bauer sales dropped 11 percent in '02. In March, parent Spiegel Group filed for Chapter 11. Now closing 60 under-performing Eddie Bauer stores — including 51 apparel stores, eight home stores and one outlet store — as part of a multi-phase reorganization process.
23
26
CostcoIssaquah, WA W
$164.0
$150.0
9.3%
0.4%
0.7%
304
284
Fiscal year ended Sept. 1. Sales and store counts are for U.S. locations only, for the trailing 12 months ended Feb. 17. Due to continuing trouble with operating expenses, cut planned fiscal 2003 store openings from 30 to 32 new stores to 24. Opened first home furnishings prototype store in Kirkland, WA, in December and currently exploring other sites on the West Coast. Comps for fiscal year were up 6 percent. Softlines accounted for 11 percent of total sales, the same as in 2001 and down from 12 percent in 2000. Total 2002 trailing 12-month sales were $39.4 billion, up 9.5 percent from $35.9 billion in 2001.
24
23
IKEAPlymouth Meeting, PA SP
$161.0
$155.4
3.6%
11.9%
0.7%
15
15
Fiscal year ended Aug. 31. At fiscal yearend operated 15 U.S. stores and nine in Canada. Beginning in fiscal 2003, Ikea launched its plan to open a net 50 new stores in 10 years in North America with nine new store/relocations by August 2003, including three in Canada. Major home textiles changes include broader assortments, faster design changes, more basics, fabrics by the yard and new department layouts. Has shifted its textiles business from separating products in different departments to coordinate merchandising. Home textiles sales as a percent of total sales remained about 12 percent.
25
17
SpiegelDowners Grove, IL C
$152.0
$215.0
-29.3%
29.2%
0.6%
NS
NS
Fiscal year ended Dec. 28. Total sales declined 29 percent in 2002 as Spiegel struggled with the company's more restrictive credit granting measures involving its private-label credit card and a significant reduction in catalog pages circulated. In March '03, Spiegel stopped using its private-label credit cards. A week later it filed for Chapter 11 bankruptcy protection. In April, announced plans to close all 12 of its outlet stores and all four of its clearance stores. As part of its ongoing reorganization process, The Spiegel Group closed one of its customer sales and service centers this month.
26
24
StroudsCity of Industry, CA SP
$148.0
$155.0
-4.5%
98.7%
0.6%
50
50
Strouds Acquisition Corp. filed for Chapter 11 bankruptcy protection in May and subsequently announced its plans to liquidate its 30 upscale linens stores and 20 outlet stores. The troubled retailer originally filed for Chapter 11 in 2000, after which senior management and Cruttenden Partners purchased most of its assets and took it private in 2001. Last year, Fog Cutter Capital Group acquired a 49.5 percent stake in Strouds.
27
34
Stein MartJacksonville, FL DC
$141.0
$130.0
8.5%
10.0%
0.6%
265
253
Fiscal year ended Feb. 1. Stein Mart operated 265 stores in 29 states at year end. A smaller store was tested as "collections of Stein Mart" in Rolling Hills, CA, in October. The new 15,000-square-foot concept store is geared for resort and premium markets. New store location criteria now stress more details, including fashion consciousness and local area market research. New space re-allocation adds home decor to all stores. Linens and gifts were strong, with 20 percent of total sales vs. 19 percent in '01. Luxury linens led the home textiles business. Total sales increased 6.7 percent; comps dropped 0.8 percent.
28
29
Value City Dept StoresColumbus, OH DC
$140.0
$145.0
-3.4%
8.3%
0.6%
136
137
Fiscal year ended Feb. 1. Value City closed one store last year, ending the fiscal year with 116 stores, while Filene's Basement opened and closed one unit, ending the year with 20 stores. Value City comps dropped 5.1 percent in '02, with non-apparel comps down 3.8 percent and apparel comps off 6.6 percent. Filene's Basement comps were up 0.3 percent. Value City is de-emphasizing automotive, hardware and sporting goods to focus more on its predominately female customer and to build customer traffic. Filene's Basement is beginning merchandise repositioning with new key executives.
29
30
Bloomingdale'sNew York DP
$136.0
$144.0
-5.6%
7.8%
0.6%
31
26
Fiscal year ended Feb. 1. This Federated division will open six new stores this year: two full-line stores in Atlanta, a full-line store in New York's SoHo district, an already opened home store in downtown Chicago, a home store in Oakbrook, IL, and a 65,000-square-foot freestanding furniture store in Garden City, NY, a former Stern's location. Two former Macy's Atlanta units are being redesigned and reopened as Bloomies stores this year. Bloomingdale's by Mail division has been folded back into Bloomingdale's division this year. Was Federated's shining star in '02 with sales of $1.75 billion, up 4.1 percent.
30
32
Fred MeyerPortland, OR SC
$134.0
$132.0
1.5%
NA
0.6%
133
132
Fiscal year ended Feb. 1. Part of publicly held Kroger. The supercenter pioneer operates units in Alaska, Idaho, Oregon, Utah and Washington. Units average 145,000 square feet and offer everything from domestics and groceries to consumer electronics and apparel. Began renovating units this year, including its Tacoma, WA, and Eugene, OR, stores. Renovated stores have a redesigned store layout, new fixtures and checkout stands and expanded departments, including furniture. Has opened two units this year, including one in Bellingham, WA, and another in Alaska in April.
31
38
Lowe'sWilkesboro, NC HI
$130.0
$110.0
18.2%
0.5%
0.5%
854
744
Fiscal year ended Jan. 31. The second largest home improvement center opened 112 new stores last year, relocated 11 and closed 13. Expects to open 130 new stores this year, 21 of which opened during the first quarter. About two-thirds of new stores will be in large metro areas. Opened first small prototype store, 94,000 square feet, in Elkin, NC, in April. Home textiles products include area rugs, window treatments, decorative pillows, bath rugs and shower curtains. Units average 111,000 square feet. Comps increased by 6 percent in 2002. Total 2002 sales were $26.5 billion, up 19.8 percent from $22.1 billion in 2001.
32
31
Dillard'sLittle Rock, AR DP
$130.0
$135.0
-3.7%
1.6%
0.5%
333
338
Fiscal year ended Feb. 1. Opened four new stores and closed nine during 2002. This year, has announced plans to close seven underperforming stores: two in Louisville, KY, and one each in Mobile, AL; North Randall, OH; Memphis, TN; and Columbia and Greenville, SC. Sales in the home category decreased 4 percent in 2002. Home accounted for 8.9 percent of 2002 total sales, the same as in 2001 and down from 9.2 percent in 2000. Total 2002 company sales were $7.9 billion, down 3 percent from $8.2 billion in 2001.
33
42
HomeGoodsFramingham, MA SP
$128.0
$98.0
30.6%
18.2%
0.5%
87
71
Fiscal year ended Jan. 25. At yearend, operated 87 free-standing stores and 55 superstores. Sales and store counts are for the standalones only. In-store units are combined with a T.J. Maxx or Marshalls store in a superstore format called T.J. Maxx N More or Marshalls Mega-Store. Freestandings average 28,000 square feet; when included in superstores, the average is 21,000 square feet. In 2002, added 16 freestanding units and 14 superstores. In 2003, plans to open a net of 37 HomeGoods stores, including superstores. Comps increased 6 percent in 2002. Total sales were $705.1 million, up 39 percent over 2001.
34
33
Marshall Field'sMinneapolis DP
$127.0
$131.0
-3.1%
4.7%
0.5%
64
64
Fiscal year ended Feb. 1, division of publicly held Target Corp. Sales and store counts are for Marshall Field's division only. Operates units in Michigan, Illinois, Minnesota, Wisconsin, Ohio, North Dakota, Indiana and South Dakota. Announced in February plan to sell two Columbus, OH, stores to May Dept Stores. Last opened new stores in 1999 and plans to open "some" new stores this year. Added home fashions boutique, Designers Guild, to flagship store in March. Comps were down 3.7 percent. Revenues per square foot in 2002 were $180. Total 2002 sales were $2.7 billion, down 3.1 percent from $2.8 billion.
35
36
Sam's ClubBentonville, AR W
$126.0
$118.0
6.8%
0.4%
0.5%
525
500
Fiscal year ended Jan. 31 A division of publicly traded Wal-Mart. Sales and store counts for Sam's Club division only in 48 U.S. states. Opened 25 new units last year. Plans to open 15 more units this year. Club's range between 90,000 total square feet and 160,000 square feet and average 125,000 square feet. Softlines, including home textiles, accounted for 7 percent of total sales in 2002 and 2001. Comps increased 2.3 percent last year. Total 2002 sales reached $31.7 billion, an increase of 7.8 percent from 2001's $29.4 billion.
36
NR
Filene's/Kaufmann'sBoston DP
$120.0
$125.0
-4.0%
3.9%
0.5%
97
96
Fiscal year ended Feb. 1. Filene's/Kaufmann's is now the largest May Department Store division. In August '02, Pittsburgh-based Kaufmann's was combined with Boston-based Filene's, now operating in 39 markets including Boston metro; Pittsburgh; Cleveland; southern Connecticut; Columbus, OH; Hartford, CT; Providence metro; and Buffalo and Rochester, NY. In Leominster, MA, Filene's opened one of three May lifestyle-design 140,000-square-foot compact stores designed for smaller retail developments. Plans to open a Kaufmann's lifestyle-designed store in Pittsburgh.
37
40
Tuesday MorningAddison, TX DC
$119.0
$105.0
13.3%
16.3%
0.5%
515
469
Fiscal year ended Dec. 31. The upscale closeout retailer opened 56 new units last year and closed 10. Plans to increase its square footage by 10 percent this year and open a net 35 units. Entered the markets of Daytona Beach, FL, and Modesto, CA, in 2002. Stores range in size from 5,000 square feet to 12,000 square feet. Stores operate periodic "sales events" which last from three to five weeks; they are closed in January and July. Offers products at prices 50 percent to 80 percent below its competitors. Comps for the year increased 4.3 percent. Total 2002 sales were $728.8 million, up 13.5 percent from $642.4 million in 2001.
38
NR
Robinsons-May/Meier & FrankNorth Hollywood, CA DP
$117.0
$122.0
-4.1%
4.7%
0.5%
72
71
Fiscal year ended Feb. 1. Los Angeles-based Robinsons-May is now May Department Stores' second largest division after combination with Portland, OR-based Meier & Frank division in August 2002. The two stores operate in 15 markets, including Los Angeles/Orange County, Riverside/San Bernardino, CA, Phoenix, San Diego, Las Vegas, Portland/Vancouver metro and Salt Lake City. Robinsons-May opened one of three new lifestyle-designed stores for May Stores in Irvine, CA, last year. Plans for 2003 include opening a Meier & Frank lifestyle-designed store in Ogden, UT.
39
35
ShopKoGreen Bay, WI DC
$116.0
$125.0
-7.2%
3.6%
0.5%
141
141
Fiscal year ended Feb. 1. Sales and store counts are for ShopKo units only and do not include the company-owned Pamida division, with estimated 2002 home textile sales of $46 million in 223 stores. ShopKo stores are located in 15 Midwest, Pacific Northwest and Western Mountain states. Plans on opening new stores again in 2004. Began testing new store designs this summer in two units. Hardlines, including home textiles, decreased as a percentage of sales to 53 percent last year, down from 55 percent in 2001 and 57 percent in 2000. Total 2002 sales were $2.46 billion, down 3.3 percent from $2.54 billion in 2001.
40
44
Anna's LinensCosta Mesa, CA SP
$115.0
$88.0
30.7%
97.5%
0.5%
88
70
Specialty retailer targeting ethnic and working class customers in urban markets. Stores range in size from 7,500 square feet to 12,000 square feet. As of June, had opened 12 of the expected 30 new units this year, including entry into the southeast markets of Atlanta, Birmingham, AL, and Gulf Port, MS. New 2003 units also include New Orleans, Houston, Phoenix and Las Vegas. Plans to enter Florida in 2004. Acquired 11 of 17 Strouds' outlet stores in June. Sold a 25 percent stake in the company to Rosewood Capital in October 2002 in order to maintain sufficient investment dollars while staying debt free.
41
39
Dollar GeneralGoodlettsville, TN DC
$113.0
$107.0
5.6%
1.9%
0.5%
6,113
5,540
Fiscal year ended Jan. 31. Opened 622 new stores last year and closed 49. Plans to open 650 new stores this year, close 50 to 70 and remodel or relocate 145. The discounter operates in 27 states, primarily in the Southeast and Midwest. Units average 6,700 square feet, and the majority serve communities with populations of 20,000 or less. Comp store sales were up 5.7 percent in 2002. Home sales accounted for 13.3 percent of total 2002 sales, down from 14.4 percent in 2001 and 17 percent in 2000. Total 2002 sales were $6.1 billion, up 14.6 percent from $5.3 billion in 2001.
42
37
Hecht'sArlington, VA DP
$110.0
$112.0
-1.8%
4.6%
0.5%
80
80
Fiscal year ended Feb. 1. Stores operate as Hecht's and Strawbridge's in 19 markets, including Washington metro; Philadelphia metro (Strawbridge's); Baltimore; Norfolk and Richmond, VA; Nashville, TN; and Charlotte, Greensboro and Raleigh, NC. Opened a Hecht's in Raleigh, NC, and a May's lifestyle-designed store in Greensboro, NC. Also, closed two stores. In '05, May Department Stores will jointly market a wide variety of home merchandise under the House Beautiful trademark, ranging from home decor to textiles to dinnerware, in full-line department stores.
43
49
Carson Pirie ScottMilwaukee DP
$106.5
$106.0R
0.5%
NA
0.4%
145
147
Fiscal year ended Feb. 1 for this division of Saks. Promoted as "the best place to shop in your hometown," operates stores under the following nameplates — Carson Pirie Scott, Bergner's, Boston Store, Younkers and Herberger's. All but Herberger's carry home textiles. Saks consolidated Younkers home office into Carson's at the end of the fiscal year. 2003. Plans include a Bergner's replacement store in Peoria, IL, a Younkers unit in Lansing, MI, and one in metro Green Bay, WI. Also closed one of the Milwaukee-Boston stores this past March. Acquired the exclusive license for Jane Seymour home products.
44
41
Rich's Lazarus Goldsmith'sAtlanta DP
$104.0
$101.9
2.1%
5.1%
0.4%
75
76
Fiscal year ended Feb. 1. This Federated division had sales of $2.04 billion, down 2 percent from '01. Corporate strategic integration of Rich's and Macy's in metro Atlanta includes 28 stores rebranded as Rich's-Macy's stores, plus all Rich's store in Birmingham, AL; Athens, Atlanta, Augusta, Columbus, Macon and Savannah, GA; and Columbia and Greenville, SC. On Aug. 1, all 42 Lazarus locations will be Lazarus-Macy's; and five Goldsmith's stores in Tennessee will be Goldsmith's-Macy's. Closing Lazarus, Bloomington, IN, and a Goldsmith's store in Memphis, TN.
45
43
Foley'sHouston DP
$92.0
$95.0
-3.2%
4.6%
0.4%
66
65
Fiscal year ended Feb. 1. Now May's fourth largest division, Foley's operates stores in 21 markets including Houston, Dallas/Fort Worth, Denver, San Antonio, Austin, TX, and Oklahoma City. Opened two Foley's last year in Beaumont and El Paso, TX. Also closed one store. Foley's opened a new store in Houston in March. Two additional stores are scheduled to open in August — one in Dallas and one in Lake Charles, LA. May's home store offerings reflect three lifestyles: modern, elegant and casual.
46
47
Direct Marketing ServiceChicago C
$88.5
$77.0
14.9%
53.6%
0.4%
NS
NS
Markets four catalogs for Sears, including Sears ShowPlace, Sears Kitchens, Sears Room for Kids and Sears Home Center, as well as its Home Visions catalog. Sends out approximately 60 million catalogs a year. Customers may also purchase online at www.homevisions.com and register for an electronic newsletter that announces new products and sales events. Launched its "Your Kids Direct" section of e-commerce site this year, offering textiles and home furnishings for kids.
47
46
BurdinesMiami DP
$85.0
$79.0
7.6%
6.2%
0.4%
56
55
Fiscal year ended Feb. 1. Federated's division known as "The Florida Store," Burdines operates exclusively within the state. Effective Feb. 1, 2004, all units will operate as Burdines-Macy's and the Miami-based division will assume responsibility for the seven Macy's stores operating in Florida. Four stores in Orlando, Tampa, Hialeah and Miami were chosen to be part of Federated's "reinvent the department store" renovations last fall. Total 2002 sales were $1.36 billion, down 2.2 percent from $1.39 billion in 2001.
48
48
Army/Air Force Exchg Svc.Dallas PX
$76.4
$73.1
4.5%
1.2%
0.3%
153
153
Serves active-duty military personnel, guard and reservists, retirees and their families. Has more than 150 main stores or shopping centers worldwide and in every state. Home textiles are carried only in the main stores. Storefronts are supplemented by four catalogs per year merchandising home textiles per year, as well as Internet sales. Expanded its luxury linens program last year by adding new vendors and broadening its current assortment. Also introduced an opening price point bath towel and rug program. Revenues are worldwide, excluding food, services and vending.
49
NR
Linen SourceTampa, FL C
$76.0
NA
NA
95.0%
0.3%
NS
NS
Mail order catalog in operation for over 30 years. Also sells its home textiles and furnishings online at www.linensource.com. Targets females between ages 35 and 64 with household incomes of $60,000 or more. Sells Charisma, Royal Velvet and Dan River as well as Watercolours from Alexander Julian. Mails a new copy of its catalog each month. Serves customers in all 50 U.S. states, plus Puerto Rico, Guam and the Virgin Islands.
50
NR
Restoration HardwareCorte Madera, CA SP
$66.0
$25.0
164.0%
16.5%
0.3%
102
101
Fiscal year ended Feb. 1. Operates 102 stores in 31 states and the District of Columbia and three stores in Canada, as well as its Web site and catalogs. Implemented a repositioning strategy in '02, including introducing 60 percent new products, remodeling and refixturing its stores and the complete redesign of its catalog and Web site. Premium-positioned home textiles were introduced in the first quarter of 2002. Net 2002 sales increased 9.2 percent to $400.3 million. Home textiles increased from 7 percent of total sales in 2001 to 17 percent of sales in 2002.
Related Content By Author
Live From New York: Fashion Comes Across the Pond

More Videos
Subscribe to
Home & Textiles Today eDaily
Receive the news you need to know about the trends in the industry delivered right to your inbox.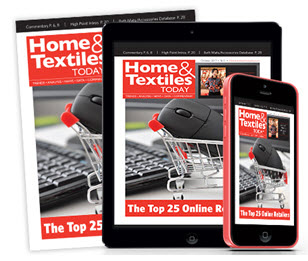 See the October 2017 issue of Home & Textiles Today. In this issue, we look at the Top 25 Online Retailers. H&TT's exclusive annual ranking of the biggest online sellers of home textiles finds that while pure play etailers continue to fly, bricks & clicks are digging into omnichannel. See details!