Bedding Products
21st Century Bedding
Brooklyn, NY (718) 934-2706
This Brooklyn-based company unveils a bagged bedding ensemble consisting of a Siberian goose down-filled comforter, a fitted and flat sheet interchangeable with a duvet, and up to two pillow cases, which are interchangeable with two shams. All of the items are 100 percent cotton and the sets are available in many styles and designs.
American Trading
New York (212) 685-0081
A new assortment of printed sheets on a polyester/cotton blend in many colors and patterns is offered. The program is an extension of its current offering.
Anichini
Tunbridge, VT 800-553-5309
Company expands its luxury linen line with Chevron sheeting and a matelasse bed cover, both in all-Egyptian cotton. The Chevron geometric pattern blends the tradition of flamestitch needlework with the contemporary edge of Missoni-inspired textiles. Colored in blue pearl, bone or white.
Ashford Court
New York (212) 679-6335
Ashford Court is introducing four new collections for bedding that include duvet covers, bed skirts, pillow shams and decorative accessories: Posey Shop is a floral pattern in satin jacquards, matelasses and 100 percent cotton prints; Northern Exposure is a lodge look with outdoor themes in earth tones made of chenille jacquards, tapestries and cotton prints; Wild Kingdom is a Michael Day design featuring more than 25 designs of animal and safari fabric patterns in soft suedes, chenilles and tapestries; and West Indies features palm trees and leaves, as well as Moroccan motifs made with soft chenille fabrics, silks and cottons.
Alen Sands York Associates
New York (212) 563-6305
Luxury flannel, percale and sateen bedding as well as an expanded offering of Claire Murray's Signature Collection will all be unveiled. Also debuting is an expansion of the company's Egeria line of bedding, sleepwear, towels and table linens, including new 220-count printed sateen sheeting.
Elizabeth Allen Atelier
New York (212) 695-3252
From this designer comes Guenevere in amethyst and cassis colorways, and Tellulah in dusk and fog.
Baltic Linen Company
Valley Stream, NY (516) 792-2116
Baltic is introducing four categories of new product for the bedroom: 100 percent cotton throws and blankets that include fringe and hand-knotted ties and feature modern contemporary designs; chenille throws and blankets, in plaids and solids; high-count sateen sheet sets (220, 280 and 360) and duvet covers, with new color additions in stripes and solids along with coordinating duvets and shams; and printed complete bed sets/comforters and sheets, the bed-in-a-bad collection.
Bay Linens
New York (212) 725-2002
Will show new opulent bedding ensembles such as Inverness, a rich satin damask in aqua accented with satin and beads, and Trellis, an ivory satin damask with black velvet accents that is luxury at a lower price point.
Bullzye
Lindenhurst, NY (631) 225-4199
Bullzye caters to the younger set of tweeners and teens with its collection of bedding with colorful geometrics combined with flora and fauna.
Bellatano
Laguna Niguel, CA (949) 643-3700
The company expands its fine, embroidered linen collection with the Casanova design, imported from Italy. The 400-count Egyptian cotton sateen sheet set has a hemstitch finish, and the embroidered matalasse bed cover and shams are of diamond piquet cotton. The collection is available in either cafe sand on luce or cafe on ivory.
Burlington Industries
Greensboro, NC (336) 379-2510
Java, Birmingham and Whitney all bow from Burlington's bedding division. Java takes advantage of a tropical floral on its 280-count cotton sateen with a metallic antique silver overlay. An overprinted floral with a unique finish, Java is a jacquard with a mixture of cool colors such as robin's egg blue, kiwi green, hyacinth and teal. Whitney is an ornate jacquard with a seemingly 3-D appearance combined with a coffee color palette.
CHF Industries
New York (212) 951-8110
CHF supplements its core bedding programs www.myroom.com; My Room, Too; and Reflections to include items such as memo boards, doorknockers and plush appliqued pillows. Also in juvenile will be the Hello Kitty line of plush accessories. New for the Peri collection is a textured solids line in celadon, gold and amber.
Columbine Cody
Burlington, IA (323)656-5113
The company introduces two new collections. The Regency sateen duvet and accessories are available in sage, ivory, white, fog blue and maize and are 200-count, 100 percent cotton sateen. The Lovely matelasse bedspread and its accessories are also 100 percent cotton, feature a scalloped edge and center design engineered motif, and are offered in white, ecru, blue and sage.
Columbier Hacot
Valhalla, NY (914) 683-1229
From Anne de Solene, Faustine Matelasse is a new Egyptian combed cotton bedding pattern in parma and peach colors. The collection is styled and produced in France.
Commonwealth Home Fashions
New York (212) 889-4356
Two new fabrics are featured for this company's ensembles: Angela, a jacquard with a contrasting leaf motif, and Nile, a crushed silk look with a small, embossed delicate leaf design.
Custom Comfort
Santa Ana, CA (714) 542-1600
New to this market is the Artisan Collection, which is done in 100 percent cotton.
Dan River
Danville, VA (804) 799-7000
For the Marquis Home Collection, four new beds, one for the Luxury sub-brand and three for the Interiors line. Messina, with a striped jacquard face, will carry a retail price point of $379 for a queen set while Villa, an engraved woven in soft, earthy colors, Jolie, in soft yellow with lavender and pink flowers, and Candace, a plisse puffy leaf jacquard, will carry a $279 price point, also for queen. The Studio/ 250-count Egyptian cotton line bows Mulan, Palm Breeze, Soho Stripe and Emporia. Mulan utilizes hand-drawn and painted exotic flowers while large palm leaves on a linen-type texture adorn Palm Breeze. Soho Stripe features an asymmetrical stripe in masculine tones. Emporia, a re-introduction, is finished in fresh yellows and a Italian pottery influence. The Studio/220-count cotton sub-brand will see Loire, Arles and Blue Lotus added to its ranks. Loire is reminiscent of an impressionist's painting and uses yellows, pinks, greens and blues on its face. Arles uses a small-size floral on its face while a Chinese porcelain-inspired pattern adorns the striking Blue Lotus. For its Studio 250-count 60/40 cotton/ polyester blend line, Into, a geometric in indigo, steel and neutrals, Andrea, a floral in an antique colorway, Cosette, a botannical watercolor floral in yellow, Cassie, a geometric floral abstract, Marcella, an engraved watercolor floral in light blue, and Avery, a documentary floral, are all new. Razzle Dazzle and Koko will be introduced under the Di Lewis Collection name. Koko has a tonal watercolor floral motif in soft pinks, oranges, greens and yellows while an abstract geometric in yellows and peaches makes up the younger-in-feeling Razzle Dazzle. For its Alexander Julian licensed collection, five new beds try to make their collective marks; Capistrano, Key West, Woodland Park, Napa Valley and Alamosa. Capistrano, part of the 220-count cotton/woven specialty fabrics line, features a woven stripe with a reverse scroll. Key West has a tropical colorway while Woodland Park is adorned with palm fronds on a linen-type background. For the 210-count, 100 percent cotton yarn-dye collection are Napa Valley, with a wine, green and marine palette, and Alamosa, which uses peaches, greens and blues. Also new for the Julian collection will be a line of throws and quilts which may be layered into any of the collection beds.
Divatex Home Fashions
New York (212) 252-0802
New from Divatex are 400-count dobbies and prints, an expansion of the solid line, luxury heavyweight flannels, in solids, embroideries, yarn-dyed plaids and prints, Egyptian jersey solids and prints. The company will also unveil jacquard and woven comforters and duvet covers in heat transfers and yarn dyes.
Descamps
Paris 33 1 53 32 27 00
A division of Zucchi/Bassetti, Descamps is a leading French company that manufactures bath towels and robes and the printing and finishing of bed linen. Bedding fabrics include percale, linen and satin. A baby collection is also included.
Down Inc.
Grand Rapids, MI (616) 452-8731
From this company comes Silk Essence, a tailored bedskirt made from 100 percent silk available in king and queen sizes and imported from Germany. The queen size is priced at $190 wholesale, while the king will be offered at $204.
Ellison
New York (212) 869-0540
The Ellison division of Alice Manufacturing introduces Polazzo, a 200-count blend bagged ensemble, which uses spice colors with gothic styling.
Franco Manufacturing
Metuchen, NJ (732) 494-0500
Franco comes to market with the popular cartoon character SpongeBob SquarePants as a licensed juvenile bedding collection complete with 3D plush pillows.
Frette
New York (212) 299-0400
This high-end manufacturer and retailer expands its Royal collection with fall hues, part of the collection from new designer Cristina Azario. The Liberty Swirl pattern of sheets and bedcover is made of satin cotton jacquard in white, ivory, brown, gold and olive green. Velvet throws and accessories are also available, as are coordinating cashmere throws and towels.
Guilford Home Fashions
New York (212) 630-5900
Guilford's Jockey collection will be expanded to include a 250-count all-cotton woven sheet, comforter and quilt, which will all layer back into the original knit collection. The licensed Karen Neuberger collection will also be expanded with four new woven and three knit stories. The company's signature Studio line will have a dupioni added to its ranks. This solid silk, slubbed fabric will be offered in a variety of colors and constructions, including quilted, pieced and embroidered and woven jacquards. The company's tufted chenille line will also be expanded.
Haywin Textile Products
New York (212) 951-7260
Haywin will launch its Simmons Beautyrest line with three different bagged bedding ensembles featuring high-count percales, sateens, woven and printed jacquards and embellished fabrics. The company's jersey knit collection, Club T, will have three new patterns unveiled, while the Fruit of the Loom licensed collection will be offering new designs in both kitchen and bedding. And new colors will also be introduced for the Softones Bedding program.
Hedaya Home Fashions
New York (212) 889-1111
The success of the licensed Cheri Blum collection has inspired Cracked Linen Florals and Blushing Calla Lillies. Both are 100 percent cotton handmade patchwork quilts whose ensembles will include shams, throws and toss pillows.
Hollander Home Fashions
Boca Raton, FL (561) 997-6900
Hollander's Basic Bedding Division will introduce six new prints and one new solid color for its line of down-filled Peachy throws. The new solid, sage, will be joined by a gingham in pink, yellow and blue colorways, a stripe in scarlet or navy, and a young floral called Daisy Days. Sage will also be added to the company's line of down Peachy blankets. The fleece top featherbed has been re-engineered, making the fleece softer and non-pilling. Wholesaling at $38 for a twin, the featherbed has a baffled channel construction and 100 percent cotton body. Also new is a baffled box quilted top featherbed. With a 233-count, 100 percent cotton body and a layer of polyester quilting between the two top fabrics, this new featherbed wholesales for $40. In down alternative comforters, Hollander will introduce its new Bali Down comforter with DuPont polyester fiberfill. This comforter has a 233-count, 100 percent cotton construction and also is reversible. Wholesale price points will start at $27 for a twin. Two new styles of comforters will be introduced for Hollander's traditional down comforter line. A 325-count diamond weave baffled box and a 325-count weave baffled box called Feather Frenzy will start at $80 wholesale for a twin. A Hungarian goose down comforter, which is numbered and registered and certified by the Hungarian Down and Feather Produce Council, is also new. Wholesale price points will start at $180 for a full/queen size. For the company's Peachy fabric line, five new patterns — Bandanna, Kilty Plaid, English Plaid, Blackwatch Plaid and Anthem Plaid — debut. Wholesale price points begin at $40 for a twin. Hollander's Fashion Bedding Division also introduces many new items for its lines. Under the Vendome name, a new 440-count, all-cotton sateen sheet will bow, which will coordinate with many of the Vendome beds. For the Park Avenue line, a 250-count all-cotton sateen printed sheet with pockets to fit an 18-inch mattress will debut. The Nob Hill collection will be stepping up to a 230-count all-cotton sateen printed sheet with a pocket to fit a 15-inch mattress. The division will also bow a new tweener collection called Totally Me, which will incorporate new packaging, 100 percent Egyptian cotton and many decorative accents. From the Bed Pillows division comes the Double Down Pillows, Zone Pillows, new offerings for the company's synthetic bed pillow line, and poly/cotton prints for the popular line of cuddlerolls and loungers. The Double Down pillow has a 233-count, 100 percent cotton shell, a down-quilted pillow shell filled with down, down-filled cord edges. The Zone Pillows, for those who sleep on their stomach, back and side, have a 233-count, all-cotton fabric with cord edges. The Waffle Weave Gusseted pillow uses a waffle weave fabric in poly/cotton with a 2-inch gusset and cord edge. Filled with a short staple fiber, the pillow will have a firm density. The Egyptian cotton Puffaral pillow will have adjustable support and a 250-count, 100 percent Egyptian cotton sateen fabric and is filled with Puffaral cluster fiber. Velour cuddlerolls and loungers are new as is Shimmer, a '70s-inspired polyester fabric in six colors for loungers.
Home Source International
Atlanta (404) 876-5400
Set to be introduced under the company's Home and Harmony Collection are microcotton sheets, duvet covers and towels.
Karma
West Windsor, NJ (609) 275-8646
Debuting exquisite, hand-embellished bedding designs, accented with decorative pillows and matching, one-of-a-kind lamp shades.
Lawrence Home Fashions
Montreal (514) 343-3740
In the company's promotional jacquards line, Op-Art, a contemporary jacquard with an ombre effect, is new. For the Studio Collection, Talia is a heat-transferred burnout on a batiste-type ground. The ensemble is completed with a sheet set featuring embroidered sheet cuffs and a lightweight woven textured solid for the bedskirt and euroshams. Also new for the Studio line is Metropolis, a contemporary print in grays and greens in a wide horizontal stripe pattern. In addition, the company will also introduce Balzac for its Versailles Collection, which uses a very formal jacquard in olives, gold and wine with olive velvet accents as well as bullion fringes and opulent twist cord.
Legacy
Chantilly, VA (703) 830-6818
Silk Basics, a luxurious 100 percent silk ensemble, will be introduced in wheat, blossom, toast, moss, champagne, coppertone and ocean colorways.
Matouk
New York (212) 683-9242
Matouk's Paris collection of 350-thread-count 100 percent Egyptian cotton Swiss sateen with cotton organdy trim collection has a new color scheme — white with pink fringe and pink satin stitch. Venus features a new embroidery color - lavender embroidered scallop detail — on the collection's white body of 35-thread-count 100 percent cotton Swiss sateen. And the SoHo collection is also getting a new look this market, with the addition of two colors, light blue and willow, to its grid-plaid jacquard, 100 percent cotton, 300-count sheeting.
Paule Marrot Editions
New York (212) 251-0034
Artemis, in red/gold and red/ivory, depicts classic hunting scenes in a detailed architectural toile.
Melange Home Fashions
New York (212) 769-4222
An embroidered mini-duvet set, part of Melange's embroidery program, is new. Titled Botanical Boxes, this ivory-colored set, which consists of a duvet cover and shams, is constructed from 100 percent cotton with sateen trim. Seven new patterns will be introduced.
Messina and Zucker
New York (212) 889-3750
New jacquard comforter sets, and Bed-in-a-pack ensembles will be introduced as will expansions of its present programs. New sheeting sets will include a 250-count Egyptian cotton set, a 300-count cotton sateen set, a 310-count cotton set with attached hem treatments and a new premium 16-inch deep pocket sheet sets. A three-piece damask duvet and sham set will also be available.
Mystic Valley Traders
Woburn, MA (781) 933-0666
Mystic gets cozy this fall with its Fireside bedding ensemble, with shower curtain and table linen coordinates, that is accented with the Wildlife pattern of woodsy motifs against a black background. Fabrics in this collection include woven tapestries and plaids, textured wovens in muted red and sage green, and cotton stripes and woven mini checks. Fireside is also stocked for immediate delivery. At the other extreme, Mirabel is another luxury bedding debut of simple elegance that includes silkscreened floral panels exclusive to the company. Other coordinating fabrics include blue, white and yellow solid cottons. The new Zanzibar bedding collection combines opulent reds, greens and golds in textured wovens and a reversible leaf print and a paisley tapestry. Mystic will also debut the Mini Bed, a diminutive replica of the company's bedding ensembles, sized for dolls or pets.
Pacific Coast Feather
Seattle (206) 336-2324
Eight new fashion duvets in traditional and unique constructions will be offered under PCF's brand, while the Sealy licensed collection of sheets will be expanded by 13 new colors with higher thread counts to bump up construction over the 300 mark.
Pacific Coast Home Furnishings
City of Commerce, CA (323) 838-7808
A 300-count sheet set will be added to complement the company's line of 100 percent cotton top-of-bed fabric.
Pacific Designs
Vernon, CA (323) 588-3645
Bamboo, a tropical bedding collection, and Cork, a solid texture collection, will be introduced, as will Silk Trade, a contemporary top-of-the-bed collection. A decorative pillow line and a window treatment line, representing a new area of opportunity, will also debut.
Park B. Smith Ltd.
New York (212) 889-1818
Two new Eco-ordinate collections are being introduced: Eco-Mille fleur, a floral pattern matelasse design made of 100 percent cotton; and Eco-Versailles, a botanical vine design jacquard pattern in natural hues.
Pillowtex
Kannapolis, NC (704) 939-2109
Under the Royal Velvet brand, Intrigue, a new sheet, takes the opening day's bow for market. With a 300-count dobby weave construction, surface texture and a palette of nine colors, snow, cornsilk, crème, menthe, surf, cocoa, elm, adobe, heather and denim, Pillowtex sets its sights on a more upscale market with this new sheet. The 310-count line of Charisma sheets is officially retired and replaced by a new 360-count construction. Also replaced is the Charisma Select line of 360-count sheets and stepping into its place is a line of 420-count sheets. The Select line will continue with its white and ivory colorways while Charisma will be bolstered with the addition of a woven stripe and woven dot with slightly deeper color introductions of flax, truffle, henna and twilight. Significant for the consumer will be the changes in retail price point for the Select which may go up to as much as $20 a sheet. Charisma's price points will not change. Eleven new collections, six under the Royal Velvet Interiors brand and five under the Fieldcrest Platinum brand, are new from this major mill. Under Royal Velvet Interiors is Dynasty, a classically-inspired design in micro-denier, Berkeley, a menswear-inspired pattern in deep jewel tones, Jakarta, a luminous silk-like construction in brown, platinum and gold, Constantine, an intricate jacquard woven scroll design, Camelot, an all-cotton matelasse, and Miranda, a floral motif with an soft ombred background. For Fieldcrest Platinum, new is Spring Show, an Asian-inspired ensemble with flowers and whimsical scrolls, Belvedere, a traditional jewel-toned plaid, Gypsy, a blend of burgundy, purple and bronze in a block print, Impressions, a combinations of pale shades of purple and green on a parchment ground, and Anguilla, an exotic mix of tropical floral, neutral tones and animal prints.
Poly Commodity
Great Neck, NY (516) 829-3606
Made from 100 percent Egyptian cotton with satin stitching on three-inch hems, the company offers a 310-count dobby collection featuring a tapestry design with deep fitted pockets and European style packaging.
Regency Home Fashions
New York (212) 889-6144
A comforter ensemble called Tosca made from poly/cotton is featured this market.
Revelle Home Fashions
Toronta (416) 706-4533
Available in sheets, pillowcases, duvet covers, comforters, pillowshams, bedskirts, drapes, shower curtains and decorator pillows, Sari is a 100 percent cotton sateen printed in olive, green, purple and gold and finished with gold braid piping.
Royal Sateen/Design Works (formerly part of Crown Craft's adult bedding division)
Atlanta (770) 644-6400
In solid color sheeting, Royal Sateen is introducing a new "natural finishing" process that lends a silkier hand and better draping to the product. Also debuting this market is Candlelights Check, an extension of its 310-count Candlelights sheeting program. Each of the colors in the palette—olive, eggplant, silver and sandstone—coordinates back to at least one of Royal Sateen's top-of-bed introductions, sometimes more, to be marketed as the second set of sheets to layer into the bedding. Royal Sateen also is broadening the color range of its Candlelights Constantine solid-color sheeting program, a 310-count jacquard, which previously consisted of citrine and ecru. Three colors have been added: white, lacquer and black. In Royalty, the 410-count sheet introduced last market in sand, Royal Sateen has added a regal white. For market, Royal Sateen will introduce eight beds vs. six introductions during spring market. Each coordinates to a silk quilt as well as to one of the new Candlelights Check solid sheets—olive, eggplant, silver and sandstone—as well as a range of accessories. Autumn Floral is inspired by Candlelights' smoke blue, with tossed leaves in russets, reds and olives. A detailed textured plaid on a smoke blue background is used on the fitted sheet, bed ruffle, euro shame, duvet reverse and the hem of the flat sheet and pillowcase. Martinique is a collection of four patterns. The lead is a flamboyant document floral enhanced by fiber reactive printing to give it a silken quality. The ground is subtly textured in camel tones. The floral employs warm sand, reds, blues and purples on the duvet face, sham and dec pillows. Carmel is used for the body of the fitted sheet and on the hem of the pillowcase and flat sheet. The Asian-inspired Washi is a floral patterned with a delicate weave texture that forms a faint grid on pale gold. Accented with a spray of Asian flowers in plum and pink, it also features flowing leaves in sage and olive on the duvet face, shams and dec pillows. A circle repeat reminiscent of antique kimono designs is used on the bed ruffle, euro pillows, the fitted sheet and the hemming on the flat sheet and pillowcases. Rosabella features detailed roses widely spaced on a neutral chino ground. It coordinates with a fine mini geometric design forming a plaid, which is used on the fitted sheet as well as the attached hem of the pillowcase and flat sheet as well as on dec pillows. Imperial Damask is a yarn-dyed woven jac that combines neutral colors and a printed tonal scroll in tans and grays. A yarn-dyed woven geometric motif is used for the inner center of the euro shams as well as on the hem of the flat sheet and pillowcase. Accessories include hand-woven silk pillows in dark gold. Dynasty is a heavier weight jac in a traditional kimono look with a deep black offset by a solid black. The group uses a dramatic lacquer red for contrast and black twisted braid for trim. Accessories include puckered black fabric with tassels on dec pillows as well as a velvet leopard dec pillow. Damask Stripe is a traditional damask weave in a yarn-dyed jacquard stripe, with a silken luster and accents in champagne, pale lemon and dusty pink. A document wallpaper stripe is with bands of strie colors is used for the ruffled bed shirt, euros and dec sateen pillows. Royalty White has a jacquard duvet face reversing to a weave, with embroidered jacquard used on the shame face, pillowcase hem and flat sheet. The ultra-elegant set coordinates with the new white Royalty 410 sheeting, as well as a platinum silk quilt.
Scala International
New York (212) 685-1131
Continuing its pursuit of luxury products, Scala adds luxury cotton and linen blended bedding, window panels and pillows to its offerings.
Denyse Schmidt Quilts
Fairfield, CT (203) 254-3264
Made from 200-count cotton and and hand silk-screened, the Bettie ensemble is available in duvet covers, euro shams and standard shams in slate, marigold, wasabi and latte colorations.
Sferra Bros.
Cliffwood, NJ (732) 290-2230
Sferra will focus on new colors this market, including crimson, midnight and slate for Presidio, its premiere Italian Egyptian cotton bedding collection, and its coordinates, including the Olympia matelasse, Aviano pure merino wool blankets, Cologne cashmere throws and the Izmir collection of Turkish cotton terry towels in 600-gram weight. Anna is a new introduction in the Celeste collection, its bestselling, 406-count Egyptian cotton percale, finished with a hand-embroidered scalloped edge and available in white or ivory.
Sheridan Australia
New York (212) 679-5105
Nine new ensembles, Alhambra, Alcazar, Marquis, Bellarusse, Courtesan, Guineverre, Shanghai, Liason, and Salvador, debut. Alhambra is a retro-inspired, patch motif jacquard top-of-bed. Alcazar is a Persian-inspired panel design reactive-printed on 230-count sateen. Marquis has the appearance of a hand-woven crosstitch, while Bellarusse is an elegant Asian-inspired floral motif on a burgundy ground. Courtesan features peonies and roses printed on crushed polyester, while Guineverre is a traditional English floral on 200-count all-cotton chintz. Shanghai is a fruit and floral motif on a blue ground, and Liason is a tripe jacquard resembling lisere or antique wallpaper. Rounding out the introductions is Salvador, which is done in blues and aubergines framed with a Sheridan panel print.
Springs
Fort Mill, SC (803)547-1500
For its 400 Sateen solid-color sheet program, a new jacquard attached hem is added in three different configurations, Pascale, a two-color jacquard filigree, Madeline, a jacquard floral attached, and Othello, a small mini-check attached. The 250-count sateen sheet has also been replaced in favor of a new 300-count sateen construction called Palace, which will be offered in 20 colors. Under the Transitional Elegance trend, a new 300-count sateen sheet will take the place of the 250-count Elite line. Labeled Palace, 20 colors will be offered for this brand new construction. For the 220-count printed cotton Bedroom Solutions line, also under Transitional Elegance, 11 new patterns will take center stage. Williston, in harbor blue and straw gold, Daphne, all all-floral vine, Greenbriar, an Old World floral tapestry, Mecca, inspired by classical Oriental carpets, Angelina, a rich loden and gold damask, Santina, a bold geometric, Marcellus, a handsome paisley stripe, Coronation, in navy and blue damask, Romeo, an intricate damask in plums and tans, Bonaparte, combining the elegance and style of French damask, and Jeannette, an English damask stripe, are all new. Also under the Transitional Elegance umbrella and for the company's bagged ensemble line, are 13 new beds. Ranging from the watercolor block tile layout with painterly daisies in blues, aquas, lavender and lime that is Daisy Moor to a vintage inspired tropical floral print in teals, pinks and yellows, called Trinidad, to a modern textured scroll melange in pale blue, lavender and mint called Sirocco, the new designs traverse the design spectrum. Also under Transitional Elegance are four new bath accessory lines. Giselle, Mystify, Fossil Leaf and Bella Vista use a variety of designs, such as horizontal stripes, leaves and marble textures. Coordinating rugs are also offered with each design. Under the Paradise/Tropical trend, are two new ensembles, Koa and Key West. Koa is done in yellows, greens and corals while Key West features celadon, sage, aqua and mauve. Both are offered with a complete line of coordinates, embellished towels and bath rugs.
Thief River Linen
Thief River Falls, MN (218) 681-3919
The company updated its bedding line with a fuchsia and gold dupione ensemble with beading accents and a sheer fuchsia floral overlay.
Traditions/Pamela B. Kline
Claverack, NY (518) 851-3975
Expands its luxury bed linens program with reproduction antique lace cotton, jacquard sateen and linen sheets, including the patterns Elizabeth, Anne, Victoria, Classico, Salome and Danubio. Colors include white, ivory, pale blue, soft yellow and pastel pink. Exclusive designs are both imported and domestically made.
Waverly
New York Waverly (212) 213-7998
Waverly introduces its Echoes of Ireland fabric collection for market, leading with Brianna, a large-scale bouquet of lilacs and roses at their peak and available in sage, linen, spring and crimson colorways.
Whiting Manufacturing
Fairfield, OH (513) 874-8750
Whiting introduces 12 new Total Bed Sets, as well as comforter sets with matching 180-count percale sheet sets.
Verduno Collection
New York (212) 873-1456
Modern designs provide the inspiration for this studio's pillows, duvets and throws. Fabrics include hand woven silks, such as dupione, mutka, shantung and tussah, alone or in combinations. Other fabrics, such as linen, can also be used. The duvets include an all-cotton, medium-weight comforter, filled with either white goose or hypoallergenic down. Pillow cases are also available.
WestPoint Stevens
New York, NY (212) 930-2000
Embroidered sheets and jacquard sheets go after a higher-end market. Helping the WestPoint Stevens/ Disney cause and also taking its place on the showroom floor is the complete Monsters, Inc. ensemble. For the Designer's Guild Collection, Parisienne, Hana, Guillemard, Floribunda and Violetta are unveiled, each with coordinating towel. Three ensembles are also bowed for Designer's Guild Kids line, Daydream, Rosy Posy and Hopscotch. Parisienne features a large medallion motif with a small stripe background. Hana is a hand-drawn pink flower on an aqua ground. A wide-band stripe adorns Guillemard while flowers on a white ground are the central motif of Floribunda. Violetta features an all-over embroidery on a white ground. Several of the DG introductions have a herringbone or mohair blanket which may be layered in. The sheeting for the DG collection will be constructed from 250 cotton in 10 colors and with a grosgrain trim.
Related Content By Author
Live From New York: Fashion Comes Across the Pond

More Videos
Subscribe to
Home & Textiles Today eDaily
Receive the news you need to know about the trends in the industry delivered right to your inbox.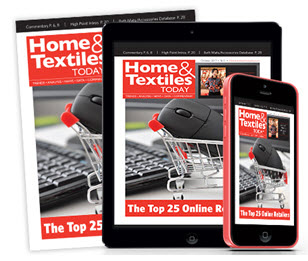 See the October 2017 issue of Home & Textiles Today. In this issue, we look at the Top 25 Online Retailers. H&TT's exclusive annual ranking of the biggest online sellers of home textiles finds that while pure play etailers continue to fly, bricks & clicks are digging into omnichannel. See details!