Plying Confusion
Thread Count Standards Loosely Enforced
Brent Felgner, July 16, 2007
A large "600" catches the eye, beckoning one closer to Macy's Hotel Collection sheet sets, called out in a prominent in-store display.
Much smaller print on the packaging and in-store signing go on to tell the same story: "600 thread count sheets and pillowcases (woven with lustrous two-ply yarn to achieve total thread count)." Online the pitch further tickles the senses: "Ready for real luxury? Woven from 100% cotton, these indulgently soft, 600-thread-count sheets are exquisitely designed and expertly tailored to provide the ultimate night's sleep…"
If that's not enough, a Macy's sales clerk reinforces the message: Two plies are more than one and that means better quality, he insists, although after that somewhat strained explanation, his ability to communicate the product's attributes becomes even fuzzier.
Two years after the adoption of a clear American Society for Testing and Materials (ASTM) definition and, separately, a Federal Trade Commission (FTC) staff opinion on how advertising and product packaging may reflect thread counts, the issue remains vague for some suppliers and retailers. And where the definition and ruling are not being observed, it can be confusing for consumers and present an uneven playing field for competitors.
Seen in the most forgiving light, the labeling representations in the Macy's example are ambiguous. A Macy's spokesman offered little clarification: "There are differing points of view on thread count within the home textiles industry," said Jean Reisinger Coggan, director of community relations, in an email. "Macy's Hotel Collection is one of the few brands that clearly communicates the number of plys [sic] to provide more information to the customer. It's also important to note that thread count alone is not necessarily indicative of quality."
Coggan declined to discuss the issue further.
Unambiguous but unenforced
But the "best case" interpretation of the signing and packaging is much too generous, insisted Hardy Poole, a consultant to the National Textile Association (NTA), which has been on point in industry efforts to achieve a single labeling standard.
"My reaction is that it sounds like it is 300 [count] two-ply yarn and the implication for someone not as close [to the issue] is they would assume it's a 600-thread count," Poole said. "And that can be misleading to consumers. I think the FTC would read it that way, too. I think the FTC would be looking for it to read 300 [tc] of two-ply yarns. And that would be laying it out in a totally open way for the consumer to make a choice."
A spokesman for the FTC did not return a series of phone calls seeking comment specifically on the Hotel Collection labeling.
But there is no ambiguity in either the ASTM definition or the FTC opinion: Yarns are to be counted as one thread in each of the warp and weft directions, regardless of the number of plies. In a staff opinion, the FTC left the door open to expand the amount of information but was clear about what would constitute a deceptive practice under Section 5 of the Federal Trade Act. The opinion, which has been circulated widely throughout the trade, is not new and clearly states that the single thread in each direction determines the count. The Macy's labeling seems to invite dividing that 600 count by two, a subtlety many consumers would likely miss.
"We believe that consumers could be deceived or misled by the practice of stating an inflated thread count, achieved by multiplying the actual thread count by the number of plies within the yarn," said an Aug. 2, 2005 letter to the NTA signed by James Kohm, the FTC's associate director for enforcement. "A possible non-deceptive way to disclose both the thread count and the yarn ply would be to state, for example: '300 thread count, 2-ply yarn.' A representation of '600 thread count' for this same product would likely mislead consumers about the quality of the product being purchased."
The problem goes beyond Macy's, although the Hotel Collection may offer the most high-profile example. Those deeply involved in determining the definition have offered broad guesses that noncompliance ranges from just a few renegade importers to as many as half of all imports. Most agree they are awaiting some FTC enforcement action to achieve broader observance of the requirements.
Less testing?
Part of the problem may rest with less aggressive testing being done — particularly among some retailers. But Linwood Wright, retired vp of quality and development for Dan River, and current chair of the NTA Bedding Committee, isn't so sure.
"Larger retailers are testing pretty thoroughly; I see no significant difference from what they've always done," he said. "I'm seeing more believable copy in catalogs and that's really where I have seen more flagrant violations than anywhere else." Many, if not most, retailers and suppliers appear to get it right — most of the time. After a class action suit against Wal-Mart Stores was dismissed in May, all of Wal-Mart's thread count claims were made abundantly clear on its Springmaid packaging and signs: "Luxuriously soft 400 authentic single-ply thread count."
"They're testing aggressively," Wright said of Wal-Mart. "I have observed an occasionally false claim from potential suppliers of sheets and pillowcases, which we jumped all over once our testing kicked in. I'd be surprised if we haven't nipped most of that in the bud."
To the extent there is non-compliance in the marketplace, the experts said, it falls mostly to importers and mid-to-small sized retailers.
"At the middle levels, I know for a fact that many of those labs have been cut back or closed," offered Karen Mueser, a consultant and retired lab director from Sears. "So there's not going to be much testing if those labs are closed. But those companies have very strong legal departments and once they are aware of a problem they generally monitor it internally pretty well.
There may also be some old product with non-compliant labeling still in the pipeline, even two-years later — particularly in closeout channels, they said.
"They're all moving toward compliance, but anything that has a thread count over 500, I think I'd be very suspicious," said Bob Holcombe, who chairs the D-1359 and D1360 test methods subcommittee and works with the Industrial Fabrics Group of ASTM. Holcombe is also lab director for Safety Components International, Greenville, S.C. "Anything between 600 and 1,000 — that's not going to happen, but more and more people are trying to do what is correct."
Added Wright: "The thing that's made it more difficult to make those kind of back-of-the-envelope judgments is the tremendous growth of sateen weave sheets in the marketplace. You can pack a lot more threads per inch into a sateen weave than you can in a plain weave. If I see much over 400 threads in a plain, I get suspicious as hell. If I see over 600-700 in a sateen I start to question. So it really depends on the weave."
A few examples
Taking a broad prospect, Wright observed, "I think the market is starting to look for a new handle, and we've probably played out the thread count thing as far as it has any value."
Still, after years of suppliers and retailers educating consumers to prize higher thread counts, this packaging and labeling strategy is widespread and unlikely to fade away. And most in the industry seem to have incorporated the new standards, as part of a level playing field.
Holcombe said in all the testing he has done over the past two-and-a-half years, none of the problems have involved major U.S. companies. And more importers seem to be getting on board with the standard.
"The [original importer] people who came to ASTM with their claws bared have changed their thinking," Holcombe said. "I think they were legitimate; they just didn't understand how it was done."
The other difficult issue is the knowledge and experience of retail buyers, Mueser said. "In my years in retail the corporate mentality became, 'If you can buy one thing, you can buy anything.' But the buyers don't know the product. Probably what has to happen is for the FTC to come along and find a few to make examples of. When the fines are levied it will wake people up — there's just no other way to get their attention."
Related Content By Author
The Countdown to the ICON Honors Continues featuring Christophe Pourny

More Videos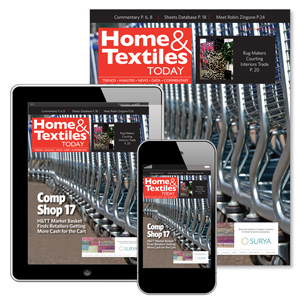 See the May 2017 issue of Home & Textiles Today. In this issue, we discuss our annual Market Basket survey, which finds higher prices and more polyester at leading retailers. See details!