Tropical looks are hot; fussy leaves 'em cold
Last month brought the industry a better-than-usual New York Home Textiles Market, and suppliers are still glowing. The apparent hit motif of the market: tropical looks. Also strong were items featuring new constructions and micro-fibers. Earning thumbs down: designs that were over-produced or fussy.
Arrow Industries
Rich Sperber, vp, sales and marketing
HITS: "Corinthian, a moderately priced yarn dyed woven horizontal stripe jacquard; and City Scapes solid color program for comforters and duvet covers that was a textured yarn dyed woven. Also Dominique, a moderately priced traditional yarn dyed jac in brick; and Key Largo, a chenille sateen in a natural coloration with a contemporary check design."
MISSES: "Justine, a chevron pieced solid color bedding ensemble. Also Canyon Diamond, an ikat design."
Bay Linens
Dianne Morris, president
HITS: "Martinique was a fresh tropical look that had great colors, and Pasha Paisley, which used a great mix of colors, trims, patterns and textures."
MISSES: "Tisbury did not have enough accessory items."
Beacon Looms
Jonathan Sadinoff, executive vp
HITS: "In our window area, Delancy, a dupioni silk/poly window style, had a silk look at a great price, and Connor, a chenille drapery-weight panel, which had a very rich look for the price point. In bedding, Remington, made of twisted buncle chenille, and Sylva, a coordinated chenille jacquard with silk-rich dupioni, both had very elegant styling and unique fabrication."
MISSES: "Hillside, a leaf burnout knit, was not your traditional burnout because of a new technique, and I think this was not the right pattern for it."
Bardwil
Nancy Kristoff, president, sales and mktg
HITS: "Caribe and Thoroughly Modern Stripe. Both patterns were very well received with their bright colors.
"Lenox Cutwork tablecloth and accessories as well as the new Lenox print Tuscan Vine."
MISSES: "Espadrille, a woven stripe cotton tablecloth, as well as Bali, a tropical jacquard tablecloth, were not selected in favor of Island Palms, another woven jacquard cloth."
Biddeford Blankets
Van Jones, national sales manager
HITS: "The Sealy licensed line of warming blankets, throws and mattress pads. It gives us an entirely new platform. Also the Hot Wraps group of warming throws in bright colors aimed at a younger market."
MISSES: "We came out with a higher-end quilted top mattress pad, which was very well received, but it diverted attention away from our polyester opening-price-point items."
Biederlack of America
Peter McCabe, executive vp
HITS: "The Sketchbook collection from the Hautman Brothers. In bed blankets, two promotional cottons, Primrose and Tiffany; and Alexandria, an Egyptian cotton. Fairfield, a higher-end mercerized cotton, jacquard woven."
MISSES: "A cotton bed blanket in a windowpane. It might have gotten lost because we had so much new blanket product."
Brentwood Originals
Loren Sweet, president
HITS: "Tropical was clearly the biggest hit, with Tahiti and Surabaya. This appears to be across the board in pillows, windows and chairpads. Also, various jacquard chenilles, including Angelique and Lucerne."
MISSES: "In the Southwest and ethnic looks. We had many requests prior to market to show these looks, but it clearly did not pan out with placements."
Charles D. Owen division of Springs Industries
Brian Munsey, licensing and mktg director
HITS: "Our flocked blankets, both under the Wamsutta SofTouch name as well as under the WonderTouch name."
MISSES: "We attempted again to fine tune and relaunch rib cord bedspreads."
CHF INDUSTRIES
Joan Karron, executive vp
HITS: "In our open-line bath, Travelogue, Kauai, Key Largo as well as Fancy Flush [decorative toilet handles]. In juvenile bath and bedding, Girls Night Out; Hello Kitty; Shagadellic; the interactive children's decorative pillows; and mesh canopies. Also Nick Munro's Plane Geometry. In Peri Bedding, Covant Garden. In It's All in the Bag, Marakesh, Taos, Barcelona and Sherpa. Kim Parker was a hit."
MISSES: "In bath, Wood Blossom, whose blossoms were too faded, and Sand Dollar Shell, which featured colors that were way too ambitious."
Croscill
David Kahn, president & ceo
HITS: "In bedding, we placed everything but two beds, some of the biggest hits were Spa Leaf, Newcastle, Island Breeze, Sancere, Blue Bell and Ella (the new country patchwork quilt looks), Triomphe, Wilshire and Big Sky, a southwestern look in both colorways. In window, the biggest hits were Primrose, Adriana, Dazzle (window jewelry), Cambridge, Butterfly and Persuasion."
MISSES: "In bedding, Blossom, a lightly colored striped jacquard that looked too Easter egg-ish and Charleston, a ruffled floral that was way too girly. In bath, retailers didn't appreciate the beauty of Sophia and thought we lost our minds on Mondriano, a colorful, very contemporary look that they didn't understand."
Custom Comfort
Trevor Rabkin, co-ceo
HITS: "Panache, a quilt print in dusty, bumped-up pastels, as was 4 Square, a serene, clean, updated jacquard in shades of gold and silver. Fizz, a wavy, bright, contemporary print in robin blue and white, and Mod, a modern, abstract print, because modern prints are hip."
MISSES: "Sundance, a gold style, was not bright enough."
Dakotah
Jennifer Winter, creative director
HITS: "Our Retro Couture group of dec pillows, a compilation of black and pink based on Old Hollywood silhouettes of models. Also a coordinating bedding pattern, Haddon Hall. Our Contemporary group of dec pillows, with the sub categories: Zen Light, Urbanite and Pastel Textures. Our Echo dec pillow line, especially the New York collection. In Joseph Abboud, the Majorca and Samba group dec pillows. Tranquility in the front window was our No. 1 bed."
MISSES: "Our Asian group of decs and our Persimmon bed pattern."
Dan River
Louis Casali, senior vp, sales and marketing
HITS: "The Lilly Pulitzer Home collection. The new Alexander Julian program as well as the Showcase and Midnight Palm patterns in Supreme Dimensions. Solera in our new embellished bed in a bag program, Super 300; Moon Shadow and Architectural Stripe in Marquis Interiors; and Harvard Stripe in the graphite colorway in Supreme Dimensions Classics."
MISSES: "In Marquis Interiors, the Dove pattern; in Supreme Dimensions, the Precision pattern; and in Super 300, the Premiere pattern."
Divatex
Shay Zamir, vp, merchandising
HITS: "Chenille prints and jacquards, high-count sheets and duvets, lace and embroidered sheets, and blended modal on both knits and woven. Also, a lot of pure, dupioni and blended silks that had some embroidery, along with compact cotton. In Joseph Abboud, Capri, Messina, Samba and Majorca, especially two positive negative beds, Capri and Messina."
MISSES: "Santorini in Joseph Abboud."
Elrene
Mark Siegel, president and ceo
HITS: "The Bahama Breeze collection, and Jonathan Adler."
MISSES: "The Cherries collection was not nearly as successful as it was last year. Buyers are moving away from this theme."
Foreston Trends
Richard Gould, vp, national sales manager
HITS: "Chenille Tapestry's-Tropical collection and Harvest collection-Chenille Jacquards."
MISSES: "Print collection."
Hollander Home Fashions
Sandy McNeil, president, fashion bedding
HITS: "Our Crossroads collection, especially Verve, Mambo and Gypsy. In Park Avenue all eight beds were picked up, and in Nob Hill all beds except one. In Karen Neuburger, the hits were the Silk Expressions collection, Lavender Breeze, Joy and Poppy. We placed the Beautyrest duvets. Lastly, in kids we had a great response with all beds except for one."
MISSES: "In Hampton, Sheer Romance. Jasmine, in the Karen Neuburger collection, was too young a look for this line. In Nob Hill, Grace, because the coloration was a little off for that customer. In juvenile, Sports Odyssey, because the look was a little fashion forward for a boy's bed."
Hollander Home Fashions
Dave Solove, vp, basic bedding
HITS: "In pillows, the Dream Puff pillow, which has a 320-count fabric and a deluxe quilted shell with the adjustability of a Puffball polyester fiber. In down, the 300-count Sateen Down Blanket with an end to end box construction that limits the movement of the down."
MISSES: "Laura Ashley Beaded Down Throws. They might have been too fashion-forward for the utility market. Also the Luxe Cuddlerolls."
Maples Rugs
Arnold Stevens, vp
HITS: "Chromo jet printed rugs, because of more intricate patterns and more vibrant color."
MISSES: "Solid color soft olefin called Geometric. This was very similar to things that already existed in our line."
Melrose Home Collections
John Emrani, president
HITS: "Annette and Priscilla collections, floral bouquet heat transfers on textured jacquards. Also Catania, a luxurious chenille jacquard, and Isabella, a multi-color moiré textured vine jacquard, accompanied by Pyramid, textured polyester decorative pillows."
MISSES: "Contemporary Window in knits and textures such as raindrops."
Mohawk Home
David Record, product manager, bath rugs
HITS: "Athena, A DuPont Nylon level cut-and-loop bath rug with a simple rope border.
"Radiance, a high-pile, very plush, very bright bath rug constructed from DuPont's new Bright Tactel nylon fiber. Serenity, a ruffled fabric inset was incorporated into this handcrafted cotton rug from the Ruffle collection."
MISSES: "Sensations, a level cut-and-loop bath rug utilizing dual nylons.
"While the pattern in Sensations was pretty, it was a little too busy for most decors."
The Northwest Company
Stan Mieszkowski, vp of sales
HITS: "Justice League from Warner Brothers and Spiderman II, the movie. And The Dog. Also, the new bed blanket line, our first."
MISSES: "If I had to think of something, maybe the retro properties didn't garner the attention we thought they would."
Nourison
Gary Shafran, sales and marketing manager for the accent rug division
HITS: "Rugs in coffee cup, rooster and sunflower motifs in the washable handmade Everywheres collection. Also our rounds and runners."
MISSES: "Some very ordinary florals."
PCF (Pacific Coast Feather)
Fritz Kruger, vp, marketing
HITS: "Our Pacific Coast SuperLoft Blanket, Pacific Coast Lumbar Support Feather Bed, Stearns & Foster's patented Kentfield Pillow and Sealy's Sweet Pea maternity pillow. Also, Sealy's Accustom Royale down and VE foam pillow and Sealy's Children's Bedtime Pillow."
MISSES: "Futon Topper. Embroidered & Linen Gusset Pillows. Also silk/cotton pillow covers and Sealy's Couplet Pillow, for which the retail price point didn't resonate with customers."
PDK Worldwide Enterprises
Vincent Guarriello, national sales mgr
HITS: "Five of the 11 beds shown were really big hits: French Paisley, Masquerade, Hawaii, Romance Garden and Buttercup. French Paisley is a traditional quilt with a soft paisley pattern, while Masquerade features a woven plaid motif on a taffeta-like fabric. Hawaii has a Tommy Bahama-esque patchwork of varied island fabrics."
MISSES: "Oxford, which had a lovely unusual ribbon basket weave with corner stitching on its platform flopped because it was probably too embellished, sumptuous and expensive."
Pendleton Woolen Mills
Pete Johnson, blanket div., national account sales
HITS: "Two new plaids, Summer Dreams and our Easy Care."
MISSES: "We really didn't expect much reaction to throws and stadium blankets this early in the season, and — sure enough — we didn't get much."
PHI (Peking Handicraft)
Mark Grand, coo
HITS: "Our new collections in Silkallure and microsuede fabrications. In individual patterns, Savannah, Pink Chablis and Ashley."
MISSES: "Our style Caravan should have been left out in the desert, and Enchantment enchanted nobody with its traditional dahlia quilt look."
PHI (Peking Handicraft)
Joe Gleicher, president
HITS: "In the flannel area, our printed plaid sheet sets that replicate yarn dyed plaids went over very well because of the value they represent. In the sateen area, we came out with a 400-count dobby stripe printed hydrangea sheet set that combined a textured surface with a print design. Our two-ply 1,000-count sateen sheet with a nice shine and soft hand that feels just like butter was also very well received."
MISSES: "We presented many new print designs, although some were well received a few haven't generated any interest at this point."
Quiltcraft
Dianne Morris, license designer
HITS: "The Mozart group had a great crinkled texture with chenille at a good value."
MISSES: "Lindsay was not unusual enough for buyers."
Revere Mills Inc.
Dan Harris, vp, mktg & product development
HITS: "New construction ideas in Revere Mill's double jacquard towel ensembles from Turkey. Also the double-jacquards with embroidery overlay. Promotionally, Revere's new banded towel set in embroidery and jacquards to retail at $5."
MISSES: "Anything not new or different. Even solid terry towels had to have some sort of surface interest to get the buyer's attention. Any terry towel that was just another terry towel didn't get attention."
Richloom
Wendy Keryk, president, window division
HITS: "Symphony, a raised jacquard with an ultra soft hand, and Concerto, an Austrian panel. Mandalay, a detailed, high end look with embroidery, velvet, sheer and sequins."
MISSES: "Macramé Tab was a tab panel which got no reaction."
S. Lichtenberg
Amy Hanlon, director of product design
HITS: "From our Tahitian Paradise collection, Martinique, with tropical orchids and an array of leaves printed on a beautifully textured linen-like base fabric. From our Night on the Town group, Encore, a double-jacquard panel with self lined appearance completed with a beaded ascot. From the Menswear group, Logan was a subtle texture of a tone on tone floral vine embroidery."
MISSES: "Brussels, a textured semi-sheer panel and scarf, and Kendra, an all over pucker sheer voile panel."
Sheridan USA
Bob Gehm, president
HITS: "Ten out of 14 beds were placed, including Tahari, Kashmir, Derby and Melrose. Tahari is the biggest hit because of its soft pastel colors in a rich woven textured story. Kashmir is a dramatic pieced comforter in a rich turquoise and gold colorway. Derby has a microfiber faux suede composition in rich browns and golds that feel great. Melrose is a rich denim jacquard with yarns of chenille and lurex woven in."
MISSES: "Cape Town and Sheva. Cape Town has a neutral woven palm design that people just didn't like because it has been overdone. Sheva is a horizontal stripe bed in weird colors that just aren't dramatic enough."
TexStyle
Jim Cox, president, sales and marketing
HITS: "Medina, a striped taffeta with delicate embroidery, and Tuscany, an embroidered silk panel and scarf program."
MISSES: "Arabella was a two-ply with embroidered overlay."
Thomasville
Joyce Post, design director
HITS: "Paradigm, a geometric squares in pewter and alabaster with an overtufting of fluid form in sand chenille. Guest Cabin, a classic woven kilm motif in chili and black pepper colorways, and Falling Star, a rustic, more muted puckered fabric in rosewood and tobacco with a microsuede trim. Also Bird of Paradise, a tropical print with an overscale birds of paradise motif in raspberry, kiwi and orange zest."
MISSES: "Mambo, tropical print of decorative baskets with exotic leaves and flowers on a coco ground. We had two strong exotic prints in the showroom and retailers ended up going with the more dramatic look."
United Feather & Down
Bob Hickman, vp, sales and marketing
HITS: "The Joseph Abboud utility line in both the Diamond Signature Logo and microsuede complete product collections. Also our Simply Natural Lyocell fabric and fill. Also our down bedding sets program, which had unique accessories such as bed skirts and Easy On shams."
MISSES: "Silkallure throws were a disappointment."
Veratex
Dale Talbert, vp
HITS: "The bedding hits were Kirat, Kalahari, Dynasty and Ojai. Kirat was a traditional jacquard with a color twist in blue, greens and golds, plus a soft cotton construction. Kalahari has an ethnic exotic chic look with African influences. Dynasty is on dupioni silk with an inverted flange in burnt orange. Ojai offers updated faux suede fabrications in natural colors. In bath, the hits were the Rice Paper collection, Liquid Colors and Sabrina."
MISSES: "Mambo and Amphora."
Victoria Classics
Mal O'Reilly, design director
HITS: "A woven ombre window style, Caprice was unusual in that it also had quilting. Marbella, a gold appliqué engineered window on sage velvet, and Golden Rose, a printed velvet that had a striated background that gave it an Old World look."
MISSES: "Cherry Blossom, a burn-out sheer that didn't work."
Related Content By Author
Live From New York: Fashion Comes Across the Pond

More Videos
Subscribe to
Home & Textiles Today eDaily
Receive the news you need to know about the trends in the industry delivered right to your inbox.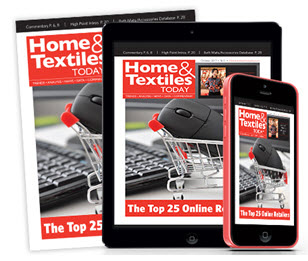 See the October 2017 issue of Home & Textiles Today. In this issue, we look at the Top 25 Online Retailers. H&TT's exclusive annual ranking of the biggest online sellers of home textiles finds that while pure play etailers continue to fly, bricks & clicks are digging into omnichannel. See details!