Suppliers Weigh in on Back-to-School Forecast
BCST Staff, July 27, 2009
This year's back-to-school / back-to-college season, which at most stores already started, is being watched closely by retailers and suppliers alike.
The way shoppers react to product and their spending levels in the coming weeks could very well indicate their spending behavior later this year into the critical fourth quarter.
A recent survey by the National Retail Federation found that total spending on back-to-school and back-to college will reach about $47.5 billion. Spending on school for children in grades kindergarten through 12 is expected to decline 7.7%, but back-to-college shoppers will spend about 3% more this year, or an average of $618.12 per family.
However, in a move expected to be felt in bedding and bath departments, nearly three out of five (58.5%) college students will be living at home this year, compared to 54.1% last year and 49.1% in 2007.
"The trend of students living with their parents will disproportionately impact home furnishings retailers, as fewer people may be purchasing kitchen items, home décor and furniture." said Phil Rist, executive vp, strategic initiatives for Bigresearch, which conducted the survey. Expectations among home textiles suppliers vary. Several suppliers were cautiously optimistic.
"Probably, back-to-school won't be phenomenal," said David Frankel, president, Arlee Home Fashions. "But at least retailers seem to be buying the right amounts of product while still being a little cautious upfront so as to avoid being stuck with leftovers [at the end of the season]."
Most agreed shoppers' tighter budgets will restrict their spending compared to prior years. Consumers will be focused on "essentials," said Hudson Industries svp, Lonnie Scheps.
But others believe parents won't skimp on their children or college-bound teens.
"They may well stay at a Hampton Inn instead of the JW Marriot and rent a compact instead of a full size [car]. But skimp on their child as they are choking back the tears? No way," said Loren Sweet, president of Brentwood Originals.
That was also the view of Marlys Giordano, director of marketing and product development, Momeni.
"Back-to-school season won't suffer the way other areas have," she said. "Parents are sensitive to what is going in the economy and do not want their children to feel the effects of it; they don't want them to think that anything is out of the norm."
Several suppliers shared their outlook on back-to-school as well as the second half of the year.
Arlee Home Fashions, New York
David Frankel, president
"I had some customers who bought lighter than last year and some who bought heavier. I think that's just a function of how they did last year in their back-to-school performance.
"But some customers that I just shipped are asking for more product because they have stores that have already sold out.
"I think it is still too early to tell how the back-to-school season will turn out. I don't expect it to be dramatically different than last year."
Brentwood Originals, Carson, Calif.
Loren Sweet, president
"I can say that back-to-school shops are already set in a number of retailers and will be completed by the end of the month in all retailers.
"Initial point-of-sale selling indicates a good year should be a reasonable expectation.
"Decorative accessories generally stand up better in tough economic times, anyway. When focusing on back-to-school, while it is probably correct to assume there may be some dip in the numbers attending colleges due to tough economic times, I doubt there is any meaningful change in the number of dorm rooms occupied. Parents from Washington to Florida will be heading off to college towns across America and shopping to furnish their [children's] college dorms rooms.
"So I expect a good back-to-school season for my product categories.
"Heading into the fall season, one does not necessarily follow the other. I expect retailers will continue to keep inventories very tight and I do not expect much inventory building as one would expect in a more conventional environment with the approach of the key selling season.
"I think many retailers have been surprised to see how much of their normal sales they can capture on 25% to 30% less inventory. Productivity is showing great improvements.
"Obviously, this fall's sales will be better than last fall's. It was a debacle last year. But by traditional standards I think it will be very challenging but I do think decorative accessories will continue to outpace home."
CHF
Frank Foley, chairman and ceo
"Back-to-school business is on plan still, but it's a bit early to determine its peak. We'll see the real meat in another week."
cmi (Colonial Mills Inc.), Pawtucket, R.I.
Lynn Minchello, marketing director
"Consumers will be looking for back-to-school items that are budget friendly. College students still need basic dorm supplies, furniture, and accessories, and will still want to decorate in style, but they and their parents will be looking to do this on a tighter budget.
"The fourth quarter selling season will also reflect the same budget friendly outlook from consumers. People still want to update their homes, especially in the fall season to get ready for those holiday guests and create an inviting home. But they want to pick items that are effective and efficient."
Creative Bath Products
Bob Weiss, vp, sales and marketing
"We are calling the 2009 back-to-school season the year of the silent school bell.
"Customers are purchasing necessities only, holding on to their cash because they are worried about the recession and job losses. Many consumers are actually saving more than they did a year ago, about 10% more. June jobless rate is now 9.5%, the highest since 1983.
"We are trying to address this problem by offering basic yet colorful and functional bath sets that can all be retailed for less than $10. Creative Bath has about 20 skus that fall under these perimeters."
Ex-Cell Home Fashions/Glenoit LLC
Bruce Batcheller, svp, sales
"We expect to have a strong back-to-school season, despite the unstable sales environment. Most of our products are focused on need items and are priced affordably. In addition, we are approaching a large shift in the number of college students in the market as a lot of the late boomers' kids enter college. With fewer retailer options available, we have worked closely with our key retail partners to ensure a strong season."
Home Source International, Atlanta
Keith Sorgeloos, ceo
"Back to school will probably end up being a bargain hunting expedition as college-bound students and their parents will be searching for all the necessary items needed, but will have a tendency to be purchasing off-price, clearance, closeouts and value-oriented products at best."
Hudson Industries Inc., Richmond, Va.
Lonnie Scheps, svp
"I think BTS '09 will be somewhat more conservative in home as well as fashion ready-to-wear, as that obviously is economy related.
"Let's not fool ourselves — the economic problem is ubiquitous through all levels everywhere in this response.
"We see parents extremely cautious this year in that the more frivolous items are way down on the list of essentials, and may lose out altogether.
"I do believe, though, those items considered essentials' like those for the bed or the dorm room will witness a higher quality customer seeking better product as her essentials list is down. But what she buys will be a more careful investment demonstrating better quality and perhaps a slightly higher ticket.
"All this being said, we feel the back-to-school season may not, this year anyway, be a precursor to the fourth quarter holiday season. I feel the economy will definitely improve by year-end with all the complex stimulus programs kicking in full steam, helping to lower unemployment and the real estate market as well as interest rates."
Louisville Bedding, Louisville, Ky.
Al Farias, vp, sales and marketing
"Back to school this year has had very little action as far as new items. Some stores chose not to participate with new items and simply added more of the planogram goods to pick up the business.
"I suspect that will not give them the edge they had last year and, in fact, they might not anniversary the numbers. Pads, bed pillows and foam toppers have always had a lot of success for the typical back-to-school cycle. But they need to be highlighted, isolated (within a shop) on the selling floor, and with newness. Otherwise you have a tired look.
"The second quarter business ended up flat. But when you look at the folks that were key accounts to our industry, they are no longer in business.
"If business is flat moving into third and fourth quarter, I suspect we should be OK. Our inventories are leaner and under constant review. I also think we are one of the lucky few that we have new things that will launch in August and September with our key retailers.
"The consumer is buying utility products again, and they are entertaining more at home, and I think we should experience a nice rebound.
"I don't have a crystal ball, and we pay experts to predict the future and in some cases they don't get it right. But the way I see the second half of the year, it should be about a 2% to 3% increase in utility bedding against some real good numbers last year."
Maples Rugs
Arnie Stevens, vp
"Back to school will probably be used as a barometer for the year by retailers. If sales are strong, I think there will be more optimism for the fourth quarter. We are looking at the placement and orders for this period to help us measure our business."
Mohawk Home, Sugar Valley, Ga.
Jeffrey Seagle, director of marketing and product merchandising
"We feel quite a few retail partners are somewhat if not very anxious about this upcoming back-to-school season. Inventory control is still key. We have seen several retailers cut or reduce their back-to-school/back-to-college buys due to inventory constraints.
"Across the board, the vast majority of retailers are posting declines in same-store sales. With that in mind, we expect the fourth quarter selling season to be equally as challenging as earlier in the year.
"Clearly, consumers are still very much concerned about unemployment pressures and the strength of the economy as a whole. However, as a positive we do see a continuing trend in consumers retreating to the safety and comfort of their home and investing in products that can positively alter the appearance or comfort within their budget."
Momeni Inc., Carlstadt, N.J.
Marlys Giordano, director of marketing and product development
"As long as there are products out there that are priced right, like a rug for $299, people will continue to invest in their kids and their happiness.
"One thing about the economy is that people want things that have staying power."
Natco Home Product / Central Oriental, West Warwick, RI
Jim Thompson, vp, sales and marketing
"I read in USA Today that back-to-college spending in the home area is expected to be flat to slightly down due to greater percentage of kids living at home while in school. Makes sense. Tuition prices have not leveled off and continue to rise, so a greater percentage of students are attending local colleges where they can live at home.
"With that said, we have been very aggressive with our back-to-school offerings."
Nourison, Saddle Brook, NJ
Paula Paquette, vp, domestics
"I think the back-to-school season will be consistent with the last few months' performance for most retailers. The retailers that will be the most successful this back half of the year will be retailers who have added newness, creativity, and product that will inspire the customer to purchase.
"That usually involves risk taking. And, yes, risk taking is what it will take to get customers to spend money for those that have added value at lower price points. They need to make sure that their marketing plans help them drive the units they need to meet sales expectations.
"There is also room for profit this fall, too. That goes hand in hand with those who are risk takers and are willing to bring in new product that is priced at what the value is in the market. Don't underestimate the customer."
Revere Mills, International Group, Des Plaines, Ill.
Elaine Aschenbrand, director of marketing and product development
"Back to school is just starting to hit, and we are very optimistic that it will be a good season and start momentum for a stronger fourth quarter.
"We are finding that sales continue to grow on packs of like items such as two-pack bath towels, four-pack hand towels and six-pack washcloths. Sales in complete bath sets that contain the bath, hand and wash, continue to slow down."
Related Content By Author
The Countdown to the ICON Honors Continues featuring Christophe Pourny

More Videos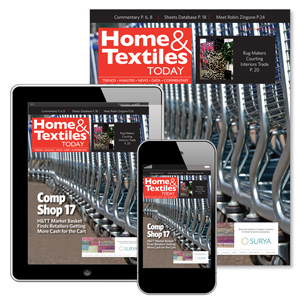 See the May 2017 issue of Home & Textiles Today. In this issue, we discuss our annual Market Basket survey, which finds higher prices and more polyester at leading retailers. See details!