Suppliers: Things Are Looking Up
Carole Sloan, June 1, 2009
Moving forward slightly in sales, but with a number of shifts in market analysis and a new relationship among critical criteria — fashion, value, promotion, and the role of staff support like planning personnel — home textiles suppliers generally are predicting a better second half than first for their businesses.
The supplier side of the industry generally is still reeling — as most business segments are — from the most precipitous recession any have seen. The result for the future, a number of them predict, will see significant changes in the way the home textiles business is handled.
Overall, based on business already booked, or potential programs in the pipeline, the outlook is positive. There apparently will be a key change — a reduction in the quantities per product ordered from the major retail players in favor or selecting more items with the same or similar
Promotions versus fashion goods and basic merchandise will play a more important role in the mid tier to lower price level retailers as they compete to bring traffic into the stores. As a number of supplers observed privately, if they don't have traffic, it's irrelevant how wonderful the basics and fashion products are.
In fashion lines, and especially in bedding, it appears that the ready-to-wear approach of a quick in and out per item will have more power in coming seasons. And as a tie-in with that approach, retailers are looking to do more focused store tests on new products, adding stores only as the item or collection appears to have potential success.
And as a companion piece, suppliers as well as retailers are relying more and more on their planning teams. This is especially evident at the supplier level, where key companies are boosting their planning groups to ensure that forecasting and performance fulfill their commitments.
Avanti Linens
Jeff Kaufman, President and coo
"It feels like we are at or near the bottom of the curve, although it's not clear when we will see the business grow versus remain in a holding pattern. The negatives for the home business are clearly the housing situation, which still doesn't appear to have reached its bottom, and the combination of unemployment, underemployment and overall lack of job security.
"These factors weigh heavily on consumer confidence and will continue to impact our business.
"There are a couple of key positives that should help us in second half. The biggest plus for this fall is that we are up against last fall, when we experienced a dramatic reduction in orders versus actual retail sell-through, particularly in the fourth quarter.
"Retailers now appear to be buying into sales versus reducing inventory levels."
Bardwil Linens
Nancy Kristoff, president, sales and marketing
"It appears business is getting better and hopefully will continue to improve for fall.
"We have seen the solid color business definitely performing better.
"Retailers have safely planned for fall in hopes of cleaner inventories and fewer markdowns this year."
Brentwood Originals
Loren Sweet, president
"I don't see how [this] fall cannot be better than last year.
"Last year the stores literally stopped buying due to the uncertainty. Once retailers realized the meltdown wasn't as bad as feared, they started reordering. If you look at the point-of-sale numbers, the consumer never stopped buying. They bought right through the entire thing.
"So, I feel pretty good since the retailers have continued replenishing and adding new styles and getting productive results. There is no reason — short of war or terror or total collapse of the economy — that business won't improve over fall 2008."
Brumlow Home
Patrick Moyer, president
"We feel pretty optimistic about the second half of 2009. We have been encouraged by discussions we have had recently with our retail partners, and feel like we are already beginning to see signs of improvement at retail.
"The difficult economic climate forced companies to tighten their controls on expenses, trim excess inventory, and streamline their operations. It also forced manufacturers to become more innovative, and to create greater values for consumers.
"At Brumlow Home, we saw this economic downturn as an opportunity to invest in our business and to expand our product offerings. We are excited about being in a unique position to take advantage of the pent-up demand that we believe will be evident during the second half of 2009."
Central Oriental/Natco Home Products
Jim Thompson, vp, sales and marketing
"I think the second half of the year will be better.
"I heard on the radio [recently] that consumer confidence measurements came in much higher than anticipated and consumer confidence is at highest since last September.
"Consumers have obviously tightened spending on non-essential items due to economic fears. So as consumer confidence strengthens, customer traffic will pick up. As more customers come into stores, retailers who have been living off of their inventories will need to replenish stocks for the fall selling season."
CHF Industries
Frank Foley, ceo
"Generally, we see the second half outdoing the first half and recent indications is that there could be a surprisingly good back to school. And recent consumer attitudes are supporting this outlook.
"Retailers are buying enough goods for today's sales levels, both in new goods and reorders. Overall there might be a lower level of assortment changes. New goods introductions depend on the specific retailer."
Croscill
Carl Lagreca, president
"Retailers are still looking to bring in newness but they're testing more for a better 'read' and then they'll expand the item to a larger cross-section of stores. They're going slower in this regard — the risk otherwise is too great.
"Stores still need fashion versus the basics, and some want more input into the development of the product.
"Stores are asking for more promotional goods — in bedding, especially — but bath is getting challenging also. There's always been price point pressure and retail price points are not coming down, and their margins are going up.
"Hopefully this all will turn around."
Ellison
Kevin Finlay, president
"We see a modest increase in the second half, and we experienced a modest increase in the first half.
"Retailers are still cautious. Consumer are reacting to value, and we'll be aggressive with value-oriented goods. Multi-piece bedding and prints are doing better in the bedding area, with 10, 12 and 20 pieces strong. It all depends on the customer."
Elrene Home Fashions
Bryan Siegel, chairman and ceo
"I think it is hard not to be positive for the second half of 2009.
"The last quarter of 2008 was one of the worst economic environments in over 75 years. From a consumer standpoint, it will be very hard to do any worse.
"Most of our problems have been flushed out or at the very least identified. Many solutions are already being implemented.
Foreston Trends
Dick Gould, vp, sales
"We're finding stores being aggressive with their basic plans. Seasonally, stores are a little more cautious. There are no indications the second half is going to have any uptick. I don't see it getting worse but [am] optimistic the fourth quarter will be better."
Home Furnishings International
Amy Bell, executive vp
"There are a number of trends. There definitely is a price sensitivity, but fashion basics, replenishment programs and in and out promotions are important.
"In bedding, we see a trend towards fewer pieces — 6, 8 or 12 — with 8 being the strongest. The 18, 20 and 26 pieces programs are no longer a driving force. The large piece programs are difficult for consumers to handle.
"The situation is definitely challenging, but we're getting a nice response and there's a bit of an uptick now. Price is very much in the forefront — but it's value for price — a lot of bang for the buck.
"At retail, there's guarded optimism. They're cautious and orders aren't as deep. They're writing two styles in the dollar numbers as they would have for one in the past. The key is the right style, price and increasingly the ability to ship on time."
Lintex Linens/Eslma by Cobra
Kurt Hamburger, president and managing director
"There is always some business. Value retailers are finding new customers, and retailers who offer ambiance at high prices are getting what they deserve.
"I don't see substantial change until the third quarter of 2010. Unemployment is still rising, the U.S. auto industry is bankrupt (but they have plenty of company), housing is in the dumps. Try to get a loan — banks are still tender. It's a mess out there. You need money to buy, and people don't have it.
"No major change until third quarter of 2010."
Loftex
Gretchen Dale, president
"Very few programs in towels are now out for bid. Those who were more proactive before the crash in '08 and made changes are doing well.
"Overall it's fairly quiet out there. Since October there have been minimally few new programs. The business is from replenishment, not new goods. As for pricing, as consumers dropped their purchase price points, certain retailers had planned for it and were ready."
Maples Rugs
Arnie Stevens, vp
"We think that the second half will be as tough as the first half.
"However, we hope to maintain and improve our current level of business.
"We see signs of up and down in consumer spending. But we think our products are affordable, and the consumer will respond favorably."
Mohawk Home
Jeffrey Seagle, director of marketing and product merchandising
"We are optimistic about the second half of 2009. We see retail inventories at historically low levels, and any upturn at retail should result in stronger shipments and retail sales. The success at retail is still based on a retailer's ability to manage it's inventory investment.
"With fewer points of distribution [store locations] due to closures over the last 12 months, we see a healthier retail landscape as we come out of the current environment. A focus on 'newness' and product introduction will pay off for those retailers who are investing in advance of any turnaround.
"We see modest improvement at retail and better than modest improvement in shipments as retailers build back to match demand."
Next Creations-Raymond Waites Designs
Michael Vidra, president
"In bedding I see two trends — moving to a ready-to-wear model with newness all the time — small quantities, in and out. And many retailers are looking for value, not necessarily cheap, but a combination of fashion, value and good make. But they also want designs for special buys.
"Many retailers are out of goods and they're scrambling to get goods quickly. In China because of the situation there, lead times from initial planning to shipping have come down to 90 days.
"Looking ahead, I see the third and fourth quarters improving. We've already doubled our bookings. From October to December there was a total freeze, February through April there were few orders, and now people are buying."
Orian Rugs
Paul Sullivan, svp, sales and marketing
"I believe retailers will keep a very sharp eye on their inventory and make every effort to turn the goods as many times as possible. Lower inventories have become a way of life, which increases the need for quick turnaround of new product.
"The numbers don't show a clear sign of recovery until late in the year. We'll see."
Park B. Smith
Park Smith, ceo
"Our business is just starting to turn around. From September to April retailers are concentrating on lowering inventory.
"As for merchandise, if it's good and different, they don't talk about price. It has to be priced right. Pricing is assumed.
"Retailers also are buying less of an item, which is increasing the importance of planners. We have a planning department to follow each project and this creates a lot more partnerships."
Peking Handicraft
Mark Grand, president
"The second half will be tougher than the first half for us. Our first half was well ahead of '08 because of programs already set. In fact, our spring increases were more than planned.
"'Til recently at retail, it was almost negative on every level in fashion bedding. Now some retailers are having some positives in fashion bedding. Function held on to its own versus fashion. It's similar to what happened in housewares, where functional items like cookware and serveware outperformed decorative housewares."
Town and Country Living
David Beyda, chairman
"Overall, with think there will be a soft improvement to consumer confidence, which in turn should help retail sales."
Venus Home
Shiv Shankaran, general manager
"We feel that the end is in sight for the current economic meltdown. With an expected surge in home sales this summer and general confidence in the banking sector, we are cautiously optimistic for fall 2009 and beyond.
"We expect a much improved demand and performance from retailers for soft goods — sheets and towels — but anticipate there will be more pressure to reduce turn-around times. Some retailers may decide later than sooner for more product to come in before retail fiscal yearend.
"We do expect 2010 to be much better and retail business fully back on track and hopefully more by mid year or third quarter."
Welspun USA
Bob Hamilton, marketing director
"We're seeing as a general view some cautious optimism, especially for the fourth quarter. Retail energies are directed to items that have real value versus programs like towels from $5.99 to $7.99, sheet sets from $39 to $59 and comforter sets at $199.
The key is if a product has value that can be seen and recognized — affordable but not necessarily cheap
"Retailers all seem to be fairly optimistic. They've gotten out of marginal items and some have even reduced home textiles retail space."
At the upper end where the company's Christy division focuses, "in recent markets while attendance was down, we wrote business which may suggest a stronger positioning of the survivors."
Related Content By Author
The Countdown to the ICON Honors Continues featuring Christophe Pourny

More Videos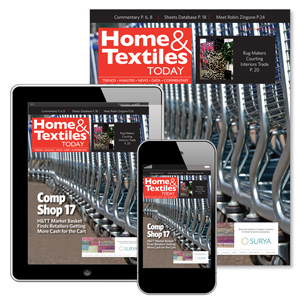 See the May 2017 issue of Home & Textiles Today. In this issue, we discuss our annual Market Basket survey, which finds higher prices and more polyester at leading retailers. See details!