The Kahns and Croscill: 62 Years of Quality and Integrity
Carole Sloan, March 8, 2009
After 62 years, the Kahn family has bid farewell to the world of home textiles. But not before leaving an array of accomplishments in terms of "firsts," personal and business relationships, creativity in identifying both new product and marketing opportunities, a dedication to excellence in products — many of which remain industry icons — and a high level of integrity in business dealings.
They leave behind a home textiles legacy that began with brothers Abe and George Kahn forming Croscill in 1946, splitting from the family company Ellery Curtain that began in 1924. Mike and Stanley — George's sons — later joined the company. The third generation continued the tradition — Mike's sons, David who signed on in the 1980s, and Doug, who joined in 1993. At its peak in 2001, the company had sales of $325 million.
They have a legion of competitors, suppliers and customers who consider the Kahns themselves icons in the business. Some of them speak here.
Sue Kronick, vice chair, Macy's Inc.: "Mike was one of the very first people I met when I was at Bloomingdale's. I was the bedspread buyer. There always was a lot of soul at Croscill, and it emanated from Mike. He had enthusiasm and passion for his products — and his customers. He was also sort of a teddy bear negotiator."
Kronick added, "He taught me a lot about quality and detail, as well as the effectiveness of gentlemanly behavior."
Chip Scala, president-Waverly division, Ellery Homestyles: "My years at Croscill working with Mike, Al Schwartz, Stanley, Herb Schwartz, Dave Talbert and many fine and dedicated people were the most gratifying years for me, and more importantly, personally. It may sound like a cliche. But those of us in the industry at that critical time will look back and state unequivocally that 'those were the golden days,' and Croscill with Mike Kahn's leadership was in the forefront. They were heady days. I will always look back on those days with great feelings and warmth."
Mark Grand, president, Peking Handicraft: "In all the years I was a customer of Croscill [at a number of major retailers], I don't think I ever received a shipment that was 100% complete and on time — yet I loved the company.
"In the halcyon days, doing business with them was a unique and stimulating experience because of the family of great people — and great characters — who worked there, and the enduring relationships that were created. Stimulating, because there was so much great product. It was always a highlight of Market to visit their showroom, and to preview the line in North Carolina. Their attention to design details and quality were famous in the industry, and an ideal for other large suppliers.
"For me, no recollection of Croscill can exclude the memory of my friend David. He is in my heart and I think of him often. In retrospect, I wish the family would have sold the company about five years ago, but Mike, Doug and Carl, and all of their team, past and present, can be proud of the products they created, the legacy they built, and their impact on our industry."
Avi Cohen, principal and ceo, Veratex: "Croscill was my mentor. I always respected them. We needed them in the industry; they were always pushing design, and that was good for the business.
"When David died, I held a memorial for him in my showroom."
Jim Whitehead, svp, Burlington Coat Factory: "Croscill was the epitome of the non-mill mill. Lots of times they were well ahead the curve — in things like licensing, moving into bath and rugs.
"A lot of it was David, as whacky as he was. He had great ideas — some worked, some didn't. But it was refreshing and the product sold. They added details and quality that others didn't — it may have cost more but it sold."
Bob Price, vp, Art Van Furniture: "I met the Kahns in the '80s. The first time I ran into them, I was the manager of Penney in Macon, Ga. and half of Macon's stores had Croscill's comforters on their beds. Then I was one of five regional managers; we came to Penney's New York headquarters to plan advertising and I was impressed with how professional they were.
"In 1992, I became a catalog ready-made drapery buyer and found out why they were best in their class. They had no parallel."
Norman Axelrod, former ceo Linens 'n Things, corporate consultant: "Over the long run, they were consistent. It is a remarkable story.
"It goes back to Mike. He has to be the most charismatic businessman and he loves the curtain business, and they were the best in the business. They had a consistent drive for fashion and quality that they didn't compromise. I give a lot of credit to David in that regard.
"Then Mike and Stanley trusted the business to two bright kids and they grew and improved the business model. I give real credit to Mike, who gave David and Doug real authority. David was a character and understood the business. Doug headed the organizational side. They understood the Croscill brand and wouldn't compromise.
"They expanded operationally and David and Doug did a better job than Mike could have done. It's amazing how consistent they were for as long as they were."
Randy Trull, designer, former head of design at Croscill: " I was the first non-family member to be an officer of the company. Mike was my friend and certainly supported and encouraged me. He made my career possible — it was like a big family and I was a member.
"Stanley and I were really friends, and we ended up really close to each other. I know the whole family and Stanley is by far the smartest — he's brilliant, the brains. He was the numbers man. I could know in a minute how much I could sell something for.
"Mike was the marketing person, the front man. We fought all the time and his favorite phrase was I run a dictatorship.' Arsenic & Old Lace was a big winner. Mike and I had a fight about it because we had to buy 10,000 yards. Then Macy's bought it and it became the biggest item they had. I never let Mike forget it.
"In the early '70s, there was another fight. This was Old Colony, a natural colored spread with fringe trim and a colored dust ruffle."
Nancy Busher, buyer, Burlington Coat Factory: "They always were in the forefront of fashion, and they had some great winners. They made a huge contribution to manufacturing, styling and quality and have been a fixture in the business for years.
"Certainly their leadership will be missed."
Dave Talbert, retired home textiles senior executive: "I'm one of the few people who worked for the three generations of Kahns. George, Mike and David were completely different personalities. George set up the business, including the ethics and the factory floor standards. Mike was a real salesman, a genius at selling and marketing — a natural in the curtain business."
From a quality perspective, Talbert noted, "They made the best product in the industry. They threw product into the seconds when others wouldn't.
"Stanley joined the business in 1962 from Boeing, and he did the costing with George and Mike in their areas. They were a great team.
"David joined the company in '86 and he had parts of the business, and later worked deeply in all aspects of the business. His idea for the Croscill shops greatly expanded the business. By 1999, the business was doing $300 million, vs. $5 million when he joined the company."
Alan Holland, senior marketing manager, window, JCPenney: "Mile and I go back about 40 years when I started as drapery buyer at Gimbels New York. Croscill and the Kahns were one of my first mentors. Abe and Al Schwartz taught me a lot — how to run the business, the importance of relationships, doing business and having fun doing it — and equally important, at the end of the day being able to walk away from the business as friends. I'm truly glad I had that relationship.
"Overall, they set a standard that other people strived to achieve."
Frank Foley, ceo, CHF Industries: "In '85, Croscill wasn't in the sheet business, and J.P. Stevens (where I was) wasn't in curtains and Stevens was one of the market's largest suppliers. I took over sheets in '85, met Mike and did a cross-licensing deal with windows, comforters and sheets. One result was Chestnut Hill, a huge long-term, long-running pattern at JCPenney.
"I consider the Kahns friends. I had a very good relationship with David and I was very close to Mike and Joan.
"Croscill and the Kahns were long supporters of the HFPA and received the Marvin Rosenberg award. The industry will miss them."
Carl Legreca, president, Croscill: "The family really appreciated product. They were constantly so proud of their product, and they strived to do better than their competitors. David was a genius and a down to earth businessman — he never fooled himself about his competition. David was unconventional, which was part of his charm. There was some eccentricity.
"All the time, the Kahns gave me their full support to be the authority and grow the business. The Kahns always listened to other points of view, then they would make a decision. They respected people's points of view.
"Another important element is their integrity. They valued suppliers so much. Because of it, for so many years we got first choice. Their fairness made the company special even though it grew to be a big business."
Dale Talbert, home textiles executive: "My father, my brother Michael and I considered them icons. There was one instance I will never forget. While the company had had a good year, because of certain circumstances some of the sales reps suffered because of some competitive issues. Mike sent around a year-end letter — different for each person — and enclosed a check to make up for it. I couldn't work anywhere else.
"Mike and Stanley were the ultimate combination. Stanley was a rocket scientist. Al Schwartz only worked for Croscill in his life and became national sales manager. With Stanley in the background, it was Mike, Al and Chip Scala running the company out front.
"David took the company to heights Mike didn't even think existed. He could be wacky but he was smart. He should get lots of credit for starting the shops, slat wall programs and other innovations."
Buddy Aldrich, owner, Southern Quilting: "Our relationship started in 1959 and I had a good, strong relationship with George and Abe. George was brilliant; Abe was a good business man. I did business with them as a quilter and contractor and eventually I became the largest quilter/contractor in the country.
"They had a drapery plant in Durham, N.C. and I convinced Abe to build a plant in Henderson, N.C. near mine.
"I feel very close to the family. Stanley was the best man at my wedding and Mike and Joan had a party for us.
"On the business side, Stanley's contribution to the business is cerebral, he's a numbers man and has an unmeasurable IQ. Mike is a marketing genius."
Related Content By Author
Live From New York: Fashion Comes Across the Pond

More Videos
Subscribe to
Home & Textiles Today eDaily
Receive the news you need to know about the trends in the industry delivered right to your inbox.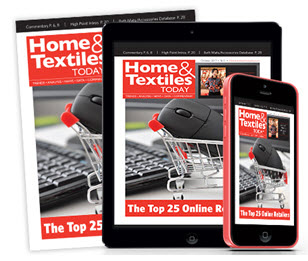 See the October 2017 issue of Home & Textiles Today. In this issue, we look at the Top 25 Online Retailers. H&TT's exclusive annual ranking of the biggest online sellers of home textiles finds that while pure play etailers continue to fly, bricks & clicks are digging into omnichannel. See details!