What's New at the Atlanta Rug Show
828 INTERNATIONAL TRADING CO.
Greenville, S.C. (800) 733-0828
Showrooms 6-F-1 and 6-F-3
The new Laguna collection is what 828 describes as an infusion of rich, ripe color and striking details on a 12-rug assortment of point-on-point constructed rugs featuring drop-stitch weaving to enhance the texture and look. They are power-loomed of heat-set polypropylene.
Color schemes include rusts, greens, golden-yellows, and creams. Sizes include runners through 8-by-11 room size rugs. The suggested retail price is $299 for a 5-foot-by-8-foot.
BALTA U.S., INC.
Dalton, Ga. (800) 549-0620
Showroom 3-D-7
Balta U.S. is introducing its Curio collection, a grouping of dining room and kitchen rugs featuring designs inspired by vintage kitchen motifs.
Balta's intentions were to create a broad but cohesive collection, and the company studied vintage hand towels, tablecloths, dresses, wallpaper, nostalgic icons for the home, and even cross stitch patterns to achieve the looks.
The pieces are made of 100% polypropylene, and are tightly woven for under-table use. They can be cleaned with a damp cloth.
The 15 rugs in the collection are being offered in five sizes, from 21-inch-by-34-inch to 8-foot-by-11-foot. Rugs are available in basil green, pecan brown, deep apple, black licorice, and honey.
COURISTAN
Fort Lee, N.J. (800) 223-6186
Showroom 6-D-11
The new Bauhaus collection is a selection of artfully crafted area rugs inspired by traditional floor covering motifs. Each of the designs features 14 different colors in deep, vibrant hues. The rugs are made of 100% heat-set Courtron polypropylene, a trademarked proprietary fiber, and feature viscose silk detailing. They are finely woven with a highly-advanced power-loom technique. The thick pile offers 1.5 million points per square meter.
The Persian Romances collection is a classic line of hand-crafted Persian-inspired area rugs. The artisan qualities of old-world designs are elegantly captured in these visually authentic yet affordably priced designs. Made of 100% pure cut-pile wool, these rugs are decorated with Persian floral and vine motifs. The wool is spaced-dyed to create a unique abrashed effect that provides depth of color, a spectrum which includes reds, warm browns, icy blues and various ebony tones.
The Rythmia collection appeals to more modern décor tastes with its abstract designs based on unique shapes and patterns. Constructed of 80% wool, with viscose silk highlights, these hand-knotted area rugs have a dense yet soft pile. The palette includes rustic golds, rich sage greens, and deep reds.
Zen Garden is a collection is made up of hand-loomed area rugs featuring organic colors. Finely woven with a blend of New Zealand and Bikaner wools, Zen Garden designs have hand-carved details which create an embossed, hi-low effect throughout the surface. Each rug is precisely hand-loomed. The un-dyed wool is woven in various geometric shapes, including circles, spirals and waves.
FEIZY RUGS
Dallas (214) 747-6000
Showroom 5-B-1
The playful designs of the Iota collection feature monochromatic hues of wool and faux silk combined with hand-carved detailing to create contemporary designs. The suggested retail price for a 5-foot-by-8-foot is $350.
The Wrangler Home collection is growing with more comfortable designs for casual, All-American type lifestyles. New to this line is the Taylor collection, made using premium quality woolen yarns and featuring contemporary casual patterns. The suggested retail price for a 5-foot-by-8-foot is $390.
New to the Fine Rug collection in hand-knotted constructions is the Onon collection of contemporary designs skillfully created using the Tibetan hand-knotting technique. Hand-carded Tibetan wool and silk are employed in these rugs, as is a hand wash for a rich patina. Finally, hand-carving provides additional visual impact.
The color palette includes earthy browns, soft greens, and tranquil beiges. The suggested retail of a 5-foot-by-8-foot is $2,080.
GULISTAN
Pinehurst, N.C. (910) 639-3983
Showroom 3-C-1
The two new collections debuting are Essex and Casa, and the company is expanding its design offerings for its Marlboro House collection.
Essex is a plush solid color grouping of hand knotted rugs made of 100% New Zealand wool. The thick pile here takes the "shag rug" category to new levels of sophistication. These rugs come in seven colors — ivory, twig, stone, ebony, field, claret and sky.
Casa rugs are also made of New Zealand wool but also employ silk. This, too, is another version of the popular shag, except Casa rugs are hand tufted. Five solid colors are offered: cloud, sand, twig, field and bark.
The seven new designs being added to the Marlboro House collection comprise dramatic Persian patterns created with velvet washed New Zealand wool that is hand tufted in shades of claret, loden, curry and midnight. They are an expansion of the original traditional offerings in this group.
HAROUNIAN RUGS INTERNATIONAL
New York (212) 213-3330
Showroom 6-A-1
Eden Park is a China-made, hand-tufted collection of 100% wool rugs accented with viscose highlights of the modern Nepalese-inspired designs.
The Mahal collection is hand-knotted and woven in India, made of 100% wool and featuring trendy colorways on these antique replicas.
KARASTAN
Sugar Valley, Ga. (800) 843-4473
Showroom 3-A-1
Karastan's latest introductions center around fresh-air creams, yellows, blues, greens and browns patterned into designs inspired by peaceful settings and motifs.
The Artworks collection is from the Studio by Karastan series. It comprises spirited patterns, shimmering accents and strong textural qualities to allow these pieces to lend themselves to a variety of lifestyle applications.
Rugs in Artworks are handmade of wool with specialty accent yarns that create alluring effects and feature hand-carved decorative details. Contrasts of cut-and-loop yarns further enhance the texture and dimension of these rugs.
The Sierra Mar collection includes relaxed patterns in weathered, easy-to-live-with colors that marry well to many of Karastan's new broadloom and roll-runner styles. New to this New Zealand wool collection is Sedona Ivory-Limestone, featuring an ivory field of small palms and vines.
KAS RUGS
Somerset, N.J. (800) 967-4254
Showroom 4-D-2
Kas is expanding its popular Catalina collection of hand-tufted and hand-carved wool rugs from China with some new patterns. Included is Ivory Mums, one of more than 25 large-scale florals, all available in six sizes from scatter to room size.
The new Chateau collection is being debuted. These hand-tufted wool rugs come in more than 15 damask designs, all in various colorways. Each rug is available in seven sizes from scatter to room size.
MERIDA MERIDIAN
Boston (617) 239-7446
Showroom 9-E-13
The company has created its new Viewpoint collection using a proprietary flat woven technique. Designed and woven at the company's Fall River, Mass., facility, this collection features a face of 100% New Zealand wool with a synthetic warp material for strength and durability. The collection comprises more than 30 patterns and 150 colorways.
The new Dimensions collection is designed with a textural, 3-D effect achieved by overlapping existing popular Viewpoint designs. Five styles in soft, subtle color combinations add sophistication to this collection with understated neutral tones that can easily transition across many interiors.
The Textura collection has been enhanced with two new designs — Links and Pipeline. The rugs, like the rest of the collection, are woven in Belgium and use high-quality sisal fiber for added texture.
Within Viewpoint, which Merida originally introduced in 2004, are collections filled with flat-woven variations of floral and geometric patterns. Dimensions is the latest addition to the Viewpoint family, and it includes five new designs and four colorways. Merida created Dimensions by overlapping patterns from existing Viewpoint styles, which gives the rugs an intriguing 3-D quality. Soothing shades of plum, blue, yellow and green soften the patterns and complement the comforting qualities of its cut-and-loop texture.
MILLIKEN
LaGrange, Ga. (800) 241-8666
Showroom 6-E-3
Milliken combines its high-color design with its innovative new Odyssey backing to create its new Surface Visions collection, a grouping of stylish indoor/outdoor rugs suitable for coastal or casual homes. There are 18 floral and botanical designs that make up the Patio Collection of Surface Visions and there are four whimsical summer and sunset-inspired designs that make up the Beach Collection of Surface Visions.
The Odyssey backing is a revolutionary new polyurethane backing system that when placed indoors acts like an anti-fatigue rug pad and non-skid gripper on hard surfaces.
The Surface Vision rugs are washable and are made 100% out of the trademarked Premium Wear Nylon that absorbs water and dries fast. All rugs are treated with the trademarked KMT stain resist technology for durable stain-resistant patterns and enhanced lightfast properties.
MOMENI
New York (212) 532-9577
Showroom 5-B-4
Momeni's two new collections both carry the Wools of New Zealand brand.
The first is the Nolita collection, named after and inspired by this Manhattan neighborhood. Its patterns center on oversized, contemporary motifs that are colored in contrasting hues like red, black and white. Nolita is power-loomed on Momeni's new 10-frame loom and finished with hand-carved details and hand-surged edges.
The second is the Ladiq collection, a grouping of power-loomed rugs that evoke a sense of the past. The patterns are inspired by rare Turkish antiques. Over-twisted New Zealand wool yarns give the rugs a hand-knotted look that is enhanced with abrashed effects and hand-surged edges.
NOURISON
Saddle Brook, N.J. (201) 368-6900
Showrooms 3-F-2 and 3-S-1
Handmade area rugs in marble-colored shags comprise the new Fantasia Collection — made of 50% wool, 20% polypropylene, and 30% cotton. Faux leather lanyards woven with twines make up the rugs in the Horizon Twines collection. And new Persian tufted hook rugs create the Summit Point collection.
These, along with other recent introductions feature unique patented synthetic fibers.
Also unveiling at market is a new tagline — "Live on Fashion!" — that Nourison will add to a series of advertisements and editorial placement in national consumer publications. The campaign also extends to Nourison's newer commercial and hospitality divisions.
A series of eco-friendly collections beginning with Taos will be supported by marketing that follows the process of making rugs of all natural materials, from the family farmers of cottons and wools all the way to the end consumer, defining the process as "Global Village" thinking.
The campaigns will preview in showrooms in July and then launch to consumers.
ORIAN RUGS
Anderson, S.C. (864) 224-0271
Showroom 3-A-11
The popular Patio collection of indoor/outdoor rugs is being expanded with 25 new patterns and colors. These 100% synthetic rugs are resistant to all weather conditions, fading and staining, and they will not retain odors. They are color fast, so they will not harm flooring surfaces.
Orian's other very popular collection, Shakespeare, is adding 25 new patterns.
These rugs are inspired by the classic, hand-woven oriental rugs from Persia. Each has up to 1.5 million design points, packed into every square meter of each rug.
SHAW LIVING
Dalton, Ga. (706) 965-0954
Showroom 6-A-2
Shaw has several new collections set to debut.
Impressions is a collection of modern designs, spanning organic to geometric, that have sculpted effects for texture and hand. Made of lustrous olefin, these rugs feature a bold color palette of brilliant reds, clean shades of soft green, oceanic blue, deep purple, espresso brown, and golden shades of ivory. Patterns include: Brazil, a tropical design in organic colors; Encore, a modern interpretation of a traditional floral damask motif, depicted in contrasting colors; Sunglow, a sophisticated yet simple leaf pattern; and Vibe, a linear look in a soft palette.
The Accents collection is machine woven of heat-set olefin fiber, making it durable and resistant to soil and stains. Its palette includes earth tones combined with jewel tones. Patterns include: Calypso, a casual and modern tropical design featuring large-scaled fronds and striations of color; Galaxy, which pairs multi-colored blocks with organic shapes for a retro feel; and Mystique, a diagonal linear look in bold and neutral shades.
Transitions is a new collection of transitional and contemporary rugs featuring rich reds, warm neutrals, golds and soft greens accented with eggplant, brown, onyx, beige and vintage blue. It includes patterns like: Impulse, a whimsical interpretation of modern design; Aruba, an over-scaled leaf pattern in a brick background for a contemporary twist on tropical design; Cosmic, an organic circular design; and Delray, a casual tropical motif.
ModernWorks is what Shaw describes at its "latest artistic expression for the floor." This 17-design collection — which includes over-scaled damask, clean-lined geometric, circle, silhouette floral, animal print, striped organic vine, modern scroll and early 20th century retro modern looks — is created using Shaw's proprietary EverTouch nylon. Some patterns include: Biometric, a contemporary look with global inspiration, drawing from hand-dyed textiles; Aura, a playful ellipses; and Karina, a combination of soft silhouette florals and tinted neutrals.
SAFAVIEH
New York (212) 683-8399
Showroom 4-B-2
Safavieh introducing is second collection with designer Thomas O'Brien.
The new program comprises some area rugs made of 100% wool and others that are made of wool-with-silk blends. All are made in Nepal.
O'Brien's inspiration for these new rugs stems from his unusual textile-based patterns. He uses as the design point of reference vintage cloth, including pieces collected from many cultures, as well as from related categories such as garment fabrics. O'Brien also taps the bold geometric carpet traditions of North Africa and Scandinavia, in lieu of the more formal style of many traditional Eastern genres.
Branchy florals akin to vintage Japanese prints, feathery batik medallions, and a broad range of Moroccan-inspired stripes and diamond grids also come to play in the new line.
In this group, O'Brien takes a longer leap into geometrics. Many of the new carpets are derived from a 1920s studio book of pottery patterns — including trellises, bands and grids that relate to the designer's use of Moroccan motifs. Design names include Martine, Mari, Palma, Austin, Natalie and Calliope.
SPHINX BY ORIENTAL WEAVERS
Dalton, Ga. (800) 832-8020
Showroom 3-A-2
Sphinx is adding several new designs to its popular Andy Warhol Home collection as well as offering additions to its ever-popular Ariana, Luxor and Allure collections. The recently introduced Bentley collection will also make its first appearance in Atlanta.
Introduced in 2004, the Andy Warhol Home collection is being expanded with an assortment of both machine-made and handmade rugs that draw in design from the bold black, white, and red trends found in both home décor and ready-to-wear fashion, as well as the subtle shading and softer tones that are reflective of current contemporary area rug trends. Machine-made patterns are made of 100% heat-set polypropylene with hand-carving and handcrafted patterns are made of 100% wool.
The Persian carpet inspired Ariana collection featuring a million-plus point construction of 100% heat-set polypropylene now boasts 12 new designs reflecting not only current design trends which utilize larger elements and more open fields, but also the heritage of finely crafted heirlooms.
Also being introduced this market are line additions to the Allure and Luxor collections.
SURYA CARPET INC.
Calhoun, Ga. (706) 625-4823
Showroom 6-A-7
The new Transitions collection is made up of 11-mm pile height rugs are machine woven in Egypt of heat-set polypropylene.
Earth collection rugs are in updated traditional looks. These are machine-made pieces made of 100% synthetic fibers making them resistant to stains.
Timeless is a grouping of hand-knotted rugs inspired by ancient Persian floor coverings. They are made of New Zealand wool.
Shibui comprises woolen Tibetan woven rugs in urban looks. They feature silk highlights. These rugs are made in India.
Sonora rugs are hand-knotted in India of 100% worsted New Zealand wool. Designs are simple and sophisticated.
Surya is also introducing several other new collections as well as additional designs to popular existing collections.
TRANS-OCEAN
White Plains, N.Y. (914) 949-5656
Showroom 6-C-9
The highlight this market for Trans-Ocean is the Spello collection under the Liora by Liora Manné program. These indoor and outdoor rugs are hand-tufted in China of 50% polypropylene and 50% mod-acrylic fibers.
They are available in six sizes from accent through area dimensions as well as a runner.
The company is also showing six other indoor/outdoor collections, including Capri, Terrace, Madeira, Patio, and Ravella — all of which carry the Every Wear label.
Related Content By Author
Live From New York: Fashion Comes Across the Pond

More Videos
Subscribe to
Home & Textiles Today eDaily
Receive the news you need to know about the trends in the industry delivered right to your inbox.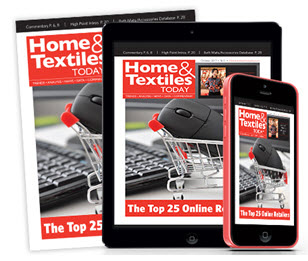 See the October 2017 issue of Home & Textiles Today. In this issue, we look at the Top 25 Online Retailers. H&TT's exclusive annual ranking of the biggest online sellers of home textiles finds that while pure play etailers continue to fly, bricks & clicks are digging into omnichannel. See details!