Atlanta Rug Introductions
828 INTERNATIONAL TRADING CO.
Greenville, S.C. (800) 733-0828
The new Watercolors collection draws its inspiration from American and Indian artwork with brushstrokes in an autumnal palette. The series features looks that are meant to blur the lines between modern and transitional styling via special dyeing techniques and hand-carved details for color depth in each abstract design.
The Watercolors rugs are hand-tufted in India of premium wool. There are eight patterns offered in 4-by-6 through 9-by-12 sizes. A 5-by-8 is set to retail for $299.
828 is introducing this new collection as well as new offerings in its other constructions, including hand-knotted, hand-tufted, hand-hooked and power-loomed rugs.
BALTA US
Dalton, Ga. (706) 278-8008
Balta US is taking its Urban Chic collection in new directions this market. Drawing from Safari themes and the skin patterns of wild cats and zebras, the new offering interprets some of nature's designs in contemporary styles.
There are eight designs — two examples being Traveler and Zoological — made specifically for the American market in the collection, while the company's Belgian parent offers an additional 24 looks to flesh out the line. Sizes range from 5-by-8 to 8-by-11. Each piece is surged and sheared.
CAPEL INC.
Troy, N.C. (800) 334-3711
Among the many new introductions for this market are the headliners Artscapes and Varuna Zieglar, as well as Chintz Garden and a palette of new tropical colors titled Tropicale.
Artscapes mixes modern designs with ancient techniques to achieve the company's latest contemporary hand-knotted collection. It is made of 100% wool and is hand knotted in an Indo-Nepal weave for a silk-like finish. Available colors are willow green, ciel (sky) blue and canyon red. A 5-by-8 is set to retail for $1,099.
Varuna Zieglar is a grouping of hand tufted designs from a high-end manufacturer in India. These rugs employ a blend of elite Indian wools and each piece is washed and hand-sheared for a smooth finish and a clear design. The nine color combinations are: sage/coral, flannel/cream, black/gold, black/beige, chambray/cream, spice/gold, cream/sage, beige/gold, and chocolate/cream. A 5-by-8 is set to retail for $559.
COURISTAN
Fort Lee, N.J. (201) 585-8500
The Turkey-made Anatolia collection of traditional Persian floral motif rugs are power-loomed, made of 100% heat-set Coutron polypropylene, the company's own trademarked fiber product. It is cross-woven on Wilton looms and space-dyed for a subtle abrashed effect.
Dynasty is a collection of blended New Zealand wool rugs depicting traditional Persian motifs in large-scale patterns. The construction of these rugs is dense cut-pile, hand-crafted in India.
The Eden collection comprises all-over large-scale floral patterns interpreted on 100% semi-worsted New Zealand wool rugs. These pieces are made in a textured cut-and-loop pile and are hand-knotted in an Indo-Nepalese weave.
Impressions rugs are hand-knotted in India in an Indo-Nepalese weave. Made of 70% New Zealand semi-worsted wool and 30% Tibetan wool with viscose highlights, these rugs feature transitional, versatile patterns in earthy colorways.
The Kenya collection of Indian wool and viscose blended rugs feature cut-and-loop pile texture patterns in earth tones. Each rug is handcrafted in India.
The Yasmin collection is a blend of wool and silk rugs in a neutral palette with black highlights on select designs. Made in China, these rugs are hand-crafted and use a space-dyed yarn for an abrashed effect.
FEIZY IMPORTS & EXPORTS
Dallas (214) 747-6000
The Montmartre collection is the latest collaboration between artist Tracy Porter and Feizy. The seven designs here — including oversized florals and Asian-inspired screen designs — are hand tufted in premium Seridian wool — a blend of Italian and Argentine wools. The hard twist pile has been antique washed.
Three new designs have been added to the Natasha collection, a group of rugs inspired by the highly decorative motifs found in 19th century Russian Folk Art. Each design is hand tufted in a blend of New Zealand and other fibers.
The Havana collection is hand braided using hand spun jute. Indochine is a collection of plush and luxurious shag rugs with sheen. The Domus collection is another shag offering that has been hand loomed with wool loops and polyester. The sheen of the polyester pile plays against the wool loops to create textural interest.
The Knox collection for both indoor and outdoor use is a poly-sisal boucle weave featuring a breathable backing to allow water to drain through the rug. Each rug is surrounded by a two-inch wide polyester border that looks and feels just like cotton, but is weather-safe.
In addition to these collections, Feizy is also introducing three new Turkish machine-made collections — one made entirely of faux silk and two made of a polypropylene/faux silk blend.
HELLENIC RUG IMPORTS
Brooklyn, N.Y. (718) 260-9282
Hellenic is celebrating its 20th anniversary by adding 150 new rugs to its line, representing the company's largest launch of new rugs since 1988 when it was founded.
Headlining these are additions to the designer line with decorator and HGTV star Candice Olson. There are 21 new rugs —13 transitional looks with urban style décor in mind, and eight traditional. The transitional rugs are made in a wool and silk blend for a tonal effect.
The new traditional designs are wool and constructed in a 100-lines hard twist, hand-tufted construction to give the open patterns high definition.
In contemporary styles, Hellenic is adding 30 new looks in various hand-tufted qualities. Patterns include circular motifs, squares and abstract designs using teals, blues, greens and browns. Techniques and materials here include high-low constructions, different wool yarn counts, viscose and other elements.
There are 15 new transitional offerings in wool hand-tufted varieties.
The continually growing lodge look is also being expanded upon with new designs of hand tufted styles featuring deer, bears, pine cones, fish, canoes and other related motifs. On that same page is the Outdoor Living collection, comprising synthetic wool-like fiber rugs made in a hand-tufted and carved construction, as well as new Kilim rugs in 10 Southwest wool tufted styles.
New traditional tufted rugs represent Hellenic's largest revamping effort this market: The company is building on its popular Wonders of the World line with 25 new looks.
The hand-knotted traditional category is being anted as well with Hellenic's debut of its Hard Twist 9/9 construction and its Antique Serape collection. The hard twist is in open patterns and features in earth tones with the use of high quality New Zealand wool. Antique Serape comprises reproductions of vintage Mexican serape shawls. Each piece is made of 100% wool and is stone washed for an antique finish.
Hellenic's growing Indoor/Outdoor program, which the company launched in October, is expanding with new hand-hooked rugs made of 100% polypropylene. They come in tropical, transitional and contemporary designs.
HOME COMFORT
Atlanta (770) 452-1155
Home Comfort is expanding its popular Peacock Shag collection with five new "sparkling" color combinations, including Sparkling Topaz, a cool combination of turquoise blue and jade green, and Pink Tourmaline, which mixes cheery shades of pink with white.
This brings Peacock Shag's assortment to 10 brilliant palettes that are the source of inspiration behind the company's nickname for the line: "jewelry for the floor."
These rugs are available in two sizes — 22-inch-by-34-inch and 3-foot-6-inch-by-5-foot-6-inch. They are priced to retail, respectively, at $59.95 and $249.95.
JAIPUR RUGS INC.
Atlanta (404) 351-2360
Mother Earth is the muse for Jaipur this market, as demonstrated in two of its new collections, both eco-friendly. Reggae is a group of India-made 100% hand-spun and hand-knotted hemp rugs.
The Calypso collection comprises rugs made of 100% jute; they are woven and looped.
Both collections are part of a series of rugs Jaipur is creating to both answer the call for more environmentally friendly product and do its part as a company to work with renewable biomass material to create sustainable products.
KALEEN RUGS
Dalton, Ga. (888) 452-5336
Kaleen is debuting its recently forged partnership with Food Network TV chef Paula Deen. There are three collections for this program.
Paula Deen Home and Porch is an indoor/outdoor grouping of 100% polypropylene rugs in 16 designs in transitional patterns.
Paula Deen Comfort rugs represent the company's first machine-made product, available in 16 transitional designs. They are side woven polypropylene with space-dyed yarns for a sophisticated coloration.
The third collection is Paula Deen Picks, which comprises hand-tufted rugs made of 100% wool that have an Oushak-inspired construction and married it with nub yarns.
KARASTAN
Dalton, Ga. (800) 843-4473
Karastan's latest rug offerings translate classic designs into modern fashions.
Villa Veneto from Karastan's Antique Legends Collection features new techniques for the woven rug category with a crosshatch effect, achieving what the company described as the most authentic antique look it has ever produced. Upon looking closely at Karastan Axminster Villa Veneto, one sees both horizontal and vertical striations, creating a visual texture achieved by using dozens of meticulously placed colors. Villa Veneto was inspired by a hand-knotted Sultanabad design; it is made of fully worsted New Zealand wool.
Mandara is the newest member of Karastan's top-selling Shapura collection. Axminster woven of fully worsted New Zealand wool, its classically interpreted design of palmettes and vines are combined with a four-color putty coloration that composes Mandara's stria ground. This new neutral is a medley of taupe and gray that can pair elegantly with Mandara's limestone and brick accents.
Ravenna brews the new mocha brown colorway into Karastan's Ashara Collection. This addition features large-scale motifs and an open ground. It employs an Axminster weave made of fully worsted New Zealand wool.
Villa Veneto, Mandara and Ravenna have been approved to carry the Wools of New Zealand Brand. In addition to standard sizes, each can be hand-seamed to create custom-size rugs.
Other introductions include: Plum Blossom Maize and Tradewinds, two hand-crafted rugs from the Studio by Karastan Artworks Collection.
KAS RUGS
Somerset, N.J. (732) 545-1900
The new Sahara collection is made up of exotic animal prints. Available in scatter to area rug sizes, there are more than 10 patterns, all hand-tufted and made of wool in India. Another new collection is Elements, a group of machine-made polypropylene shag rugs set to retail for $299 for a 5-by-8.
Eternity multi-textured hand-tufted rugs in high density wool comprise a third new collection showing at market. Among the styles is a new color combination Kas calls Citron Wave. This collection, too, comes in accent and area sizes.
MILLIKEN RUGS
LaGrange, Ga. (800) 241-8666
There are eight collections by Milliken in the spotlight this market.
The Don Sawyer collection comprises 12 rugs designed by this artist who employs whimsical and colorful patterns inspired from island life. It includes indoor and outdoor styles.
The Guy Harvey collection of 18 rugs depicts the work ofthis sea-life-inspired artist. Motifs include fish and underwater reef colors. Of these, 10 designs come in indoor/outdoor varieties.
Remington Vintage Designs is a grouping of 31 rugs that beckon the old Remington advertisements of hunting championship dog portraits and the popular Remington character Duke.
Lake Series Connections are 10 to 14 contemporary and layered designs on both a velvet base and a Wilton loop construction.
The My Team Collegiate Rugs collection is being expanded to include college basketball fans. Rugs with realistic wooden basketball court looks and specific team logos are included in this new program.
Major League Baseball Team Spirit Rugs are another continuation of what Milliken described as its "winning streak" with sports rugs. The company adds the 30 MLB teams.
Holiday Rugs by R.J. McDonald are also being expanded with five new Santa designs of McDonald's happy and colorful St. Nick patterns.
Finally, eight new activity rugs for kids' rooms, play rooms and bonus rooms are being shown. They feature lighthearted recreational motifs.
MOHAWK SELECT
Sugar Valley, Ga. (800) 843-4473
This Mohawk Home business unit serving furniture stores and floor covering dealers is introducing two new collections.
The Textura collection comprises 100% nylon, Chromajet-printed pieces in loop and cut-pile construction for a high-low texture. The six to eight patterns are modern and employ dark and light neutral tones, concentrating on chocolates and other browns. A 5-by-8 is poised to retail for $149 to $199.
Foundations is a collection of 100% olefin rugs made using beefy, heavy yarns, making the group one of the company's heaviest collections to date. Up to eight patterns, most of them contemporary but including some traditional, feature a neutral ground accented with bright hues like red and turquoise. A 5-by-8 is set to retail for $229.
Also new is the addition of floor mats — indoor comfort kitchen mats and outdoor recycled rubber door mats — to Mohawk Select's offerings. Sizes range from 18 inches by 30 inches through 23-by-35.
MOMENI
New York (212) 532-9577
Some of the new collections this market include: Millennium, a group of needlepoint-like hand-woven wool rugs depicting geometric motifs in 100% silk; Arts & Crafts, a hand-knotted collection of antique-washed rugs inspired by the early 19th century art movement; Serengeti, comprising hand-tufted rugs that resemble the beautiful animal prints found in the African bush; and new printed rugs in a variety of organic, transitional and modern designs, each employing ink-jet technology on an acrylic base for a striking finish.
Designs have been added to the Desert Gabbeh, Elements, New Wave, Transitions and Veranda collections, among others, and a fresh and unique hand-picked selection of one-of-a-kind rugs will also be available in addition to market specials.
NOURISON
Saddle Brook, N.J.
(201) 368-6900
Nourison has a plethora of new rugs lined up for market, stemming from its own branded line as well from its designer programs with Liz Claiborne and Calvin Klein.
Under the Nourison label are additions to Reflections, Silk Pointe and Nourtex Expressions.
Reflections brings the best qualities of Nourison's traditional signature collections to contemporary designs. These rugs are hand-tufted in China of 100% New Zealand wool blended with silk throughout on each piece.
The handmade Silk Pointe collection comprises luxury pieces made in China of 100% New Zealand wool and silk and employs the patented Nourmak weave construction for a worn, heirloom look.
Nourtex Expressions uses the company's own trademarked Opulon yarns for a densely woven, luxury pile with long-lasting color retention. Designs for this machine-made collection from China are modern and are accented with hand-carved lines and a rich blend of colors.
To the Calvin Klein Home program, the Pulse collection is being added. Pulse is woven of fine hand-sheared and hand-spun wool yarn. This collection of rugs is made from all natural, eco-friendly materials — a cotton foundation and special vegetable dyed wool that is hand-woven to create a design of subtle tones and textures.
For the Liz Claiborne lines, there are additions to existing collections. Modern Elegance now has a new trailing floral motif design in a timeless black-and-white color combination. It is made of 100% New Zealand wool pile and the pattern is accentuated via the use of Noursion's own Luxcelle silk-like fiber. The Radiant Impressions collection has been enhanced with a new neutral palette of beige, brown, and taupe on a mirroring, blossoming vines pattern. It is made of 100% New Zealand wool and the pattern is hand-carved for dimension. New to the Landscape Stripes collection is a tonal texture pattern in blues and ivory on a hard-twisted wool pile construction.
ORIAN RUGS
Anderson, S.C. (864) 224-9271
The Casual Living collection brings a spectrum to shags. This multi-colored collection features eight to 10 shades in each olefin woven rug. A 5-by-8 is set to retail for $149.
The company is also expanding its popular indoor/outdoor program with new additions to its Patio/Garden collection and its Veranda line.
ORIENTAL WEAVERS USA
Dalton, Ga. (800) 832-8020
Sphinx by Oriental Weavers' lineup for market will include two new machine-woven collections, Genesis and Samarkand II, as well as additions to the hand-tufted Amherst collection.
Casual elegance is the design perspective of the new Genesis collection, a compilation of Persian motifs, transitional looks and relaxed contemporaries — each featuring as many as 55 colors. These machine-made polypropylene rugs are made using a high-tech cross-woven technology and feature a special hard-twist construction, intricate detailing, subtle shading and drop-stitching for added textural interest.
Samarkand II is the second generation of the collection introduced in early 2007. The new rugs are also machine-made of 100% polypropylene and include soft contemporaries and casual patterns in versatile hues of organic greens, reds and warm neutrals. Capturing the timeless sophistication of Persian knotted heirlooms, the Amherst collection matches traditional designs with modern colors to complement the fabrics and accents in current home furnishings. It employs a luxurious blend of New Zealand and Indian wools and is hand-tufted with a soft, heavy hand. Its sheen has been achieved through a special wash.
SAFAVIEH
Port Washington, N.Y.
(516) 945-1900
Safavieh is celebrating the first anniversary of its popular Martha Stewart Rugs collection and the second anniversary of the trend-setting Thomas O'Brien Collection with new introductions for both programs.
Safavieh is also presenting five additional designs in the Santa Fe collection, which combines Sumack and Peshawar weaving in each area rug.
The company is expanding its Marrakech collection with 11 new designs — all rugs hand-knotted in Tibet of 100% hand-spun, vegetable-dyed wool in a 150-knot weave. They feature overall geometric motifs.
Safavieh is additionally introducing eight new designs to its Soho collection with more transitional designs — inspired by simple Asian themes and mid-Century design motifs — that are intended to work equally well in traditional and contemporary homes.
SHAW LIVING
Dalton, Ga. (800) 282-7429
To its Kathy Ireland brand, Shaw Living introduces four new styles in the Kathy Ireland Home Essentials collection and four new styles in its Kathy Ireland Home Gallery collection. These coordinate with today's casual modern fabrics, pillows and window treatments. They are domestically machine-woven in the United States of olefin and are available in eight sizes.
To its mary-kateandashley collection for the younger set, there is a new shag offering called Terra Bella. These products are made in the United States of recyclable nylon, featuring a soft, yet durable hand. They come in five colors — acorn, lagoon, sage, natural and paprika — and two sizes, 5-by-8 and 8-by-10.
Tommy Bahama Home is being expanded with 56 new designs that are machine-woven in the United States of Shaw's own trademarked EverTouch Nylon. Influences for these new designs include the West Indies, safari animal prints, Jacobean tapestries, ancient Persian rugs, Moroccan tile work, and batik prints.
The Antiquities collection, a top seller for several years and which is made in collaboration with Nourison, has been enhanced with 10 new designs and several colorways for a total of 32 new area rugs. The collection is machine-woven in the United States of recyclable nylon. Antiquities is also treated to a new spectrum of color options — assorted browns the work with different blues, soft greens and neutrals.
Also new is Posh, a new shag offering in 13 colors. It is produced in the United States with recyclable nylon and is treated with Shaw's own R2x Stain and Soil Resistance System.
SURYA RUGS
Calhoun, Ga. (706) 625-4823
Everest represents Surya's premier Tibetan hand knotted collection that comprises 100% New Zealand Wool hand-carded rugs.
Lhotse is made in Nepal and is also a collection of hand knotted 100% hand-carded New Zealand wool.
The Twist collection centers on twisted, heat set polypropylene machine-made quality rugs with creative styling and subdued colors.
Gramercy collection rugs are designed with everyday natural elements in mind for a peaceful setting indoors. These pieces are hand tufted of 100% New Zealand wool.
Roommates, a collection designed in a partnership with Wynwood furniture, takes its design cues from fabrics used in the furniture under the same collection. They are made of 100% New Zealand wool and are hand-tufted in India.
TRANS-OCEAN
White Plains, N.Y.
(914) 949-5656
The Liora Manné designer collection is growing with several new additions.
The Safari rug refreshes the popular animal print style with a fresh palette and texture; this hand-tufted rug is made of 100% wool pile.
Tie Dye, the contemporary patchwork puzzle design in the Ravella collection, is reminiscent of a modern day traffic pattern with its bold mix of color and contemporary design. Manné takes a lighthearted approach to this geometric design, made of 100% poly-acrylic. Tie-Dye falls under the company's trademarked Everywear group for its indoor/outdoor qualities, UV stabilized to resist mildew and fading.
The Karala collection's new Petals rug is made of 100% wool and is hand-knotted in India. Manné draws from one of her signature designs, a simple leaf motif, and gives it new life with a spectrum of colors.
Squares is a new rug in the Savannah collection. It is eco-friendly on various fronts — its bamboo construction and its special dying process. Also under the trademarked Everywear program, Squares represents a new fiber for this outdoor program.
To the Taos collection, the Floating Squares rug has been added. This 100% wool pile hand-tufted rug made in India uses shape and dimension for high-low effects.
UNITED WEAVERS OF AMERICA
Dalton, Ga. (800) 241-5754
The company recently inked a deal with wildlife and nature artwork brand The Hautman Brothers and has created a collection of 12, 10-color designs in five sizes on heavyweight and plush heat-set olefin rug. A 6-by-9 is set to retail for $199.99.
United has also signed a license agreement with Marshfield Furniture to create a collection for the retailer's lodge and traditional designs with the same qualities as the Hautman collection.
Also debuting is the Traditions collection, a group of heat-set olefin rugs that use warm colors on soft textures on its 38 contemporary, transitional and traditional designs. A 6-by-9 is set to retail for $199.99.
Also, new designs have been added to the China Garden and Foundations collections.
Related Content By Author
Live From New York: Fashion Comes Across the Pond

More Videos
Subscribe to
Home & Textiles Today eDaily
Receive the news you need to know about the trends in the industry delivered right to your inbox.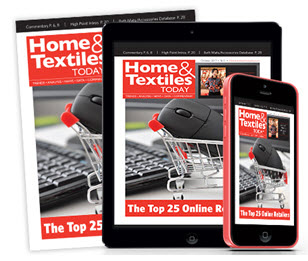 See the October 2017 issue of Home & Textiles Today. In this issue, we look at the Top 25 Online Retailers. H&TT's exclusive annual ranking of the biggest online sellers of home textiles finds that while pure play etailers continue to fly, bricks & clicks are digging into omnichannel. See details!