Major suppliers shift to value-added focus
Marvin Lazaro, April 8, 2002
The economy may have emerged from its recession, but major bedding and bath suppliers aren't yet leaping back into the pursuit of ever higher thread counts and price points that characterized introductions in 1999 and 2000. Instead, many are looking to impart greater value in the moderate-price-point range.
Perhaps the best evidence of this comes from Croscill Home. Known as much for its opulent and extravagant looks as its upper price points, Croscill's April market introductions include a greater number of products at $299 retail.
According to David Kahn, president and ceo of Croscill, the company decided that although its luxurious signature remains the backbone of its assortment, it would be leaving money on the table if it didn't also address less opulent lifestyles.
"We have to do a good job of broadening the lifestyle looks we offer," Kahn said. "So, we're pushing different looks with different fabrics."
Pillowtex Corp. has also recognized the value of offering more bang for the buck, focusing its bedding introductions this market on refreshing the design of its $279 (queen) bed in a bag under the Royal Velvet brand. Ten beds for its Royal Velvet bed in a bag label are new, following last year's upgrade of the core Royal Velvet towel line.
"We wanted to create a whole different bedding system," said senior vp of design and new product development Gretchen Dale, pointing to fresher prints and layering accents such as sheer pillow slips and dec pillows made of faux suede, washable velvet and "21st-century" man-made fabrics.
Moving into fall, the company is rethinking its elegant Versailles label, adjusting the pricing on a queen duvet so that it falls between $199 to $299.
Springs, after a succession of markets spent pushing the envelope on its upper tier, is retooling at the moderate level. The mill is retiring its 250-count brushed cotton Sensuous program in favor of the slightly richer 280-count Pima Rich line. The new line is a step up from the mill's core 50/50 sheet program but not a huge step up in price at $26.99 for queen flat/fitted sheet.
Meanwhile, WestPoint Stevens is injecting better design into its array of $14.99 bath towels. Under Grand Patrician, the company is introducing "non-solid solids," jacquards made of sheared Egyptian cotton and fancies employing lace, ruffles and small-scale florals. It has also improved the specs on its $279 queen/$299 king Patrician Answer Bed, with 230-count all-cotton sheets fitted to accommodate deep-pocket mattresses as much as 18 inches deep.
"With all the price compression out there, you have to be better speced," said Tim Shine, vp, sales for department and specialty stores. "If it's a unique design, it's going to sell."
Dan River also is taking a focused approach toward providing more bang for the buck, introducing an embellished version of its Studio 250 blend bed in a bag at a $149.99 price point on queen. Value-added details include an hombre damask, voile trims and embroidery.
"We think there is a consumer considerably above the bottom who is interested in better items when the value speaks for itself," said John Hall, senior vp, sales and marketing for department and specialty stores. "Plenty of what we're offering really steps into the flow of the bed-in-a-bag environment."
CANNON
DIRECTIONS
Although this Pillowtex label will not have any new beds this market, next market will see the re-launch and "re-invention" of the brand. For this market only, the company will be showing retailer-exclusive programs. The company will return to its mass market/open line focus for future markets.
CHARISMA
DIRECTIONS
This Pillowtex brand will be more into the spotlight in the late summer/early fall when the Charisma prototype shops open. Eight stores are scheduled for the shops, which will include a full range of Charisma-branded products.
DETAILS
The signature Charisma towel will be retooled this market with a more plush and absorbent construction, thanks to a different yarn system as well as a larger size. Also new are the Cedar Rose and Caplan bedding ensembles, both with sheeting weight constructions, and two new Charisma Select beds, both with paisley motifs.
CROSCILL
DIRECTIONS
While the opulent and the extravagant are sure to remain the mainstays, more contemporary ensembles with noticeable apparel influence are making their appearances on this supplier's showroom floor. Croscill has also seen the viability of the rapidly growing decorative pillow business and accordingly unveiled an expanded line for its assortment.
DETAILS
There is no shortage new product here as Croscill rolls out a wide variety of looks and constructions. Imperial borrows its look from an elaborate drapery, while Ambiance features a windowpane look in silk brocades. Tolero is a twisted chenille with Lurex yarns for shine, and Winslow a heat transfer on jacquard on a warp in black and gold. Vintage, in two colors, has a cut-and-sew look but is actually a woven program, and Avenue takes a contemporary, masculine approach. Austin's comforter face features a leather look while chenille accents adorn Boulevard. Horizons is a heat transfer on crushed polyester. Caravan is tropically influenced, with elephants, monkeys and palm trees on its face. The equestrian-flavored Windemere has a paisley pattern on sateen and Framingham is a casual floral print. Bourdeaux Bouquet and Corsage are comforter/quilt ensembles, each with floral looks and plenty of embellishments. Croscill's Portmeirion line will be augmented with Botanic Garden and Joelle, both of which are true to the Portmeirion look with plenty of flowers.
Also being brought to its floor for the first time will be a 410-count combed Supima cotton sateen sheet collection. The sheets will be offered in a jacquard stripe and jacquard damask. Up to five colors may be offered for the open stock program, which will range from $49.99 for a queen flat sheet.
In addition, Croscill will also supplement its 310 Couture sheet collection with 310-count sateen duvet covers and various top-of-bed. Four different styles will be offered with a variety of lace and embroidered borders.
DAN RIVER
DIRECTIONS
This major mill introduces several new looks for virtually all of its labels, including the licensed Alexander Julian and Di Lewis lines. Despite the numerous and varied amount of looks and constructions Dan River kept its prices low with no ensemble carrying a retail price point of over $299.99 for a king.
DETAILS
Leading off is the Marquis Interiors programs, which will generally retail at the $279.99/$299.99 price point for a queen and king. Two beds, Lexington and Sebastian, are offered with a pearlescent hombre damask and paisley motif on their comforter faces, respectively. Lexington also offers a woven coordinate and damask scroll sheet.
A fleur-de-lis stripe makes up Sebastian's comforter reverse, and a paisley stripe adorns the sheets.
For the Embellished Studio line, offered at a $149.99 retail price point for all sizes, Victorian Parlor, Francesca and Antonia are all new. Victorian Parlor features a quilt/patchwork design with rose print sheets, while the updated and brighter Francesca features a floral motif with gingham trim. Adorning Antonia is a distressed scroll and floral motif with small voile trimmed and embroidered sheets.
The 220-count Studio cotton line offers Chester, with a large paisley on its face and a blanket plaid; Essence, a large-scale magnolia comforter face done in lighter and purple-casted blues; Troy, featuring a menswear look done in bronzes, blacks and browns and a crackle technique sheet; and Shimmer, done in shades of peach and mauve with a zigzag sheet and a watercolor border.
Toscana, Country Road, Cedarwood and Jackson are all offered for the Studio 250-count blend line. A watercolor botanical with a wax crayon look done in sage, plum and gold makes up Toscana, while Country Road is made up of a completely reversible comforter with a floral motif and a toile sheet. Cedarwood is offered with a textured leaf motif on its face and a coordinating sheet with a tossed leaf design. Jackson is finished in shades of beige with blue blocks on its sheeting and a museum-inspired geometric print on the comforter face. All of these have a $99.99 retail price point for all sizes.
For the $79.99 210-count blended Studio line, Elaina features an updated floral with scroll motif in blue, green and periwinkle, and Baxter features a masculine geometric print in plum, tobacco, sage and bronze.
Ten comforter ensembles are new for Dan River: four for the Marquis Estates line, which has a price range of $249 to $299 for a Queen, and six for the Studio Woven line offered at the $149.99 price point, also for a queen.
For the Marquis line, Campbell is finished in tones of adobe, moss, beige/gold and has a Victorian look on its comforter face. Schyler features a lace print background with a jacquard top and lace-printed sheets, while Lafayette is done in French blue and burnt orange with a vertical stripe layout and tie-print coordinates. Chalet has an embroidered feeling with shades of bronze and taupe with accents of plum and blue.
Celeste, Lianna, Overture, Sarina and Kiara, offered in camel and sage, are all new for the Woven Studio comforter ensemble line. A queen set will retail for $149.99. Floral and botanical looks dominate, and colors range from olive to camel.
The mill's Alexander Julian woven line will offer Half Moon Bay, with chenille elements, and Signature Stripe, also with chenille plaid accents. The yarn-dyed line offers Painted Desert and San Rafael. Desert features a fresh updated look, while San Rafael has more masculine tones. Two new quilts will also be added before market.
For the Di Lewis line, In Bloom and Pomery are both new. In Bloom features a watermark look with large blossoms and a stripe reverse, while Pomery has a plaid quilt effect with a sheet finished with a yellow stripe with small blossoms and geometric hem.
FIELDCREST
DIRECTIONS
Pillowtex takes a slightly edgier approach with its latest addition to this brand in sheets — a 300-count micro-denier blend of 60 percent cotton and 40 percent polyester micro-denier yarn.
DETAILS
The palette for this collection consists of white, indigo, mocha, Tucson (a yellow shade), Carmine (a red), bay leaf, mulberry and powder blue. Price points start at $8.99 for an open stock twin sheet.
For the opulent Versailles collection, only three beds are offered this spring, since Pillowtex has said it will relaunch the brand for the fall market with slightly lower price points. Depending on the fabrication, the revamped Versailles beds will range from $199 to $299 for a queen-sized duvet.
GRAND PATRICIAN
DIRECTIONS
Following up on last market's micro-cotton Seduction towel introduction, WestPoint Stevens supplements its designs in this family of products with two "non-solid" solids. Also new for the Grand Patrician towel line are two lines of "fancies" — the Trousseau Collection and Grand Patrician jacquards. For the bedding line of the same name, six ensembles are new.
DETAILS
The Diamond Quilt and Bellagio towels measure in at 27" x 54", are jacquard constructed and stay with the original $19.99 price point. The former features a richly textured lattice pattern on the body which is finished with a tightly woven broad border at the hem. An elaborately sculpted architectural shell motif contrasts with a subtle, ribbed texture on the body for Bellagio. Diamond Quilt is offered in white, ivory, linen, sage and amethyst while Bellagio comes in white, ivory, light blue and lavender. The two collections are sized at 27" x 52", will retail for $14.99 and come with coordinating hand and fingertip towels. Casablanca, Floranza and Cameo Rose are all offered in white and ivory. Casablanca and Floranza use lace inserts, while Cameo Rose features a lace rose with tone-on-tone embroidery. For the jacquard line, Grand Patrician Scroll, Paisley Shawl, Ironwork and Banded Herringbone all bow this market. Scroll is made from Egyptian cotton and is sheared, while the focus of Paisley Shawl is a richly detailed and colored border of Kashmir paisley. A sculpted interlacing pattern forms the backdrop for Ironwork, while Banded Herringbone is more masculine in feeling with alternating bands of sculpted herringbone and solid color.
Santorini, James, Jasmine, Villa, Winslow and Venice make up the Grand Patrician introductions this spring. Santorini takes its inspiration from the prairie look popular in fashion and is supplemented with crochet detailing. Wide satin stripes colored in coffee and bronze tones are embellished with metallic embroidery to make up James' face. The very feminine Jasmine features a sheer overlay, embroidered details and sheer voile. The pieced Villa is also apparel inspired and features appliqued ribbons of lace and crochet. The warmer, deeper Winslow is a damask jacquard supplemented with faux fur and boucle, while Venice is a silk dupioni combined with velvet in a soft orchid color.
MARTEX
DIRECTIONS
The more promotional line of WestPoint towel offerings remains at the $7.99 price point — but with more to offer.
DETAILS
Gingham Stripe combines bands of terry gingham with an awning stripe, and narrow dobbies are inserted between the two designs. Blue, green, black and linen colors are offered.
PATRICIAN
DIRECTIONS
Patrician updates its towel offerings with two contemporary looks that are also "non-solid" solids. Both are sized at 25" x 50", have a 13.5-pound weight and hit a $10 price point. The Patrician Answer Bed collection is augmented with four ensembles, all with coordinating 230-count all-cotton sheets.
DETAILS
Chenille Plaid combines a modern, handsome plaid towel with a waffle textured body, and contrasting colors underlying the weave create a subtle banded effect. A palette of linen, white, sage and slate is available. A horizontally striped border at the hem is paired with brightly colored flashes running throughout the body of the East/West Stripe towel, which has a palette made up of white, champagne, prairie, spice and linen.
Two Larry Laslo beds, Graphics and Botanica, and two in-house designs, Aubusson and Paisley, make up the Patrician Answer Bed offering. Graphics is a sophisticated geometric in tones of aubergine, merlot, smoke and wheat, while decorative leaves in subtle shades of platinum and gold make up the face of Botanica. Aubusson features a framed, large-scale and opulent bouquet, while Paisley pairs teal with navy and olive on its face with a small starburst foulard on the comforter reverse.
REVMAN INDUSTRIES
DIRECTIONS
Revman continues to offer its higher-thread-count constructions to its department store customers. This major supplier even upped the ante, rolling out its new Laura Ashley Decorator Collection with higher-count sheets and a jacquard damask for the outer bed. The signature Ashley collection continues with 250-count sheeting while, P.O.S.H. and Bed2Go continue with their 320- and 250-count offerings, respectively, as does Echo with its 250-count line.
DETAILS
The Laura Ashley Decorator collection's first offering is Kensington Gardens, which has a sophisticated garden floral vine in russet and moss on a deep sand background. The underbed is made up of 400-count cotton sateen sheets, while the outerbed is constructed of a cotton jacquard damask. The accessories feature a small-scale tonal paisley print. The Ashley 250-count beds include Celia, Darcy, Lidia Emilie, Mackenzie and Felicity. The comforter face of Celia is a printed petite botanical foulard with red flowers on a crisp pink and white stripe, while densely packed, small blossoms adorn the face. Darcy features heirloom pink and white roses twined with green clover on a chintzed ivory ground. Lidia's look is composed of roses in shades of pink ranging from pale to deep rose, accented with pale lavender and willow green on a white ground. Emilie uses blue and yellow in a mix of blossoms and sprigs on a royal blue background. A tartan plaid reverse highlights the tossed bouquets on the face of Mackenzie, while embroidered detailing in the form of a delicately stitched floral vine makes up Felicity.
Echo offers Tropical Palm, Botanical, Gotham and Butterflies Are Free. Tropical Palm uses palm trees and exotic flowers and fruits for its look, which are printed on a persimmon background. Botanical features tropical leaves and plants in cool greens against a natural background. A graphic cityscape of skyscrapers makes up the taupe, gray and cream Gotham, while butterflies in fuchsia and lime green adorn Butterflies Are Free.
Vittorio and Maximus are new for the distinctive and luxurious P.O.S.H. line. Vittorio, an intricately detailed paisley, is finished in tones of sage and russet with gold metallic accents. The sheets feature a tonal damask vine with a decorative border hem. Maximus is an iridescent jacquard in turquoise and gold in a Greek key design and corner medallions.
For the Bed2Go label, Essex and Princeton feature the traditional master bedroom look, with a different paisley motif on each in tones of burgundy, russet and gold for Essex and navy and forest green, for Princeton. The more contemporary Shadow Branch and Flower Blossom, done in burgundy and plum and pale aqua tones, will appeal to a younger customer. Shadow Branch displays silhouetted branches and grasses while cherry blossom branches are highlighted with an ombre background.
ROYAL SATEEN
DIRECTIONS
The signature brand of Design Works has once again stepped up in construction this market. The Royalty 540 Majestic sheet and the 450-count pima print bedding line are both new constructions.
DETAILS
The Royalty Majestic line uses a hem on the top-of-bed to frame the solid vanilla coloring on the sham. The euro sham and decorative pillows use a hemstitch frame. The flat sheet is styled with an elaborate turnback while the hem is mitered and also has the hemstitch detailing.
The new 450-count pima print line will have four beds, Cosmopolitan, Arabesque, Fontana and Sunrise. Cosmopolitan uses indigo, cypress and ochre for its masculine designs which includes horizontal banding and stripes. The ensemble ties back into the 410 Royalty Diamond sheeting in antique and the 410 Royalty Check in cypress. Arabesque's floral design is inspired by the Asian quality of an early 18th-century document and complements the Royalty 410 Check sheeting in silver. Fontana features a medallion design with predominantly brown tones with accents of brick, clay, cypress and indigo. This ensemble ties back to the 310 Candlelights Check sheeting in sandstone. Sunrise, a print, has a berry textural background and flowers, all highlighted by olive leaves and vine. Sunrise also ties back to the 410 Royalty Check program in silver.
ROYAL VELVET
DIRECTIONS
Pillowtex's signature Royal Velvet line takes a different approach this spring with a new design sense featuring a wide range of colors and looks.
DETAILS
Zen Blue, Lyon, Castlewick, Chenille Check, Kinetic, Umbria, Quatro, Aztec, Primavera and Tropicale range in looks from a woven chenille to a tropical pattern. Zen Blue features a striae texture with crushed rayon-acetate for the euro shams and bedskirt. The sheets from Lyon, a traditional woven damask, use motifs borrowed from the comforter face. Woven chenille in heraldic motifs colored in multiple golds and black make up Castlewick. Burnished metal colors adorn the woven pattern of Chenille Check. Kinetic, a woven jacquard, uses richly colored abstract geometric patterns in genteel curves and circles. Also a woven chenille, Umbria is colored in sunset tones. Quatro features a taffeta look in gold and ivory, while Aztec is a woven jacquard with an Americana, Southwestern feeling. A hand-painted floral print makes up the face of Primavera, just as a tropical pattern highlighted with chenille makes up Tropicale.
WAMSUTTA
DIRECTIONS
True to form, Springs' introductions cover the gamut of its products. In addition to its new solid-color sheet program, 280 Pima Rich, also new are five beds for its Bedroom Solutions line, four for Artistique and two for Warren Kimble. Six quilt ensembles are also new as are four all-cotton bagged ensembles and eight 250-count bagged ensembles.
DETAILS
The new 280-count Pima-rich line of solid-color sheets is the latest addition. Made from a blend of Pima cotton and polyester, white, ivory, jonquil (from the yellow family), mint, pale lavender, jade, rain, shell, camel, navy, cranberry and ebony are all offered.
For Bedroom Solutions, Radcliff, Michaelangelo, Orlando, Caspian and Juverna are all new. Radcliff features a grand rose bouquet, while a gold and black design adorns Michaelangelo. Orlando is an intricate damask on a gray and lavender stria ground, while paisley and damask stripes make up the face of Caspian. A graceful botanical vine trellis finishes the design of Juverna.
The Artistique line offers Rosettes, with delicate ribbon rose buds and embroidered accents; Preston, an embroidered "bandanna" panel; Kori, a bold floral design with applique and embroidered denim flowers; and Barcelona, which
features hand painting and embroidery in a floral vine.
The School House and Coastal Breeze quilts are both new for the Warren Kimble line. The former features calico prints specially created from Kimble's art, while the latter plays on the popularity of nautical images borrowed from some of Kimble's most popular designs.
The five new quilt ensembles vary widely in design. Bubbles is a combination of circles, rings and scallops, while Country Chic is a sophisticated patchwork of large-scale florals and calicos with ribbon. Carolina Rose displays antique rose patterns in a stitched center panel. Double Wedding is a traditional print in soft lavender and turquoise on a tea-stained ground. Spring Bouquet uses embroidered bouquets with space-dyed yarns on a yellow and white ground.
For the Cotton Bed-in-a-Bag line, Heirloom Rose, with dramatic pink and peach roses against a dark velvety background; Bellingham, a paisley damask in burgundy and loden green; Bella Rosa, a garden of roses in soft pink and peach on an ivory ground; and Genevieve, an engineered comforter face of tiled and floral motifs, are all new.
The 250 Blend Bed-in-a-Bag collection offers Lindsay, Gelatto, Brunelle, Daybreak, Oasis, Eastern Trade, Touch of Tartan and Downtown Denim. Looks here range from the whimsical botanical in aquas, pinks and yellows of Lindsay to classic palm trees on a bamboo lattice in rattans and olives of Eastern Trade to the textured plaid in shades of indigo to sand-washed denim of Downtown Denim.
WESTPOINT STEVENS
DIRECTIONS
Both the Designers Guild and Disney Home licensed brands will enjoy additions this spring, both for the bathroom and bedroom as WestPoint hopes to continue the build-up of momentum for both brands from previous markets.
DETAILS
The third market for Disney as part of this major mill brings the line back to a mass market focus with an expanded offering for that retail segment. For the bedroom, fully coordinated beds will include many new quilts, either as stand alone products or as ensembles. Stroll in the Woods, Up, Up & Away, Buzz Lightyear, Flower Power, Love's First Kiss, Pretty in Pink, Pooh & Tigger, Bounceriffic and Mickey Gingham encompass the core character offerings of Mickey Mouse, Buzz Lightyear, Winnie the Pooh and Princesses. Like its department store counterpart, the Disney Home line will now include various towel designs, including prints, embroideries and heat transfer. A wide variety of PVC bath accessories, either as sets or standalone products, will also debut.
The Designers Guild line of towels will be augmented with Azul and Waterville. Both are jacquard styles and tie back into the original line of sculpted solid towels and the yarn-dyed bedding. Azul is a multi-color stripe in four colorways, candy, aqua, green and blue. Waterville is a large-scale textured plaid.
Related Content By Author
Live From New York: Fashion Comes Across the Pond

More Videos
Subscribe to
Home & Textiles Today eDaily
Receive the news you need to know about the trends in the industry delivered right to your inbox.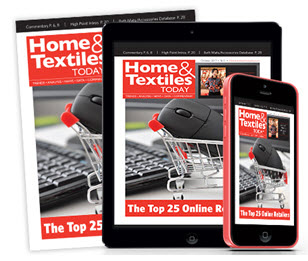 See the October 2017 issue of Home & Textiles Today. In this issue, we look at the Top 25 Online Retailers. H&TT's exclusive annual ranking of the biggest online sellers of home textiles finds that while pure play etailers continue to fly, bricks & clicks are digging into omnichannel. See details!