Hits and Misses
Companies Reflect on What Worked and What Didn't at Fall Market
Arrow Home Fashions
Monica Lowe Graves, design director
HITS: "Basilica, a large diamond jacquard with a global inspiration, was a huge hit because the look was right on, carpet friendly and in new neutrals.
Sarah was a beautifully vintage-style jacquard that was pre-washed with a textured embossed hand. The color mimics a 19th century French document design in soft aqua to teal."
MISSES: "We had Impression as a miss because it was a very floral mauve-colored bed pieced with a textured stripe that was a little too out there for people to understand."
Aussino USA
Nicole Del Gaizo, designer/product development
HITS: "Our new Suite 1102 hotel collection was the hit of market with customers asking for both cotton and faux silk versions in coverlets, quilts and bedspreads. In the bath area, received well was the new solid color towel program, also part of Suite 1102. This terry towel with colored dobby stripes has already been placed. In addition, 16 styles of shower curtains were displayed, all receiving great reaction. On the bedding side, our prints were the best of the new open line.
MISSES: "On the downside, our tweener section had little interest. Due to customers' requests pre-market to see these styles, we devoted an area in our showroom featuring fun prints and bright colors. Apparently it must have been too shockingly bright for the buyers' eyes to adjust after coming in from the rainy weather of market."
Baltic Linen Co.
Jo Ann Wanamaker, vice president of design, bath
HITS: "In our bath division, we had a huge success with our Getaway collection. It consisted of three coordinating designs, a two-color jacquard in a modern Regency motif pattern called Palm Springs, a piece-dye with decorative dobbies throughout the whole towel called Coral Gables, and a solid color tying back into the palette. I think it was the palette also that drove the success. We used coral woven with magenta, lime green with periwinkle and solids to anchor the group."
MISSES: "We featured a luxurious towel from Turkey called Palazzo that was a two-color yarn-dye sculpt with high and low pile in a pattern resembling a parquet floor. The color combinations, for example, fuchsia with black or lime with rust, were perhaps too bold or fashion forward for our customers."
Baltic Linens, bath coordinate division
Rick Lipton, director of bath coordinates
HITS: "Claire Murray's Coastal Treasures collection — resin bath accessories in a soft sea blue with a white embossed coral design, sealed in clear resin shell — was a hit. It reminded everyone of snow globe shakers that they collected as kids on vacation … Also, our Signet Atmospheres collection — a contemporary grouping that is a basic with a surprising twist (was a hit)."
MISSES: "Wardrobe's Palm Springs — porcelain basket weave accessories in white that coordinate with a lined white eyelet and tuxedo pleated 100 percent cotton textured base fabric — was a miss. The same comment was repeated by most of our retail customers — 'I personally like it, but it's either too sophisticated or too subtle for us.' We'll keep trying on this one until it finds the right home. We are starting an adopt-this-design campaign, and we are looking for contributors."
Commonwealth Home Fashions
Barry Goodman, vice president of national accounts
HITS: "Among our hits were Anastasia, a floral jacquard with vertical stripe. Anastasia is a window panel and toppers that came in nice colors and was priced right. It had a heavy weight with a very good hand. Also a hit was Oslo, a vertical chenille stripe on linen ground. Oslo was retro looking and coordinated with some other programs such as Mediterranean. It had a poly-linen look."
MISSES: "A miss was Soho, a flock on linen goods. It just didn't have the right colors and didn't make enough of statement. Gypsy was also a miss because it was too busy."
Croscill
Pat Clemente, assistant product manager/designer, bath accessories
HITS: "I would have to say our hits included the Carnivale Resin Collection, a solid color program with striated tone-on-tone effect in four colors that had wide appeal; and also our Betsey Cameron Beach Memories, which contained photographic images of vintage children on the beach. That had a very strong reaction. Groomin Novelty Collection was also popular. That was a resin collection with a whimsical quality, sophisticated novelty."
MISSES: "Mai Tai — a tropical collection combining earthenware with woven hyacinth in larger items for tissue and basket — turned out to be too busy for customers to take interest in it."
Down Lite International
Stefan Hunter, marketing manager
HITS: "We had some really unique new products this market, including the following. Wellness related items: SeaCell and BioVital comforters and pillows —the buyer feedback was overwhelming and the baby boomer market will likely be a driver for this subset for many years to come. We will definitely be expanding our wellness offerings next market. SoftPlus Pillows — our line of bed and decorative feather pillows that are softer, whiter and guaranteed down and feather proof were a hit. We will be definitely rolling out into featherbeds next market. "
MISSES: "Traditional down-top featherbeds were a miss. We had shown several versions and everyone is solely interested in the poly top and engineered feather and fiberbeds."
Elrene Home Fashions
Bryan Siegel, president and chief operating officer
HITS: "The entire Echo launch, our new Jonathan Adler line, and our Rainforest collection were hits."
MISSES: "Twirly Daisy placemat was a miss. Our other summer vinyl looks outperformed this one."
Evandale, a division of JWE Silk
Jenny Gruber, vice president of design
HITS: "Some of our hits were Roman Ombre, an ombre chenille. Also a huge hit was Leoni, a contemporary skin look. People loved it for window, bedding, and pillows. Madrid, a leaf jacquard chenille in lighter tone colors, was another thing people loved. Grace was a metallic chenille that people liked for bedding, and Bernice was a hit for bedding and pillows. It is a super soft corduroy in ten colors."
MISSES: "We had some cotton seersuckers that we thought would get more reaction that people were lukewarm on."
Ex-Cell Home Fashions
Nina Bostick, vice president, bath merchandising and sales
HITS: "Fashion bath hits include: Structure, a clean, modern look using faux pebble rocks in resin; Theory, a sophisticated, modern metallic silver coordinate group with loose thread detail; and Whispering Vines, which features an airy, bright grass green all-over botanical embroidery/appliqué/spray paint technique."
MISSES: "Our miss was Eclipse, a graphic retro print in bold earth tone colors."
Ex-Cell Home Fashions
Jerry Pittman, vice president, merchandising, window curtains and draperies
HITS: "The apparent hits were: Madison, engineered dobby with decorative tabs; Brussels, a pleated panel on an iridescent poly/silk blend fabric; and Horizon, a horizontal yarn-dyed stripe in pole tops and pinch pleats."
MISSES: "The big miss was Oleander. The style was too one dimensional."
Foreston Trends
Dick Gould, vice president, sales
HITS: "Our hits in our harvest introductions were: jacquard Pumpkin field and Pumpkin vine (designs); dobbie Bridgeport and Button Willow (designs); and bamboo in all designs."
MISSES: "Our misses in our harvest introductions were: woven Hawana stripe, Capri stripe and Milan stripe; and dobbie Westridge and Biola."
High Country Linens
Judy Neu, design director
HITS: "We had a great hit with Grand Hotel featuring our special micro-channel quilting. We had a big hit with Arianna because it combined elegant embroidery with rich jacquards and a silken pinstripe. We had a big hit with Presidio that had a strie warp with a lot of surface color and detail. Wherever we combined innovative technique with good design we had a great response. Our jacquard and embellished sheets were also extremely well received."
MISSES: "The only disappointment was Bagattelle in a Southwest-inspired geometric because we used microsuede and piecing and the look has already been done. It was not new to the marketplace."
Hilasal USA
Larry Price, director of sales
HITS: "Our two-ply 22-pound (per dozen) solid color towel ensemble for the $12.99 retail price point in a vibrant spring color palette was well received by our customers.
Our reintroduction of fiber reactive print towel ensembles, on end-hemmed dobby 14-pound (per dozen) blanks, were a big hit for spring season and beyond in six new very current color theme floral prints."
MISSES: "Our big miss was two-ply, 17-pound (per dozen) bamboo/cotton solid color towel ensemble. The retailer just does not feel the consumer understands the positive benefits — the great absorption of a bamboo towel — and thus would not buy for the spring season."
Hollander Home Fashions
Glenda Heffer, design director-fashion bedding
HITS: "Ensembles created from our newest couture fabrics with micro-twist and silk-touch yarns were the hits this market. Shimmer, Tripoli and Blue Steel from our Chic Retreat collection had great customer reaction for a more streamlined metro-chic approach in deep and inviting colors. The new neutrals, especially in striations of sand, placed Dove at the top of the list for an updated hotel look with a touch of glamour from our Serene Scene collection. Our Going Green room featured Glacier, a modern bouclé plaid, and Spring Green, a large stylized fern motif, as best received."
MISSES: "Camos and Fandango were a little too edgy in terms of color and construction for our customers. The brightness and contrasting color combinations were not well received. We had a better reaction to the more affordable, luxurious modern looks and elegant constructions."
Hollander Home Fashions
Andrew Schantz, vice president of basic bedding division
HITS: "In pillows, where we had a colored jacquard story, Pablo's Rose was an exploded, oversized rose that had a really good reaction. All of our microfiber gel pillow offerings had a very positive reaction. In basics, the best hits were down alternative comforters in ecru; new jacquards in down comforters in 300-plus thread counts in Baroque or Italianate style; and down alternative and down blanket offerings in a rich pastel color palette. In Laura Ashley, Mimosa was our number one hit, helping to put more brand sense into the collection by using classic Laura Ashley prints."
MISSES: "The main miss in pillows was that the fabrications in Mini Cuddlerolls were too expensive: right product, wrong price. Down throws were also a miss because down is still expensive as a category and it has been corrupted by cheaper, lesser quality imports with price points that have collapsed. I also didn't have enough to offer in opening price point basic pillows for Laura Ashley."
Maples Rugs
Arnold Stevens, vice president
HITS & MISSES: "Boca and Felicity were two prints that our customers showed a lot of interest in. Some of the earth tones we showed were a little bright, and had to be reworked."
Mohawk Home
Jodi Crawford, brand manager
HITS: "We had several successes with the expansion of collections. The shag continued to show strength for us with the introduction of Spectro Shag. Spectro Shag uses new use of color in the yarn that adds texture and depth to the shag. We added new colors to the Raffia collection that were well received.
New collections that showed strength were Hombre Stripe and Cosmopolitan printed rugs. The Cosmopolitan printed rugs use a new technology that allows for crisp sophisticated images on the rug surface."
MISSES: "We expanded patterns in our Sisal Elements rug collection, though most interest was in our classic Sisal Elements design."
National Curtain Company
Darrel Druckman, director of sales
HITS: "Our hits in window curtains were: Plisse, a value-priced solid color using a seersucker plisse for texture in 12 colors; April Showers, a delicate multicolor printed floral burnout; Victoriana, a string lace construction featuring a climbing rose motif; Bahamas, a tropical floral pattern done in tweed with a new split tab construction; and Spring Patchwork, a bi-color lace construction done in youthful tweener colors.
In kitchen tiers our hits were: Spring Bloom, a petite floral motif achieved with laser cutting; and Cherries, a fun pattern featuring cherries using laser cutting.
In shower curtains, they were: Mosaic, a woven jacquard featuring a contemporary mosaic design; and Square Dance, a woven mesh look using bands of bright spring/summer colors."
MISSES: "Our misses were Dogwood, a semi-sheer jacquard showing flowering dogwood branches, and Baxter, a contemporary update to Moroccan tile designs."
Pacific Coast Feather Co.
Fritz Kruger, senior vice president of marketing
HITS: "The Sealy Best Fit sheets were very exciting. We saw increased interest there due to Consumer Reports coverage and validation as their top sheeting pick. Our Sealy visco elastic program was well received due to maintained pricing and supply in a good, better, best story with three qualities of foam. In Pacific Coast-branded products, our new luxury Lunesse line was very successful with down comforters and pillows. It's ultra-light in weight and uses a cotton batiste fabrication, which is 30 percent lighter than regular cotton and is filled with 90 percent down cluster. We launched the Cannon licensed program in all basics that went over really well."
MISSES: "Our Calvin Klein Mimosa printed down comforters was a miss. The pattern seemed to be too subtle and not as well received as others in the past."
Poly-Commodity Corp.
Joe Gleicher, CEO
HITS: "What we presented that was most well received was our cotton velour sheet set because it provided a unique sleep surface and very comfortable sheet. In sateens, we presented 1,000- and 1,200-count two-ply constructions that were very well received because of a nice hand, good value and ongoing need for ever-increasing thread counts."
MISSES: "We also presented a 100 percent poly fleece sheet set at an opening price point that was a miss because retailers preferred the cotton version of the construction better."
Royale Linens
Frank Snow, vice president merchandising
HITS: "Our 300-count solid-color sateen program did well this market."
MISSES: "However, we think that prints were lackluster and that the momentum is going back to plain weaves."
S. Lichtenberg
Amy Hanlon, head of design
HITS: "Our hits included Ballroom, an elegant clip sheer with luminescent metallic accents in the ground and Alexandria, a floral jacquard with metallic yarn for added opulence. Ballroom and Alexandria were both the perfect combination of trend right product at the right price. They both incorporated the metallic yarns that are prevalent in the apparel market, and I believe our market was ready for these new yarns and constructions, especially in sheers and heavyweight jacquards. Camden was a tremendous value, crushed stripe panel with attached fringed valance, the crushed texture, bright yarn stripes and embellishment all in one panel was simply a great value."
MISSES: "The misses were Messina, a printed floral wood textured on a ribbed jacquard. Dakota was a stripe sheer 'tie-up' panel, a simple, sheer stripe. With limited retail space, it was not a first priority with all of our new offerings. Messina was a new look in printing, incorporating the wood grain texture trend. It may have been too early for this look in window."
Venus Home
Vivie von Walstrom, director of design and marketing
HITS: "In sheets, our new Catch Super T coordinated collection of sheet sets, which we showed in heathered yarns, solid yarns and in yarn-dyed stripes with Fair Isle, embroidered, and gathered woven trims, were a big hit because of their 'unique' factor appeal.
Another hit was our 350 thread-count Everyday Luxe 60 percent Supima cotton/ 40 percent polyester blend sheet sets in solids and prints. Middle America loves easy care.
In towels, hits included: our new Ambience 3-ply 22-pound (per dozen) solid towel, inventoried in 16 basic and upmarket colors; and our new Catch 19-pound (per dozen) solid towel in 12 popular colors, where high value was the appeal."
MISSES: "Our yarn-dyed jacquard collection of towels in unusual color combinations of soft brights was probably too high fashion.
Our yarn-dyed collection of jacquard towels in brights for tweens (was also a miss). The colors were right but the motifs were too sophisticated for the targeted consumer.
And brushed polyester top-of-the-bed coordinates (were another miss). The embellishment put the pieces at too high a price point for the fabrication."
Windham Weavers
Howie Mallow, executive vice president
HITS: "Our hits were the following: a new pieced look jacquard chenille collection of placemats, runners, pillows and rugs; summer-themed jacquard tablecloths of sunflowers, frogs and insects; chair pads in every construction; heavyweight jute rugs; and a new collection of machine-made natural fiber rugs."
MISSES: "Our misses were: pale greens and pink colorways; shag bath mats; and small-scale plastic woven placemats."
Related Content By Author
Live From New York: Fashion Comes Across the Pond

More Videos
Subscribe to
Home & Textiles Today eDaily
Receive the news you need to know about the trends in the industry delivered right to your inbox.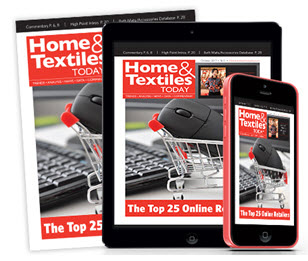 See the October 2017 issue of Home & Textiles Today. In this issue, we look at the Top 25 Online Retailers. H&TT's exclusive annual ranking of the biggest online sellers of home textiles finds that while pure play etailers continue to fly, bricks & clicks are digging into omnichannel. See details!