It was two steps forward, one back
The year for the industry's leading textiles suppliers mirrored the progress of the economy as a whole: a period of recovery for many, as firms chipped away at market share to regain ground lost in 2001.
HTT's annual ranking of the Top 5 suppliers in 18 distinct product categories tells a rosier picture than it did one year ago. Out of the 76 items for which year-to-year comparisons were available, there were just 10 sales declines in 2002. That's roughly half as many as the industry charted in 2001 and an improvement over the bubble year of 2000, when the Top 5 logged 13 declines.
There were only three double-digit declines, compared to an excruciating 2001, when the Top 5 ranking recorded a whopping 10. Pillowtex, which was responsible for seven of those 10 declines in the year-ago survey, accounted for just one double-digit decline this year.
More telling were the number of double-digit increases logged by leading suppliers in 2002. The rankings posted 16, up a tick from 14 in the previous year. WestPoint Stevens notched three, the only company to log double-digit gains in more than one category. The other double-digit darlings were Allure, Maples, Mohawk Home, Pacific Coast Feather, Pillowtex, Shaw, and The Northwest Company.
Ex-Cell Home Fashions, rebounding after parent company Glenoit's exit from bankruptcy, posted the sole triple-digit increase in the survey.
In other notable achievements, Springs' acquisitions during 2002 allowed it to leapfrog into the Top 5 in three new categories: area rugs, where it assumes the ranking formerly held by the Beaulieu Home business it bought in early 2002; curtains/draperies, a legacy of its acquisition of the Burlington Home window business; and mattress pads, where its growing AFI business helped it push Hollander out of the No. 5 spot.
The sheets/pillowcases category is joined by a new Top 5 entrant this year: Divatex, which fills the No. 5 spot held by Thomaston Mills. The old Thomaston went out of business in fall 2001, and the new ownership has limited the mill's business to institutional accounts.
This year's ranking — the ninth annual from Home Textiles Today — adds two new categories: quilts and foam pillows/toppers. These also throw the spotlight on some leading suppliers that previously had not been charted in the survey. They include American Pacific, Britannica Home Fashions, Hudson Industries, Keeco, Leggett & Platt, Peking Handicraft, Sleep Innovations and Sunham Home Fashions.
The Top 5 reflects estimates of calendar 2002 sales — unlike the Top 15 ranking (see story and listings on page 36) — which does not always coincide with the same time period.
Home Textiles Today's editorial staff conducted interviews with suppliers in all of the product categories, including some suppliers that did not rank in the Top 5 for their categories. They furnished estimates of calendar 2001 sales for their own companies and some of their competitors.
Where it applied, suppliers combined sales data from various divisions within their companies.
The figures here reflect the staff's best estimate of sales in these product areas. They may not reflect the specific sales data provided by some of the suppliers themselves.
Bath Accessories

'02 sales $mil
'01 sales $mil
% Chg.
Comments
1. Allure Home Creation, Boonton, NJ
$75
$60
25%
Paired goods with shower curtain and bath rug patterns in expansion of coordinated offerings.
2. Springs Industries, Fort Mill, SC
74
70
5
Updated offerings with new constructions; stepped up fashion-oriented offerings by cross-coordinating bedding and bath lines.
3. Croscill Home, New York
48
45
7
Added new constructions and types of accessories; expanded coordinated product offerings with shower curtain and bath rug patterns; broadened price points.
4. Creative Bath Products, Central Islip, NY
47
45
4
Expanded exclusive offerings and designs for proprietary product lines for core customers.
5. Ex-Cell Home Fashions, New York
15
5
200
Emphasized fashion coordinates for mass and upstairs; added new constructions; increased basic offerings; broadened overall mix.
Wrap-up After bath accessories took somewhat of a dip in 2001, the category is now climbing its way back up the cliff — albeit slowly. Bath accessories emerged more than two years ago as a strong coordinate product with robust sales. Then last year sales flat-lined among top players. But 2002 proved to be a period of slow but steady growth for most of the biggest players. Some major suppliers tried breathing fresh air into bath accessories by pairing up these goods with existing and successful shower curtain and bath rug styles.

Bath Rugs

'02 sales $mil
'01 sales $mil
% Chg.
Comments
( ): Denotes decline

1. Mohawk Home, Sugar Valley, GA
$169
$218
(22%)
Decline resulted from reclassification of some of its scatter rugs as area rugs; refocused offerings strictly on bath-only rugs; lost a significant mass business.
2. Springs Industries, Fort Mill, SC
145
147
2
Expanded offerings with fashion looks; cross-coordinated goods with bedding collections; added licensed program with Susan Sargent.
3. Maples Rugs, Scottsboro, AL
59
49
20
Acquired new placement with national retailers across all levels; particularly aggressive in landing auction business.
4. Pillowtex Corp., Kannapolis, NC
47
45
4
Expanded presence at stores of core retailers; broke three-year trend of falling numbers.
5. Georgia Tufters, Calhoun, GA
35
35
0
No placements gained or lost with major retail partners.
Wrap-up The top players experienced few gains and mostly flat sales or slight increases. Mohawk Home will be challenged in '03 to make up for lost discount business. Many retailers scaled back or closed stores, causing reduced placement and fiercer competition among suppliers. A new challenge was the emerging confusion between bath rugs and scatter/accent rugs. The latter, a machine-washable product, materialized as a alternative to typical cotton and nylon bath-only rugs due to flexibility in the home and their coordination with bedroom and bathroom.

Bath Towels

'02 sales $mil
'01 sales $mil
% Chg.
Comments
( ): Denotes decline

1. WestPoint Stevens, New York
$550
$550
0%
Pricing pressure held WPS flat this year, but the company is pushing value-added products that it hopes will bump up the numbers.
2. Pillowtex Corp., Kannapolis, NC
455
495
(8)
Pillowtex's popular brands are under pressure from house brands, and the result is a loss for three years in a row.
3. Springs Industries, Fort Mill SC
239
221
8
Springs has focused more resources and energy here, and the results are its biggest increase in four years.
4. Santens, Anderson, SC
52
50
3
Stronger jacquard and embellished sales with better customers helped spur Santens to a modest gain.
5. 1888 Mills, Griffin, GA
31
29
7
Hopes impending deals and a focus on global manufacturing lead to the No. 4 spot next year.
Wrap-up More and more companies are forging overseas partnerships to meet increasing price pressures and the demand for more value-added products. Solids remain at the core, but suppliers are steadily introducing non-solid solids in an attempt to lure more consumers. Former No. 1 Pillowtex's problems continue, as the company has seen $205 million lost to other companies since 1999. WestPoint has suffered as well, posting $100 million in losses in the same time. Of the major mills, Springs alone has posted a gain since '99.

Blankets

'02 sales $mil
'01 sales $mil
% Chg.
Comments
( ): Denotes decline

1. WestPoint Stevens, New York
$160
$140
14%
Expanded Vellux business with printed and heated items and put up a full year of Ralph Lauren blanket sales.
2 Sunbeam, Boca Raton, FL
105
110
(5)
Recovering from a long restructuring, parent company Sunbeam emerged from bankruptcy in December, renamed American Household Inc.
3. Charles D. Owen Mfg., Swannanoa, NC
101
95
6
Blanket sales climbed as Owen expanded its Wamsutta franchise and capitalized on turmoil among its competition.
4. Pillowtex Corp., Kannapolis, NC
28
32
(13)
After the sale and subsequent collapse of its Beacon Blanket business, P'tex held on to much of its blanket business, sourcing product from China.
5. Biddeford Textile, Biddeford, ME
24
NA
NA
Rebuilding its automatic blanket business under new ownership after opening new plant.
Wrap-up Only a year after blanket industry vets bought the Beacon Blanket operation from Pillowtex, it was shut down. The same team then set up Biltmore Blanket, only to have to change its name to Asheville Blanket. Pillowtex remained a force in blanket sales, if not manufacturing, bringing product in from China through Biltmore/Asheville. Biddeford, under new ownership, built a new automatic blankets plant, and Sunbeam's parent emerged from Ch. 11. Charles D. Owen continued to build its business. WestPoint fortified its Vellux franchise with prints and automatics.

Comforters/bed spreads

'02 sales $mil
'01 sales $mil
% Chg.
Comments
( ): Denotes decline

1. Springs Industries, Fort Mill, SC
$406
$412
(2%)
Focus on lower-end margin product cost it high-end business, causing first decline in three years.
2. WestPoint Stevens, New York
265
240
10
The only supplier to post a gain, largely due to strong performances by its bed-in-a-bags and Martex brand.
3. Dan River, Danville, VA
191
203
(6)
A strong year for licenses at the juvenile level was offset by the Kmart bankruptcy.
4. Croscill Home, New York
130
130
(0)
Redefining the market in terms of design and innovation is Croscill's mission now.
5. Pillowtex Corp., Kannapolis, NC
114
116
(2)
Royal Velvet, Charisma and Fieldcrest all had a strong year, but not strong enough to keep it at No. 4.
Wrap-up Springs' relationship with Wal-Mart continues to propel its numbers and solidify its ranking. Pillowtex's 1% hit was enough for Croscill to leap ahead. Every company is trying to find the next design, construction or trend that storms the marketplace and drives sales for years. Croscill, although still the king of opulence, is striking out in other design directions. While bed-in-a-bags remain a huge chunk of the biz, it may be time to consider taking better labels out of the bag, promoting the luxury of those brands while increasing sales dollars.

Curtains/draperies

'02 sales $mil
'01 sales $mil
% Chg.
Comments
1. S. Lichtenberg, New York
$135
$125
8%
Lichtenberg expects its strong sales numbers to continue through 2003, but the crown rests uneasy as CHF works to close the gap.
2. CHF Industries, New York
130
109
19
The addition of major accounts and expansion of offerings helped drive CHF closer to No. 1.
3. Springs Industries, Fort Mill, SC
92
NA
NA
The addition of Burlington's business to its own has propelled Springs into the Top 5 for the first time.
4. Croscill Home, New York
88
80
10
Croscill's ability to layer fabrics and fashion and coordinate to its bedding continues to drive its growth.
5. Miller Curtain Co., San Antonio
70
68
3
As its main customer JCPenney goes, so goes Miller. Increased sourcing operations may help spur more growth in '03.
Wrap-up The soft window covering business has gone to overseas sourcing almost exclusively, and the result has been a plethora of product featuring a variety of embellishments and fabrics. Styling pressures are heavy, leading to even more competition among fewer retailers. Burlington's disappearance has led to a climb for CHF and subsequent gains for everyone else, but the power of Springs and its placements loom large. As one manufacturer said, as long as new housing sales remain strong, so too will the soft window coverings business.

Decorative pillows

'02 sales $mil
'01 sales $mil
% Chg.
Comments
1. Brentwood Originals, Carson, CA
$121
$111
9%
Gained and lost placement at retail; raised average price point, giving more bang per sale.
2. Arlee, New York
69
63
10
Gained more placement with specialty retailers and acquired new accounts at mass; increased upscale offerings as well as promotional items.
3. Mohawk Home, Sugar Valley, GA
28
24
17
Expanded offerings with free-standing, fashion-oriented offerings; stepped up importing efforts of handiwork; increased product offerings for Chris Casson Madden line.
4. Newport, Portland, OR
25
23
9
Offered coordinate accessory to bedding lines; upped import efforts; strong sales for panne velvet and sari pillow lines aimed at specialty.
5. Fashion Pillows, Griffin, GA
22
21
5
Gained placement with new and larger customers; expanded placement with existing retailers.
Wrap-up Stylishness took center stage this year and, as a result, players relied more on imports to land placements at specialty stores, typically home to higher price points. Mohawk Home, traditionally a domestic manufacturer, looked overseas to grow into more constructions, while Newport also stepped up its importing. But as higher-ticket goods gained attention, so did promotional offerings. Brentwood helped its bottom line by focusing on value-oriented pillows, as did Arlee with its new placements at mass retailers.

Down comforters

'02 sales $mil
'01 sales $mil
% Chg.
Comments
1. Pacific Coast Feather, Seattle, WA
$117
$111
5%
Since taking the top spot in 2000, PCF has widened the gap with a wide variety of innovation.
2. Pillowtex Corp., Kannapolis, NC
75
70
7
The addition of Hilfiger provided a boost, but otherwise this segment has remained stagnant for Pillowtex for the last three years.
3. Hollander Home Fashions, Boca Raton, FL
58
52
12
Quality and service have become Hollander's motto, and it has paid off.
4. Down Lite International, Loveland, OH
53
40
33
The big winner thanks to many new placements and the expansion of existing ones.
5. Phoenix Down, Totowa, NJ
45
43
5
Some new placements and aggressive pricing keep Phoenix in the No. 5 spot.
Wrap-up Despite PCF's substantial lead, this segment remains fiercely competitive. Suppliers, seeking differentiation in their assortments, have turned to signing designer or brand name licenses or supplying programs for other manufacturers. Down has progressed far beyond white goods, as more offer fashion colors or value-added embellishments. These increases seemed unaffected by recent West Coast port shutdown. Unranked United Feather & Down remains a significant player in the field and looms just below Phoenix.

Foam pillows/toppers

'02 sales $mil
'01 sales $mil
% Chg.
Comments
*This is the first year that HTT has ranked foam bedding suppliers.

1. Sleep Innovations, West Long Branch, NJ
$52
NA
NA
The introduction of the Novaform line, combined with innovative packaging, boosted business.
2. Carpenter Co., Richmond, VA
47
NA
NA
More placements, especially at the specialty level, have led to bigger numbers in 2002.
3. Leggett & Platt, Carthage, MO
20
NA
NA
Expanded placements with department stores and discounters and increased business with specialty stores.
4. Louisville Bedding, Louisville, KY
17
NA
NA
Partnership with Latex Foam International led company into new category, gaining more placement overall.
5. Hudson Industries, Richmond, VA
15
NA
NA
The final two months of '02 were bullish and drove Hudson to an excellent finish.
Wrap-up Foam-based bedding suppliers, encompassing sleep pillows and toppers only, face the same challenges as their basic bedding counterparts. Many are capitalizing on the novelty of foam and the amount of innovation currently being introduced, while retailers from all tiers are seeing the opportunity and are slowly but surely adding foam to their assortments. Packaging is extremely important here, as the insert may be the only way to confer the advantages of foam to consumers. Those that have realized this are reaping the benefits.

Kitchen textiles

'02 sales $mil
'01 sales $mil
% Chg.
Comments
( ): Denotes decline

1. Barth and Dreyfuss, Burbank, CA
$60
$60
0%
Placement with existing retail store customers remained unchanged; price points were lowered by retail partners.
2. Franco Mfg., Metuchen, NJ
53
51
3
Gained and lost placements with major customers, particularly at mass.
3. Cecil Saydah, Los Angeles
52
51
2
Increased shipments but experienced challenges due to slow economic climate and low cotton prices on imported goods.
4. John Ritzenthaler Co., W. Conshohocken, PA
34
32
6
Upped fashion business by offering embroidered and more stylish products that sold at popular prices at mass and specialty stores.
5. Charles Craft, Laurinburg, NC
19
20
(5)
Experienced slow sales with its retail partners.
Wrap-up Little change occurred over the past year in product offerings and placements at retail, particularly at the mass and specialty sectors. The two extremes of product offerings and price points — fashion-oriented, better-quality, higher-ticket items and seasonal and promotional product offerings — helped motivate sales. But posing the strongest challenge was retailers' willingness to quickly reduce prices as consumers demanded value and discounts. Retailers didn't hesitate to slash price points earlier than expected, and suppliers stood to lose the most.

Mattress pads

'02 sales $mil
'01 sales $mil
% Chg.
Comments
1. Louisville Bedding, Louisville, KY
$112
$108
4%
Expansion of luxury offerings drove sales for the leader.
2. Pillowtex Corp., Kannapolis, NC
72
70
2
As with other categories for this company, the addition of Hilfiger has provided a needed boost.
3. Perfect Fit Industries, Charlotte, NC
65
65
0
Kmart's bankruptcy hit PFI hard, but more diversified placement enabled it to maintain its spot.
4. Pacific Coast Feather, Seattle, WA
29
21
38
The Sealy brand made an impact and gave PCF the opportunity for more business.
5. Springs Industries, Fort Mill, SC
25
NA
NA
Pushed Hollander out of No. 5 spot, thanks to relationship with Wal-Mart.
Wrap-up Like its basic bedding counterparts, mattress pads remains highly competitive. Kmart's bankruptcy dealt a blow to several companies, and translating the value-added message to consumers remains a problem. The emerging strength of foam may soon play a larger part. Louisville introduced several constructions with a higher price point in mind, while Pillowtex's Hilfiger offering has been well received. PFI has been steady for four years. Springs' entry into the Top 5 is the result of its purchase of American Fiber Industries.

Quilts

'02 sales $mil
'01 sales $mil
% Chg.
Comments
*This is the first year that HTT has ranked quilt suppliers.

1. Sunham Home Fashions, New York
$101
NA
NA
Cited its innovation as well as design and embellishments as the reason behind expanded placement across the board.
2. Keeco, San Francisco
75
NA
NA
Relationship with Wal-Mart continues to drive its business.
3. Peking Handicraft, San Francisco
50
NA
NA
Cited economy as reason for small gain.
4. Britannica Home Fashions, New York
47
NA
NA
Placement with some existing significant customers helped the business grow.
5. American Pacific, San Francisco
45
NA
NA
Diversified overall product mix — not just quilts anymore — combined with licensing drove sales.
Wrap-up Quilts have been booming for several years, gaining placement at retail and driving manufacturer and supplier sales. The popularity of the category may be due to the different directions quilts have taken; traditional remains but various embellishments, intricate detailing and different fabrics are being used heavily. Some worry the business is cyclical and may follow the trend from a roughly a decade ago, when quilts peaked but just as suddenly faded. Suppliers must keep the innovation fresh and retailers' and consumers' interest piqued.

Rugs

'02 sales $mil
'01 sales $mil
% Chg.
Comments
*In last year's Top 5, Oriental Weavers posted $74 million, a figure that did not include Sphinx's sales.

1. Mohawk Home, Sugar Valley, GA
$332
$245
36%
Hit new channels, esp. independent flooring dealers. Upped promotional line of goods, especially BTS, and accent size collections.
2. Maples Rugs, Scottsboro, AL
141
132
7
Expanded designs in olefin; made strides with printed and solid-color nylon rugs.
3. Shaw Rugs, Dalton, GA
127
115
10
Sales up 28% with independent flooring retailers; down 25% with home center customers.
4. Springs Industries, Fort Mill, SC
125
125
0
Entered category with the early '02 buyout of Beaulieu of America's rugs division; maintained core customer base and placements.
5. Oriental Weavers, Dalton, GA
110
74*
NA
Gained new placements for Oasis handmade area rugs; consistent development of new collections and reasonably priced yarn systems.
Wrap-up With its top five players pulling in almost $800 million in sales, the rug category proved to be lucrative in 2002. Competition remained healthy and positioning in the top five remained steady, even with Springs Industries' acquisition of longtime player Beaulieu Rugs. In February, Springs bulldozed its way into the category with its takeover of Beaulieu of America's rugs division, which managed to maintain the company on the top five list, down one notch to No. 4 for 2002.

Sheets & Pillowcases

'02 sales $mil
'01 sales $mil
% Chg.
Comments
( ): Denotes decline

1. Springs Industries, Fort Mill, SC
$640
$650
(2%)
Constant tinkering has produced better constructions, perhaps helping prevent a larger loss.
2. WestPoint Stevens, New York
580
600
(3)
The loss of a muslin program at a large discounter accounted for this drop.
3. Dan River, Danville, VA
224
238
(6)
Kmart bankruptcy hurt Dan River here too.
4. Pillowtex Corp., Kannapolis, NC
220
200
10
The step-up of constructions under Charisma and the intro of another construction under Royal Velvet spurred sales.
5. Divatex Home Fashions, New York
68
NA
NA
The exit of Thomaston opened the door for Divatex to join the Top 5.
Wrap-up Higher thread counts changed the face of the market, but a movement toward median counts combined with easy care and relative affordability has begun. Pillowtex was especially strong in this category, posting the only gain of the four majors. Dan River fell after two years of gains, while WestPoint lost again for the third consecutive year. Divatex may be a long way from a higher spot, but capitalizing on what the others lose may make this formerly small supplier a bigger name in the years to come.

Shower curtains

'02 sales $mil
'01 sales $mil
% Chg.
Comments
1. Springs Industries, Fort Mill, SC
$75
$71
5%
Upped Wamsutta offerings with coordinate line in new constructions; launched new licensed program with Susan Sargent.
2. Allure Home Creation, Boonton, NJ
70
69
1
Increased basic program; expanded fashion-oriented offerings with new looks and styles.
3. Ex-Cell Home Fashions, New York
68
65
5
Expanding placement with major key accounts; made a stronger emphasis on bath basics; added new licensed programs with artists.
4. Maytex Mills, Yonkers, NY
34
33
3
Gained placement with new and existing accounts; signed Ron Chereskin for home lines; created shower curtain line to coordinate with Mohawk Home bath rugs.
5. Creative Bath, Central Islip, NY
32
30
5
Created new designs for proprietary product lines for core customer base.
Wrap-up Shoppers focused their bath-related purchases mainly on basic goods. But they did pay some attention to fashion-oriented product, especially those that coordinated with other bath goods, in particular bath accessories. Suppliers took two routes in seeking to motivate sales of their fashion offerings: some opted to go with licensed programs, whether with major brands or lesser-known artists; and others looked to differentiate their products by offering proprietary product to retail partners.

Sleep pillows

'02 sales $mil
'01 sales $mil
% Chg.
Comments
1. Pillowtex Corp., Kannapolis, NC
$155
$150
3%
The addition of the Hilfiger basic line has helped nudge sales.
2. Pacific Coast Feather, Seattle, WA
134
125
7
The Sealy brand caught on and enabled PCF to expand its reach.
3. Hollander Home Fashions, Boca Raton, FL
110
101
9
Unwilling to compete on price, Hollander built on its abilities to service customers.
4. Springs Industries, Fort Mill, SC
94
94
0
Still a relative newcomer to the category, Springs continued to build up its reputation through its relationship with Wal-Mart.
5. WestPoint Stevens, New York
89
60
48
A full year of shipping the Ralph Lauren line and a capital investment program fueled a significant rise.
Wrap-up The size of the sleep pillows market has remained roughly the same over the last four years. Suppliers, taking a cue from other bedding areas, are trying to add more value-added features, but explaining them to consumers is not easy. The emergence of foam may be affecting the business of traditional fills. Pillowtex, the leader by a wide margin in 1999, has lost a significant chunk of its business and is now staring at a serious challenge from Pacific Coast. Hollander has streamlined its operations, making it a more efficient and perhaps a more significant player.

Table linens

'02 sales $mil
'01 sales $mil
% Chg.
Comments
1. Town & Country Living, Lakewood, NJ
$90
$86
5%
Ralph Lauren Home and KitchenAid licenses did well; re-order business was down with Kmart, though Martha Stewart product did well.
2. Elrene Home Fashions, New York
57
50
14
Added programs with specialty and mid-tier chains and increased business with catalogs; success with licensed goods, esp. Wolfgang Puck.
3. Bardwil Linens, New York
53
50
6
Gained strong sales through licensed Lenox collection, esp. with seasonal Christmas offerings.
4. Avonhome, Braintree, MA
45
45
0
Distribution hurt as largest mass partners imported; upped efforts in specialty and dep't. stores; gained placement at a mass chain.
5. Ex-Cell Home Fashions, New York
27
25
8
Continued to generate strong sales from licensed program with Pfaltzgraff, esp. with Sonoma collection, as well as other licenses.
Wrap-up Keeping the magic alive in the otherwise mature table linens category was the ubiquity of licenses. All of the category's top five players — as well as many other suppliers further down the list — banked on licensed programs, whether with major brands, like Ralph Lauren, or with other suppliers, like Croscill. The Bardwil line made for Lenox's licensed program benfefitted Bardwil, and the Ralph Lauren Home and KitchenAid licensed programs contributed to Town & Country's comeback.

Throws

'02 sales $mil
'01 sales $mil
% Chg.
Comments
( ): Denotes decline

1. Mohawk Home, Sugar Valley, GA
$86
$115
(25%)
After buying Crown Crafts' woven products business in October '01, refocused, cutting licenses.
2. Manual Woodworkers & Weavers, Hendersonville, NC
79
75
5
Pioneer producer of cotton jacquard throws focused on its growing accessory business.
3. Biederlack of America, Cumberland, MD
47
44
7
Sports and licenses grew; made inroads with cotton/acrylic blend throws; blankets continue to grow in importance.
4. The Northwest Company, New York
37
33
12
Though Ames and Fingerhut accounts went belly up, Northwest put up a double-digit gain.
5. Brentwood Originals, Carson, CA
26
26
0
Dollar volume was flat; unit sales were up, but pricing was off under heavy pressure from retailers.
Wrap-up After buying the Crown Crafts throw business to become the nation's largest producer, Mohawk downsized substantially, jettisoning unprofitable licenses and programs. Biederlack of America and The Northwest Company continued to parlay renewed interest in sports licenses into top-line growth despite Kmart's struggles and the disappearance of Fingerhut and Ames. Manual continued to focus on the increasingly important accessories, but Brentwood found that chenille sales hit the wall.
Related Content By Author
Live From New York: Fashion Comes Across the Pond

More Videos
Subscribe to
Home & Textiles Today eDaily
Receive the news you need to know about the trends in the industry delivered right to your inbox.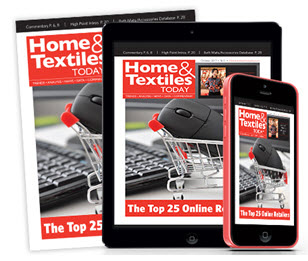 See the October 2017 issue of Home & Textiles Today. In this issue, we look at the Top 25 Online Retailers. H&TT's exclusive annual ranking of the biggest online sellers of home textiles finds that while pure play etailers continue to fly, bricks & clicks are digging into omnichannel. See details!