Vendors up ante in bedding
Marvin Lazaro, October 8, 2001
The push for luxury shows no signs of stopping.
For this year's fall market, manufacturers once again have turned to making their bedding ensembles more luxurious in look or feel, and their towels softer and more absorbent.
Many manufacturers are also seemingly looking to find niches for their lines, and focusing each line's effort specifically on that niche. Gone are the days of being many things to many people. Here to stay is the idea of doing things right and doing them well for one particular group.
If there was any doubt that the big name home textiles manufacturers are allocating resources to this trend, just check them out. Dan River, WestPoint Stevens, Revman Industries, Springs and Pillowtex all have higher-thread-count sheeting included in their respective arsenals now, whether it is for licensed collections or in-house brands. Springs and Pillowtex have gone so far as to retire already high-count collections in favor of even higher counts. Springs unveils its new Palace 300-count sheet with an extensive 20-color palette. Pillowtex went a step further, retiring two constructions, its 310-count Charisma line and Charisma Select 360 line, and replacing them with a new 360-count Charisma sheet and a more luxurious 420-count. Under Royal Velvet, Intrigue, a 300-count dobby weave imported from Italy, is unveiled.
Even towels are being stepped up in their construction as WestPoint Stevens' Grand Patrician label takes its Seduction towel a step further. Now with long-staple, ring-spun cotton, a 10-color palette, and sized at 30" x 56" and 16.85 pounds.
Of course, someone always bucks the trend. In the case of luxury bedding manufacturer Croscill Home, the niche has long been defined. So Croscill, instead of focusing on the core, continues to explore new opportunities for itself. A new line of solid-color sheets bearing the name Couture will join the ranks of luxury sheeting programs, while Croscill also signed a licensing agreement with down manufacturer Down Lite for a line of down comforters.
CHARISMA/CHARISMA SELECT
DIRECTIONS
With one design director at its head, this Pillowtex brand relaunches this fall, along with one of its sister brands. Plans for a Charisma stand-alone retail store located in New York are also in the works as is an advertising campaign as well as stores within stores.
DETAILS
The 310-count line of Charisma sheets is officially retired and replaced by a new 360-count construction. Also replaced is the Charisma Select line of 360-count sheets, and stepping into its place is a line of 420-count sheets. The Select line will continue with its white and ivory colorways, while Charisma will be bolstered with the addition of a woven stripe and woven dot with slightly deeper color introductions of flax, truffle, henna and twilight. Significant for the consumer will be the changes in retail price point for the Select, which may go up to as much as $20 a sheet. Charisma's price points will not change.
CROSCILL HOME
DIRECTIONS
The soft economy and even softer retail market have not kept Croscill from remaining focused on churning out lavish high-end bedding ensembles. But the New York-based company turned its sights on the upper-scale sheeting world last market, and this fall is no different. Croscill also tries to break from its luxurious reputation with its second foray into basic bedding.
DETAILS
Chandelier, Memoir, Eva, Maila, Rio, Lola, Highland, Avery and Viviana represent the new bedding ensembles for this fall from Croscill. Chandelier is an embellished embroidered floral with a 310-count construction in a champagne colorway. With champagne colorway, Memoir combines many elements such as a subtle script and floral print for a neo-classical look. The understated Eva is done on a butter yellow ground with a subtle sheen, and multiple-color, intricately embroidered bouquets decorate its face. Also understated is Maila, which combines different textures via its multi-colored embroidery on a gold color ground. Iridescent beading gives the various accent pillows an elegant flair. Utilizing a multi-colored and printed floral, Rio has a tropical flavor highlighted with its grass coordinates. The lavender-on-khaki Lola has a textured face with a square block pattern, corded trim and ruffles and, like many of its counterparts, has a coordinating window program. Highland, a luxurious red or bronze story in rayon and chenille, uses a dye and discharge process for its design and is imported from Korea. Rounding out the new beds are Averi, a yarn-dyed plaid in khaki with a more tailored and masculine look, and Viviana, which uses an organza overlay with an all-over rose embroidery on a celadon background. Perhaps the most significant of Croscill's introductions is its new Couture line of sheets. Made from 310-count Supima sateen cotton, the sheets are imported from Thailand, cut and sewn domestically and are offered in three colors — white, shell and khaki. Two printed sheets, two embroidered sheets and two solids are part of the free-standing program and tie in with some of Croscill's newest beds. Croscill also makes a second foray into basic bedding, partnering with Loveland, OH-based Down Lite International for a line of good-better-best-luxurious down comforters, as well as a line of down pillows, complementing the synthetic basic bedding license the company already has with Louisville Bedding.
CLOUD
DIRECTIONS
This is the latest from WestPoint Stevens for its family of promotional products. The line will ship in January and will tie in with the mill's Utica line.
DETAILS
Imported from India and sized at 30" x 52" with a 12-pound weight, this towel will be offered at a $4.99 price point and in the six sherbet tones of green, pink, yellow, blue, peach and lilac.
DAN RIVER INC.
DIRECTIONS
This major mill is adding a few upgrades to its programs and is keeping its collective focus on the upstairs market. Dan River's Alexander Julian licensed collection of sheeting and top-of-bed will be supplemented with new solid colors and a line of quilts, respectively, while the Di Lewis collection presents a much broader array. A "starter collection" of Lilly Pulitzer will also be unveiled , aimed at the early-teens-through-college age group.
DETAILS
For the Marquis Home Collection, four new beds — one for the Luxury sub-brand and three for the Interiors line — are new. Messina, with a striped jacquard face, will carry a retail price point of $379 for a queen set, while Villa, an engraved woven in soft, earthy colors; Jolie, in soft yellow with lavender and pink flowers; and Candace, a plisse puffy leaf jacquard, will carry a $279 price point, also for queen.
The Studio/250-count Egyptian cotton line bows Mulan, Palm Breeze, Soho Stripe and Emporia. Mulan utilizes hand-drawn and painted exotic flowers, while large palm leaves on a linen-type texture adorn Palm Breeze. Soho Stripe features an asymmetrical stripe in masculine tones. Emporia, a re-introduction, is finished in fresh yellows and has an Italian pottery influence. Retail price points for these four will range from $100 to $200. The Studio/220-count cotton sub-brand, with its $150 retail price point range, will see Loire, Arles and Blue Lotus added to its ranks. Loire is reminiscent of an impressionist's painting and uses yellows, pinks, greens and blues on its face. Arles uses a small-size floral on its face, while a Chinese porcelain-inspired pattern adorns the striking Blue Lotus. New for its Studio 250-count 60/40 cotton/polyester blend line are Into, a geometric in indigo, steel and neutrals; Andrea, a floral in an antique colorway; Cosette, a botanical watercolor floral in yellow; Cassie, a geometric floral abstract; Marcella, an engraved watercolor floral in light blue; and Avery, a documentary floral. Razzle Dazzle and Koko will be introduced under the Di Lewis Collection. Both will range from the $149 retail price point with 230-count blend sheeting. Koko has a tonal watercolor floral motif in soft pinks, oranges, greens and yellows, while an abstract geometric in yellows and peaches makes up the younger-feeling Razzle Dazzle. For its Julian collection, five new beds try to make their collective marks: Capistrano, Key West, Woodland Park, Napa Valley and Alamosa. Capistrano, part of the 220-count cotton/woven specialty fabrics line, features a woven stripe with a reverse scroll. It will carry a price point of $279, while Key West, with a tropical colorway, and Woodland Park, with its palm fronds and linen-type background, are part of the 220-count cotton line and will start at $149. For the 210-count, 100 percent cotton yarn-dye collection are Napa Valley, with a wine, green and marine palette, and Alamosa, which uses peaches, greens and blues. Also new for the Julian collection will be a line of throws that may be layered into any of the collection beds.
EMPEROR
DIRECTIONS
WestPoint Stevens supplements its two designs in this family with the latest introduction.
DETAILS
Accordion Stripe will have a $5.99 price point for its 30" x 50" size and will be offered in green, blue, cool blue and pink.
GRAND PATRICIAN
DIRECTIONS
WestPoint Stevens takes a step up with its line of Seduction towels, and introduces a new collection.
DETAILS
The new Seduction towel will ship by the end of December and features a luxurious, long-staple, ring-spun cotton. Offered in a 10-color palette and measuring in at 30" x 56" and 16.85 pounds, this new towel will carry a retail price point of $19.99.
Floral Lace and Classical Shell make up the initial introductions for the new Museum Collection. Both designs are richly embroidered with repeating motifs and broad borders.
PATRICIAN PLUS
DIRECTIONS
WestPoint Stevens builds on the initial success of this program with no increase in price.
DETAILS
Checkerboard Floral has a fresh, contemporary look via linear drawn flowers on a checkerboard background, while Patrician Rib has a vertical rib with a solid-color cuff. Both are offered in blue, green, gray and purple colorways and with a $12.99 retail price point.
PATRICIAN
DIRECTIONS
Patrician continues to build its reputation as the entry price point to its more expensive cousin.
DETAILS
ZigZag, Skinny Stripe, Camouflage and Raindrops are all new, while Flower Boxes and Garden Path are reintroductions. All of the towels are sized at 25" x 50" with a 13.5-pound weight and a $10.99 price point.
REVMAN INDUSTRIES
DIRECTIONS
Revman has decided to follow a different tack this market. Higher quality levels have been instilled in virtually of the beds in the hope of building the business at better department stores, specialty stores and catalogs. Gone are the days of the promotional $99 bagged bedding ensemble that catered to the mass market.
DETAILS
The Laura Ashley license will enjoy a step up to 250-count cotton sheets as well as three new beds and an accessory collection. Staying true to the Ashley theme, Colette features a rendered floral toile with a mix of country prints in tones of red on a warm ivory ground, while antique florals in a range of soft blues with lavender and spring accents make up Chatsworth's more tailored approach. Lilacs is offered in tones of lavender and celery with pigment white highlights for an ethereal quality. The new 250-count sheeting, called Delia, will feature delicately embroidered flowers in blue/green, pink/green or lavender/green running along the edge of the ruffled hem. Delia Denim, which ties in with all of the Ashley beds, is a collection of stone-washed denim accessories with the Ashley signature look of mini-ruffles and a woven logo patch on the corner of the comforter face. The company's Echo collection will offer four beds as the brand relaunches this market. Sheeting will be offered in a 250-count construction, and the accessories will be all cotton and oversized. Tropical Toile is a sophisticated approach to the traditional toile, while an elegant, oversized floral adorns the face of Charleston. Winston builds its look around a richly detailed paisley in warm tones, while Daisy, designed with the younger customer in mind, combines daisies and gingham. P.O.S.H. is also stepped up, as 320-count cotton sateen sheets are now part of the mix. For the P.O.S.H. line are La Scala, an oversized damask in metallic gold on a garnet red ground, and Mirella, inspired from the Romantic period in Italy with an iridescent floral jacquard fabric. Bed2Go also receives a sheeting shot in the arm as 250-count all-cotton sheets become part of this collection as well as of Country Toile, a classic blue and white floral toile; Boca, a tropically inspired bed in hot pink and coral; and Palazzo, a painterly interpretation of traditional damask. Also added is a Luxury Sateen Bed2Go sub-brand with 230-count all-cotton sateen for outer bed and accessories.
ROYAL SATEEN
DIRECTIONS
Design Works, previously the adult bedding division of Crown Crafts, is emphasizing better constructions in its Royal Sateen top-of-bed introductions this market as it pushes the envelope in luxury. In addition, Royal Sateen will debut a new "natural finishing" process for its solid-color sheeting that provides a silkier hand and better draping.
DETAILS
In solid-color sheeting, Royal Sateen is introducing Candlelights Check, a classic addition to its 310-count Candlelights sheeting program. Each of the four colors in Check's palette — olive, eggplant, silver and sandstone — coordinates back to at least one of Royal Sateen's top-of-bed introductions — sometimes more — and can be marketed as the second set of sheets to layer into the bedding.
Royal Sateen also is broadening the color range of its Candlelights Constantine solid-color sheeting program, a 310-count jacquard, which previously consisted of citrine and ecru. Three colors have been added: white, lacquer and black.
In Royalty, the 410-count sheet introduced last market in sand, Royal Sateen has added a regal white.
For market, Royal Sateen will introduce eight beds vs. six introductions during spring market. Each coordinates to a silk quilt as well as to one of the new Candlelights Check solid sheets — olive, eggplant, silver and sandstone — as well as a range of accessories.
Autumn Floral is inspired by Candlelights' smoke blue, with tossed leaves in russets, reds and olives. A detailed textured plaid on a smoke blue background is used on the fitted sheet, bed ruffle, euro sham, duvet reverse and the hem of the flat sheet and pillowcase.
Martinique is a collection of four patterns. The lead is a flamboyant document floral enhanced by fiber-reactive printing to give it a silken quality. The ground is subtly textured in camel tones. The floral employs warm sand, reds, blues and purples on the duvet face, sham and dec pillows. Carmel is used for the body of the fitted sheet and on the hem of the pillowcase and flat sheet.
The Asian-inspired Washi is a floral patterned with a delicate weave texture that forms a faint grid on pale gold. Accented with a spray of Asian flowers in plum and pink, it also features flowing leaves in sage and olive on the duvet face, shams and dec pillows. A circle repeat reminiscent of antique kimono designs is used on the bed ruffle, euro pillows, the fitted sheet and the hemming on the flat sheet and pillowcases.
Rosabella features detailed roses widely spaced on a neutral chino ground. It coordinates with a fine mini geometric design forming a plaid, which is used on the fitted sheet as well as the attached hem of the pillowcase and flat sheet as well as on dec pillows.
Imperial Damask is a yarn-dyed woven jac that combines neutral colors and a printed tonal scroll in tans and grays. A yarn-dyed woven geometric motif is used for the inner center of the euro shams as well as on the hem of the flat sheet and pillowcase. Accessories include hand-woven silk pillows in dark gold.
Dynasty is a heavier-weight jacquard in a traditional kimono look with a deep black offset by a solid black. The group uses a dramatic lacquer red for contrast and black twisted braid for trim. Accessories include puckered black fabric with tassels on dec pillows as well as a velvet leopard dec pillow.
Damask Stripe is a traditional damask weave in a yarn-dyed jacquard stripe, with a silken luster and accents in champagne, pale lemon and dusty pink. A document wallpaper stripe with bands of strie colors is used for the ruffled bed shirt, euros and dec sateen pillows.
Royalty White has a jacquard duvet face reversing to a weave, with embroidered jacquard used on the sham face, pillowcase hem and flat sheet. The ultra-elegant set coordinates with the new white Royalty 410 sheeting, as well as a platinum silk quilt.
ROYAL VELVET
DIRECTIONS
Royal Velvet, and one of its sister brands, re-launches this fall. A consumer advertising campaign for the popular brand is also on the drawing board as is a renewed focus on the brand for Pillowtex's bridal program.
DETAILS
Intrigue, a new sheet, takes the opening day's bow for market. With a 300-count dobby weave construction, surface texture and a palette of nine colors — snow, cornsilk, crème, menthe, surf, cocoa, elm, adobe, heather and denim — Pillowtex sets its sights on a more upscale market.
WAMSUTTA
DIRECTIONS
Springs comes to market as a private company for the first time in decades, and brings with it a wide range of new beds, constructions and offerings. Springs also continues to ramp up its constructions, offering a new sheet construction again, bringing the total number of new constructions from this past spring and fall markets to three. A new quilt ensemble from this major mill also looks to take advantage of what is seemingly the hottest thing in the top-of-bed market.
DETAILS
For its 400 Sateen solid-color sheet program, a new jacquard attached hem is being added in three different configurations: Pascale, a two-color jacquard filigree; Madeline, a jacquard floral attached; and Othello, a small mini-check attached.
A new construction take center stage in the world of solid-color sheet construction. Gone is the 250-count sateen sheet. Replacing it is a new 300-count sateen called Palace, in 20 colors.
Newest to this major mill's range of products is a quilt ensemble with a quilt, sham, sheet set, bed skirt and decorative pillow. Also new are seven ensembles: Bellhaven, a vintage tea-stained floral; Spring Country, a country quilt of gingham and calico florals; Calico Ribbon, a patchwork of small florals, scrolls and solids; Notting Hill, a romantic floral combined with checks and calico prints; Heirloom, a red-and-cream diamond patchwork paired with a toile gingham and paisley; Cyndi, a block patchwork of periwinkle, blue, aqua and daisies; and Marisol, in kiwi, red, blue and yellow blocks with starts and hearts.
Under the Transitional Elegance trend, a new 300-count sateen sheet will take the place of the 250-count Elite line. Under the name Palace, 20 colors will be offered for this new construction. For the 220-count printed cotton Bedroom Solutions line, also under Transitional Elegance, 11 new patterns will take center stage. Williston, in harbor blue and straw gold; Daphne, an all-floral vine; Greenbriar, an Old World floral tapestry; Mecca, inspired by classical Oriental carpets; Angelina, a rich loden and gold damask; Santina, a bold geometric; Marcellus, a handsome paisley stripe; Coronation, in navy and blue damask; Romeo, an intricate damask in plums and tans; Bonaparte, combining the elegance and style of French damask; and Jeannette, an English damask stripe, are all new. Also under the Transitional Elegance umbrella, and for the company's bagged ensemble line, are 13 new beds. Ranging from the watercolor block tile layout with painterly daisies in blues, aquas, lavender and lime that is Daisy Moor to a vintage-inspired tropical floral print in teals, pinks and yellows, called Trinidad, to a modern textured scroll melange in pale blue, lavender and mint called Sirocco, the new designs traverse the design spectrum. Also under Transitional Elegance are four new bath accessory lines. Giselle, Mystify, Fossil Leaf and Bella Vista use a variety of designs, such as horizontal stripes, leaves and marble textures. Coordinating rugs are also offered with each design.
Under the Paradise/Tropical trend are two new ensembles, Koa and Key West. Koa is done in yellows, greens and corals, while Key West features celadon, sage, aqua and mauve. Both are offered with a complete line of coordinates, embellished towels and bath rugs.
A variety of freestanding shower curtains will also debut under the Self Expression trend, as will four new bright colors for the 250-count Soft & Easy sheet palette and six brights to the Centennial towel palette. Pop, Variety of Vinyls, Gel Square, Salsa Fish and Horizontal Rainbow all debut as shower curtains. For the Soft & Easy line of sheeting, lemon, grape, mango and pink flamingo are added, while grape, pink, flamingo, lagoon, lemon and mango are added to the Centennial line of towels and rugs.
UTICA
DIRECTIONS
WestPoint Stevens adds a variation on a popular theme.
DETAILS
Satin Checkers has brightly colored checkerboard ribbon borders at both ends of its 25" x 50" body.
WESTPOINT STEVENS
DIRECTIONS
The next evolution of the Disney Home Collection takes its place on the showroom floor, as does an expanded Designer's Guild offering. And for the first time, the collective efforts of the newly formed Basic Bedding Division hits the market.
DETAILS
Quilts, embroidered sheets and jacquard sheets go after a higher-end market. Helping the WestPoint Stevens/Disney cause and also taking its place on the showroom floor is the complete Monsters Inc. ensemble.
For the Designer's Guild Collection, Parisienne, Hana, Guillemard, Floribunda and Violetta are unveiled, each with coordinating towel. Three ensembles are also bowed for Designer's Guild Kids line, Daydream, Rosy Posy and Hopscotch. Parisienne features a large medallion motif with a small stripe background. Hana is a hand-drawn pink flower on an aqua ground. A wide-band stripe adorns Guillemard, while flowers on a white ground are the central motif of Floribunda. Violetta features an all-over embroidery on a white ground. Several of the DG introductions have a herringbone or mohair blanket that may be layered in. The sheeting for the DG collection will be constructed from 250 cotton in 10 colors and with a grosgrain trim.
Related Content By Author
The Countdown to the ICON Honors Continues featuring Christophe Pourny

More Videos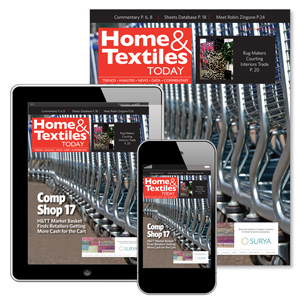 See the May 2017 issue of Home & Textiles Today. In this issue, we discuss our annual Market Basket survey, which finds higher prices and more polyester at leading retailers. See details!