Fabric Makers See Bright Future in U.S.
Carole Sloan, June 23, 2008
It's a bright future for decorative fabric producers making their products in the United States.
Despite the migration during this decade to China and other offshore sites by many suppliers, and by their customers in various product segments, the U.S. home furnishings fabric business is alive and well and growing.
While the current business situation is less than buoyant, even now domestic production is providing plus business, executives report. Key positives are the ability to provide fast turnaround deliveries, the design acumen, proprietary recognition, and niche marketing to all segments from furniture to window coverings, bedding and decorative pillows.
Diversification beyond each company's core competency is vital to growth and prosperity, the executives related, pointing to the hospitality sector and the high end of the residential market.
The contract area and its red-hot hospitality segment are aslo growing, especially offshore. Domestic hospitality business, although modestly tempered from its torrid pace of recent years, is still on a growth trajectory that many believe will continue through the decade.
Fabric producers do express concern about the supply chain, from yarn suppliers to dyers and finishers. Many fibers and yarns bought offshore are sold through domestic supplier channels.
"Four or five years ago, we saw the writing on the wall — we had to diversify and become more and more involved in markets other than furniture," said Rocco Simone, svp, Sunbury. The casual (formerly outdoor) market also is a new target as is the huge opportunity for the company's exclusive program with Glen Raven's Sunbrella brand that now is moving dramatically into the indoor residential business for furniture as well as for window coverings, Simone related.
For Valdese, "Some 97% of our production is domestic; it may drop to 95%, but our primary focus is on our domestic production," explained Mike Shelton, president. "Our customers are seeing value for domestic production having had the experiences of sourcing, currency changes, cost increases, changes in VAT, reliability and consistency," he added.
As for sourcing offshore under the VIP label, he said, "Those are things we choose not to do — products that broaden our range and provide a value, those are done in China-to-China programs," Shelton stated.
For Microfibres, "Our product for domestic and overseas customers is just gigantic," remarked Bob Ellsweig, vp. "And while furniture is still tough, export and specialty sales are extremely strong. We're thinking to expand into other areas of the business and have adopted a new slogan: 'Rethink Microfibres,' he explained.
For totally domestic supplier STI, "We started upgrading about three years ago, hired Glen Read, who had been with Mastercraft, and moved into jacquards from dobbies and bought new looms and yarns," said ceo Sean Gibbons. "We were known for making inexpensive patterns and now a typical base cloth is 30 colors, and we ship in four to six weeks. It's all under one roof from yarn to finishing."
Overall, Gibbons said, "I see a real turnaround from the China thing even at the promotional level."
"Our core competence is the high-end niche — for fabric retailers, bedding, pillow, jobbers, furniture manufacturers and hospitality," remarked Jack Eger, senior vp, Craftex. "Our only offshore product is silk. It's not in our core competence and we partnered with a special mill, but for everything else from post-consumer polyester and organic product, it's all made in the U.S.," he added.
In addition to its furniture constructions that are targeted beyond the furniture trade to the jobber and hospitality markets, Craftex has moved into high-end multi-purpose fabrics for top of bed, drapery and upholstery, as well as outdoor "that's coming indoor," Eger noted.
For John Sullivan, chairman of American Silk, which started here in 1896, "What is important in our growth is the kind of products others don't want to make, a piece-at-a-time mentality for production, delivery and service, as well as a dramatic design sense."
Sullivan elaborated, "For us, small runs were the company mentality which came about as being one of the smallest parts of the vast Gerli textile complex. We no longer do pure silk, which has come down in perception; now we mostly do blends and sell as different and dramatic design product."
"The variety of color," is an advantage of U.S. production, said Robert Lachow, vp, J.B. Martin. "And price is not the key criterion in mid to better velvets," he said. "We also have the ability to do small yardages overnight as well as large yardages in four weeks, as well as flexible dye lots."
J.B. Martin produces its mid to better price point velvets at its plant in South Carolina, and more moderate price point fabrics in Mexico, "But we can do certain fabrics in both plants and we can have fabrics move by trucks from Mexico in four to five days as well as a warehouse in Laredo, Texas for drop shipments," Lachow noted.
"People are less tolerant now about Chinese fabrics; it's a growing issue, and cost vs. price is a subject. Even stocking Chinese goods here doesn't work," commented Harry Blumenthal, ceo of Blumenthal Print Works, where about 10% of the volume is offshore. Domestically, he said, "We have to be more focused on what we can make, the equipment that can make it and the parity we offer in price as well as types of designs."
More than 95% of the Tietex interior decorative fabrics division is domestically produced, said Mike Durham, president. "China is still giving people fits about quality, and the buyers are concerned about tying up working capital/cash flow for containers and inventory as well as the exchange rate," he commented relative to the change in attitude over the last several years vis a vis China product. Labor cost increases and long lead times also are adding to the challenges, he said.
Tietex domestically has wide width weaving for window coverings and bedding, "and we note a trend to soft window coverings in products like verticals," Durham observed.
While the balance of the company's product is made is Thailand, Durham expressed concern "for the decimated supply chain here — yarn producers and dyers. We have been buying raw materials offshore and dyeing here."
"We are in an industry that requires proprietary product, manic delivery, extreme sensitivity in design and a 'need it when we need it' mentality, as well as opportunities to make quick changes on the fly," is the way Irwin Gasner, ceo of Wearbest, sees the competitive advantage for producing in the United States.
As for the future, he maintained, "There is enough capacity — latent or active — to rejigger the business. It doubt there will be new players — the existing ones will expand."
As for the supply chain challenges, Gasner said, "We may all be buying domestically, but much is coming from offshore. We are depending on commission dye houses and they are definitely very viable."
"This market can take advantage of the times and conditions. In Europe our goods are dirt cheap and Chinese currency and manufacturing costs are going up," said Stan Fradin, president of Roc-Lon. "Today the cost difference is minimal and there's a bad taste in customers' attitude who went out to save a few dollars," he noted.
For Walter Rothschild, president of David Rothschild Co., "There is a definite sentiment changing toward U.S. goods — it's become a prerequisite for orders."
Rothschild said, "We have a new direction that includes a diversification beyond furniture into the jobber markets as well as more designers, multi-purpose and contract fabrics, and fabrics for higher end bedding and decorative pillow suppliers."
To serve these new businesses, Rothschild said "Our design team has expanded its reach and we're selling design, quality and quick delivery."
"We're creating value with design, color — and are finding that customers will pay a little more for this," said Roger Berkley, ceo of Weave. Also important, he emphasized, "is that we offer much more flexibility, shorter runs, faster delivery times, and more responsiveness. But our single best advantage is our intellectual property regs."
For Dan Gangi, vp, American Trim, "While we're definitely U.S.-made, we're bringing in raw material from China as we try to diversify." As part of the new program, the company will move into crochet warp knits for decorative fabrics that are being designed by Sunbury.
Shuford Mills, a 100-plus-year-old mill, is now heavily into the jacquard business "where 10 years ago we didn't have a single loom," commented Natalie Scott, vp. Now the company is doing jacquards as well as dobbies and plains "and is moving indoors with its Outdura solution dyed acrylic fibers from Germany.
For Cone Jacquards, 90% of its business is domestic, said Scott George, vp. "We see the earlier China invasion flowing back — we make beautiful product and doing it here is the most efficient way to get product to customers."
To counter the off-shore challenge, Cone sees its design and technology as domestic "and it is expected to remain here. We're competing on style for yarn dyes and piece dyes in jacquards and dobbies."
For Qual Fab, "We've always been an American company, printing here and buying U.S. greige goods. We had niche markets and a printing plant and a family-owned business," explained Jill Liebson, president.
For each niche market issues like fire retardant and light hour fading standards, delivery times, cutting edge styling and short print runs were key elements in having the company commit to continuing here, she said.
And now, she added, "We are dyeing solids in short runs and are cheaper than China."
For Chris Stone, "We're trying to buy as much greige goods here as possible and we're looking to do as much dyeing, printing and finishing here," said Jay Swirbul, vp. "We're focused on a variety of price points in the mid to upper middle and while solids are still the strongest segment, we see the print market strengthening significantly."
Related Content By Author
Live From New York: Fashion Comes Across the Pond

More Videos
Subscribe to
Home & Textiles Today eDaily
Receive the news you need to know about the trends in the industry delivered right to your inbox.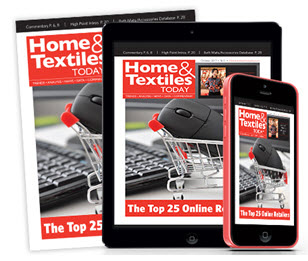 See the October 2017 issue of Home & Textiles Today. In this issue, we look at the Top 25 Online Retailers. H&TT's exclusive annual ranking of the biggest online sellers of home textiles finds that while pure play etailers continue to fly, bricks & clicks are digging into omnichannel. See details!