Blanket suppliers look to China
Don Hogsett, January 20, 2003
Long thought to be one of the least import-sensitive categories, with virtually all of the production for retail generated in U.S. plants, the long-dormant blanket sector is finally starting to feel the squeeze. And producers are increasingly starting to look at China to stock America's shelves with lower-cost product than they can make here at home.
For well more than a decade, imports have dominated the less-demanding and more price-sensitive institutional market, where fashion, colors or value-added frills have little or no allure. But until recently, the broad retail market has been less threatened.
But all that's starting to change.
After selling off its Beacon blanket division, Pillowtex is now importing virtually all of its blanket lineup, including its top-tier Charisma label.

And after the subsequent collapse of the Beacon business last year, and the shutdown of its plants, its former managers regrouped. They started the Asheville Blanket Company and quickly formed an alliance with a leading Chinese producer, Pac-Fung.

WestPoint Stevens, the nation's single-largest blanket producer, mostly on the strength of its Vellux product, has begun sourcing product offshore to supplement production at the Chatham woven blanket business it acquired three years ago.

Now Charles D. Owen Mfg., after testing the waters by importing fleece blankets from China, is making an exploratory trip to China to see what else producers there can do, if only to keep a wary eye on the growing competition.
After the sale of the Beacon business, "all of our blankets are coming in," said Scott Shimizu, executive vp, Pillowtex. [Shimizu will resign at the end of the month. See page 1]. And he's blunt as he assesses the outlook for American blanket producers. "What happened in towels is going to happen in blankets. And the process will only be accelerated with the opening up of China. You no longer have to source a little bit from here or a little bit from there. With China, you've got one, giant supplier that can take care of it all. The Chinese just know how to do it."
Shimizu added, "Obviously it doesn't come without some headaches. You've got to figure out the forecasting, the planning, the logistics and the warehousing."
But the liabilities, he said, are more than offset by lower prices.
"You can't touch their prices. And it's not just the dollars — it's the opportunity you now have for value-added product at the same price as a plain-vanilla blanket."
Tedd Smith, a long-time veteran of the blanket business and now president of Asheville Blanket, is getting all of its product form China, and supplying much of it to Pillowtex. "You know, ten years ago there was practically nothing coming in from China — just the institutional stuff. But now you've got to think that ten years from now — heck, five — probably 75 percent of the blanket product going into retail will come from off-shore. Let me qualify that, make that 75 percent of blankets excluding the Vellux product that WestPoint Stevens makes here in the United States. And who knows, some day somebody could start bringing that in too."
At some point, said Smith, the market for cotton blankets, the single largest slice of the pie, will be dominated by Chinese product. "I would think that virtually all of the cotton blanket business could be coming in from China."
But with one big difference, he thinks. "Because of the Chinese influence, the equipment they use and the techniques they have, I think the cotton business could shift from the thermal, open-weave blankets that dominate the market now, to a napped, conventional weave product. I can see that happening."
Smith added, "The other thing you'll see coming in is the better goods, the value-added product. I think the kind of goods that you'd have to sell for $18 a twin if you made it here, you can sell it for $13 out of China. That's a real big difference. And the way retailers keep taking prices down, you're not going to have much of a choice."
And while the American blanket industry has been stagnant for years, "There's a whole lot of product development work being done in China. There's nothing they aren't willing to try. They've got a lot to learn, but they listen hard and they're learning fast."
Charles D. Owen III, president of the blanket producing company that bears his family's name, said he's off next month on an exploratory trip to China. "We've been bringing in some baby goods and fleece for a while, but 90 percent of our line is still made here."
There are, he said, some advantages to bringing blanket product in from China, notably price. "But there are a lot of challenges as well," he noted. "In a seasonal business, you've got to be careful with your forecasting, your logistics, your warehousing."
Even so, he thinks, "At some point, all of home fashions is going to be subject to enormous pressure. Just look at terry and how much of that product is coming in now, whether from India, Pakistan or China."
What's his trip to China about? "Just to see what's there. You've got to know what's going on, what your competition is up to. You can't exist in a vacuum, you've got to be aware of what's going on around you."
Owen said he's not personally eager to see the shift to off-shore product. "There's part of me that doesn't want things to change, that doesn't want to see it happen. But by the same token, too many people I know, too many friends in the business, are out of business now because they didn't adapt or couldn't anticipate change. One thing I've learned is, you'd better be aware of what's going on."
And he adds, "Hey, who knows what happens. Maybe if they start making enough stuff and start developing economically, their standard of living increases, the price of their product increases, and they'll start buying some of their stuff from here."
Related Content By Author
The Countdown to the ICON Honors Continues featuring Christophe Pourny

More Videos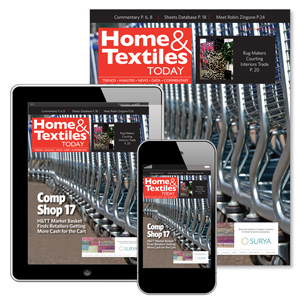 See the May 2017 issue of Home & Textiles Today. In this issue, we discuss our annual Market Basket survey, which finds higher prices and more polyester at leading retailers. See details!