David Kahn Remembered
New York — The late David Kahn was being remembered last week by customers, vendors and competitors for his out-sized personality, business prowess and generosity.
Charlie Chinni, executive vice president, JCPenney
"What I loved about David was his knowledge of the business. He insisted on taking you through the line from top to bottom, and he was very detail-oriented.
"He was so impetuous, and always thinking of the next thing. You could be having dinner, and when he was done, he was done. And left. Only David could pull that off without negative social consequences. And the better and more he knew you, the more he would do it."
Norman Axelrod, chairman and CEO, Linens 'n Things
"Whenever I discussed a strategic model or an example of a company that created a major success in the midst of a difficult environment, I always thought of David and Croscill. What he accomplished was remarkable. He was a model of passion, excellence and dedication.
"It's an enormous personal loss for me, and a loss for the entire industry. He was one of the most stimulating, exciting, challenging people I knew. He was beyond a good guy. His energy and his passion made us all better people."
Mark Grand chief operating officer PHI
"David was unique. Of course people will talk about his passion for the product, which was obvious and not just the cliché that it is for most of us. I firmly believe that if more of us showed the same commitment to fashion, quality and marketing, our entire industry would be in much better shape.
"I remember when, at one of the Strouds golf outings, the two of us paired off and played as a twosome, on our own. David would run out of the cart at full speed, hit his ball, and run back to the cart, as quickly as he could. This was at least 12 years ago, but they still probably haven't found most of our balls.
"David was an exceptional man in many ways. His mouth went fast, but his brain went faster. He made broad statements, both literally and through his company, products and relationships. But I mostly remember the small moments: that genuine smile, the warmth of his handshake, the impish gleam in his eye. I guess it was in the details …"
Jeff Stroud, chief operating officer, Private Quarters
"He was one of the first people to recognize that design and the details of design were the key to his company's long-term success. (The Strouds buying team) always looked forward to going to the Croscill showroom because that's where the best ideas always were."
Michael Bernstein, chairman and CEO, DWI Holdings
"The amazing thing is that he could be so generous about his competition. There wasn't a time when I was with him that he didn't compliment a competitor for something he thought was really good or really smart.
"The thing I remember the best about him, my most vivid memory of David, was at an HTT meeting somewhere down in Florida. I hadn't talked to him for a while, so we walked for miles, for hours, along with beach. Now that's not the kind of thing I usually do, exchange ideas with my competition. But that day we talked about the business and where it was going, and foreign competition, and his vision was so compelling, had so much depth to it … I have seldom enjoyed a conversation so much. We just walked on the beach and talked for hours."
Avi Cohen, president, Veratex
"I always respected him even though he is my No. 1 competition. I always wanted to do what he did. It's a shame that he's gone."
Jeff Hollander, president, chief operating officer, Hollander Home Fashions
"I will always remember David as a man of passion who was willing to share with everyone he came into contact with, whether it be a corporate executive or a store clerk. This is a tremendous loss to the entire Kahn family, Croscill and the industry at large.
"David was a man who was true to his beliefs, a man who did the right thing, regardless of who was looking or what might have been politically correct. Whether it was dinners at Bill Stroud's house with my father and me or relaxing at the airport with David between flights, I was always with a gentleman who truly believed that the world was good and that he would fight to keep it that way."
Joan Karron, executive vice president, CHF Industries
"I just think David Kahn was a wonderful, bright shining light. He was magnetic, stimulating, provocative and made us all better at what we do. He raised the bar and truly was a star."
David Lee, owner and CEO, HFI/ADF
"We sold our first wide-width jacquard to him a few years ago. He's a very impressive guy. He knows his product very well and knows where he wants to be. We have the ultimate respect for him. He raised the bar for everybody. I think there's nobody like him any more."
Dale Talbert, vice president, Veratex
"I worked at Croscill from 1981 to 1997 and with David since he started working there in 1982. You might say that we kind of grew up together there.
"David, like all of us, was a little bit vain, and he wasn't bashful about the fact that he had gotten hair replacement. One year for the holiday gift-giving season, he got a Chia Pet in the shape of a person's head that would grow when you watered it ... He thought it was funny and had a good laugh about it."
Jim Richman, president and CEO, Richloom
"For years, David and I used the same Orvis briefcase — but in different colors. He favored white, I used green. Just a few weeks ago, David brought me an Orvis briefcase — but in white. And he said 'I know you're not going to use it.' It's been sitting, unopened in a box since then.
Why not open it? Because it will probably have a lot of Republican paraphernalia in it."
Abby Gilmore, president and CEO, Covington Industries
"In recent years, because of the changes in the business, he had wanted to do business with us in a different way — sourcing abroad. We wanted to do it ourselves.
"One time he called us over to the showroom, had all of us get chairs and positioned us sitting in front of a bed with our fabric on it. He let all of us — his people and ours — sit in silence for quite a bit. Then he said, 'Abby, this is a beautiful fabric, but realize there's nothing I can't do in China, versus what you can do making this offshore elsewhere.
"He got his point across, and we did designs on a royalty basis.
"He was outrageous, but also brilliant. On some level you had to go with the flow with him or go nuts. He was very, very unique, unpredictable, totally without niceties. I appreciated it — always."
Jack Eger, vice president, Craftex
"When we set the relationship, it was a new experience for our company, and the relationship was beyond our expectations. He would check with us once a month to see that everything was OK.
"Originally, we had talked about a licensing arrangement because everything was going offshore. But the business relationship was forged on what he didn't expect — domestic weaving in a niche weaving facility.
"People throw the word 'partnership' around, but he made it a more personal and unique situation. We also had a political affinity and New Jersey musical tastes."
Dave Talbert, retired, Croscill
"When I retired, the Home Fashion Products Association. gave me an award and I had to give a speech. Earlier, one of the major mills said they were going 'after' Croscill and my response was: 'You're doing an impossible task. You'll never get ahead of David Kahn.'
"He was very visionary. Customers wanted their stores to look like our showroom. David developed shops and serviced them."
Warren Shoulberg, editor, www.warrensreport.com
"David never got the credit for being a businessman that he deserved. When you think back to all the companies that were in the same situation as Croscill when he joined the family business, you realize most of them aren't around anymore.
"He also had a big-picture vision that he didn't receive enough credit for. David looked at the whole home furnishings business. He thought about 'If A happens, what's going to happen with L, M., N.' And he listened better than almost anybody I ever knew."
Related Content By Author
The Countdown to the ICON Honors Continues featuring Christophe Pourny

More Videos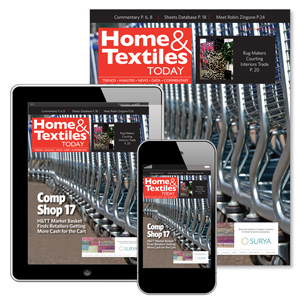 See the May 2017 issue of Home & Textiles Today. In this issue, we discuss our annual Market Basket survey, which finds higher prices and more polyester at leading retailers. See details!