India eyes U.S. market
Raj Menon, April 26, 2004
The Indian home textiles industry, realizing the tremendous growth potential in the U.S. market, is on an expansion spree, and capacities in the industry are set to at least double over the next two years.
This is especially true in the case of terry towels — with total capacity expected to increase by upwards of 60,000 tons within the next year — as well as sheeting and home furnishings.
Besides expanding and upgrading facilities, manufacturers have put in place marketing strategies for the U.S. market, which include improving service, bolstering design and color content, and vertically integrating units.
Not only are existing players working toward gaining a higher share of the U.S. market, a number of mills in the country have begun diversifying and forward-integrating into the home textiles segment.
Indian suppliers gird for growth
Welspun, today among the largest Indian terry towel manufacturers, is planning to double its production capacity from 12,000 tons annually to around 25,000 tons by December. The U.S. market is by far the largest market for the company, accounting for 65 to 70 percent of its towel exports.
Welspun plans to move into the sheeting segment, with an annual capacity of six million sets. The company is also planning to set up a distribution center in North Carolina, "which would get Welspun even closer to its customers, and help us serve them better, which is very crucial as competition gets stiffer," according to company officials.
Targeting the U.S. market, Abhishek Industries (Trident), is also doubling its production capacity from around 6,000 to 7,000 tons per year, with plans to add 96 looms over the summer and an additional 60 looms by the first quarter of 2005.
In addition, the company implemented SAP earlier this year and, by June, expects to be interfacing with customers online in real time. The company stepped up its commitment to the U.S. market by recently opening a permanent showroom in New York.
Sharada Terry Towels, another sizable supplier to the U.S. market, is planning to double its towel capacity to 1,200 tons per month by year-end. The company is extending its "Microcotton" brand from terry towels into sheeting and blankets.
Sharada is working closely with a number of leading U.S. retailers, planning a "shop-in-shop" concept in U.S. department stores. However, this is only at the planning stage, and the company is still to work out the dynamics.
Direct marketing is the strategy for Zeba, which confirmed it has retail plans in the U.S. market, and could be opening some stores in America during the year, besides further increasing its exports through importers. The company already has a retail presence in Europe.
Bombay Dyeing, one of the oldest brands in the Indian market, currently exports around $30 million to $35 million in sheets annually. It is now planning to increase sheeting capacity to around 150,000 to 155,000 sheets per month from the current capacity of 100,000 through some upgrading and streamlining of its production processes.
Textrade, a manufacturer and exporter of bed sets, curtains and cushions, currently exports around $3.5 million to $4.5 million worth of products to the United States, and is targeting an export turnover of at least $11 to $12 million over the next year. Textrade has set up production capacity of 5 million units of bed sets per year, with similar capacities in curtains and cushions. It is now venturing into kitchen linen as well.
The company is also setting up a new factory with an investment of $2 million, which would reduce its dependence on outsourcing.
According to Anish Doshi, managing director of Textrade, "We realize that design is very important in this segment, and the only means of moving up the value chain. Remaining in the commodity segment is becoming increasingly difficult due to competition from China. Our continued focus on design content has led us to establish a very well equipped design studio, which has been well accepted by our buyers."
Faze 3, which has been operating in the mid and upper segments of the home textiles market, is now moving into the commodity segment in a bid to push exports through volume.
The company is planning an investment of around $11 million, and is entering into a joint venture with a British company to manufacture cotton bath mats. The capacity of the plant is slated to be 200,000 mats a week.
Says Ajay Anand, managing director of Faze 3, "The capacities are still quite small when compared to global capacities. One order from Wal-Mart could well take up the entire capacity."
The company has already made massive investments in expanding weaving capacity, which today stands at around 300,000 tons per month.
Dicitex Décor, manufacturer of home furnishing fabrics, is focusing more on the design and color content, quality of the products, and service to the clients in order to capture a bigger share of the export market. The company is focusing especially on the U.S. market, though expansion is also among its goals. Dicitex Décor last year installed 36 jacquard looms in its state-of-the-art factory.
Says Ajay Arora, managing director, Dicitex Décor, "Installing machinery is not the difficult part, it's mastering the skills that's more important, and all our energies are focused on getting the best from our resources. We are presently not looking at doubling or tripling the capacity, though we have set up a second factory, which now takes our production to 8 million meters per annum. We made an investment of $5.5 million in this factory, and could be making investments of another $22 million over the next three years, depending on the market scenario."
Arora further stated that there was immense scope for India in the home furnishing fabric segment, as investments in this segment have been very low till now. The company, while working with converters and importers, is aware of the changes that could take place in the years to come, and is also planning to have a marketing setup in the United States.
The Indian home textiles industry has realized the importance of vertical integration and in-house production, and all serious exporters are today investing in setting up such facilities.
Minar Exports, already an exporter to the United States, is doing the same. "We definitely see a lot of potential in the U.S. market, and are working towards setting up a vertically integrated unit, and also toward servicing our clients better and retaining goodwill in the market. We are setting up weaving and processing facilities for wider-width fabrics, and plan to have these in place by this year end," said Unnikrishnan Nambiar, director, Minar Exports.
Alok Industries, a garment and knit manufacturer, moved into bed linens earlier this year. By 2007, Alok plans to increase its processing capacity to 86 million tons per year. This, coupled with back-end integration into the weaving segment, represents the company's biggest competitive strength in the home textiles segment. Alok's home textiles sales are expected to grow to $310 million by the end of 2007.
Know thy customer
Realizing the growth potential of the U.S. market, the Cotton Textiles Export Promotion Council (TEXPROCIL), which represents cotton textile exporters, is focusing its attention on driving exports.
The council has commissioned a study of the U.S. market for Indian textiles producers, which is expected to be out in the next few weeks.
"We are also planning an Indian textile delegation to the U.S. in the coming months, and there are plans to set up a TEXPROCIL office there, too. We realize that yarn (in the short term), and made-ups (in the long term) will drive Indian cotton textile exports to the U.S.," said Siddharth Rajgopal, executive director of the council.
However, while the industry is expanding rapidly to service the increase in orders expected from 2005 onward, and investing in marketing and design capability, there are still a number of weaknesses that it needs to deal with.
Shortages of quality raw materials, a limited number of sophisticated processing facilities, higher production costs relative to China, the absence of industry-friendly policies, lack of infrastructure, and broader lack of modernization — these are some of the disadvantages that could make India less competitive in the global market, according to industry analysts.
To compete with China, they contend, India must build its volumes and fine-tune pricing. Even vertically integrated producers now must import fabric from China on occasion to meet cost considerations. With the pressure on price expected to increase in 2005, controlling costs will become even more crucial.
Manufacturers are also seeking help from the government to counter low labor productivity, the high cost of financing, high power costs, an unreliable power supply, limited water supplies in some areas and a complex taxing structure.
The lack of a broader understanding of global design is another weak area in this sector, with companies only just waking up to the importance of understanding and working on designs.
According to K K Lalpuria, head of Kay Kay & Associates, a consultancy firm, "The exposure to international trends is only just beginning. There is very little innovation in designs, there is no trend creation happening here, the exporters depend either on their customers or some international design houses."
He added that the industry as a whole needs to invest more in proactive marketing tools such as EDI distribution, design studios, product and design development, and participation in trade fairs — most of which are looked upon as costs.
"Though of course, the scenario is now changing, with companies realizing that they cannot do without such tools," Lalpuria added.
A little help from New Delhi
For its part, the government has launched a number of initiatives to strengthen the textiles sector. The Technology Upgradation Fund Scheme (TUFS), started in 1999, allows for a 5 percent interest subsidy on capital investments for modernization.
Thus far, industry response has been lukewarm, but with the quota phase-out and prospects of better export business post-2004, the industry appears to have begun tapping into this fund.
Even though India is among the world's largest cotton growers, the cotton quality and yield remain well below international standards, which ultimately affects the home textiles segment. The government has given permission for trials of Bt genetically modified cotton, which could raise yields substantially. However, testing is being done on a very small scale. Of India's total cotton acreage of around 9 million hectares, genetically enhanced cotton was only grown on 85,239 hectares last year.
According to Dr. S. Sreenivasan, director, Central Institute of Research on Cotton Technology (CIRCOT), "Acceptance to Bt cotton is there today. However, this is a new technology for India, and could take time to achieve significant results. The government has set a target of bringing around 25 percent of total cotton acreage under Bt cotton in the next five years."
Meanwhile, in order to fulfill its need of good quality cotton, the industry imports its requirement from China, the United States and elsewhere.
The government has also put in place initiatives to further development in the weaving and processing sectors of the industry.
In weaving, the government is promoting a cluster approach to development of the sector — called work-shed schemes — and has permitted imports of second-hand looms to upgrade existing equipment. It has also set a target of installing 50,000 shuttleless looms by 2010.
In processing, the government plans to announce a program which would help companies that set up facilities with capacities of 1 million meters per day. However, many in the industry feel the goal is too ambitious, considering the economic climate of the textiles industry.
Instead, the industry has been pointing to the need for improved port and customs facilities to help speed shipments.
Live From New York: Fashion Comes Across the Pond

More Videos
Subscribe to
Home & Textiles Today eDaily
Receive the news you need to know about the trends in the industry delivered right to your inbox.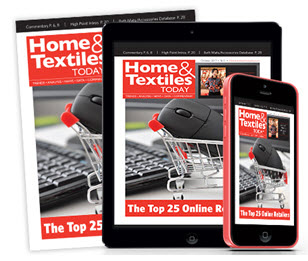 See the October 2017 issue of Home & Textiles Today. In this issue, we look at the Top 25 Online Retailers. H&TT's exclusive annual ranking of the biggest online sellers of home textiles finds that while pure play etailers continue to fly, bricks & clicks are digging into omnichannel. See details!