$3 billion king tops rankings
Carole Sloan, July 26, 2004
Wal-Mart has become the first $3 billion retailer in the home textiles world with sales of $3.05 billion in 2003.
Interestingly, Bentonville, Ark.-based Wal-Mart barely increased its lead over JCPenney, the long-time No. 1 home textiles player. And Penney, despite a good year in home textiles, just managed to keep ahead of Target, now firmly in third place in the home textiles derby.
Each is being targeted by Bed Bath & Beyond, which holds a strong position in fourth place.
The Top 5 has a new member. Clifton, N.J.-based Linens 'n Things displaced Troy, Mich.-based Kmart, with the two companies swapping places in the home textiles rankings. With the new lineup of the Top 5, the group increases its market share of the home textiles world, 54 percent in 2003, compared with 52 percent in 2002.
The Top 5's share of the Top 50 in home textiles was $11,481 million, up 8 percent from $10,630 million in 2002.
The makeup of the Top 5 in the exclusive Home Textiles Today Top 50 retail giants also reflects the strength of the big box specialty retailers, now occupying two of the five slots.
Overall, home textiles retailers had revenues of $23.1 billion in 2003, up 3.6 percent from '02. The 2002 home textiles revenues were revised based on new data from the U.S. Department of Commerce, as well as that from industry suppliers and vendors.
Wal-Mart's home textiles sales increase of 4.6 percent reflected a higher than typical share of the company's softlines business. But in terms of dollar gains, the company's home textiles sales increased $335 million in 2002; the 2003 dollar increase was $135 million. Its stores increased 123 net units in '03 versus 82 in '02.
Plano, Texas-based JCPenney's home textiles sales of $2,490 million came on a 5.5 percent increase or $130 million, up from 2002's revenue of $2,360 million, a mere 1.1 percent increase which in dollars was only $25 million. Penney's increase came even with a net decline of 29 stores.
But Penney's hold on second place is being challenged by Minneapolis-based Target, again No. 3, but for 2003 a slight $65 million behind Penney with home textiles sales of $2,425 million. Target added 78 stores to its count.
With a 13.7 percent increase that drove its home textiles revenues to $2.284 billion, Bed Bath & Beyond closed the gap on Target in terms of dollars. In 2002, Target was ahead of Bed Bath & Beyond by $177 million; in 2003, it was $141 million. In '03, Union City, N.J.-based Bed Bath & Beyond added 109 stores.
New to the Top 5, Linens 'n Things had home textiles sales of $1,232 million, up 6 percent from 2002 and a gain of 46 stores.
In sixth place is Kmart, with a 20.8 percent sales drop to $1,232 million reflecting the impact of store closings, inventory shortages in many areas and a restructuring of its overall strategy.
Rounding out the balance of the Top 10 are Kohl's of Menomonee Falls, Wis., which switched places with Hoffman Estates, Ill.-based Sears, now in seventh and eighth place respectively.
Despite a challenging year overall, Kohl's gained 14.5 percent in home textiles bringing its revenues to $727 million while Sears dropped 12 percent to $665 million.
T.J. Maxx/Marshalls had a 4.8 percent gain bringing its home textiles sales to $550 million, also reflecting the impact of 76 new stores. The Framingham, Mass.-based discounter held its spot in ninth place.
New to the Top 10 is Pottery Barn, a division of San Francisco-based Williams-Sonoma. In 10th place for 2003, Pottery Barn first hit the Top 50 last year when it soared to No. 14. Sales for the Pottery Barn business which includes PB Kids and PBteen were up 28.2 percent to $382 million.
Overall, the Top 10 garnered 70 percent of the Top 50 home textiles business in 2003, the same percentage as in 2002. In dollars, the '03 results were $15,037 million, up 4.4 percent from the 2002 revenues of $14,399 million.
New to the Top 50 home textiles retailers for 2003 are QVC, the direct-to-consumer that landed in the No. 28 slot; Crate & Barrel, the Northbrook, Ill.-based lifestyle home furnishings specialty retailer at No. 49; and Sure Fit, the New York manufacturer of ready-made slipcovers with a direct to consumer catalog and Internet business at No. 50.
QVC had 2003 home textiles sales of $149.6 million. The West Chester, Penn.-based retailer had total sales of $4,889 billion. Crate & Barrel, with total sales of $886.2 million, had home textiles sales of $84 million in 2003.
Sure Fit, which is operating under Chapter 11 bankruptcy protection, had direct-to-consumer sales of $77.2 million.
Pier 1, Fort Worth, Texas, joined the Top 15 in the No. 15 slot as Macy's East, which had held that position dropped to No. 17. Overall, with some minor shifting, the No. 11 through No. 14 slots were held by the same players.
The Top 15 had 2003 sales of $16,584 million, up 4.3 percent from the 2002 revenues of $15,902 million.
Among the biggest ranking changes was Anna's Linens, Costa Mesa, Calif., which soared to No. 24 from No. 40 with home textiles sales hitting $162 million, an increase of 40.9 percent; Lowe's, Mooresville, N.C., which jumped to No. 25 from No. 31 on a sales gain of 17.7 percent or $153 million; and HomeGoods, Framingham, Mass., moving to No. 26 from No. 33 with sales of $152 million, a 18.8 percent increase; and Dollar General, Goodlettsville, Tenn., jumping from No. 41 to No. 36 with sales of $120 million, a 6.2 percent gain.
Overall, the Top 50 had home textiles sales of $21,397 million, up 4.2 percent from the 2002 sales of $20,397 million.
Breaking out the contributions, the Top 15 accounted for 78 percent of the Top 50, up from 77 percent in '02, while the Top 25 represented 86 percent of the total, the same as in 2002.
Top multidivision operations

Rank
Corporation
Home Textiles Sales ($millions)
Percent Change
Share of Home Textiles Retail Sales
Number of Stores
2003
2002
2003
2002
1
Wal-Mart Corp., Bentonville Ark.
$3,185.0
$3,041.0
4.7%
13.8%
3,487
3,351
2
Target Corp., Minneapolis
$2,885.0
$2,680.0
7.6%
12.5%
1,553
1,475
3
Federated, Cincinnati
$842.0
$835.0
0.8%
3.6%
459
456
4
TJX Companies, Framingham, Mass.
$702.0
$653.0
7.5%
3.0%
1,524
1,484
5
May Dept. Stores, St. Louis
$469.0
$486.0
-3.5%
2.0%
366
358
6
Spiegel Group, Downers Grove, Ill.
$227.0
$317.0
-28.4%
1.0%
433
514
7
ShopKo, Green Bay, Wis.
$157.0
$162.0
-3.1%
0.7%
359
587
1. Includes No. 1 Wal-Mart and No. 32 Sam's Club
2. Includes No. 3 Target, No. 12 Mervyn's and No. 37 Marshall Field's
3. Includes No. 17 Macy's East, No. 19 Macy's West, No. 30 Bloomingdale's, No. 43 Rich's-Macy's/Lazarus-Macy's/Goldsmith's-Macy's and No. 44 Burdines-Macy's, plus Bon-Macy's which does not rank on the Top 50.
4. Includes No. 9 T.J. Maxx/Marshalls and No. 26 HomeGoods
5. Includes No. 38 Filene's/Kaufmann's, No. 39 Robinsons-May/Meier & Frank, No. 42 Hecht's/Strawbridge's and No. 47 Foley's, plus Famous-Barr which does not rank on the Top 50.
6. Includes No. 27 Eddie Bauer, plus Spiegel which does not rank on the Top 50. Does not include Newport News, which also includes home textiles in its product mix. Store count is for Eddie Bauer stores only.
7. Includes No. 40 ShopKo, plus Pamida which does not rank on the Top 50.
Source: Home Textiles Today market research
Related Content By Author
The Countdown to the ICON Honors Continues featuring Christophe Pourny

More Videos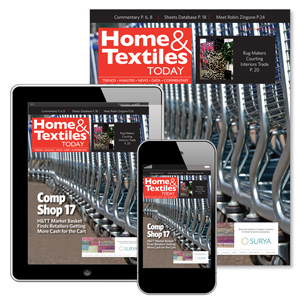 See the May 2017 issue of Home & Textiles Today. In this issue, we discuss our annual Market Basket survey, which finds higher prices and more polyester at leading retailers. See details!